Last Updated on 09-08-2023
Taiwan is a little island nation with a big punch. Despite its small size of 36,193 square kilometers, it boasts a population of 23.9 million people.
Are you ready for a once-in-a-lifetime adventure? Taiwan, an East Asian treasure, has a rich history, vibrant culture, breathtaking scenery, and wonderful food. Taiwan has something for everyone, whether you're a nature lover, a foodie, or a history buff. In this Taiwan travel guide, we'll walk you through the top places, experiences, and advice for an unforgettable vacation to Taiwan in 2023, as well as assist you in planning your solo travel in Taiwan.
Travel to Taiwan first stop: Taipei
Why Taipei?
Now you may ask, "Why Taipei?" As a foreigner coming to Taiwan for a solo trip, you may not know how to speak Mandarin. While Taiwan has many beautiful places, However, for travelers who are non-Chinese speakers, some of the more local places will be more difficult to explore. Therefore, areas like Taipei may be the best option for you for your first stop in Taiwan. It is super safe for both men and women, and moreover, English is fairly widely spoken there. Now let's start with our recommended extended stay hotels for famous places.It boasts modern shopping malls, ancient temples, beautiful palaces, and night markets. Taipei is not only the political and economic center of Taiwan, but also the cultural hub of the island. There are plenty of attractions for visitors to eat, drink, and have fun.
Best Time to Visit Taipei
Weather, festivals, and the operation hours of tourist sites must all be considered when deciding when to visit Taipei. In general, the fall months (September to November) and spring months (March to May) are regarded as the best periods to visit Taipei.
Autumn weather is pleasant with moderate temperatures, making it excellent for outdoor activities. During this time, Taipei's bright blue skies and fresh air complement visits to sights such as Elephant Mountain and the Taipei 101. Spring, on the other hand, is distinguished by the blossoming of flowers. Many parks and gardens organize flower-viewing activities, like as the cherry blossom season on Yangmingshan, which draw tourists to marvel at the magnificent floral displays.
Furthermore, the city's festive festivities are important factors to consider when visiting Taipei. For example, one of Taipei's most important traditional celebrations is the Lunar New Year, which is traditionally celebrated in January or February. Visitors may enjoy exciting events, shopping extravaganzas, and night market activities.
Before you pay a visit to Taipei, you must know about the weather in Taipei throughout the year.
How to Get to Taipei
Taipei has two airports, Taoyuan International Airport and Songshan Airport. Taoyuan International Airport is the main airport and the gateway to Taipei, while Songshan Airport serves mostly domestic flights and a few international flights. You can reach Taipei from many international cities, including Hong Kong, Tokyo, Seoul, Singapore, and more.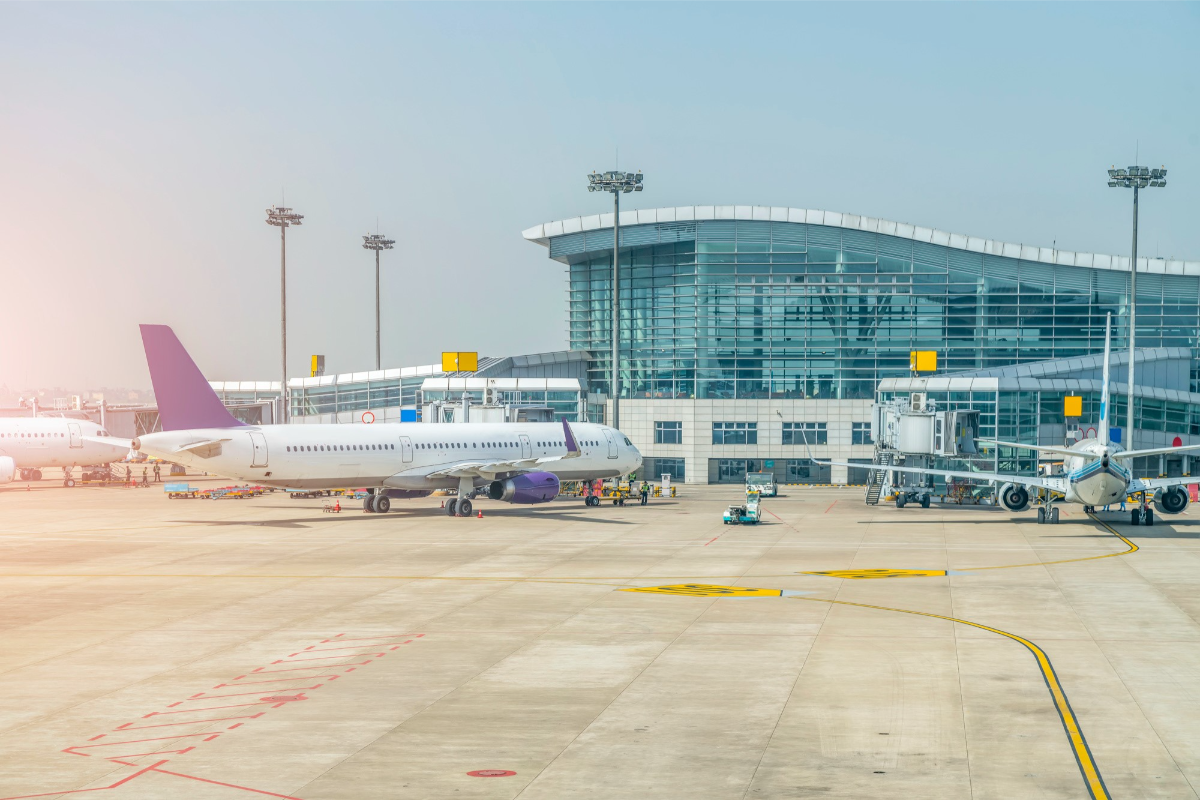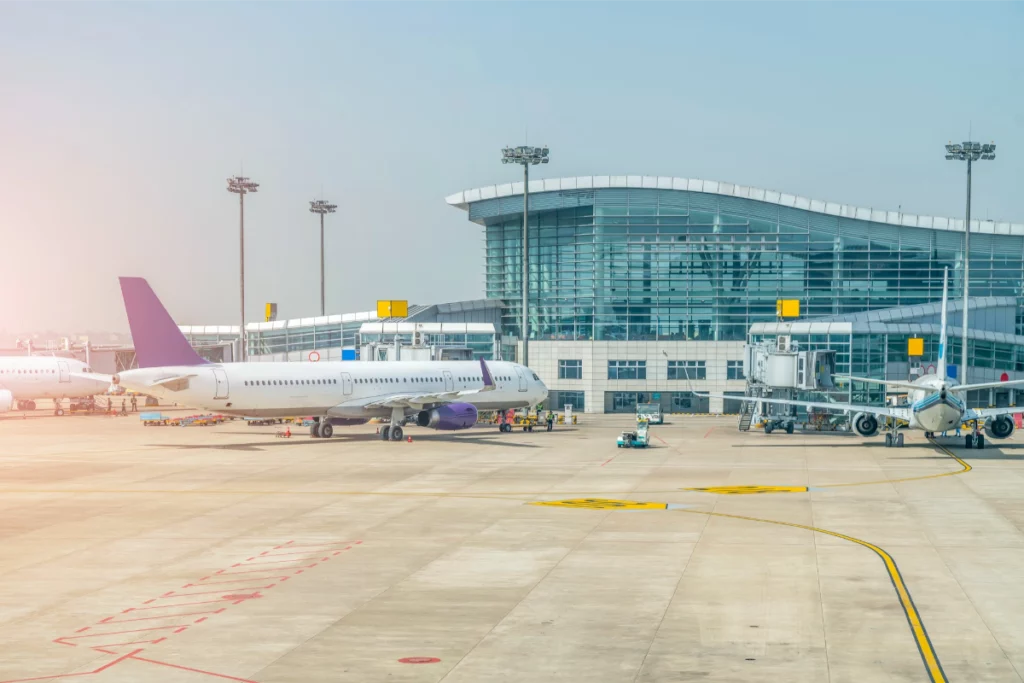 Where to Stay in Taipei
There are a wide range of accommodations available in Taipei to suit every budget and preference. From luxury hotels to budget hostels, you can find something that fits your needs. Some popular areas to stay in Taipei include Xinyi District, Zhongzheng District, and Daan District.
The mrhost provides a search tool to help users find the best hotel for their long stay in Taipei!
Recommended Taipei serviced aparments and monthly hotels for you
Taipei has a variety of monthly hotels and serviced apartments. There are several alternatives available, whether you choose a low-cost hotel, a hostel, or a more typical hotel or serviced apartment. Furthermore, Taipei is regarded as a secure city for lone female travelers and is recognized for its low rates, making it an ideal location for budget-conscious solo travelers.
The Denizen
The Denizen contemporary refuge for the modern traveler may be found in the nook of Da'an District. The Denizen redesigned the idea of live-work accommodation into studio spaces that encourage you to dive into the refined luxury of customized home living without sacrificing style, amenities, or personalized service.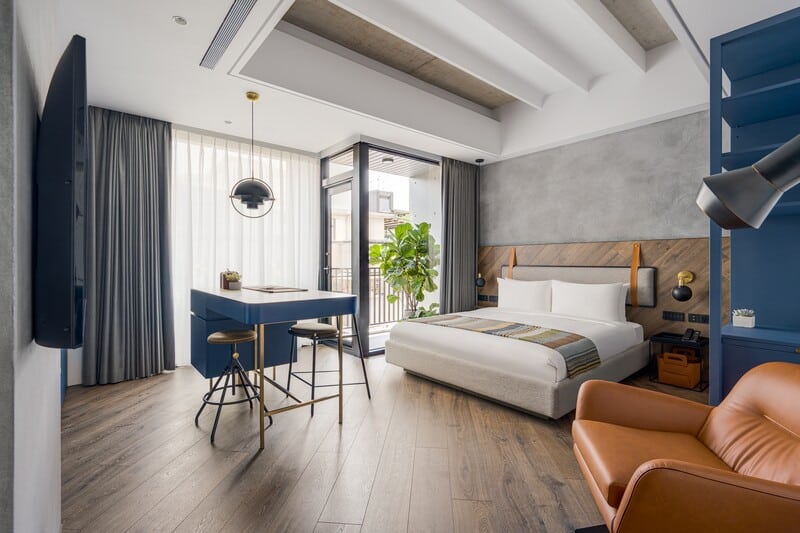 Forte Green garden apartment
Forte Green Garden Apartment, located in the Songshan District, has various handy features like as a fitness center, free WiFi, and large rooms with flat-screen TVs. The Green Park Apartment (Business Residence), located in the center of the Dunhua financial area and minutes from the MRT, Zhongshan Expressway, and Songshan Airport, is a calm and lively atmosphere with spacious and comfortable bedrooms, providing you with a high-quality living space.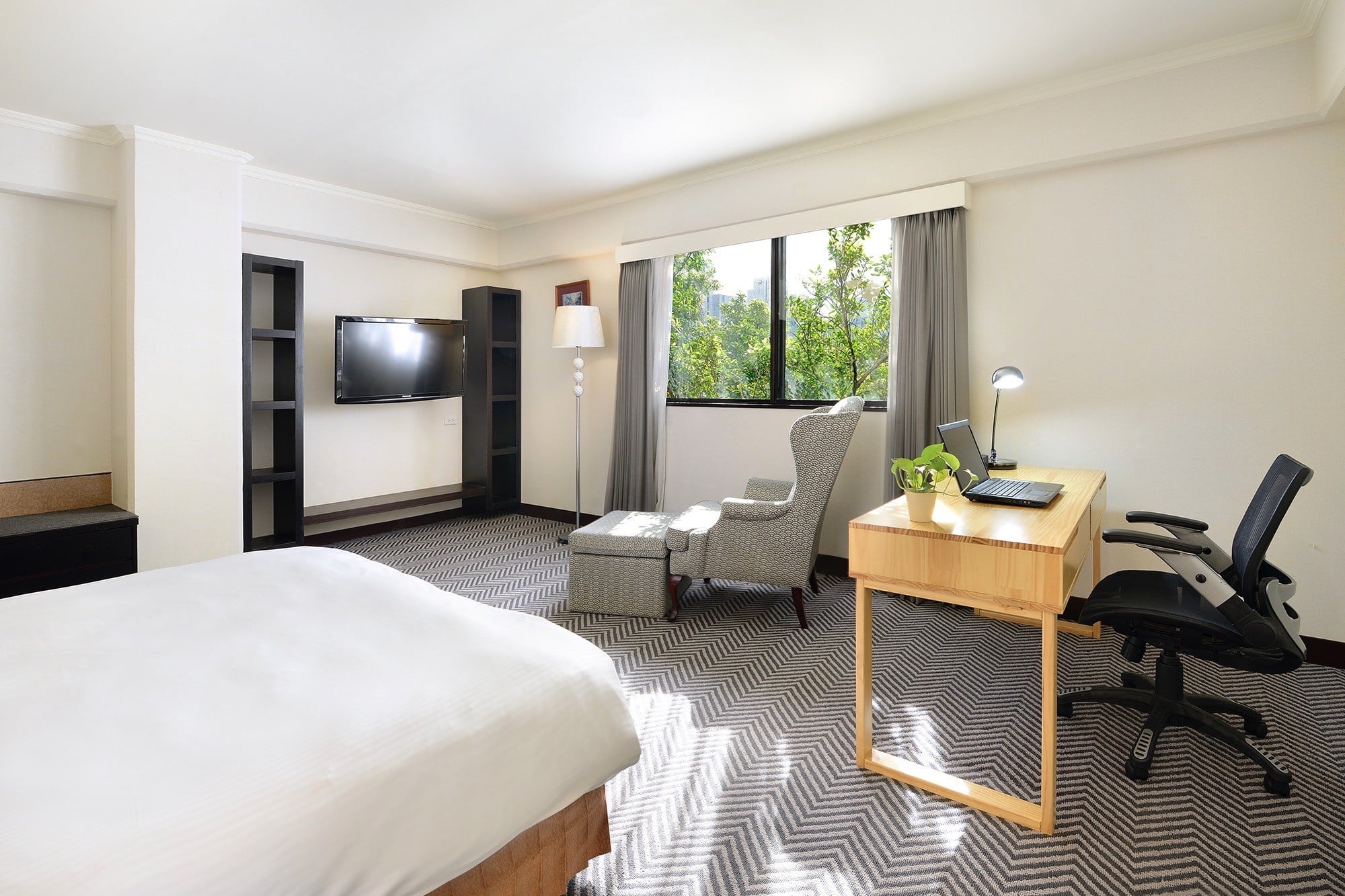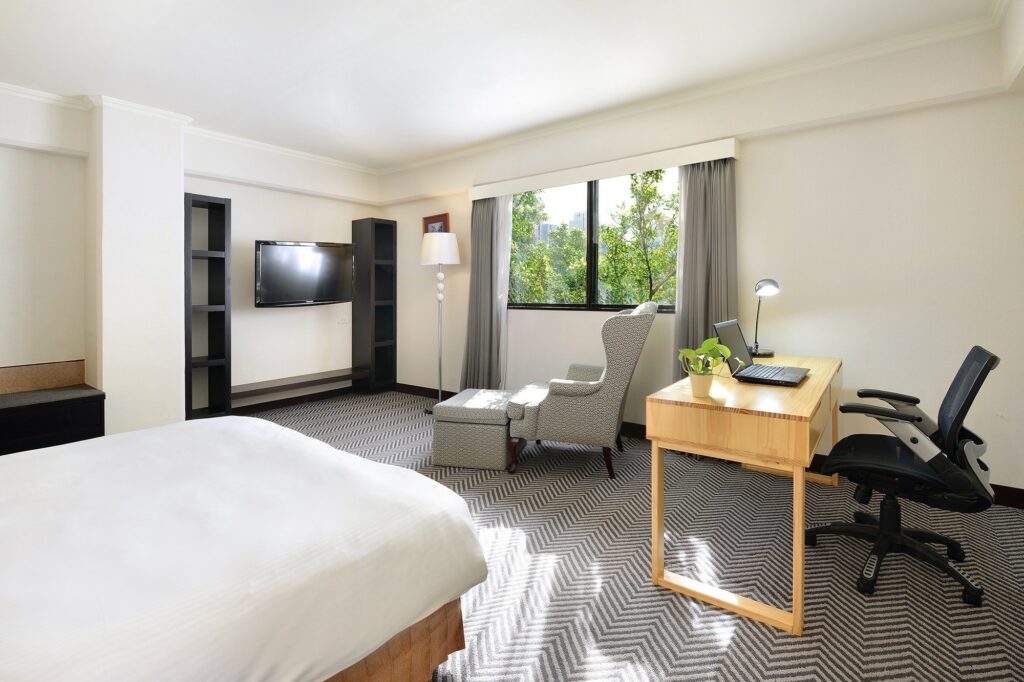 Transportation in Taipei
The transportation system in Taipei is efficient and easy to use. You can take the metro, buses, bike, or taxis to get around the city. The metro system is extensive, with lines that connect all parts of Taipei. To make transportation easier, Taiwan has a rechargeable smart card called the EasyCard. You can also rent a car to explore the city at your own pace.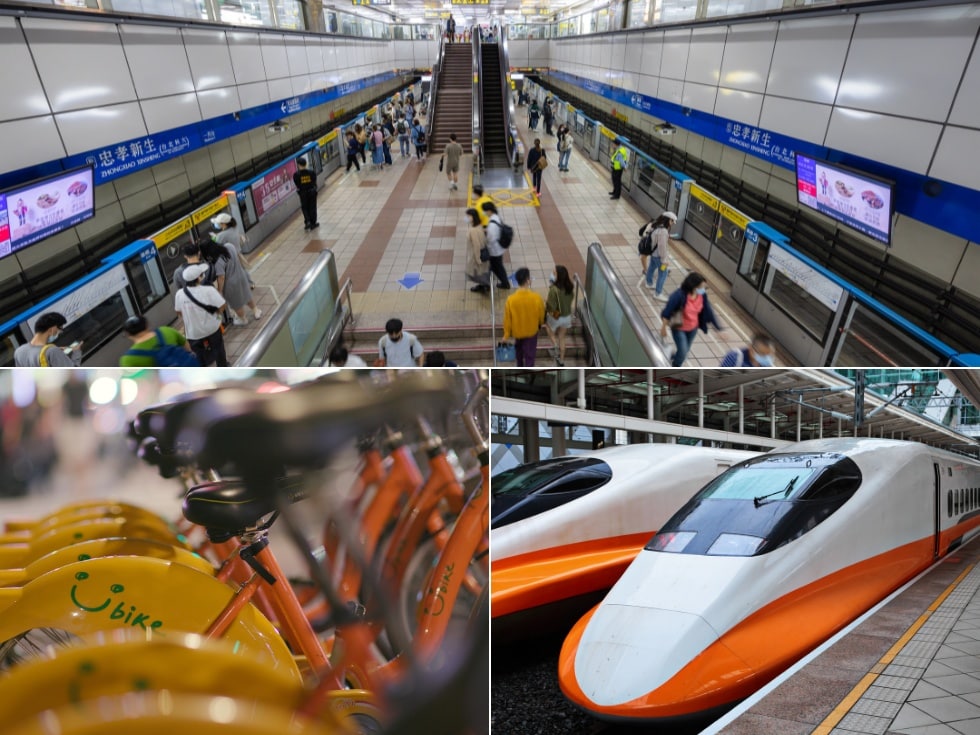 Most famous Taipei tourist spots
1. Taipei 101
Taipei 101 is a landmark skyscraper in Taipei and was once the tallest building in the world. Visitors can enjoy panoramic views of the city from the observation deck on the 89th floor.
2. National Palace Museum
National Palace Museum, one of the most popular museums in Taiwan. This museum is home to an extensive collection of ancient Chinese artifacts and artwork, including paintings, calligraphy, jade, and bronze. It's a great place to learn about Chinese history and culture.
3. Chiang Kai-shek Memorial Hall
Head to the Chiang Kai-shek Memorial Hall, a famous landmark in Taipei. The hall is dedicated to the former President of the Republic of China, Chiang Kai-shek. You can watch the changing of the guard ceremony or climb to the top of the hall to enjoy a panoramic view of Taipei.
4. Longshan Temple
After that, visit the Longshan Temple, one of the oldest and most famous temples in Taipei. The temple was built in 1738 and is dedicated to various Buddhist, Taoist, and Confucian deities. Take your time to explore the temple's beautiful architecture and religious relics.
5. Ximending Shopping District
Finish your day by exploring the Ximending Shopping District, a popular pedestrian shopping area in Taipei. You can find everything from trendy clothes to traditional snacks and souvenirs. It's a great place to immerse yourself in Taipei's modern culture.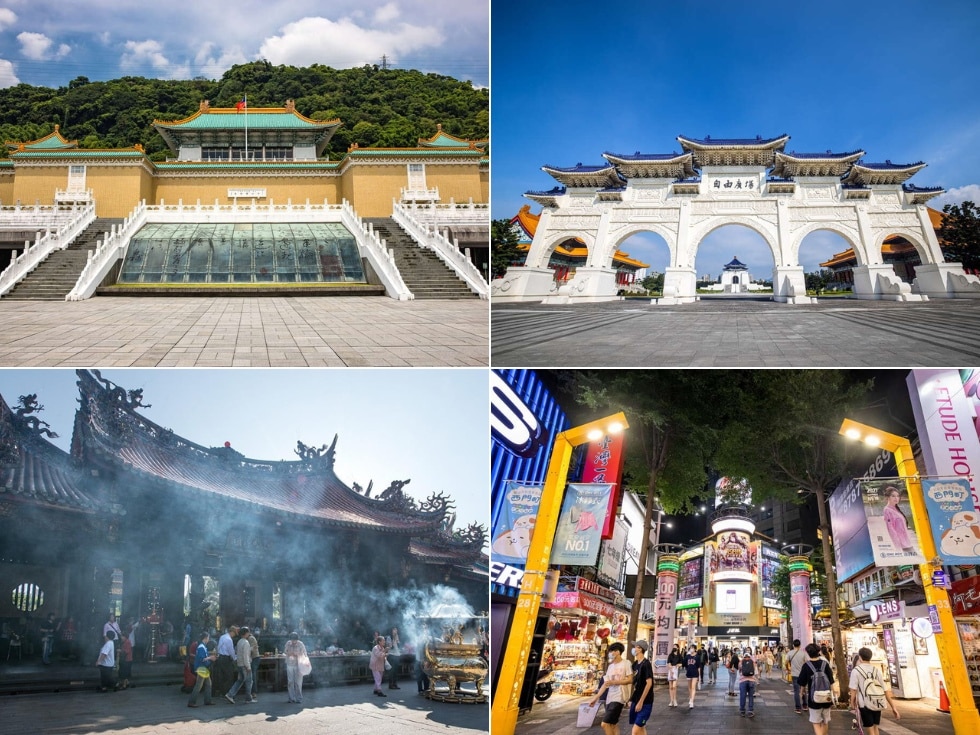 Taipei's Food Scene
1. Breakfast at Fu Hang Soy Milk
Start your day with breakfast at Fu Hang Soy Milk, a popular breakfast spot for locals and tourists alike. You can try their signature dish, the crispy scallion pancake, or their delicious soy milk.
2. Lunch at Din Tai Fung
Head to Din Tai Fung, a world-renowned restaurant that specializes in xiaolongbao, or steamed pork dumplings. The restaurant has branches all over the world, but the original store is in Taipei. You won't regret trying these delicious dumplings.
Opening hours:

Monday to Friday 11:00 AM-8:30 PM
Weekends 10:30 AM-8:30 PM

Address: No. 194, Sec. 2, Xinyi Road, Daan District, Taipei City
Nearby MRT station: 1 minute walk from Dongmen Station
3. Dinner at Maoyuan Restaurant
Maoyuan Restaurant is a well-known Taiwanese cuisine restaurant in Taipei with an almost 50-year history. It received great notice after getting the Bib Gourmand rating from the Taipei Michelin Guide in 2018. The restaurant, located near the Nanjing Fuxing MRT station, is famed for its traditional Taiwanese meals and has established itself as a culinary legend in Taiwan.
4. Night Market Tour
In the evening, go on a night market tour and taste some of Taipei's best street food. You can visit popular night markets like Shilin Night Market, Raohe Street Night Market, and Ningxia Night Market. Try local favorites like stinky tofu, oyster omelets, and bubble tea.
Refer to our Taipei Night Markets article to learn about each of the most famous night markets in Taipei!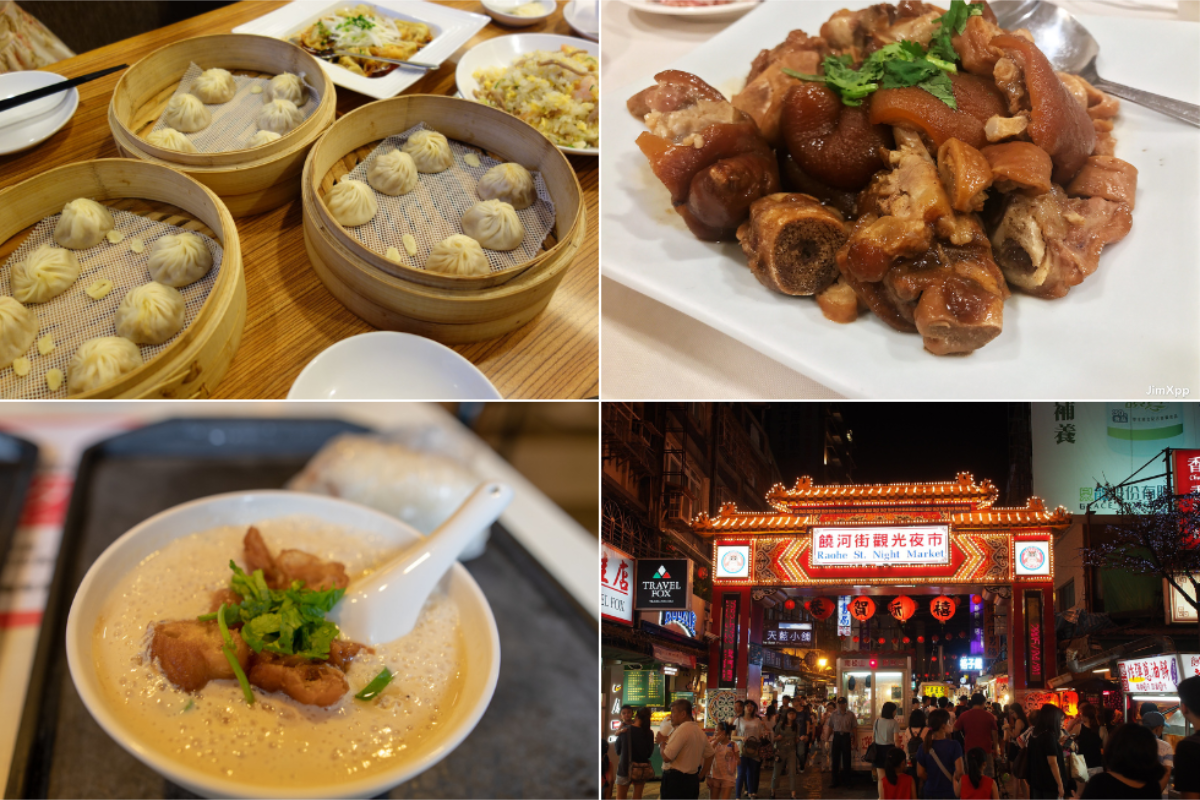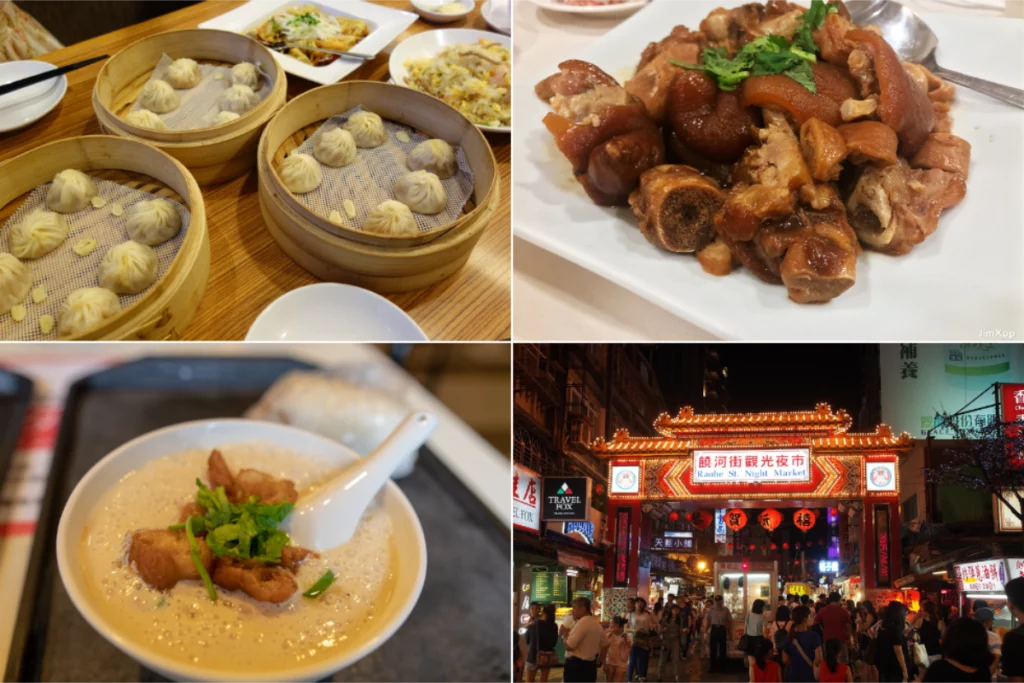 Nature Attractions in Taipei
1. Yangmingshan National Park
Yangmingshan National Park, a mountain park with stunning natural scenery. You can hike the various trails, soak in the hot springs, and visit the flower clock and calla lily fields.
2. Elephant Mountain
Elephant Mountain, also known as Xiangshan, is a popular hiking trail in Taipei that offers stunning views of Taipei 101 and the city skyline. It's a great place to watch the sunset and take photos.
3. Beitou Hot Springs
Beitou Hot Springs is one of the most famous hot springs in Taiwan. You can relax in the various public and private hot spring baths, visit the Thermal Valley, or explore the hot spring museum.
4. Tamsui Old Street
Visiting Tamsui Old Street, a historic district with a scenic waterfront view. You can stroll through the old streets, enjoy local street food, and visit the Tamsui Fisherman's Wharf.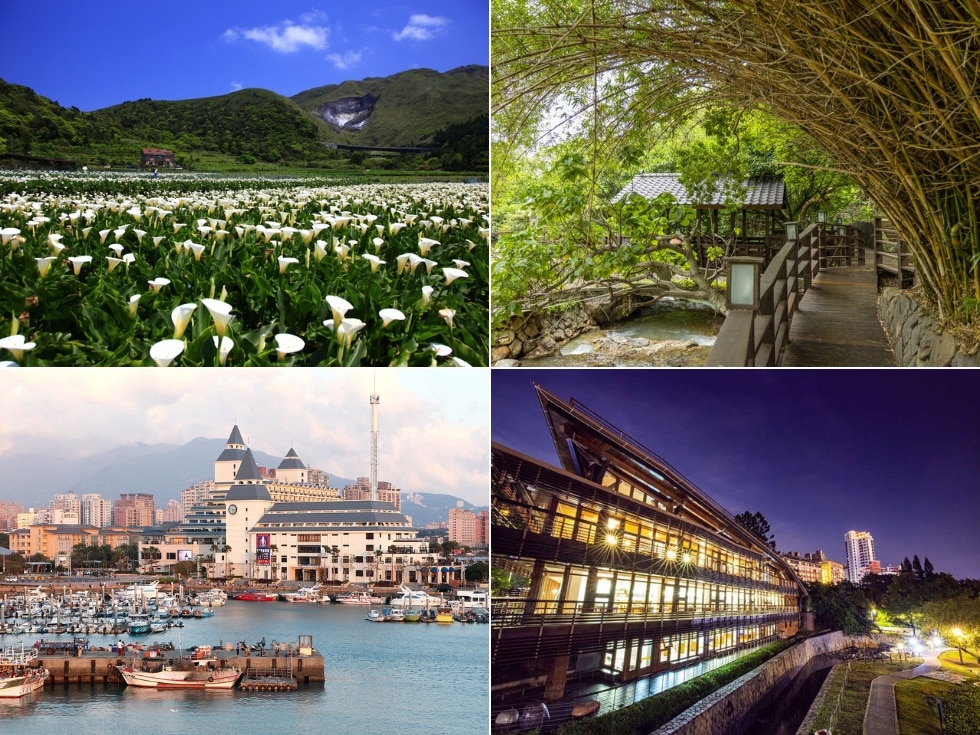 Souvenirs from Taipei
Some of the most popular souvenirs to buy in Taipei include pineapple cakes (鳳梨酥), oolong tea (烏龍茶), mini sky lanterns (小天燈), Taiwanese glove puppets (布袋戲偶), Chinese knots (中國結), Chinese paintings (國畫), oil paper umbrellas (油紙傘) and jade (玉). You can buy these souvenirs at many places in Taipei. Some of the most popular places include souvenir shops at tourist attractions such as Taipei 101 and Shilin Night Market. You can also find them at stores such as Chia Te Bakery (佳德糕餅), SunnyHills (微熱山丘), and Ten Ren Tea (天仁茗茶).
If you're looking for something unique, you can visit a former factory and museum in Taipei dedicated to the art of traditional block printing3. You can also find anime figurines, manga, DVDs and CDs and posters at Taipei Main Station.
In addition to the above mentioned souvenirs, there are many other famous souvenirs from Taiwan that you should bring back to your hometown.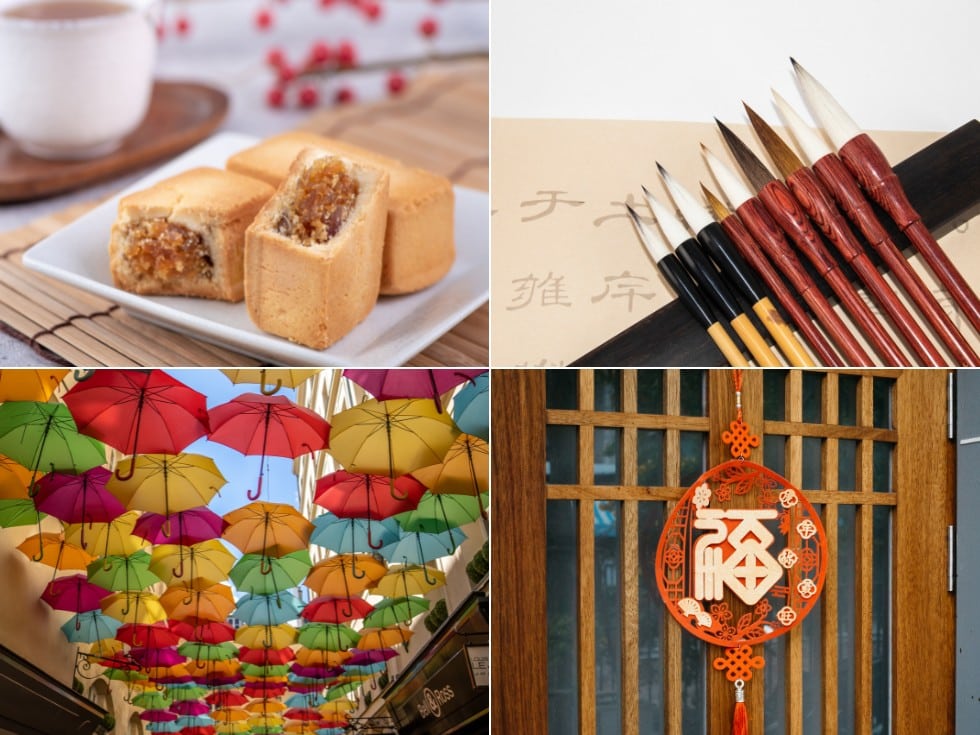 ---
Travel to Taiwan's largest city in the south: Kaohsiung
Let us tell you all about the fabulous city of Kaohsiung in Taiwan! It's one of Taiwan's top three cities, and boy, has it come a long way! From a humble settlement to a bustling metropolis with a whopping 12 districts, Kaohsiung is the place to be!
Kaohsiung was once a total rockstar in the industrial scene, boasting the world's THIRD largest port. today, it's not just about industries; Kaohsiung has reinvented itself with a trendy, modern vibe. Kaohsiung is a real player in the trade game too, thanks to its strategic location and the amazing Kaohsiung Port. It's the beating heart of commerce.
Whether you're into history, culture, or just looking for some epic adventures, Kaohsiung has it all.
Best time to visit Kaohsiung
From November to April is the best season to visit Kaohsiung, Taiwan, for perfect weather and a terrific vacation experience. The weather is most pleasant during these months, with moderate temperatures and less possibilities of precipitation. It's the ideal time to see the city's attractive attractions, such as Love River, Shoushan, and Sizihwan Bay, which will leave you speechless.
If you prefer milder weather, consider traveling in May, June, or July, but bear in mind that typhoons, also known as tropical cyclones, might occur in July. Due to excessive rainfall, August is the rainiest month and may not be the best time to come.
Consider traveling during the off-season, either during the winter or summer, to avoid crowds and get fantastic hotel discounts. The city provides a one-of-a-kind experience all year, so whether you visit during the lovely winter months or the warmer summer days, you're in for a treat.
So, plan your trip to Kaohsiung carefully and you'll be rewarded with an unforgettable journey in this dynamic city! Travel safely.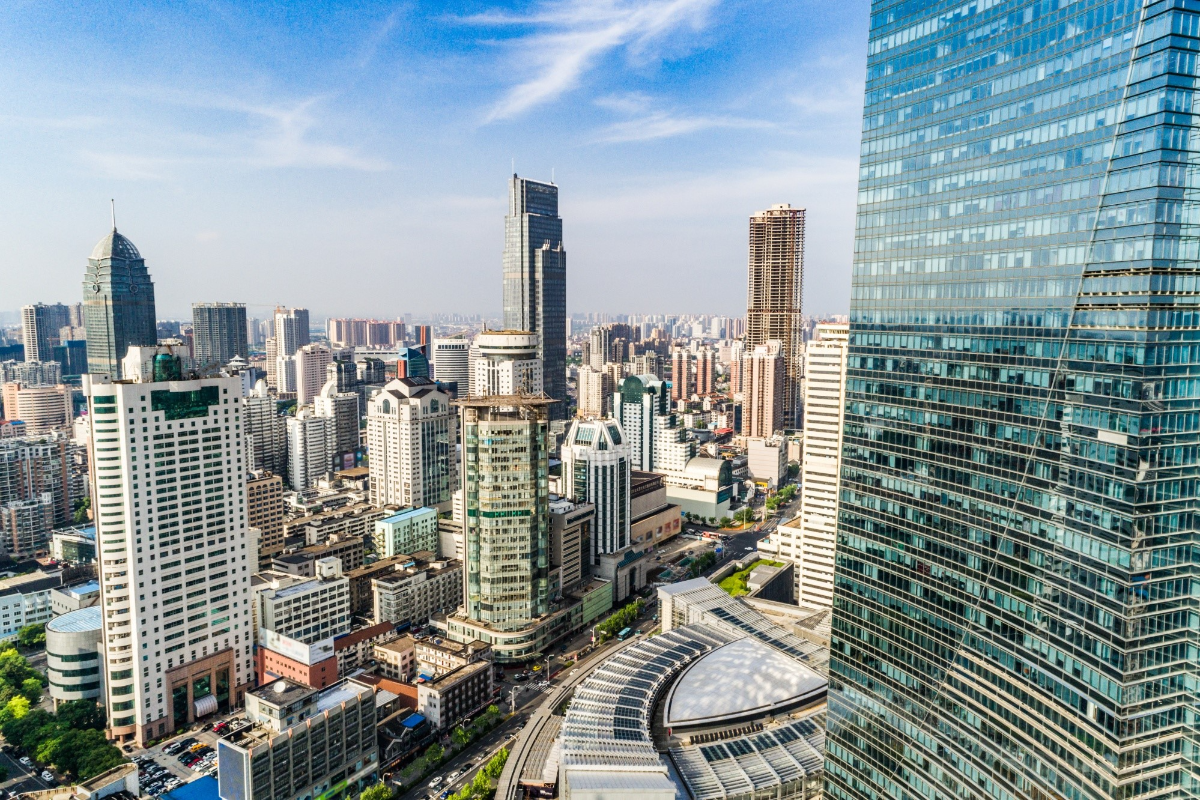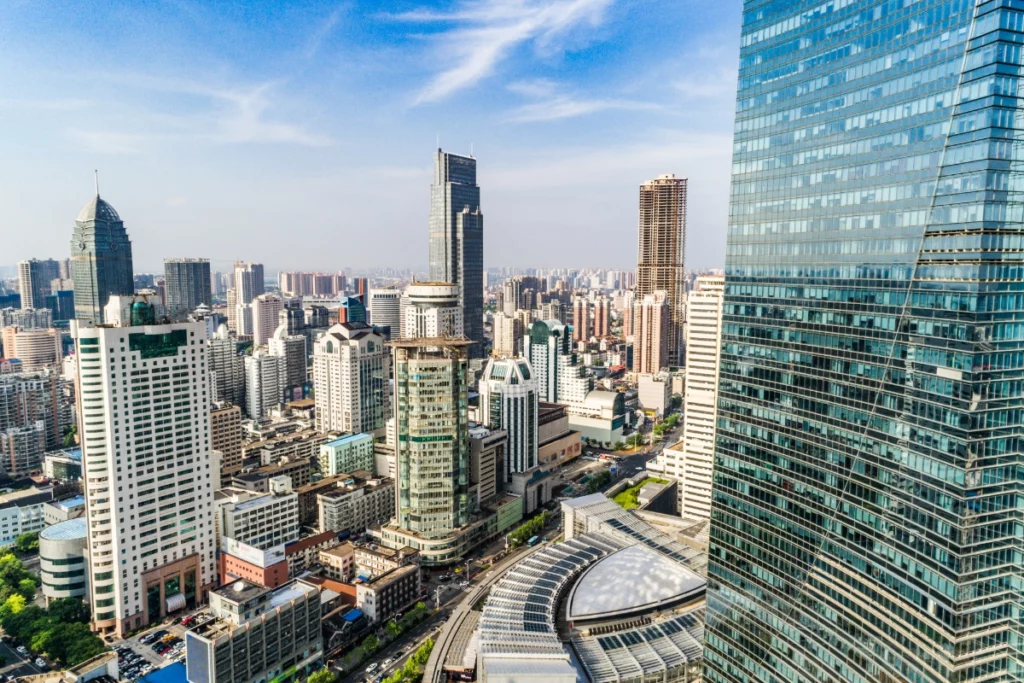 How to Get to Kaohsiung
Getting to Kaohsiung from other places is easy and convenient due to its well-connected transportation network. Travelers have various options to choose from:
High-Speed Rail (HSR): The Taiwan High-Speed Rail offers a quick and efficient way to travel between Taipei and Kaohsiung. The journey takes about 1.5 to 2 hours from Taipei Main Station to HSR Zuoying Station, located in northern Kaohsiung.
Train: If you prefer a more affordable option, you can take a regular train from Taipei Main Station to Kaohsiung Main Station. The travel time is approximately 4.5 to 6 hours.
Bus: Buses provide a cost-effective means of reaching Kaohsiung from Taipei. The travel time is around 5 to 6 hours, and you can catch the bus from Taipei Bus Station.
Flight: For those coming from farther destinations or seeking a quicker option, flights are available from Taipei Songshan Airport or Taoyuan airport to Kaohsiung International Airport.
You can also refer to our 4 Simple Ways to Travel from Taipei to Kaohsiung article to know the best way to get to Kaohsiung from Taipei.
Where to stay in Kaohsiung
When planning a trip to Kaohsiung, Taiwan's southern harbor city, you'll find a variety of great places to stay. Whether you prefer the artistic vibe of Pier-2, known for its revitalized warehouses and creative atmosphere, or the convenience of the Kaohsiung Railway Station area, with bustling commercial activity and various hotels, there's something for everyone.
For those seeking a more relaxed coastal experience, the harbor district offers a delightful blend of urban conveniences and beachfront scenery. Moreover, the Sanduo and Wufu Shopping Districts are excellent choices for travelers who enjoy shopping, entertainment, and a modern cityscape, with plenty of hotels catering to different budgets. Make the most of your Kaohsiung adventure by selecting the accommodation that suits your preferences and offers easy access to the attractions you wish to explore. Enjoy your stay and discover the best of Kaohsiung's vibrant culture, delicious food, and beautiful green spaces!
👉Read more: Where to Stay in Kaohsiung Taiwan
Recommended Accommodation in Kaohsiung
Silks Club
Silks Club in Kaohsiung is a pinnacle of luxury and artistry, a collaboration between Yu-Ming Construction and the Regent Group. With 147 executive-level rooms, the hotel redefines opulence, starting from a minimum room size of 18 ping. The focus on "Visual Creativity," "Regionalism," and "Architectural Space" creates an enchanting ambiance. The Michelin-starred UKAI-Tei restaurant offers a remarkable culinary experience, while the infinity pool provides a panoramic harbor view. Silks Club is a sophisticated oasis, epitomizing excellence in Kaohsiung's hospitality scene, making it a must-visit for those seeking a refined and artistic travel experience.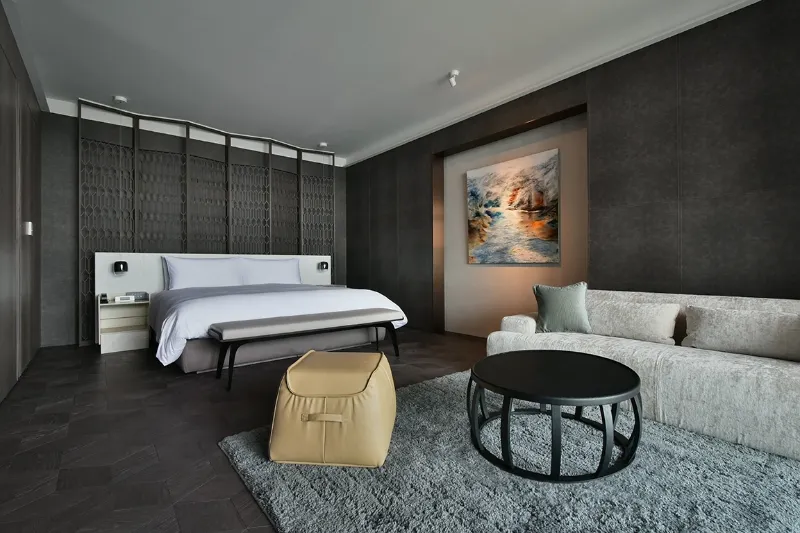 SaYo Hotel
SaYo Hotel is a stylish and comfortable accommodation located in the elegant historical district of Yanchengpu, Kaohsiung. With its focus on providing a homely atmosphere and impeccable service, Sa-Yo Hotel is an excellent choice for both business and leisure travelers. The hotel features 70 spacious rooms and offers leisure facilities, a children's game room, Wii gaming console, meeting rooms, and self-service laundry. Guests can also enjoy complimentary coffee at the welcome coffee bar from 10 AM to 10 PM. The hotel's convenient location near Yancheng Public Market and attractions like Pier-2 Art Center and Love River makes it an ideal base for exploring the city.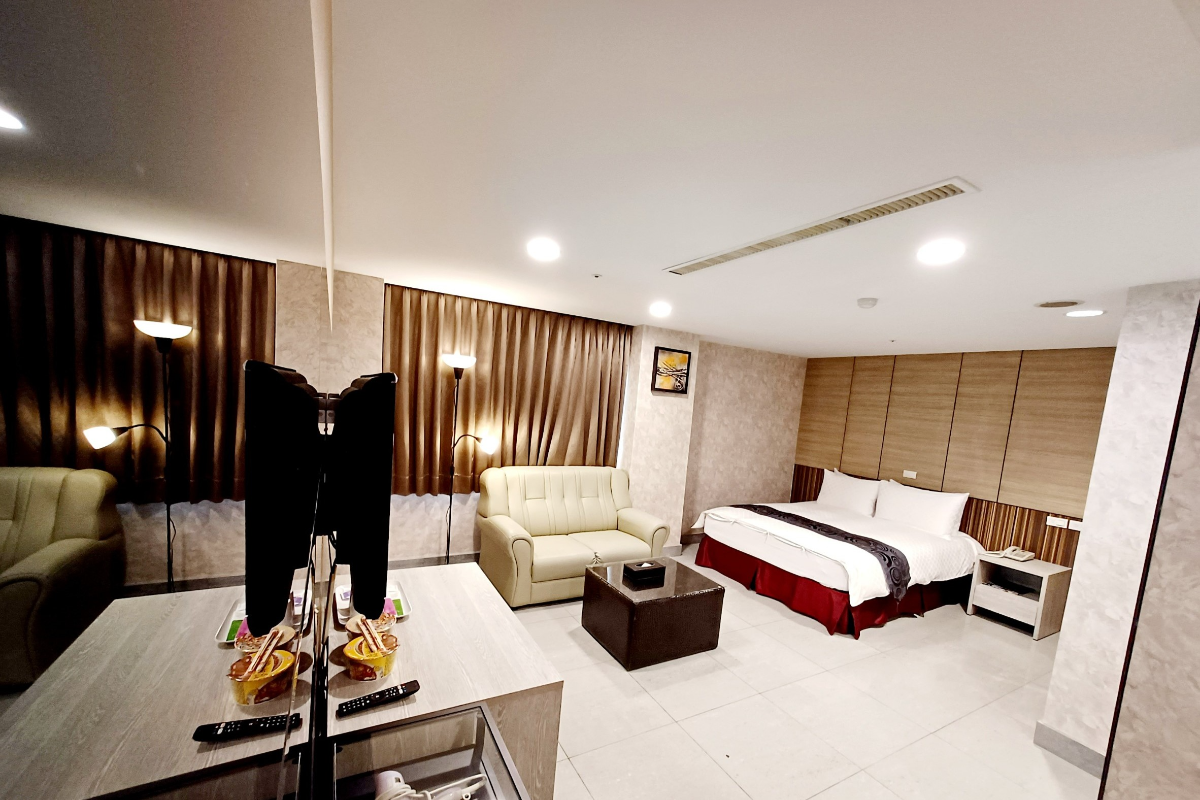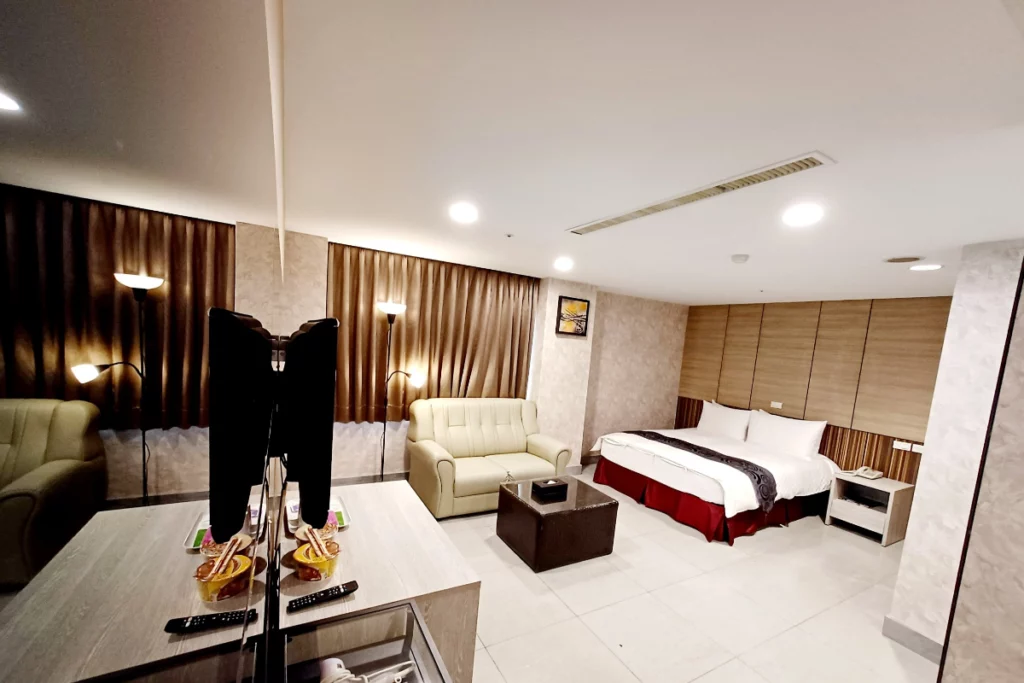 Transportation in Kaohsiung
To explore the city like a local, you can utilize the well-developed mass transportation system, including the MRT (Metro), LRT (Light Rail Transit), and buses. The Kaohsiung Metro currently has two routes, the red line and orange line, meeting at Formosa Boulevard Station, and trains operate at intervals of 5 to 10 minutes. Smoking, eating, and drinking are strictly prohibited in stations and on trains to maintain a pleasant riding environment.
For a unique experience, consider taking the Kaohsiung sightseeing bus, a double-decker bus, to explore the city's unique charms. You can also enjoy water recreation facilities in Kaohsiung.
To navigate the city conveniently, it's recommended to get an iPass or EasyCard, Kaohsiung's transportation cards, which can be used to pay for fares in buses, MRT, and ferry boats. Additionally, the city aims to increase the percentage of electric buses, promoting low-carbon and green transportation.
Best things to do in Kaohsiung
Kaohsiung, Taiwan's vibrant port city, offers an array of exciting activities and attractions that cater to diverse interests. Whether you're a history enthusiast, a nature lover, a foodie, or an art admirer, Kaohsiung has something for everyone.
1. Explore Lotus Pond
Stroll around the picturesque Lotus Pond, known for its vibrant temples and scenic beauty. Admire the Dragon and Tiger Pagodas, the Spring and Autumn Pavilions, and the Confucius Temple, which create a serene atmosphere.
2. Visit Pier 2 Art Center
Immerse yourself in Kaohsiung's contemporary art scene at the Pier 2 Art Center. This creative hub showcases various art installations, galleries, and trendy cafes, making it a perfect spot for art enthusiasts and photography enthusiasts alike.
3. Take a Ferry to Cijin Island
Take a boat to Cijin Island for a taste of culture, history, and beautiful beaches. The Cihou Lighthouse and the seafood booths along the shore, which provide some of the freshest catches, should not be missed.
4. Marvel at the Dome of Light
Witness the stunning Dome of Light at Formosa Boulevard Station, one of the most magnificent metro stations in the world. With its elaborate glasswork, this stunning art piece will leave you speechless.
5. Enjoy Kaohsiung Sunset Cruise
Take a romantic sunset cruise, which provides spectacular views of the city's cityscape as the sun sets over the horizon. Capture the gorgeous scene while learning about Kaohsiung Port's history. If you are traveling with your family to Kaohsiung, you can check out 15 Best Things to Do with kids in Kaohsiung article for more tourist attractions for you and your family.
👉Read more: Kaohsiung's Top Secret Attractions 2023: Sunset and Lakeside Forest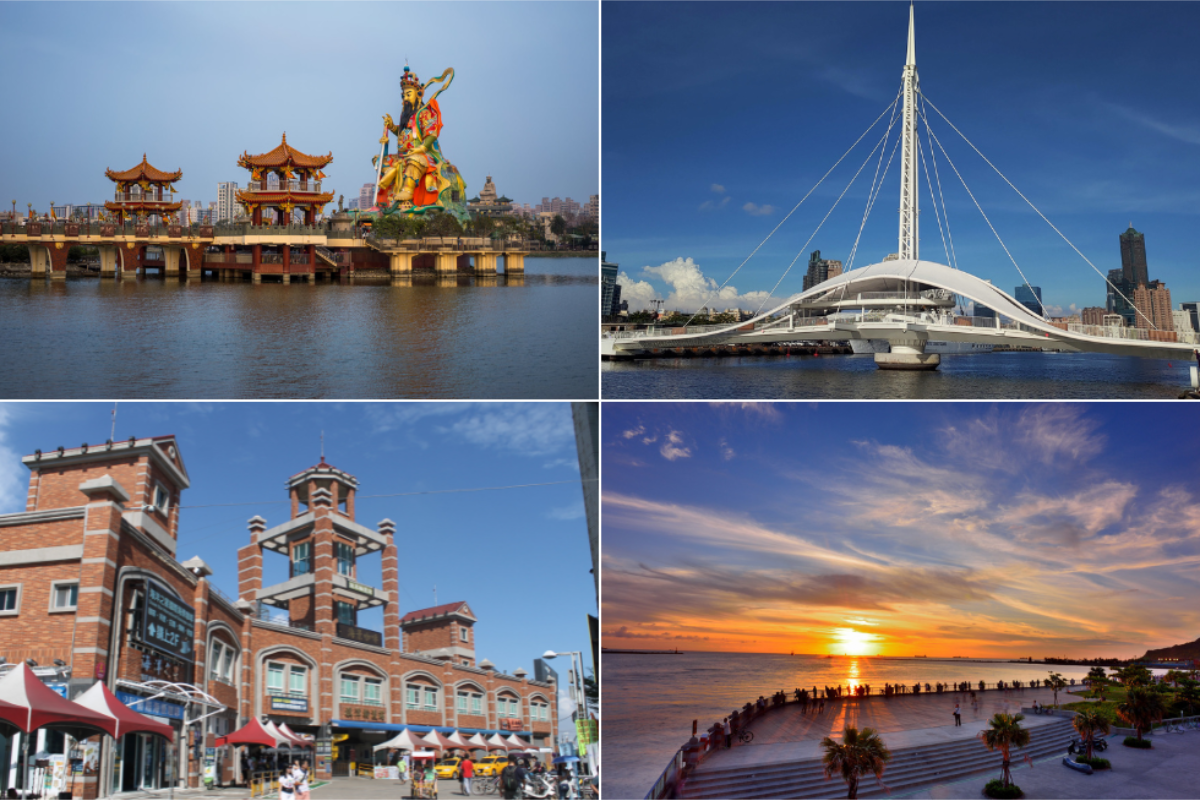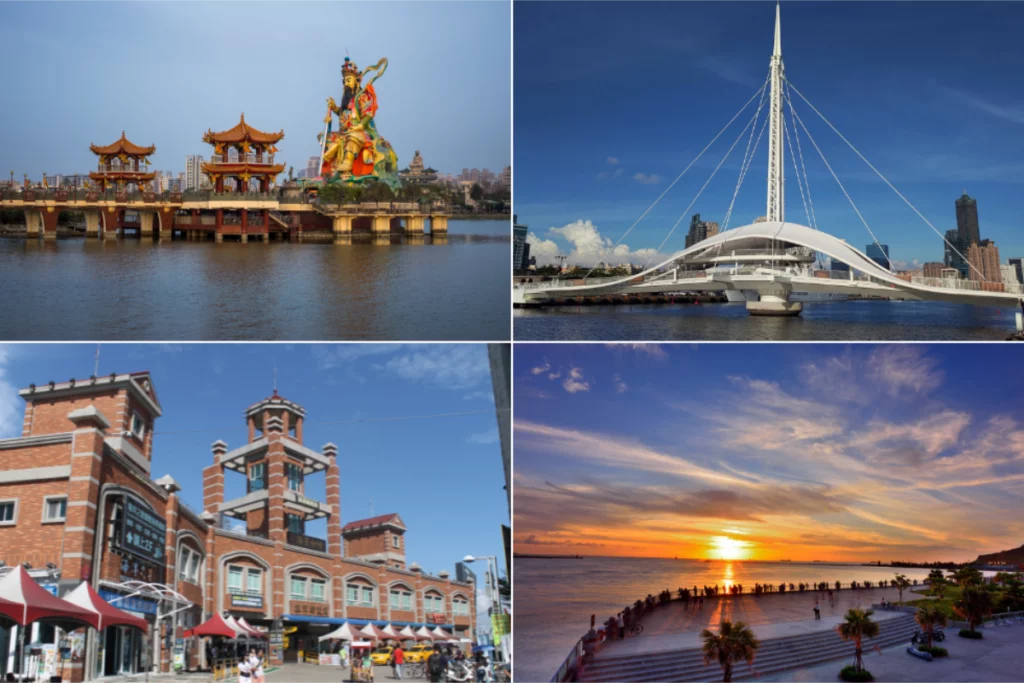 Where to eat in Kaohsiung
1. Ruifeng Night Market
Ruifeng Night Market, located in Kaohsiung's Left Camp neighborhood, is a lively and dynamic night market that draws both residents and visitors. It has been a popular destination for more than two decades and provides a varied range of culinary, fashion, and entertainment options. There is a wonderful selection of tasty street cuisine to choose from. Okinawa crispy fried squid, Korean-style pancakes, Japanese teppanyaki, and a unique Taiwanese tea known as "店小二特濃鮮紅茶" are all must-tries. These scrumptious sweets can be enjoyed by visitors while browsing the market's various stalls and sellers.
Ruifeng Night Market is open from 6:30 p.m. to 1:00 a.m. on Tuesdays, Thursdays, Fridays, Saturdays, and Sundays. It is strategically placed near the Kaohsiung Arena MRT Station, making public transit easy to use.
2. Liuhe Night Market
Liuhe Night Market, also known as Liuohe Tourist Night Market, is a renowned night market in Kaohsiung, Taiwan. It offers a wide variety of delectable dishes and snacks, such as Zheng's papaya milk and Ahma's grilled rice cake. Visitors can shop for trendy fashion items and souvenirs while immersing themselves in the vibrant atmosphere. The market's strategic location near the Kaohsiung MRT Formosa Boulevard Station makes it easily accessible. Operating from evening till early morning, Liuhe Night Market is a must-visit for food enthusiasts and shoppers alike, offering an unforgettable experience of Taiwanese street food and culture.
Besides the two night markets mentioned above, Kaohsiung has many other night markets with their own specialties, so check out our Kaohsiung Night Market Recommendations article to explore more of Kaohsiung's local specialties.
3. Duck Zhen(鴨肉珍)
"Duck Zhen" is a duck meat speciality restaurant in Kaohsiung's Yancheng District. With a 65-year history, this restaurant has become a traditional neighborhood favorite as well as an iconic street food hotspot in the area. "Duck Jane" is known for its tasty duck dishes, and its menu includes duck rice, duck noodles, duck winter melon soup, mixed offal with duck blood, and more. The duck rice with beautifully seasoned minced meat is the outstanding dish.
Notably, "Duck Jane" received a Michelin Guide endorsement in 2022, confirming its position in the culinary landscape. Locals and tourists alike travel to this business to sample its long-standing heritage of offering exquisite duck dishes, which has earned it a place in Kaohsiung's culinary canon.
4. Bei Gang Tsai Rice Tube (Yancheng)
Kaohsiung Bei Gang Tsai Rice Tube is a popular snack restaurant in Kaohsiung's Yancheng District. It was founded in 1956 and has almost 60 years of history. It is known as a must-try local delicacy. Long lines form outside the business at all hours of the day and night, demonstrating its popularity. The hallmark meals include tube rice cake and steamed egg soup, both of which are highly recommended and available at reasonable costs, giving clients outstanding value for money.
Bei Gang Tsai Rice Tube is not only well-known in Kaohsiung, but it has also achieved Michelin Bib Gourmand distinction, making it a symbol of Kaohsiung's culinary scene. The shop, located beside the Love River in Yancheng District, serves unusual and excellent cuisine. Classics include the tube rice cake, steamed egg soup, and other delicacies such as the Flagfish Ring Soup.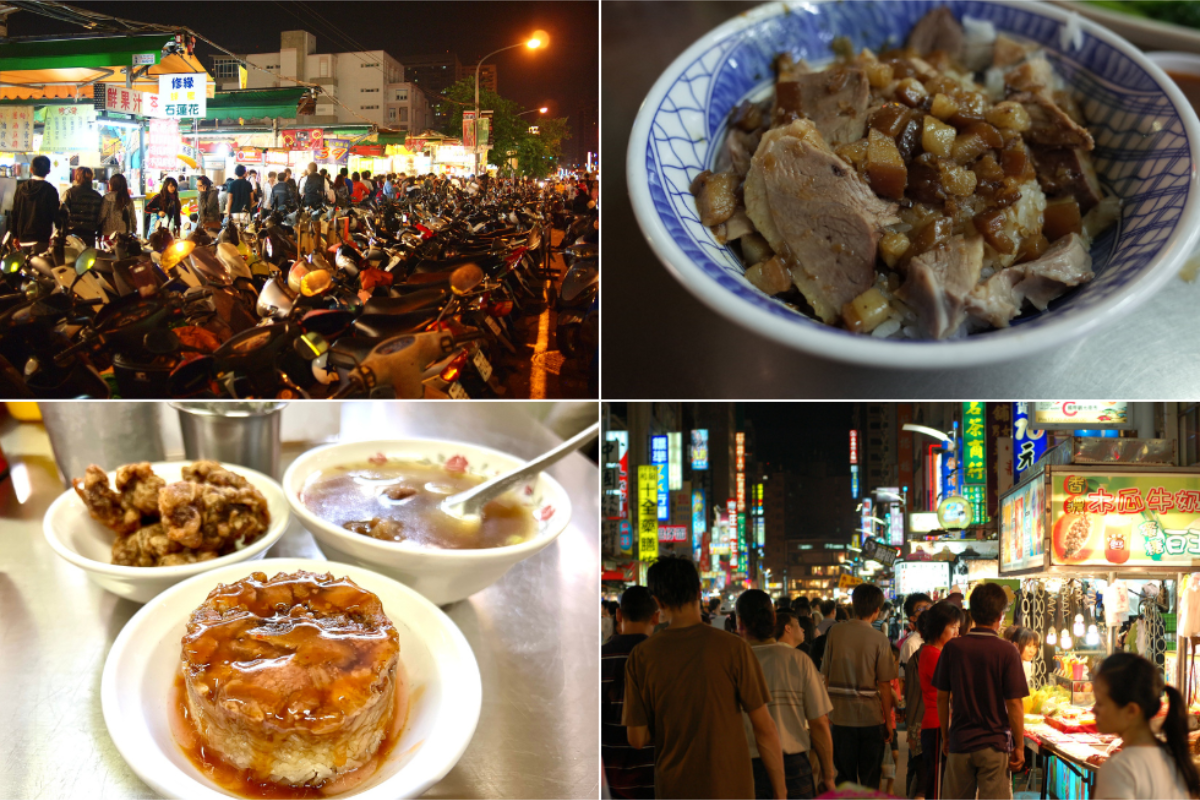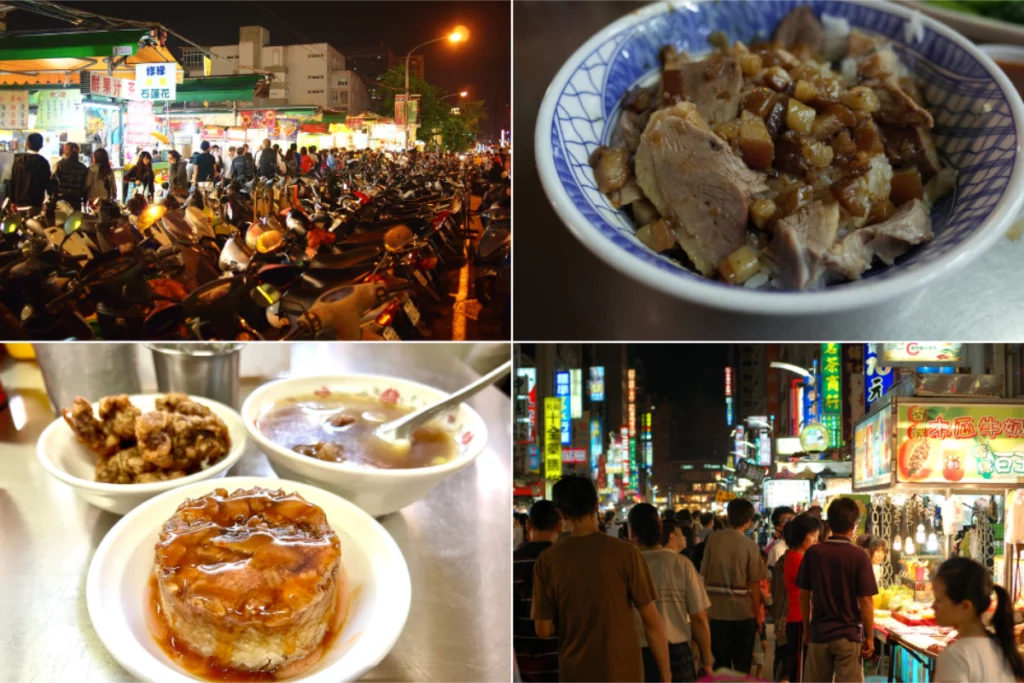 Kaohsiung Nature tourist spots
1. Tardyhill Nature Park(漯底山自然公園)
Tardyhill Nature Park, also known as 漯底山 (Lào Dǐ Shān) or 凹底山 (Āo Dǐ Shān), is located in Kaohsiung's Mituo District. This park has a large green area with woodland pathways. It was formerly an important military post during the Japanese colonial period. Climb up to the observation deck for sweeping views of Kaohsiung's cityscape and shoreline. The park's mudstone badland landscape is distinctive, and the park's meandering pathways allow for observation of different natural biodiversity inside the wooded region. Within the park, there are also observation bridges, basketball courts, and a family play area.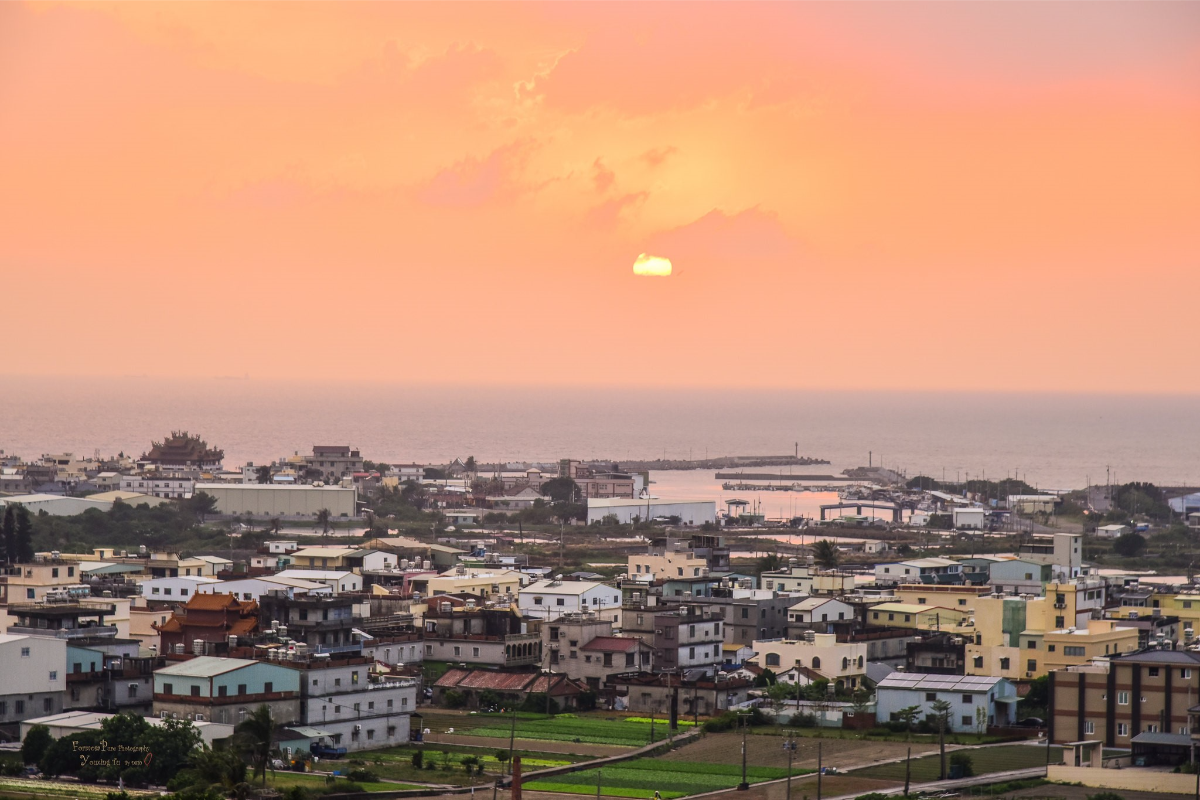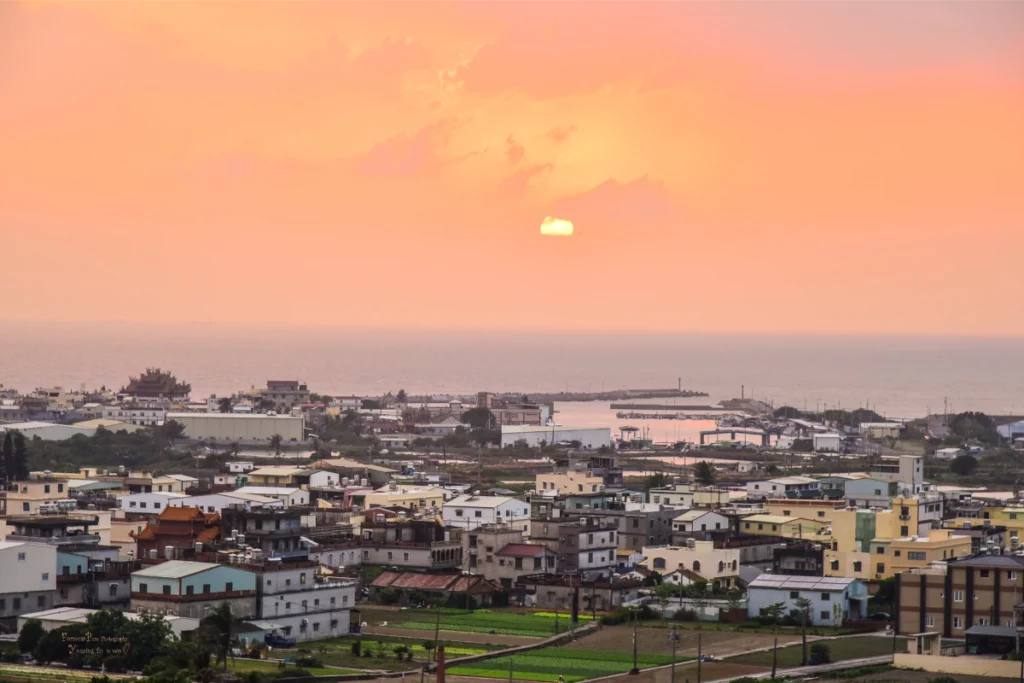 2. Shoushan National Nature Park(壽山國家自然公園)
Shoushan National Nature Park is located in Kaohsiung's Gushan District. It is a coral mountain on the city's southern outskirts, near Sizihwan Bay. Shoushan, which has the most green space in Kaohsiung, is a popular natural attraction for locals. The park allows guests to get close to nature by delivering thrilling and natural activities. It is also popular among birdwatchers owing to the park's rich biodiversity.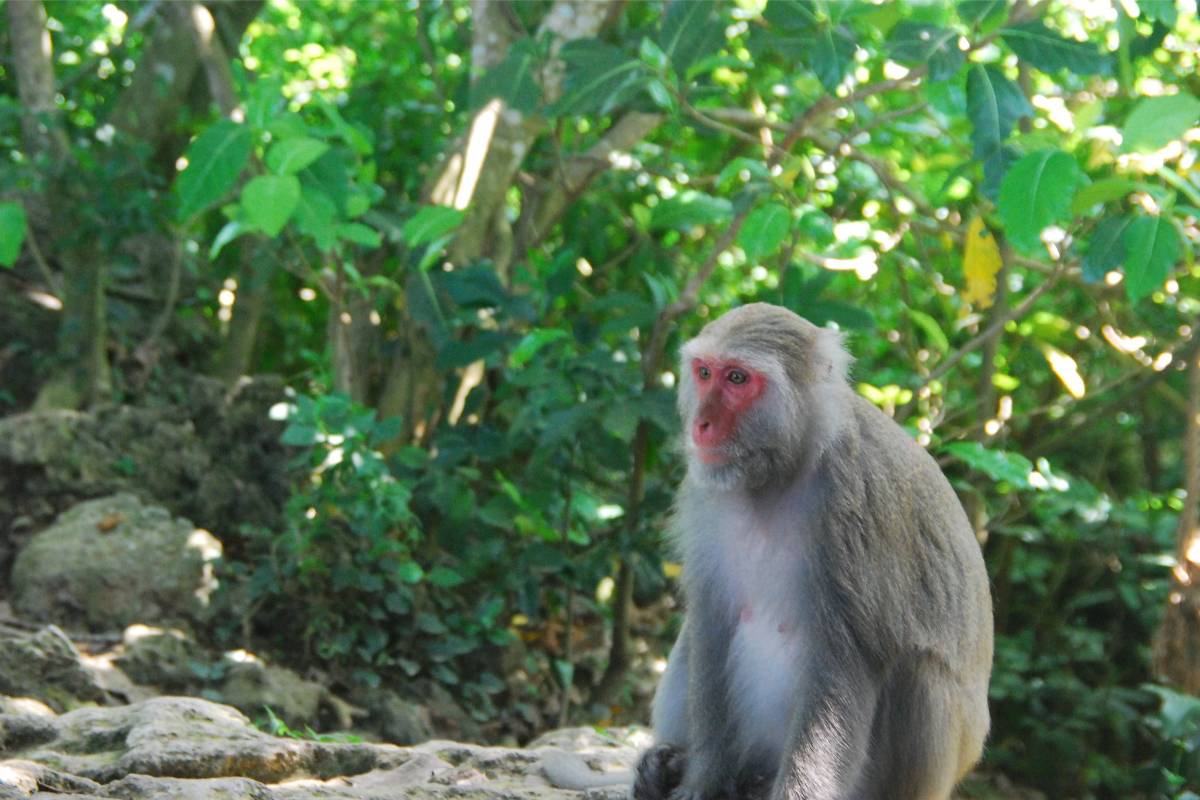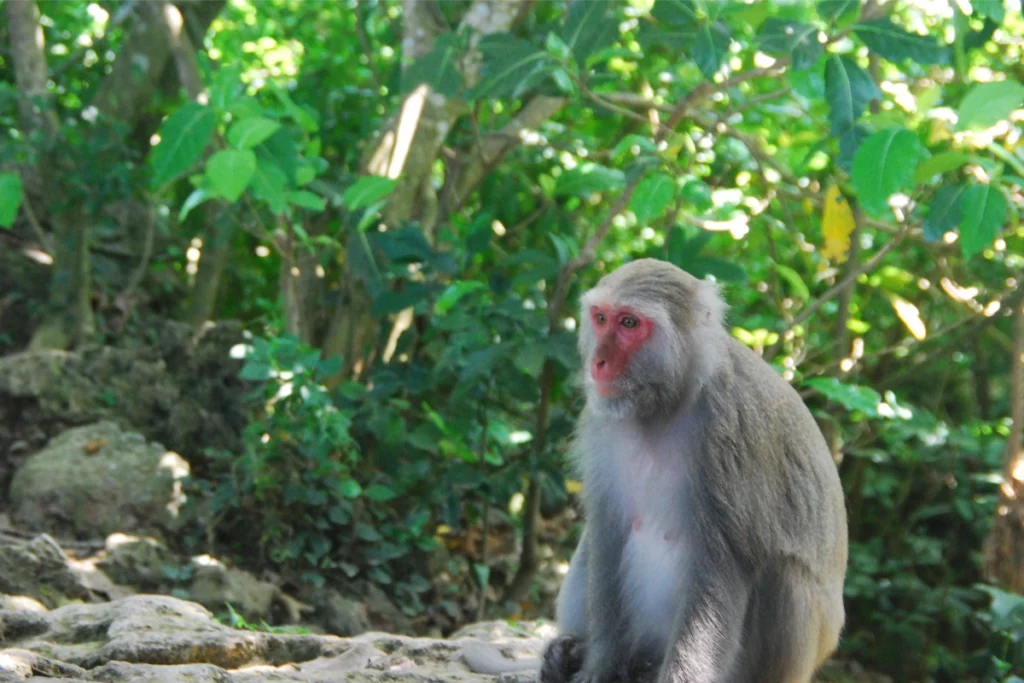 If I didn't tell you, you wouldn't know that Kaohsiung has many other secret attractions that you should explore!
Souvenirs from Kaohsiung
1. Kaohsiung Bu-Er-Jia Bakery (不二緻果)
Kaohsiung Bu-Er-Jia Bakery (不二緻果) was founded in 1938, and the most well-known signature is the "Real Taro." Two creamy layers of fresh taro cream mousse are sandwiched between three slices of sponge cake, creating a soft, rich, and sweet but not too sweet flavor. In addition to the "Real Taro," Kaohsiung Bu-Er-Jia Bakery's distinctive delights include mille-feuille and mung bean pastry.
2. JOY WELL CAKE SHOP (中外餅鋪)
Joy Well Cake Shop is a classic pastry shop that was founded in 1905; the area's well-known "Chess Pastry" began here. The 32 pieces of delicious sweets that are generally seen on the chessboard are ideal companions for a good cup of tea. There's also pineapple cake, yolk pastry, and date paste cake with walnuts.
3. Zhenfang Mullet Roe Experience Factory-Mullet Roe
The Zhenfang Mullet Roe Experience Factory is located in Kaohsiung's Qianzhen District. It is one of Taiwan's biggest mullet roe producers. Zhenfang Mullet Roe Experience Factory began almost fifty years ago as a modest business with only two ping of space. With exceptional manufacturing skills and a reputation for excellence, it rapidly evolved into a specialist mullet roe store. The plant, led by the second generation, clings to traditional production methods while also using contemporary professional procedures. Processing sections, a knowledge and culture zone, product areas, a presentation room, interactive zones, DIY schools, and a sunny glass drying area are all part of the facility.
Visitors may get a firsthand look at the mullet roe manufacturing process and history, as well as obtain professional information about mullet roe in an exciting way. This factory is the only themed narrative zone in the world centered on mullet roe, allowing visitors to participate in DIY mullet roe manufacturing and feel the fascination of historic traditional craftsmanship.
4. 志明花生糖 (Zhming Peanut Brittle)
志明花生糖 (Zhming Peanut Brittle) is a well-known local peanut brittle in Kaohsiung. It's a typical snack that residents and visitors alike enjoy. Peanut brittle is a traditional and delectable memento.
Full List of Taiwan Monthly Hotel for 2023