Last Updated on 07-04-2023
Located in the north of Beitou (北投), Yangmingshan is arguably one of the most attractive places in Taiwan. It was previously called the "Grass Mountain" (草山) as it was completely covered in grass. Yangmingshan is home to many parks, hiking trails, etc. The volcanoes and hot springs also make Yangmingshan National Park the only one of its kind in Taiwan. With unique kinds of beauty every season, Yangmingshan should be on everyone's bucket list when coming to Taiwan. Its proximity to Taipei makes it one of the top must-visit spots for both foreigners and Taiwanese. This article will give you an overview of the area, including how to get there and the places you should see on your visit. Make sure you see this masterpiece!
Yangmingshan National Park: One of Taiwan's Wonders
As mentioned earlier, Yangmingshan National Park is one of the most popular tourist destinations in Taipei City, but what makes it so special? Originally, Yangmingshan was called Caoshan (草山, "Grass Mountain") because the area was completely covered in green trees and grass. When the ROC took over Taiwan in 1950, it was renamed Yangmingshan in memory of the great Wang Yang-Ming. I have been to Yangmingshan twice, and it was a wonderful experience every single time, although I do hear people complaining about it because they had to walk too much.
Yangmingshan National Park is designed in the traditional Chinese style. Due to its natural beauty, it has earned the titles of "urban forest" and "Taipei Garden". Yangmingshan is home to many volcanoes, among them the tallest dormant volcano in Taiwan (Mount Qixing), and if you are not into hiking, Yangmingshan's internationally famous hot springs will welcome you. Usually, visitors come on weekends, and access to the area is completely free.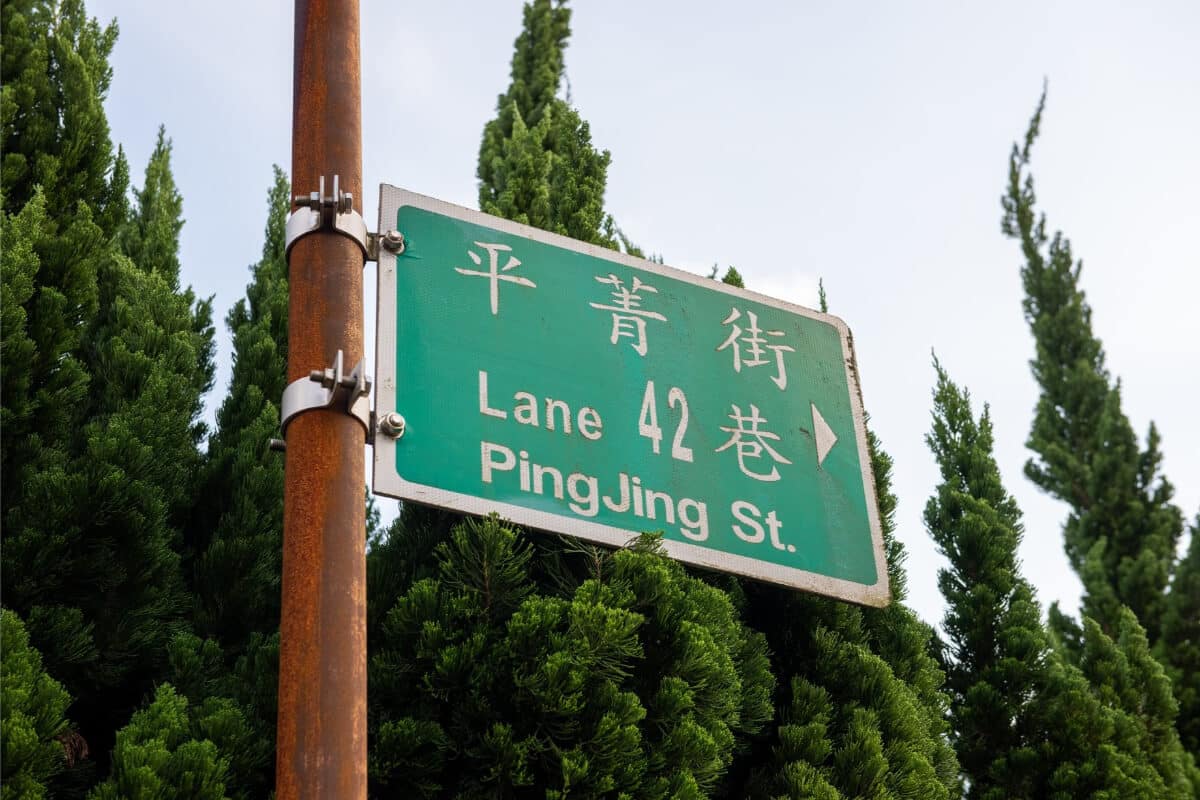 Another special feature of Yangmingshan is that every season of the year shows a unique side of the area. Therefore, depending on what time of the year you go, you will have different experiences. During autumn, also known as the Silver Grass Season in countries like Taiwan, Japan, etc., you will see silvery grass all over the mountain tops around Yangmingshan. From February to late March (cherry blossom season), which is my favorite time to go, you will get to see the best cherry blossoms in Taiwan. Although it is not common to have snow in Taiwan, between December and February it can snow in Yangmingshan, but only for two or three days. Finally, during the summer, which most people think is the best time to go because constant rain makes the air cleaner, and summer mornings are usually clear. But make sure to go in the morning instead because it will most likely be raining at night.
Most famous trails in Yangmingshan
Yangmingshan is so big that you may have trouble deciding which place you should visit. From hiking trails to hot springs, it is the perfect place for a day trip. In this section, I will narrow down the most famous trails in Yangmingshan. Unless you are full of energy, it may be difficult to explore all of them on the same day.
The Qingtiangang trail is a 6.9-km trail in Yangmingshan on the Shilin (士林) side. It is considered a moderately challenging route as it will take you an average of two hours and a half to hike. Qingtiangang offers spectacular views of Yangmingshan and is arguably one of the most visited places in Yangmingshan. This large grassland lies on top of an old lava terrace and is home to wild water buffalo, also called Asian buffalo.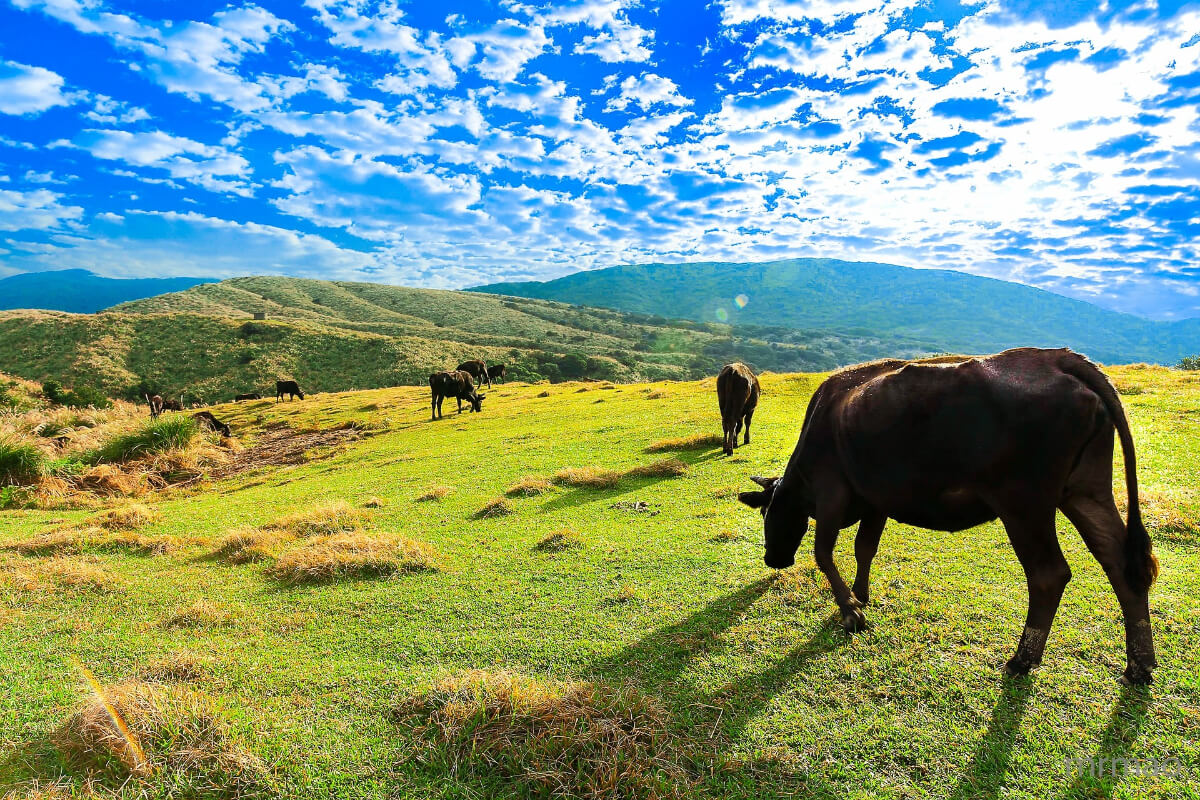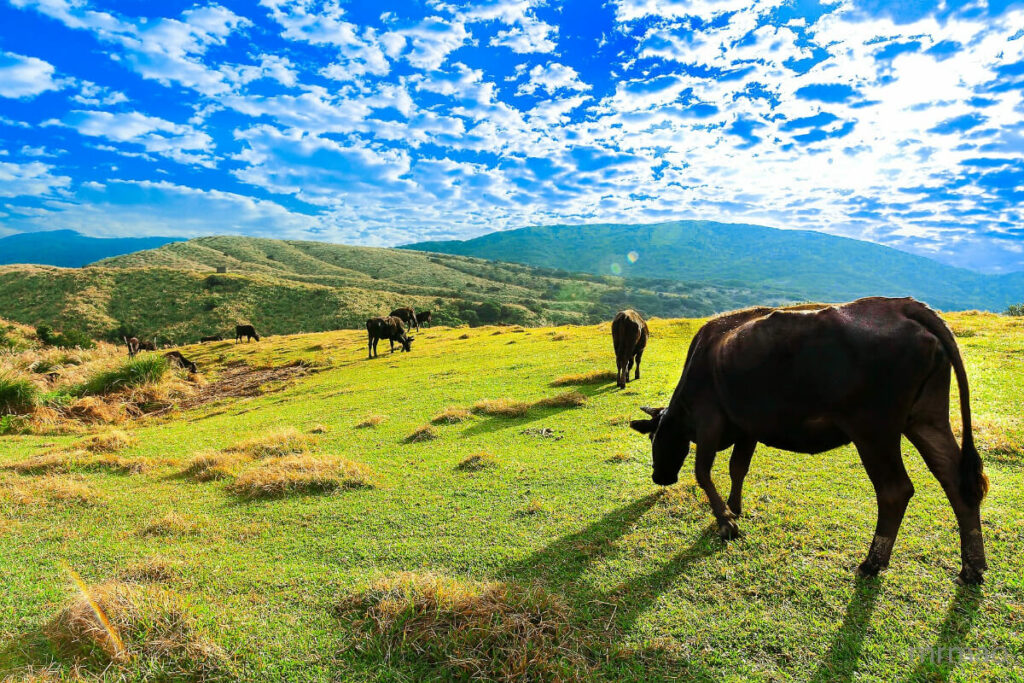 This trail is good for hiking and running. It is also a family-friendly destination; you can bring your dog if you have one, and they may be off-leash in some areas. I have visited Qingtiangang only once, and it was such a great experience, but I can assure you I got tired of walking at some point. It is definitely a must-stop on your trip to Yangmingshan. Be sure to bring your bottle of water or anything you drink for energy.
The Qixing trail is a 4.7-km trail near Beitou and it will take you around three hours to hike. Qixing Mountain, also called Qixingshan, is the highest dormant volcanic peak in Taiwan and the highest point in Taipei. So for someone who has never seen a volcano in his life, you can guess how excited I was. The area is also home to important protected species. From Qixing mountain, you will have a great view of Taipei and you can contemplate one of the most beautiful sunsets of your life.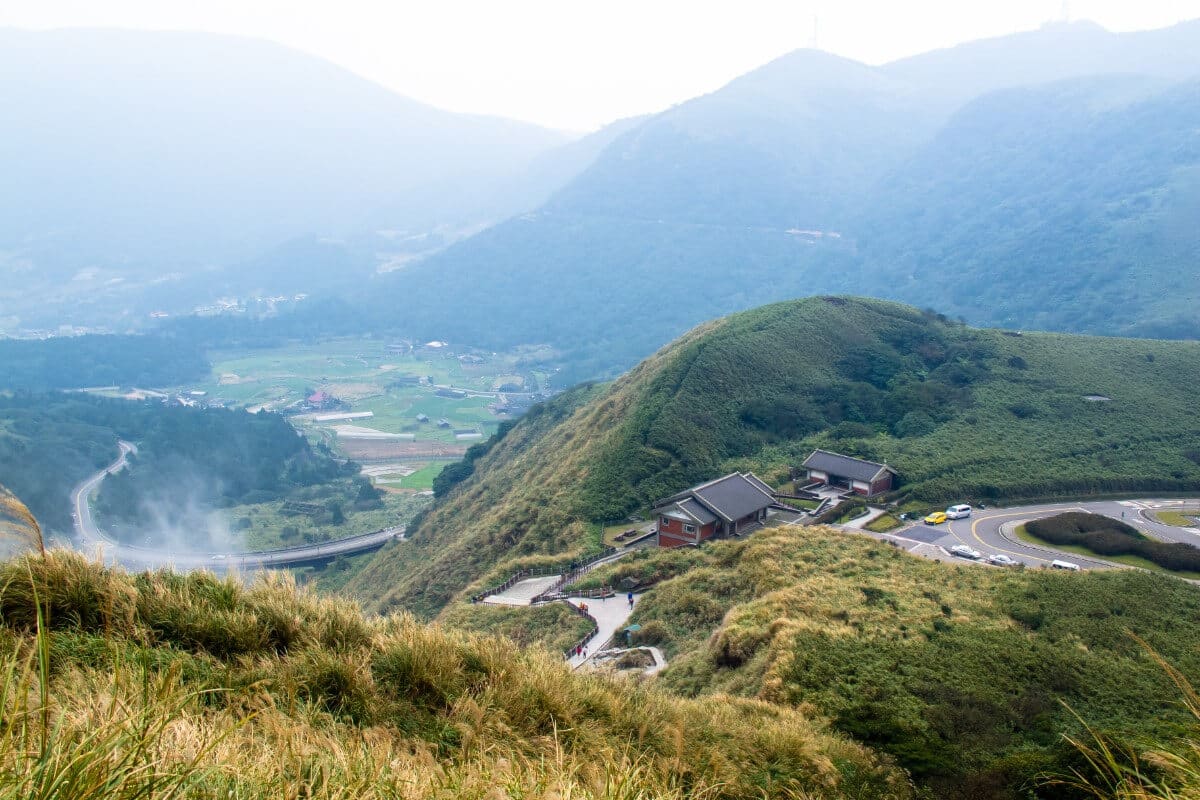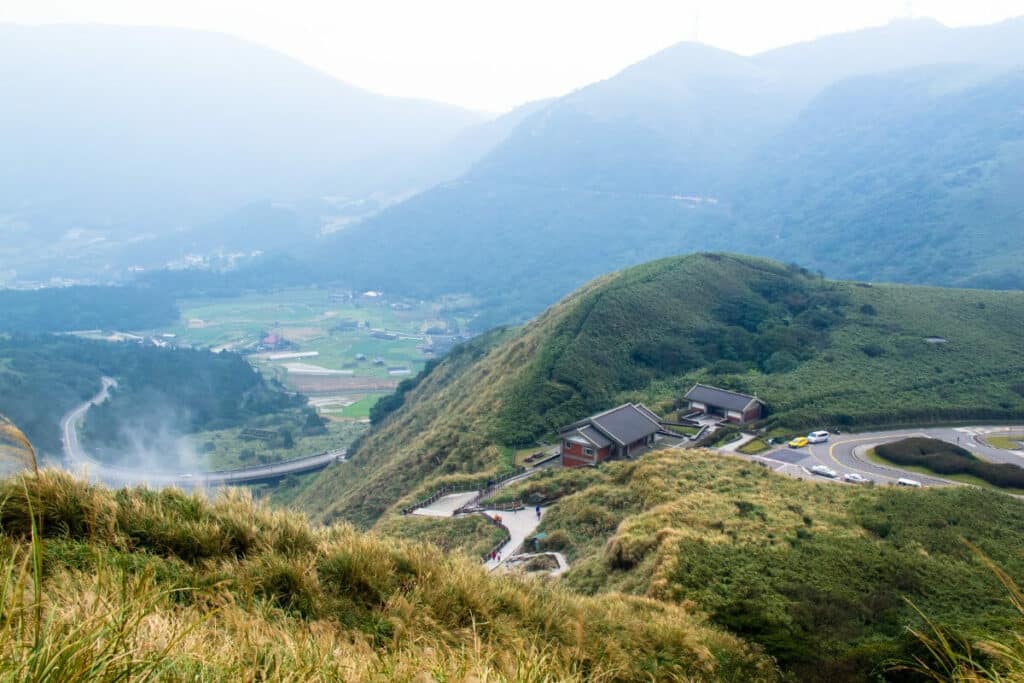 There are three trails that can take you to the top. One from Miaopu (苗圃) (2-hour hike), which is the most difficult way up. Another way is from Xiaoyoukeng (小油坑), which is the easiest way up with only a 40-minute hike, and the last one, from Lengshuikeng/Menghuan Pond (夢幻湖), which will take around 45 minutes. Many people love this trail because of the city view it offers from the top. When I went there two years ago, after taking the trail, I had to take the bus to go down. Qixing Mountain is one of the best sites to take pictures. However, there is vapor and steam surrounding it, so you might need to wait sometimes to get the nicest view.
Lengshuikeng, also translated as "cold water pit", is a 4.0-km trail near Jinshan (金山) that will take you around 2 hours to hike. It is also a popular place to rest when hiking Yangmingshan thanks to the visitor center, which has a cafe with WIFI, a free hot spring building, and a foot spa. You can hike from there to the Qingtiangang trail, where you can see the local buffalo we mentioned earlier. Lengshuikeng is home to many birds, so if you are a bird lover, this is definitely your spot.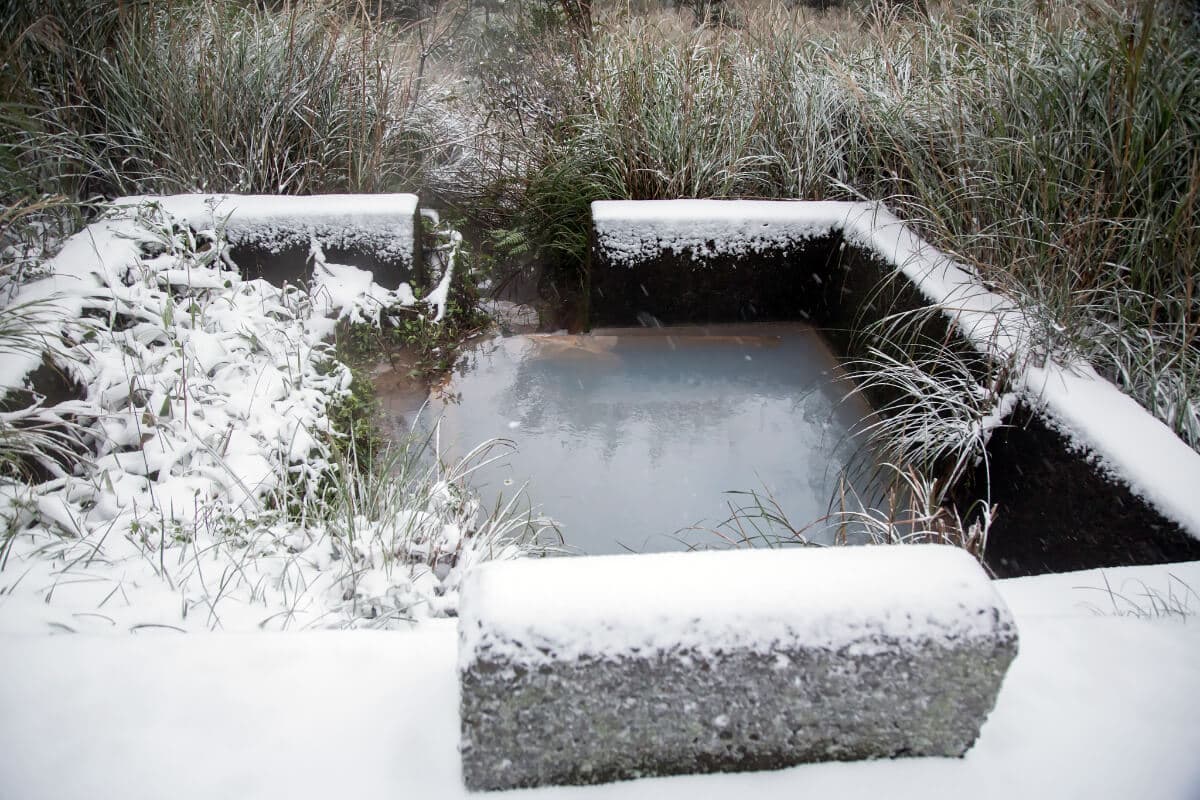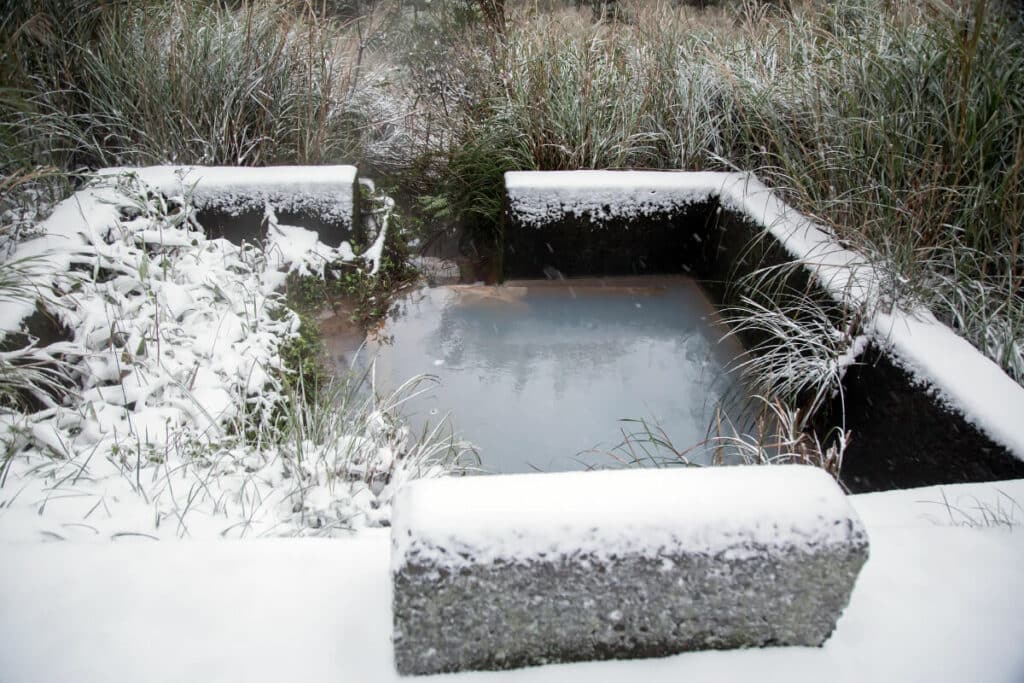 Datunshan (大屯山)
Also called Datun Mountain, Datunshan in Yangmingshan National Park is one of the only two active volcanic peaks in Taiwan, along with Turtle Island. This trail is also home to many protected species. From there, you can have a great view of Taipei, especially during sunsets. If you visit Datunshan at the beginning of summer, you will notice many butterflies, one of the best natural scenes you will observe in your entire life. The trail is suitable for anyone; you just have to bring good hiking shoes and you will be good to go. However, if it is raining, the hike will be more challenging, so unless you are a professional hiker, I can guarantee you the view at the top is worth it.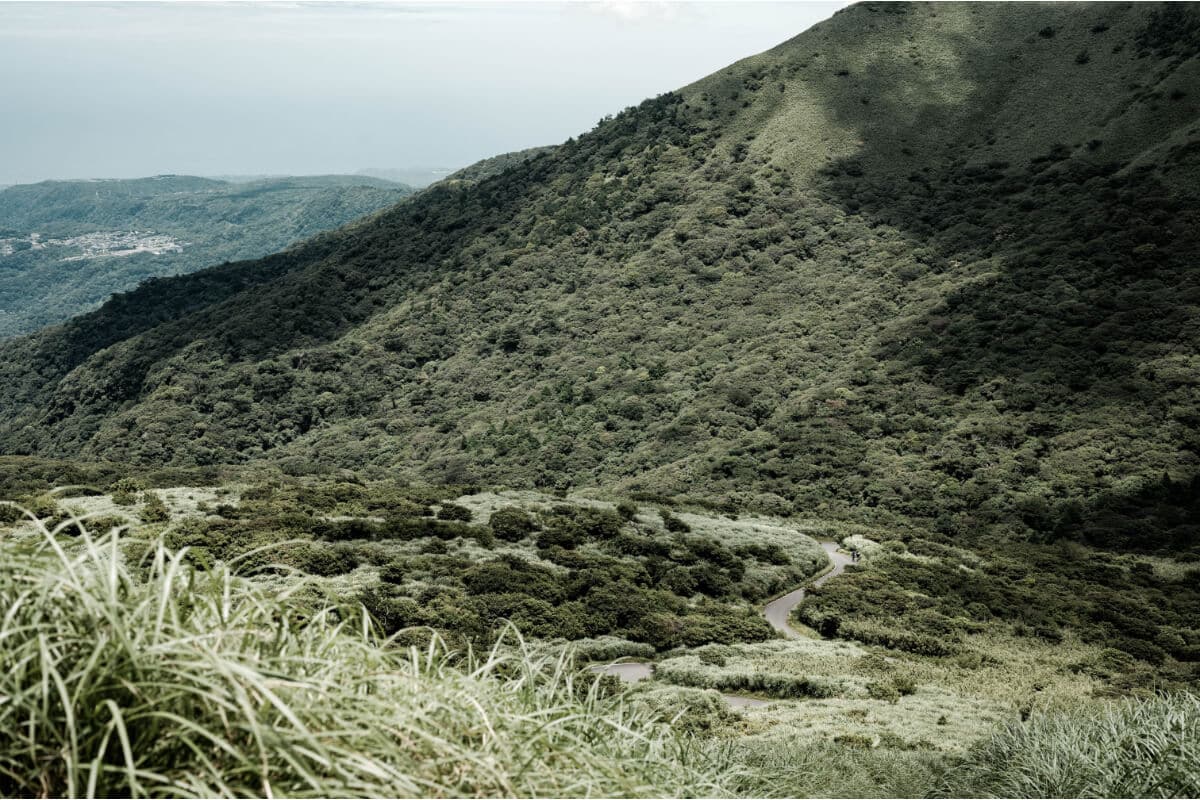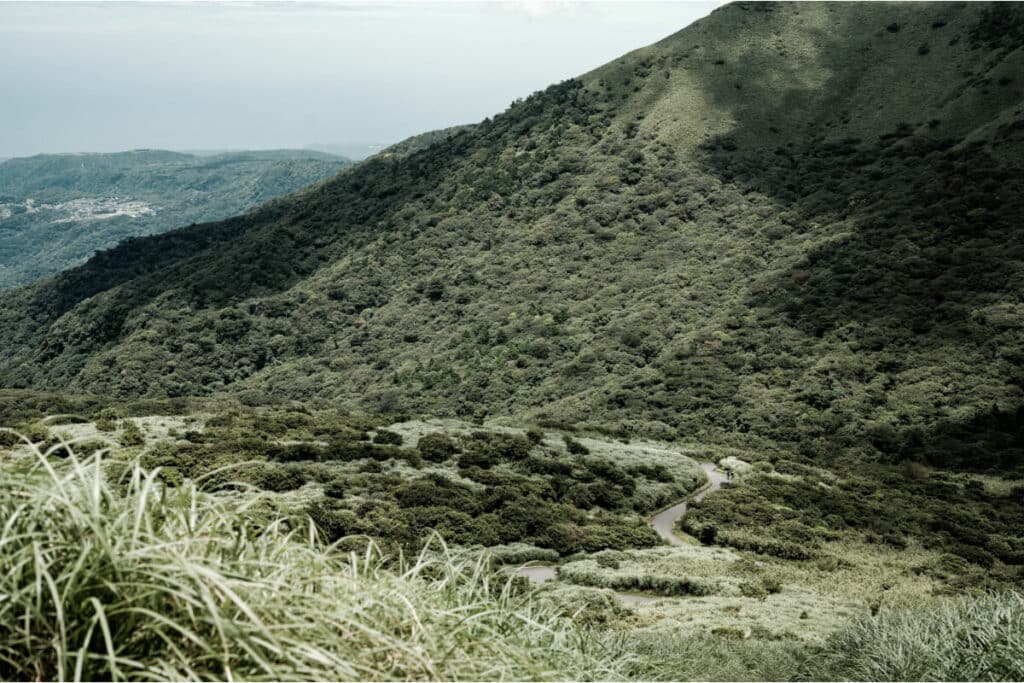 What more to do in Yangmingshan?
Apart from its famous trails, the Yangmingshan area is home to many hot springs. Therefore, if hiking is not your cup of tea or maybe you are tired after hiking, there are other options for you.
Yangmingshan Hot Springs
The Yangmingshan area is actually full of hot springs with different varieties, such as white sulfur and green sulfur springs. The hot springs include the ones in Beitou, Xingyi Road (行義路), and Lengshuikeng. You can find many spring resorts in the area, and they are definitely good places for a vacation in northern Taiwan. Because of the area's frequent volcanic thermal activity and various mineral compositions, each spring's quality and temperature are unique and different.
Lengshuikeng hot springs have a milky white color and a temperature of around 40 degrees Celsius, which is lower than other hot springs, and that's where the name comes from. "Lengshui" literally means "cold water." Other hot spring temperatures vary from 70 to 99 degrees Celsius. Some of them are not recommended if you have allergies, so you need to make sure you go to the appropriate ones. If you are curious about hot springs but don't want to go to a really hot one, then Lengshuikeng is the place to go.
Beitou hot springs
The Beitou hot springs are the most famous hot springs in Taiwan and are one of the most convenient hot springs in the Taipei/New Taipei area as they are MRT-accessible. In Beitou, you can see the long-lasting Japanese impact on Taiwan, which flourished during Japan's half-century of colonialism over Taiwan. The area was once voted one of Taiwan's top 10 tourist towns, and you will find your hot spring spot no matter your budget. You should definitely save some of your time to enjoy one of the spas there.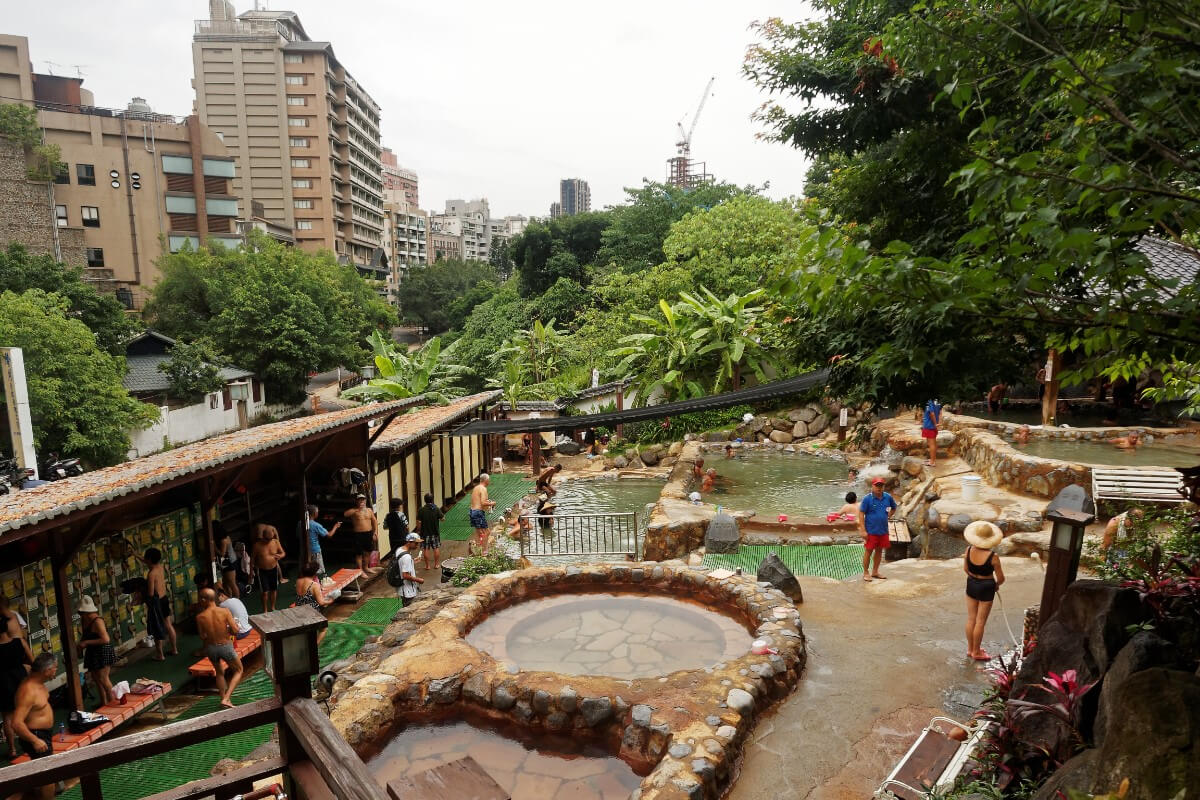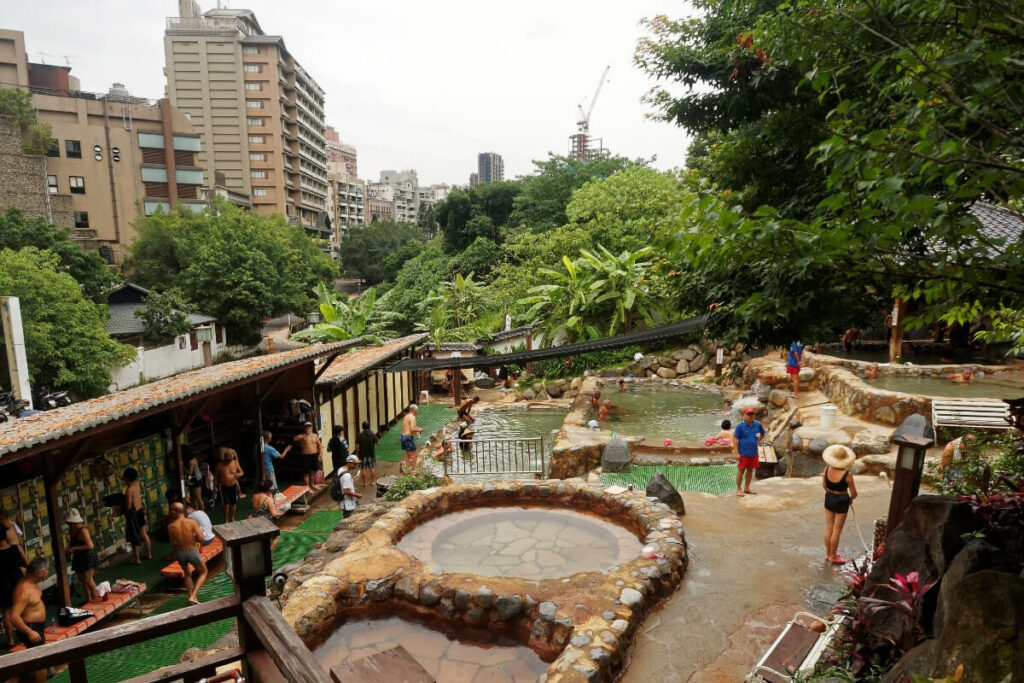 Xingyi Road (行義路) hot springs
Don't mistake it for Xinyi Road, where Taipei 101 is located. At the Xingyi Road hot springs, you will have a totally traditional Taiwan hot spring experience. There, you can find many spas that can offer you private rooms and nude bathing experiences. However, you should reserve your place in advance.
There are other hot springs places I didn't mention here, such as Jinshan hot springs and Wulai hot springs. The Wulai (烏來) area is home to riverside hot springs and northern Taiwan's tallest waterfall. In the old street, you can find the best aboriginal food from the Atayal village, the third largest aboriginal tribe in Taiwan. However, over time, it became less visited by tourists.
Visit the Yangmingshan's flower clock
I have to say that, as a lover of nature, the flower clock was one of the things I was looking forward to seeing the most when I went to Yangmingshan. It is located near the visitor center and the main bus station. Therefore, I can say that it is one of the first stops that most everybody makes when exploring Yangmingshan. It is part of a Chinese-style garden with pavilions, fountains, and ponds where you can relax. Along with them, music is played every hour. Every year during spring, they organize the Yangmingshan Flower Festival, where visitors from all over the world come to see Taiwan's cherry and yaezakura (a type of flower) one after another, synchronized with the Flower Clock. These beauties must definitely be seen with your own eyes.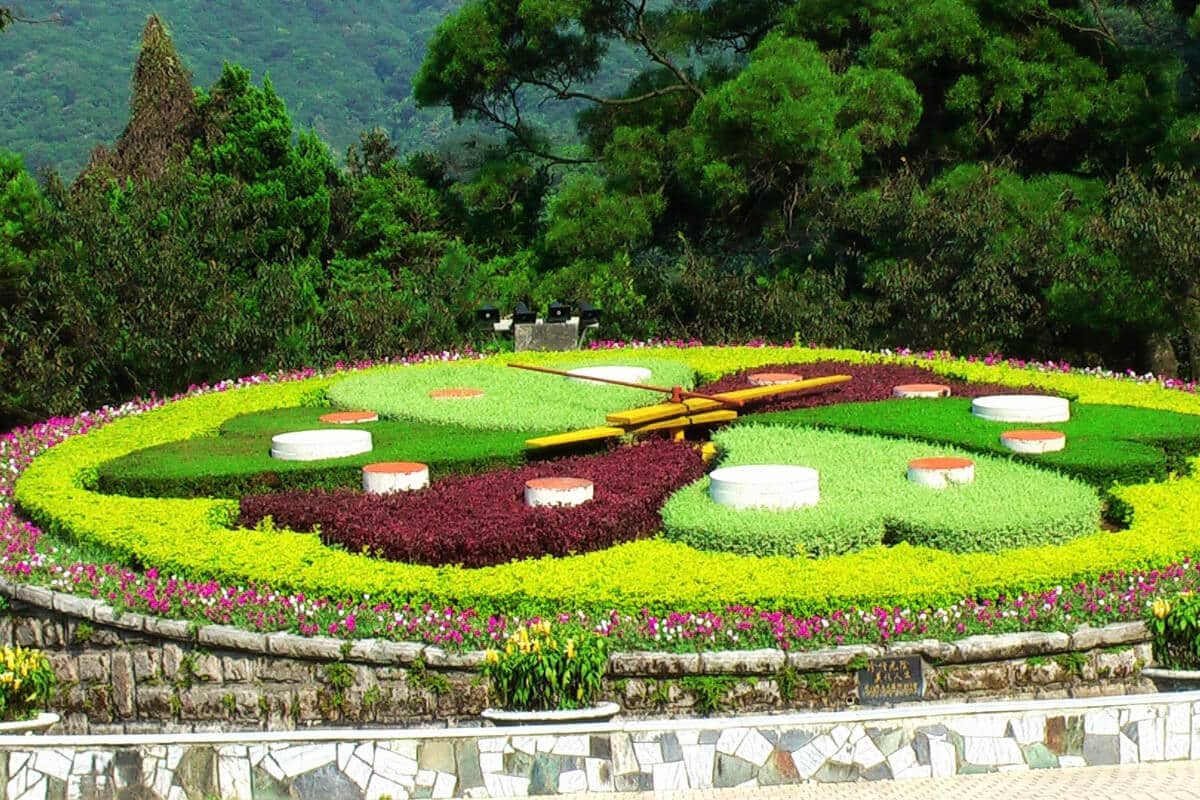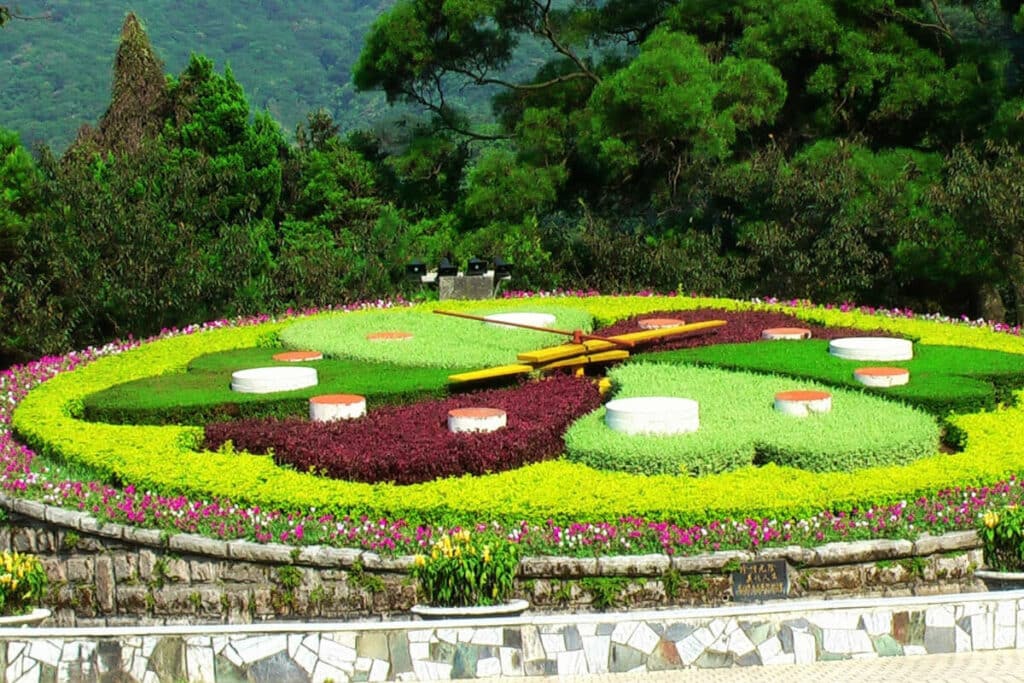 How to get to Yangmingshan?
There are many ways to get to Yangmingshan, depending on which trail you are taking. The most common way for people who are taking public transportation is to take the Taipei MRT and get off at exit 1 of Jiantan Station (劍潭站). From there, you can either take the R5 bus or a small bus (S15 or S17) to Yangmingshan station. The fare is usually NT$ 15 and you can pay with cash or with your Easycard. From Yangmingshan station, you can go to the different trails. Although taking a bus at Jiantan station is recommended, you can also go to Yangmingshan from Taipei Main Station by taking Bus 260. You might also consider taking a taxi or driving yourself there. As long as you have your license, you can rent a car to go to Yangmingshan.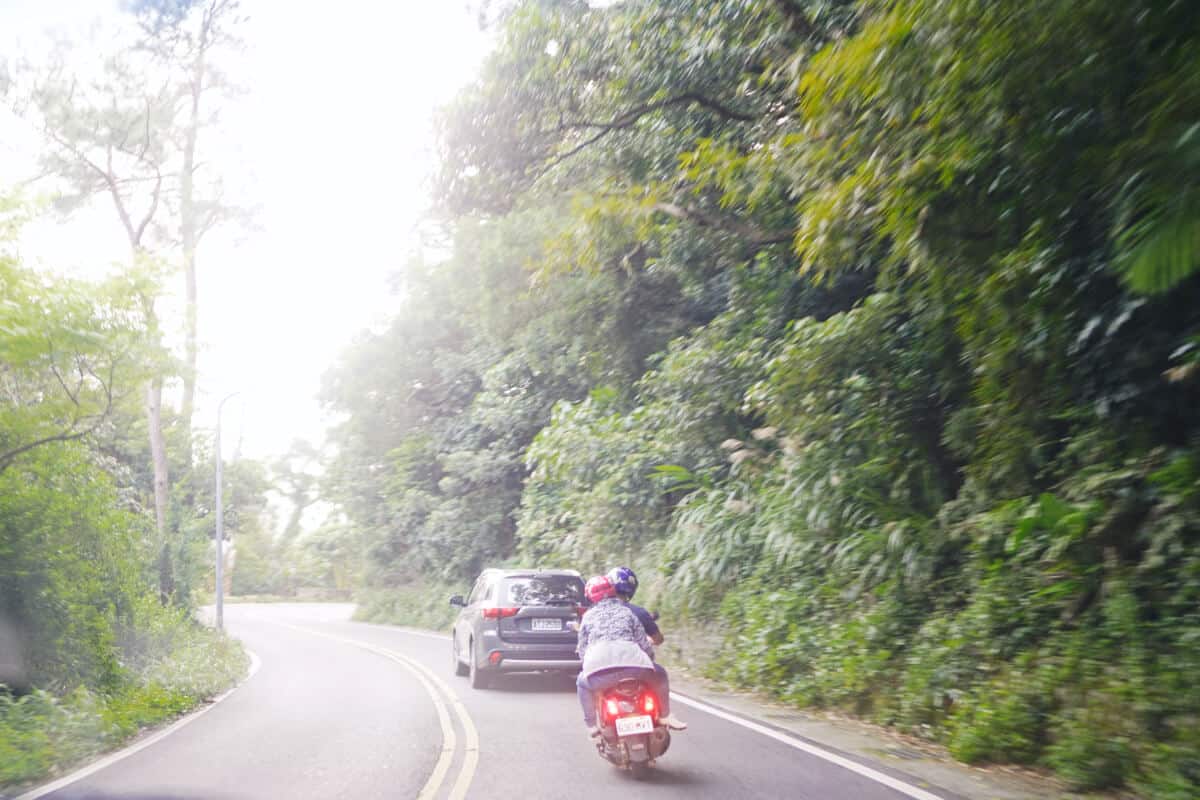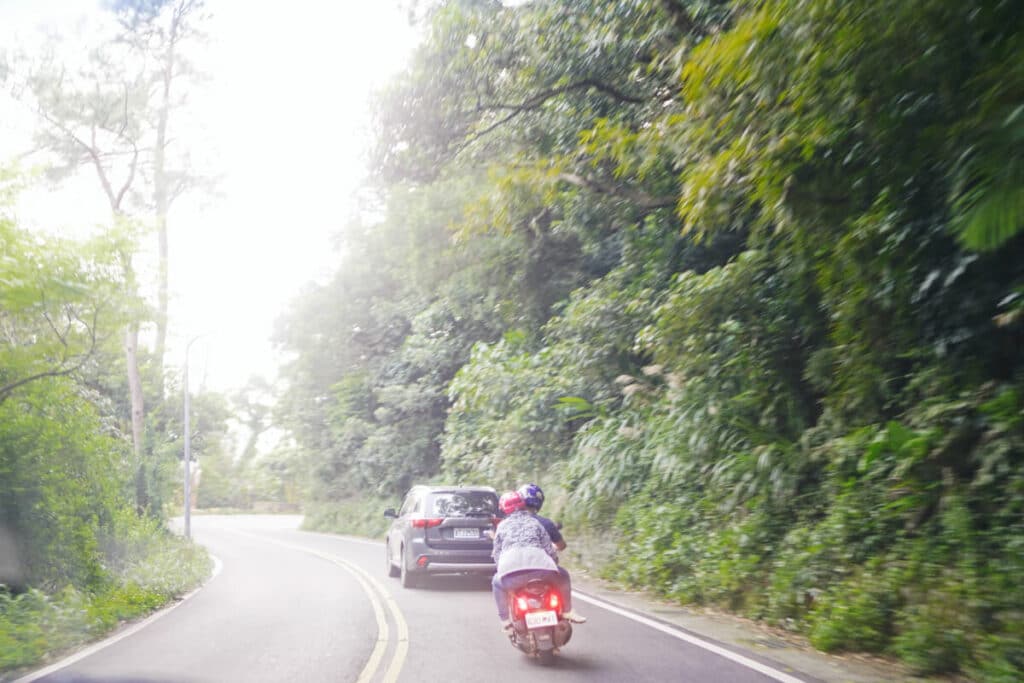 5 recommended tips before going to Yangmingshan
Yangmingshan is a beautiful place to visit. However, if you don't go there in the right spirit and with the correct preparations, you may not enjoy it to its full extent. In this section, I will give you some tips for you to enjoy the beauty of the area.
Go early in the day to avoid the afternoon crowds.
Be aware of the weather and always be ready for the rain. Although it may look sunny in Taipei, the weather in Yangmingshan might change all of a sudden.
Bring a lot of water. There are not many places where you can fill up your water bottle but every time you get the chance ask the people at the service center to fill it for you
Try your best to visit during the week because weekends are by far the busiest time to visit it.
Although the shuttle buses in the Yangmingshan park are frequent, due to the number of people that usually go there, you might need to wait for a long time before you can actually get on a bus because they are most of the time packed. Don't forget your EasyCard.
What are you looking forward to seeing the most in Yangmingshan?
Full List of Taiwan Monthly Hotel for 2023