Last Updated on 10-17-2023
If you're planning a vacation to Taipei, Taiwan's dynamic capital city, you're in for a treat! Taipei combines rich culture, history, art, delectable food, contemporary architecture, and ancient temples. With so much to see and do in Taipei, it's natural to ask where to stay to make the most of your trip. In this post, we'll walk you through the top neighborhoods and hotels in Taipei to ensure you have a pleasant and memorable stay in this fascinating city.
Best Areas and neighborhoods to stay in Taipei
There are a few primary places to consider while deciding where to stay in Taipei. The greatest places to stay in Taipei are in and around the city center. The ultra-modern Ximending in Wanhua offers the best urban experience in the city. Or stay in a luxurious hotel in Xinyi, which is located in the shadow of Taipei 101.
Other locations, like Zhongzheng and Zhongshan, provide more "traditional" Taipei lodging alternatives. While you may get a better deal outside of the city center, you miss out on the complete Taipei experience. If you stay in one of the districts listed below, you'll have no trouble getting around Taipei. Taipei's fantastic MRT system serves all of the city's key neighborhoods.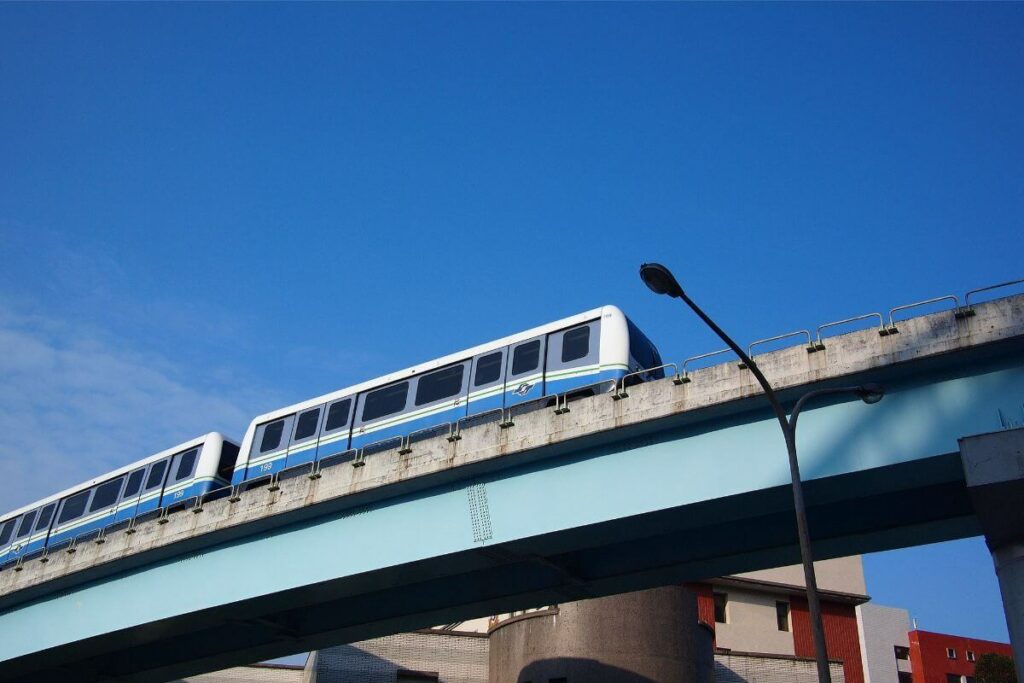 Zhongzheng District: The best area in Taipei for first-time tourists.
Zhongzheng District is the heart of the city. It'll most likely be your initial point of contact when touring Taiwan's capital. Taipei Main Station, the city's principal transit hub, is located in Zhongzheng. That alone should place this key neighborhood on your Taipei accommodation radar, with easy access to major attractions, landmarks, and activities. Whether you're a family, couple, or backpacker, Zhongzheng caters to all types of travelers.
Recommended hotels in Zhongzheng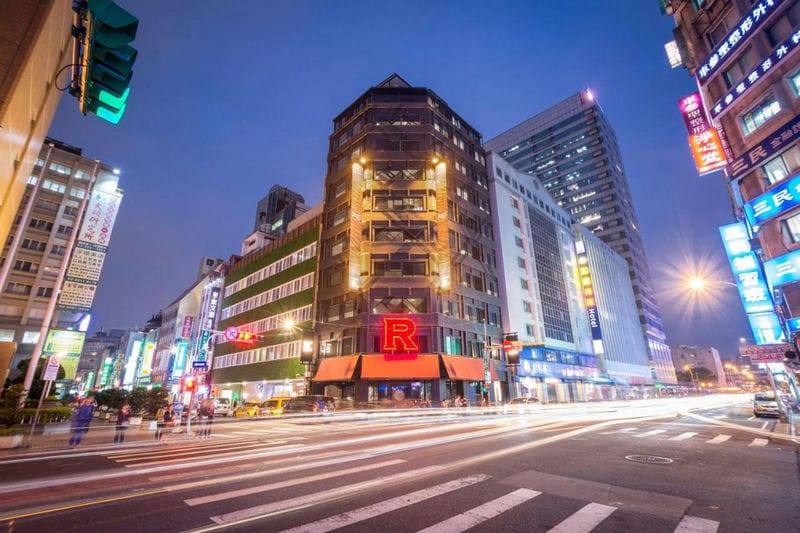 Taipei's Hotel Relax V is located 5 minutes' walk from Taipei Main Station. In 6 metro stops, guests may reach Taipei Songshan Airport. Taoyuan International Airport in Taiwan is a 40-minute drive away. On request, the hotel may offer shuttle service for guests' convenience.
Each guest room has air conditioning, an electric kettle, a mini-bar, a refrigerator, and a flat-screen TV. The private bathroom has a shower, complimentary amenities, and a hairdryer.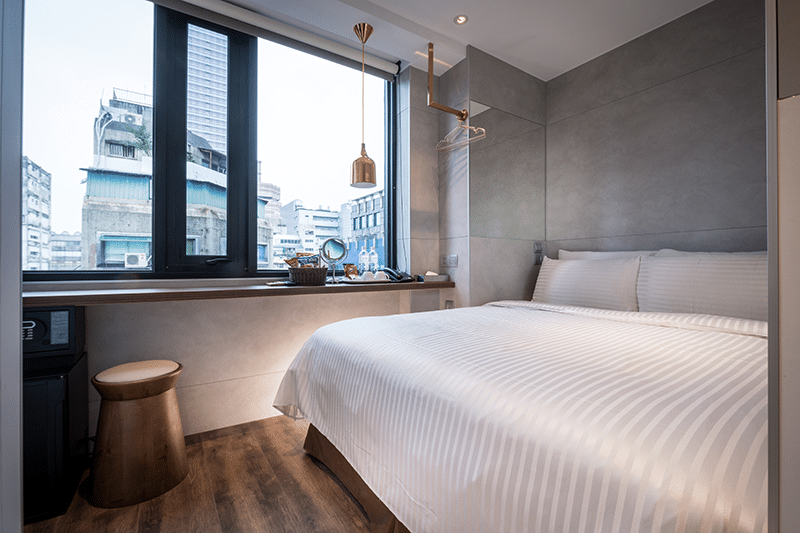 Da'an District- the best district in Taipei for a breath of fresh air
Da'an District, home to the "Lungs of Taipei," has become one of Taipei's most desirable neighborhoods. Locals like visiting this location because of the famed Da'an Forest Park. The neighborhood remains well-connected to the rest of the city. Da'an is served by many MRT lines that travel in all directions. From here, scooting about Taipei is a snap.
Da'an also has a few great night markets and bustling commercial districts. Tonghua Night Market (Linjiang Street) has some of the best street cuisine and teppanyaki in Taipei. Beside, Gongguan Night Market is a dining and retail paradise for the trendy youth.
Recommended serviced apartment in Da'an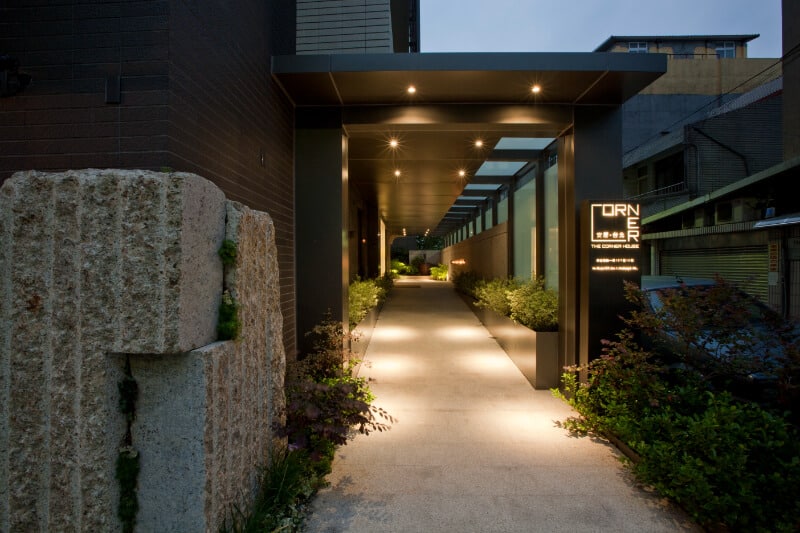 The Corner House Taipei is in Taipei's Da'an District, near Da'an Forest Park and MRT Da'an Park Station exits 1 and 6. Your business and shopping demands will be met by the easy transportation.
The seven-story Corner House Taipei has a small business conference room, a gym, and laundry facilities. The rooms are elegantly and fashionably designed, spacious and bright, with kitchen facilities and a balcony; it provides free WIFI, flat-screen LCD TV, direct-dial domestic and international phone services, and satellite TV channels, allowing business travelers to stay connected to the world while on the road.
Whether on work or on vacation, the Corner House will undoubtedly be your first option for Taipei lodging.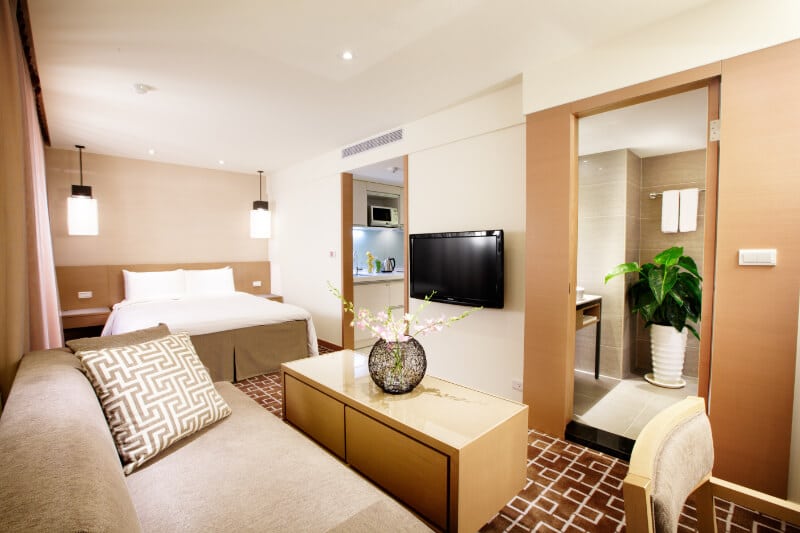 Xinyi District: The best area to stay in Taipei for mid-range and luxury shoppers.
Taipei's well-to-do are no strangers to Xinyi District. The neighborhood is one of the city's most affluent, as well as its premier retail and commercial sector. Xinyi has developed a slew of eateries and upmarket stores, owing to the tremendous pulling power of Taipei 101. It has transformed Xinyi into not only a beautiful spot to roam about, but also one of the best places to stay in Taipei City. In comparison to Wanhua, Datong, or Zhongzheng, Xinyi has a more contemporary appearance.
You'll have to explore elsewhere for traditional Taiwanese lodging. Xinyi is not recognized for its affordability. However, by staying here, you will have access to the best shopping, dining, and lodging in the city. On top of that, you'll get a close-up look at Taipei 101. Formerly the highest structure in the world, it remains the city's prominent landmark. Take the time to ride up to the observation deck for spectacular views of Taipei.
Recommended hotels in Xinyi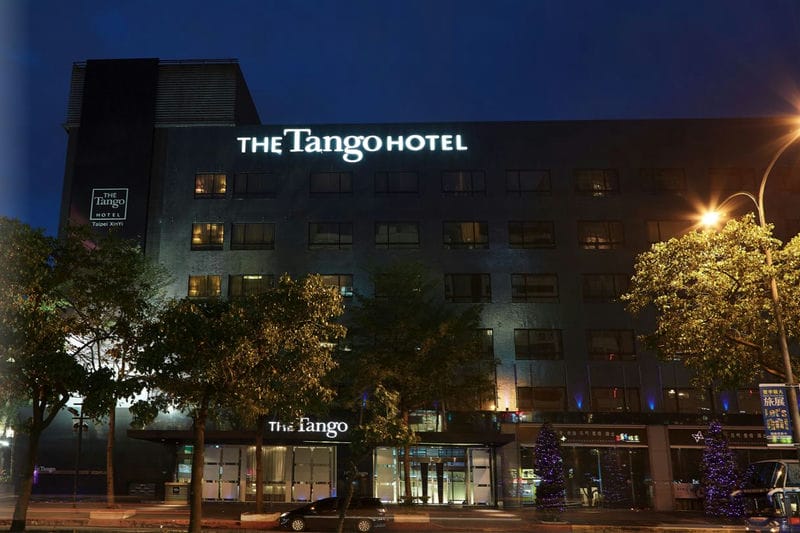 The Tango Taipei XinYi, located a 4-minute walk from City Hall MRT Station, offers complimentary wired internet and Wi-Fi. It has a fitness facility, a professional business center, and rooms with spa bathtubs. The renowned Taipei 101 is around a 15-minute walk away.
Raohe Night Market and the XinYi Business District are both a 10-minute drive from the Tango Taipei XinYi. Songshan Airport and WuFenPu Commercial Zone are both 20 minutes apart. Taoyuan Airport is 50 minutes away.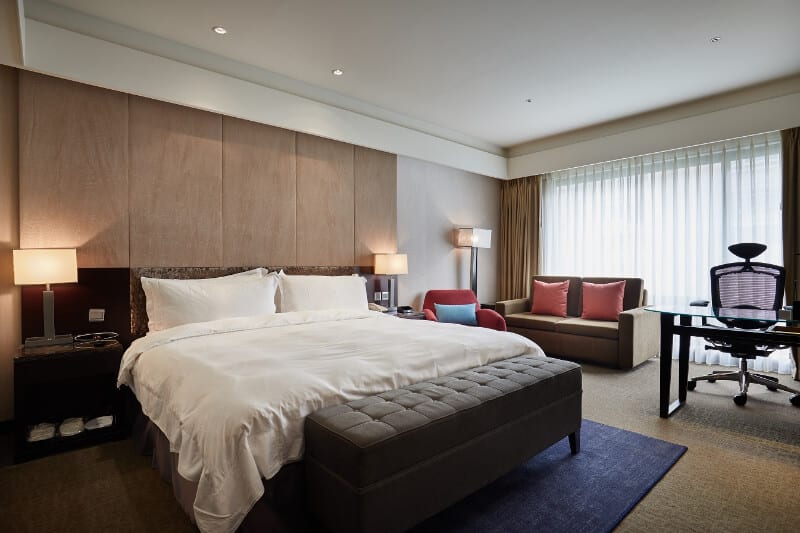 Zhongshan District: The best area in Taipei for genuine Asian elegance in a more typical metropolitan setting.
Zhongshan District was originally the epicenter of Taipei's hotel business. However, it has recently fallen out of favor with the fancy contemporary hotels of Xinyi. However, there are still plenty of places to stay in the region. Zhongshan has the largest density of premium hotels in Taipei. Zhongshan lacks the glamor of Xinyi's flashy business sector, where most of Taipei's other top luxury hotels hang out. Zhongshan is adorned with historic buildings. If you opt to stay here, you will gain a new respect for the city due to its more local and domestic vibe.
Zhongshan also has a plethora of excellent dining options. Take your appetites to Liaoning Street Night Market or Shuangcheng Street at night. Dihua Street and Ningxia Night Market in Datong District are other good options.
Recommended hotels in Zhongshan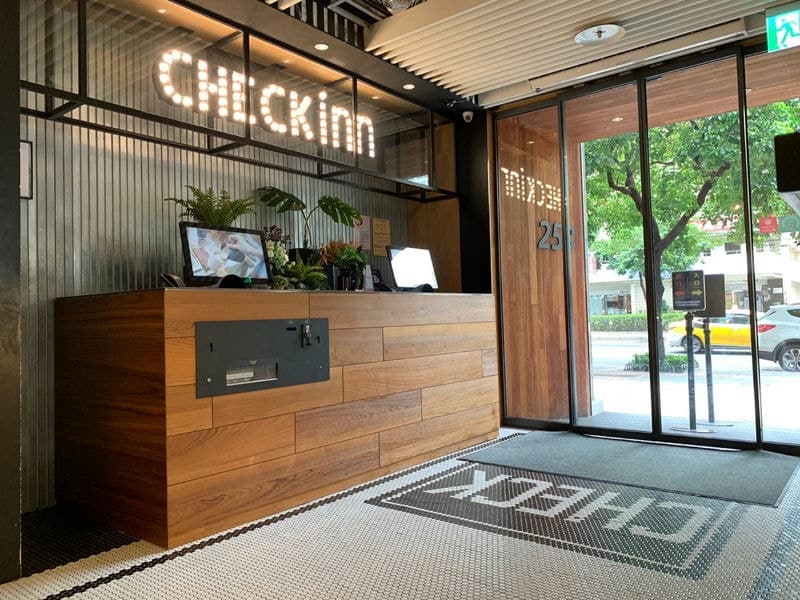 CHECK inn Taipei Songjiang provides attractively built rooms in Taipei and is just a 1-minute walk from Xingtian Temple MRT Station. There is free Wi-Fi in all places.
CHECK inn Taipei Songjiang is located 15 minutes by car from Taipei Main Station and Songshan International Airport. Taoyuan International Airport is 45 minutes away by car.
The rooms will have air conditioning, a flat-screen TV with cable and satellite channels, a work desk, and a refrigerator. The private bathroom has shower amenities as well as a hairdryer and complimentary toiletries.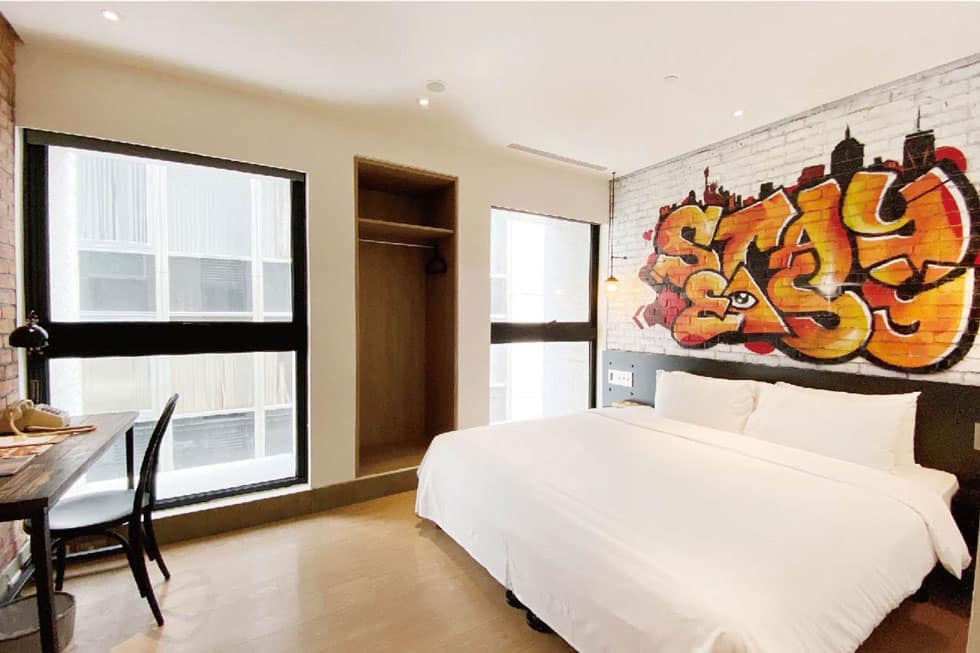 Wanhua District: The best spot to stay in Taipei for shopping, nightlife, and delicious cuisine.
Wanhua District, like Zhongzheng, is an excellent choice for your Taipei journey. For urban explorers, the northern swath of Wanhua, Ximending, is one of the most intriguing sites in Taipei. Take a stroll around the streets of Ximending. You'll discover some of Taipei's greatest shopping and dining. It's a vibrant and trendy neighborhood that Taipeians like.
In any case, you will not be bored.Wanhua is brimming with amazing restaurants, exciting night markets, and one-of-a-kind ancient buildings. Ay Chung Flour Rice Noodles in Ximending is a good place to get late-night munchies. It's one of the best noodle restaurants in town. Just to the south are the Huaxi Street Night Market and the Guangzhou Street Night Market.
Recommended hotels in Wanhua
Ximen Wow Hostel is ideal for those who wish to experience the sights and sounds of Taipei. Its central position allows you to spend more time exploring all that Taipei has to offer.
Take advantage of all Ximen Wow Hostel has to offer! The hostel's free internet access keeps you connected during your stay. The cab services offered at the hostel make exploring Taipei much easier. With front desk services like speedy check-in or check-out and luggage storage, you can always obtain the help you need.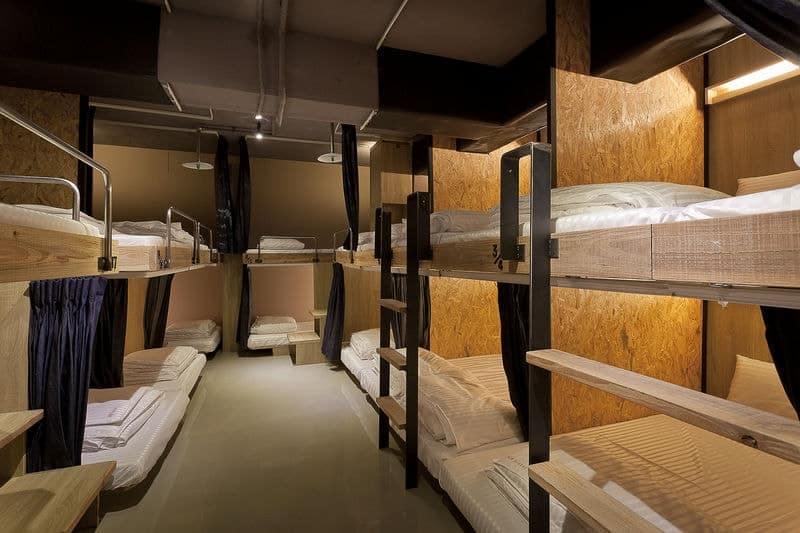 Shilin District: The best district for foodies and exploring the city's outskirts.
Shilin, home to Taipei's largest night market, is frequently visited yet rarely selected as a location to stay in Taipei. It's a little higher up than the other locations. That is why you would like to stay in this large region.
The major reason to stay at Shilin is, of course, to see the granddaddy of all Taipei food heavens: Shilin Night Market. Shilin is also an excellent area to stay if you want to get away from the city for a day or two. The district is enormous. It extends beyond the city limits into the countryside.
Shilin District extends as far north as Yangmingshan National Park, one of Taiwan's greatest national parks. Other famous greenspaces can also be found inside the area. The Zhishan Cultural & Ecological Garden and Shuangxi Riverside Park are at the core of the neighborhood. Shilin also houses the enormous National Palace Museum.
Recommended hotels in Shilin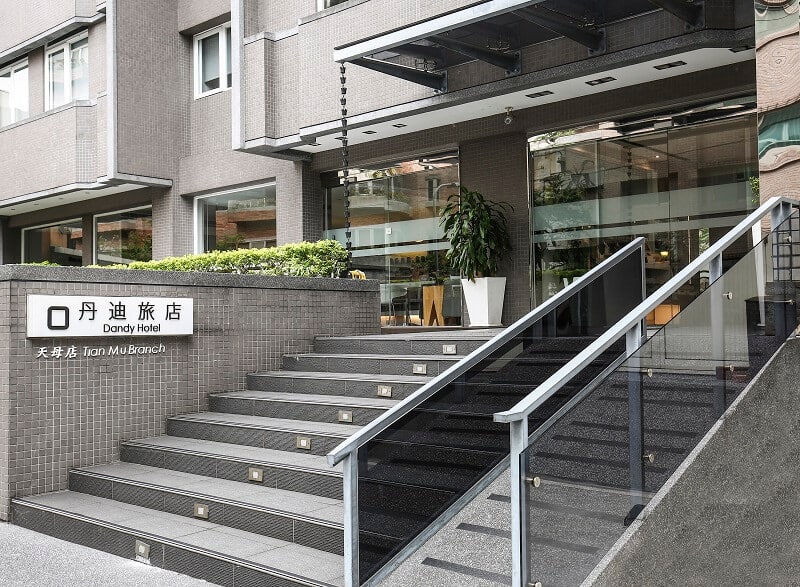 Dandy Hotel-Tianmu Branch provides modern rooms with 42-inch flat-screen TVs and free Wi-Fi, a 10-minute drive from renowned Shilin Night Market. With the tour and automobile rental services available, getting about Taipei is simple. It also features a business center and a 24-hour reception to help guests with their requirements throughout the day.
Major Japanese department stores are right outside the doors of Dandy Hotel-Tianmu Branch, which is located in Taipei's fashionable expat zone. The ZhiShan MRT Station is 7 minutes away, while Taoyuan International Airport is 50 minutes away.