Last Updated on 07-04-2023
Not every time you want to go far for a trip right? Sometimes, you just want to go to some cool and nice destinations around you. Taiwan is full of options for day trips and for people living in the area close to Taipei, Tamsui is one of the best destinations for a one-day trip. What a beautiful district! There remain historical sites of the Dutch and Spanish colonization; among them, is the famous Fort San Domingo. Tamsui is also known as one of the places where you can see the most beautiful sunsets in Taiwan. No need to pack your things, just get your backpack ready and we will dive into the world of Tamsui together.
How to go to Tamsui
Tamsui is located in the northern part of Taipei and there are a variety of options to get there. You can pick the one that is more convenient for you depending on where you live. Taking the Taipei MRT is one of the most convenient ways to get around Taipei and New Taipei. To go to Tamsui, you just have to take the Red line (Tamsui-Xinyi); from Taipei Main Station, it will only take you roughly 40 minutes. However, if you are coming from Taipei 101, it will take you around 1 hour to get there. You can also take buses depending on where you are or you can do the quickest thing which is: call a taxi.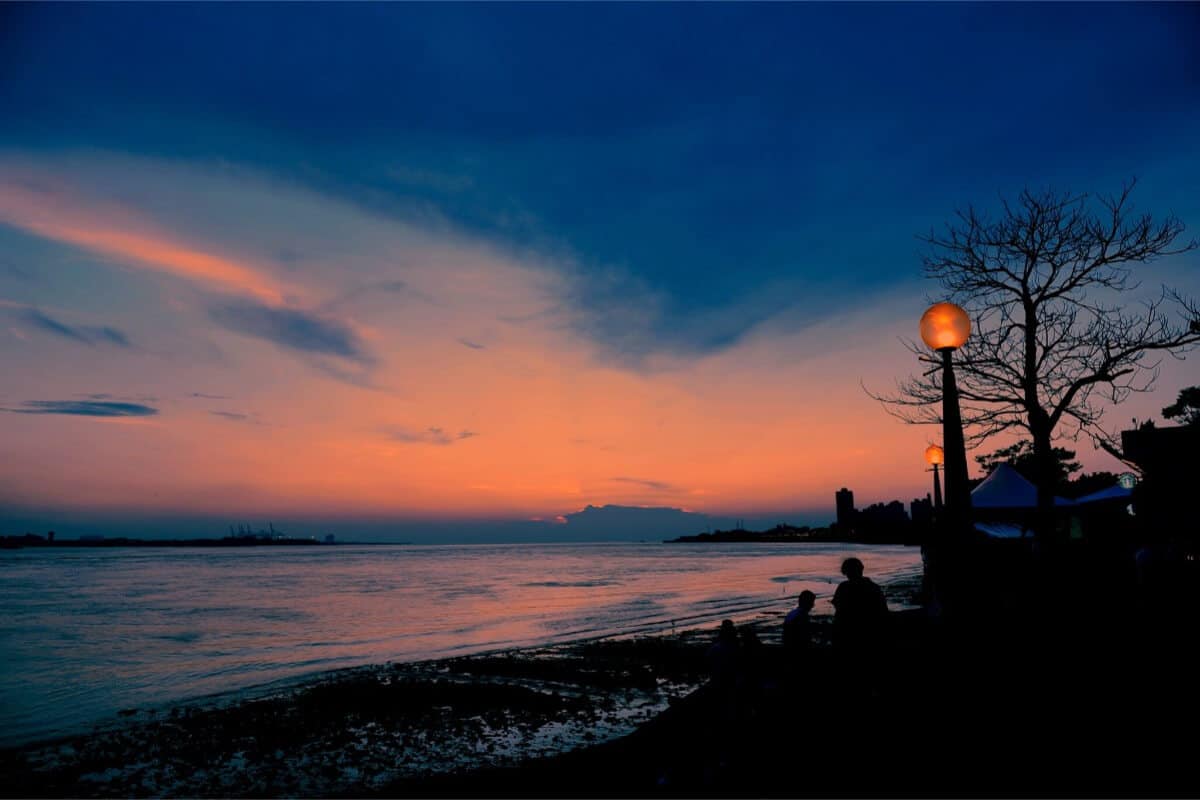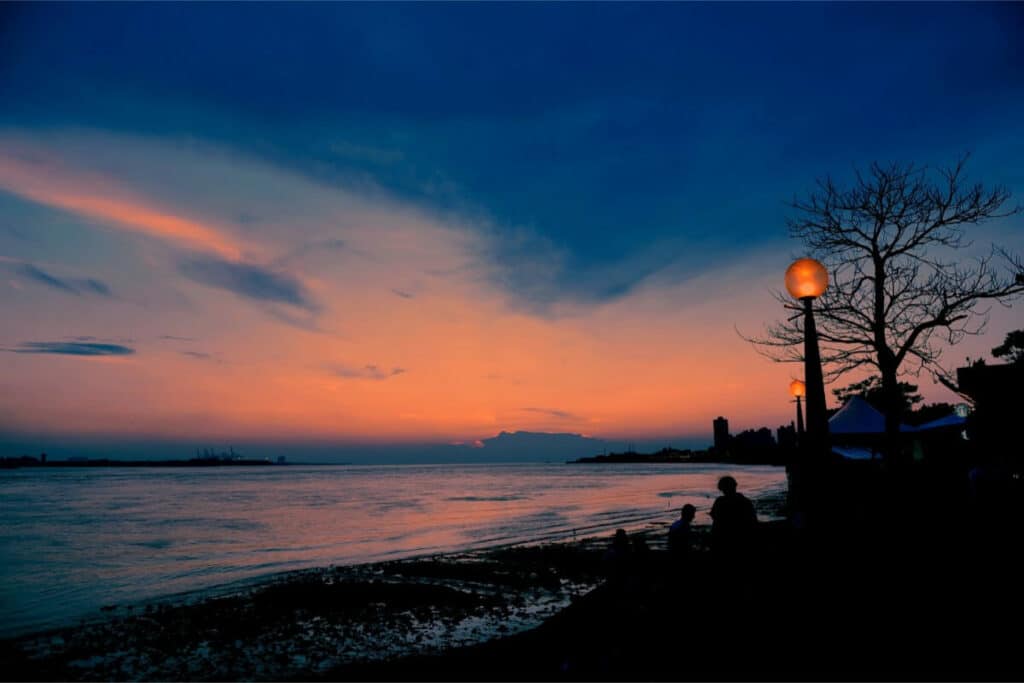 Getting around Tamsui
Getting around Tamsui is as convenient as finding a 7-11 in Taiwan.
Walking
First and foremost, you can get around Tamsui by walking. After you get off the MRT, just go to your nearest exit and start your walking session. After living in Tamsui for over 3 years, I have to say I am used to walking around just for fun.
Riding a bike
Riding a bike may be the most convenient way to visit Tamsui. There are several shops on the main road north of Tamsui MRT station where you can rent a bike or else you can take a YouBike and spend the day biking in Tamsui.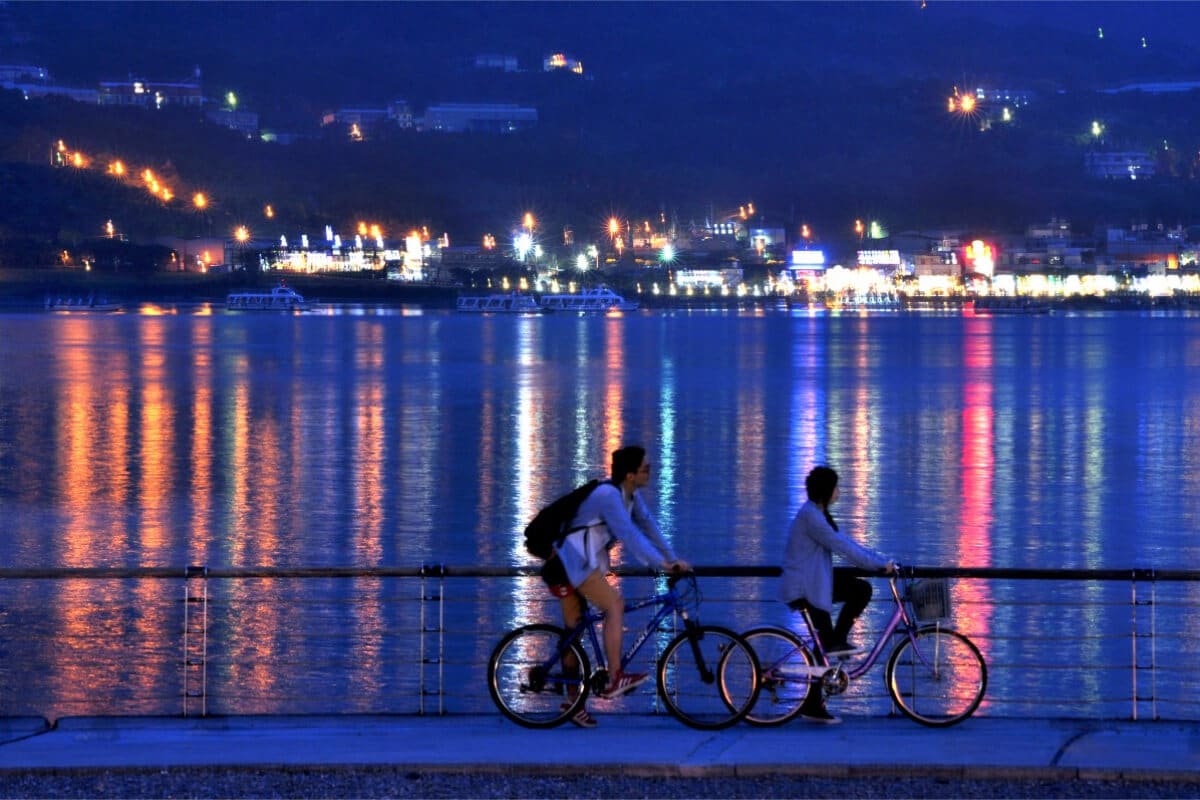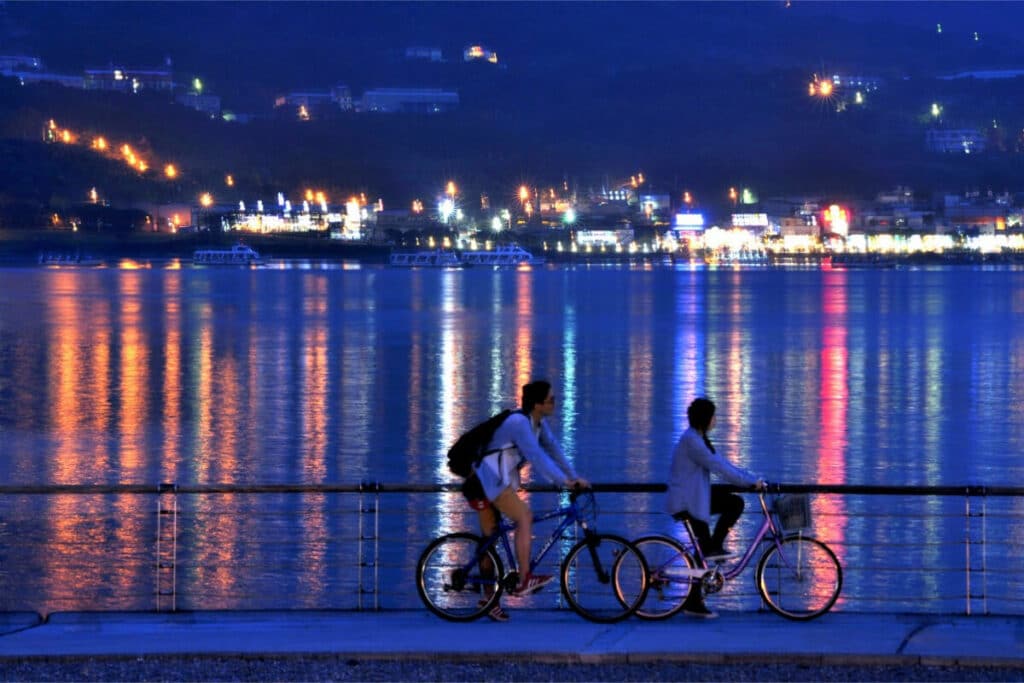 Taking a boat
Yes indeed, there are ferries that travel from the town of Bali to the Fisherman's Wharf. The ferry station is about an 8 to 10 minutes walk from the Tamsui MRT. There are also sightseeing boats traversing Taiwan's northeast coast and the Tamsui River departing from the Fisherman's Wharf.
By bus
In my opinion, Tamsui must be one of the places in Taiwan with the most buses (lol). The R26 bus can take you from Tamsui MRT Station to Fort San Domingo or Fisherman's Wharf.
Places to visit in Tamsui
When it comes to what to do for a day trip in Tamsui, your options are actually a lot. You may have heard of Tamsui's Fisherman's Wharf and Tamsui Lover's Bridge. Along with these, in this section, I will talk about other places to visit in Tamsui that you may not know.
Tamsui Presbyterian Church
You may or may not have heard of George Leslie Mackay, a Canadian missionary who impacted Taiwanese life in his own way. He arrived in Tamsui in 1872, became a highly influential figure in Northern Taiwan's history, and was known as the Black Bearded Barbarian of Taiwan. He made a range of contributions to the country in the areas of religion, Western medicine, education, and anthropological research. He created the first written form of the Taiwanese language and published the first printed newspaper in Taiwan.
Tamsui Presbyterian Church was where he used to meet up with his followers. The glazed windows, bell tower, pointed arches, and spires give the church a gothic feel. The brickwork is also outstanding. Every Christmas, the church is decorated, and you can come and take pictures. Because of its unique appearance, it not only gathers many worshippers every week but has also become a popular spot for photography lovers. A must-visit place!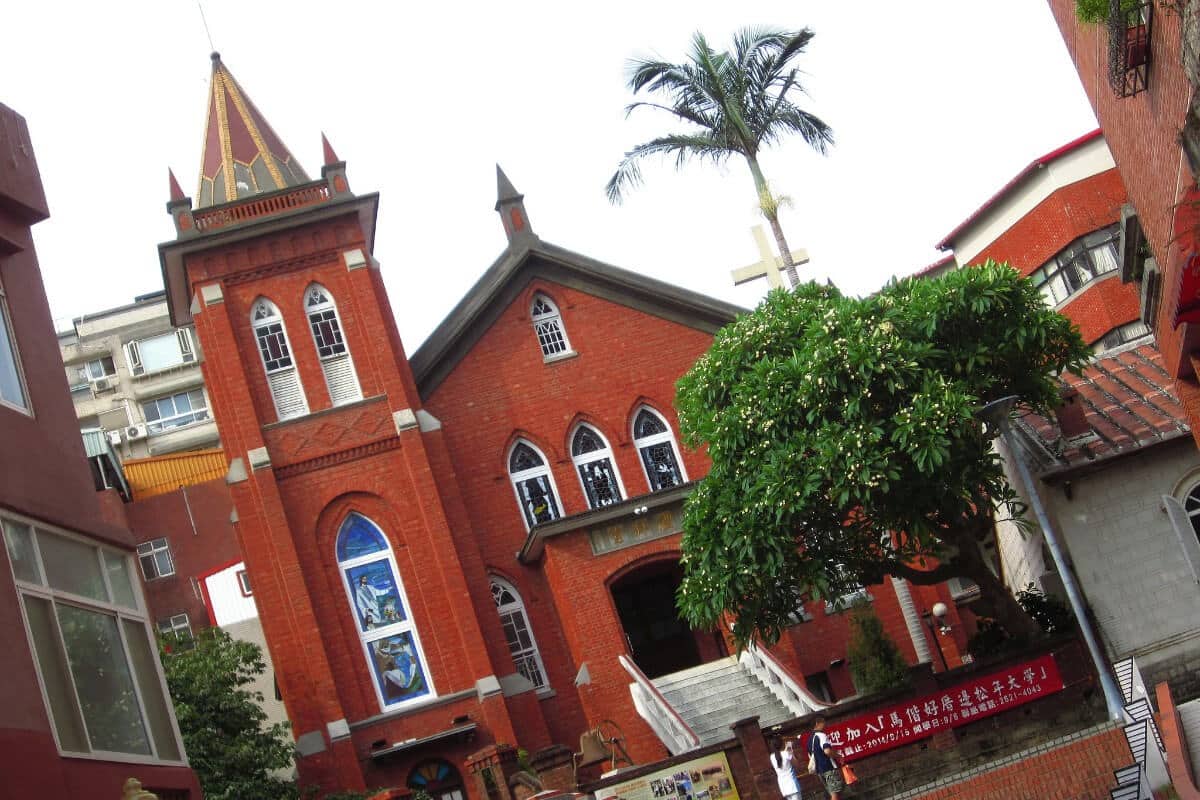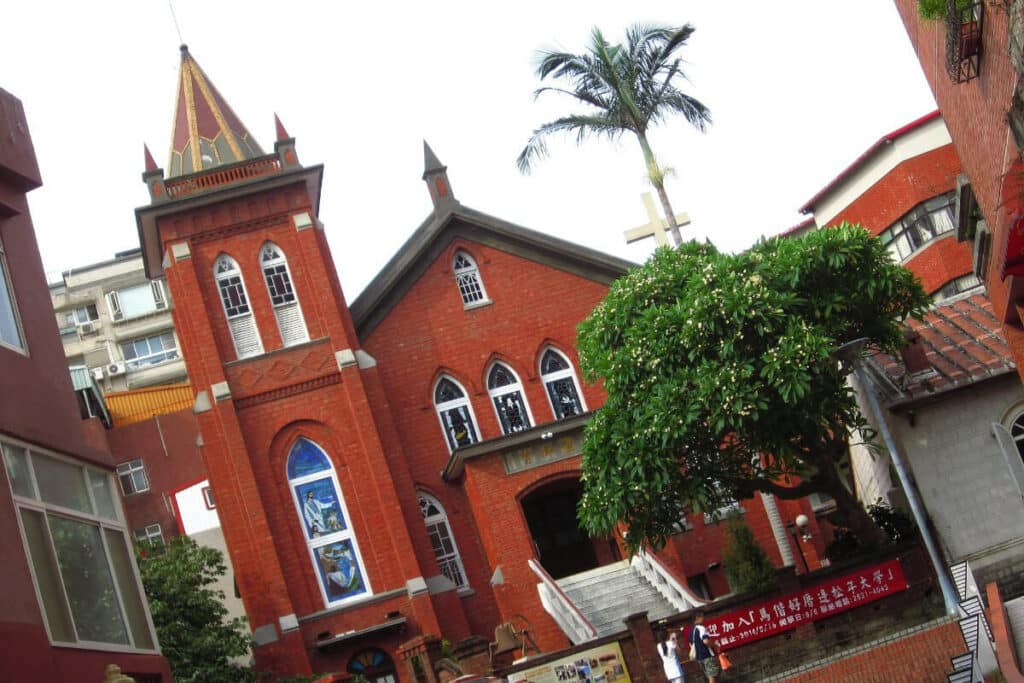 Fort San Domingo
Hongmao Castle (Fort San Domingo) is the place where you can learn about the Dutch and Spanish colonization of Taiwan. Originally built by the Spanish, it was destroyed and rebuilt by the Dutch in 1641, and gained its present name in reference to the red-haired Dutch. The local residents did not like the Dutch, the reason why they called them "red-haired savages". This place also served as the British Consulate in the late 19th and early 20th centuries. You can take the R26 bus to visit it.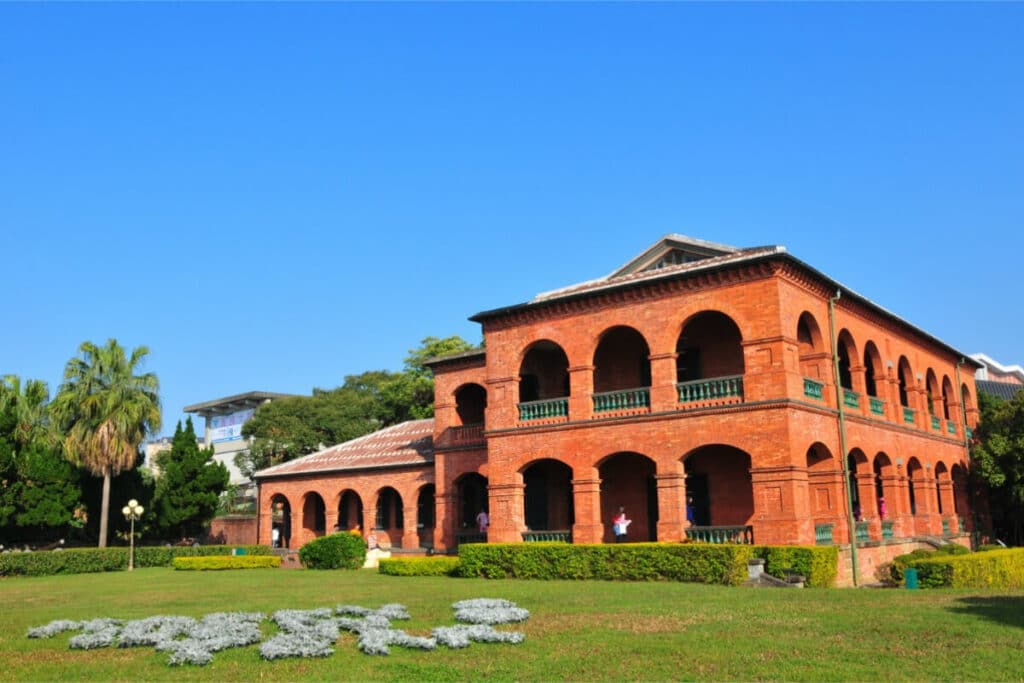 Tamsui Old Street
Probably the most popular attraction in Tamsui, sometimes I really wonder which streets are actually the old streets in Tamsui. Located along the Tamsui River, Tamsui Old streets is a pedestrian shopping area where you can find a wide variety of restaurants, arcades, and stores. You can also find some traditional food such as A-Gei which I will discuss later. Feel free to buy any souvenir that catches your attention. I promise you that you will not get bored.
Tamsui Fisherman's Wharf and the Lover's Bridge
Tamsui Fisherman's wharf is another popular spot in Tamsui. There, you can find nice coffee shops and food stalls and many seafood restaurants which Taiwanese people would say are expensive but coming from a western country, I think the prices are reasonable. From Tamsui Fisherman's Wharf, you can take a tourist boat to Bali town. You can also visit Lover's Bridge. I always had the impression that this place is always packed with people and the best time to go is in the afternoon right before the sunset.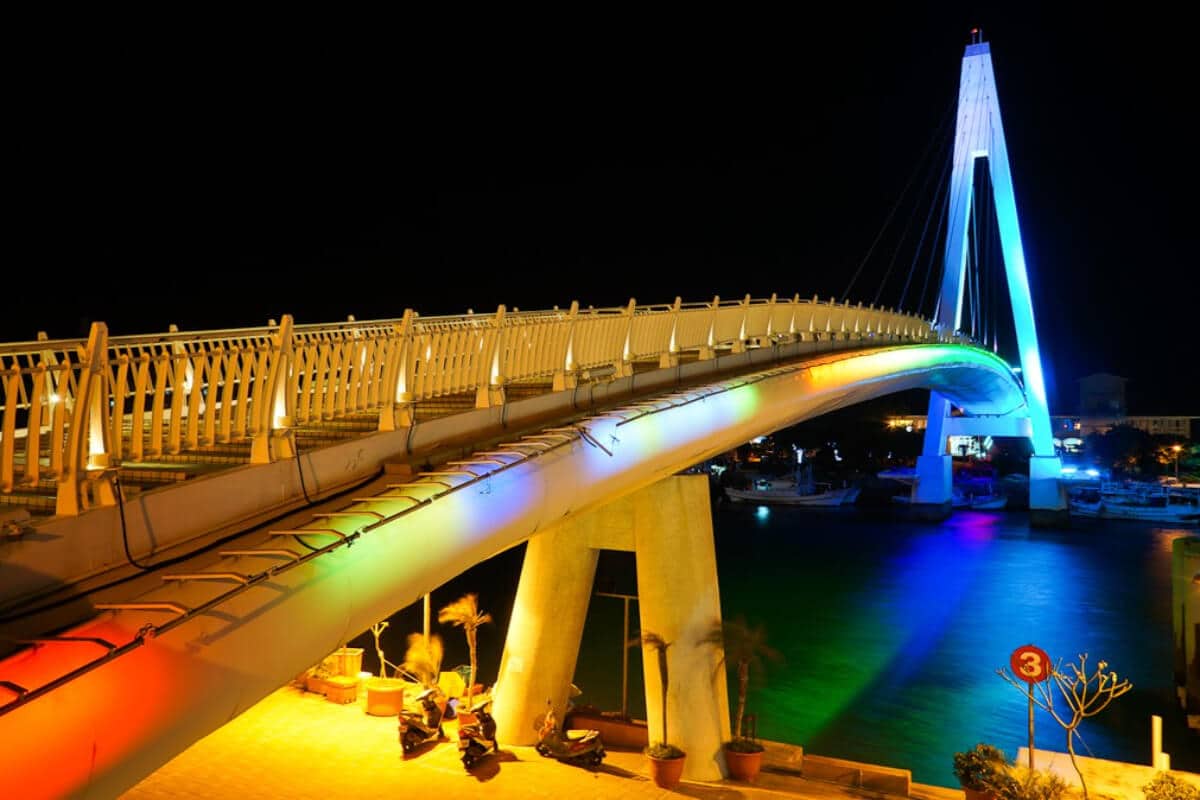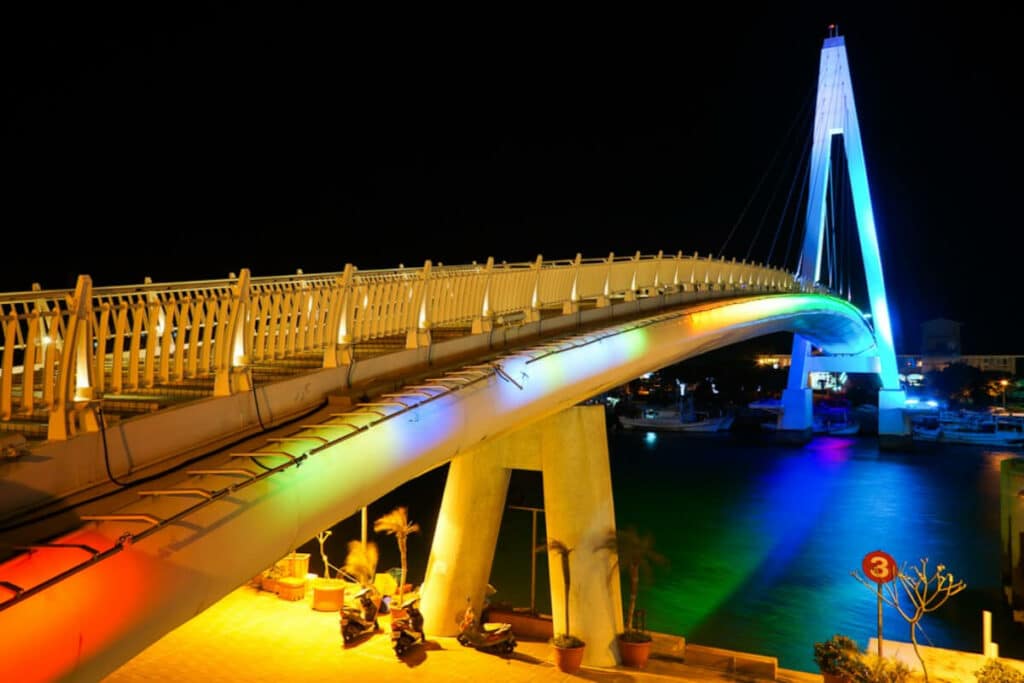 The bridge shows out different-colored lights at night so it's definitely a place where you can go with your other half on a romantic date. While you are there, you may also notice the camera crew filming, probably for a Taiwanese serial drama. You can go up the Lover's Tower to enjoy the 360-degree panoramic sea view (the only one of its kind in Taiwan). Do capture the beautiful moments with your partner!
Bali Old Street
Although Bali Old Street is not exactly in the Tamsui district, I could not let it out because it is just a few minutes away by boat. Across the river from Tamsui, just a few meters from the MRT station, Bali Old Street is a slightly shorter, slightly more relaxed version of Tamsui Old Street. There, you will mostly find roasted corn, fried squid, and barbecued tofu. They also have a special signature donut that you definitely should try.
Cloud Gate Theater
Choreographer Lin Hwai-Min, in 1973, founded this modern dance group in the Chinese-speaking community: Cloud Gate Dance Theater of Taiwan which is also known worldwide as Cloud Gate. It is the first of its kind in Taiwan and Asia. The group performed in Europe, Asia, and the Americas; they also have frequent engagements at the Next Wave Festival in New York, the Sadler's Wells Theater in London, and the Moscow Chekhov International Theater Festival in Russia just to mention those. My fellow readers who are interested in art probably know about it so if you come to Tamsui, it is worth visiting.
FAB Green Village
The FAB Green Village is a new tourist attraction in Tamsui that opened its doors in 2019 and is now a popular day-trip destination on the North Coast. It is located between Tamsui Old Street and the Fisherman's Wharf, also close to Fort San Domingo and the Cloud Gate Theater. The complex (a "green" building) includes a shopping mall, an Ambassador movie theater (where I usually watch movies), an art museum, and the Golden Tulip Fab Hotel New Taipei.
Many influencers and visitors come there to take photos. There is also a 3000 m2 green field where you can take your kid to enjoy the views of the Tamsui river and the sunset. You can visit the mall and buy souvenirs, rest and eat.
Contemplating the sunset in Tamsui
One of the most popular things to do in Tamsui is contemplating the sunset. I dare say it is the best place to see the sunset in Taiwan. Some people even say that it is the one thing you absolutely must witness in Tamsui. In this section, I will give my suggestions for the best spots where you can witness the sunset in Tamsui.
La vie rêvée des anges
La vie rêvėe des anges café translated as the dream life of the angels is a completely windowless & doorless café. Of course, it means that there is no air conditioning, so I would suggest visiting when it is not too hot. You can spend the afternoon there and enjoy the sunset. Since it is located next to the Tamsui river, it is definitely a nice spot to bring your other half. The best thing about it is that you can bring your own food as long as you buy their drinks. So get there and enjoy yourself!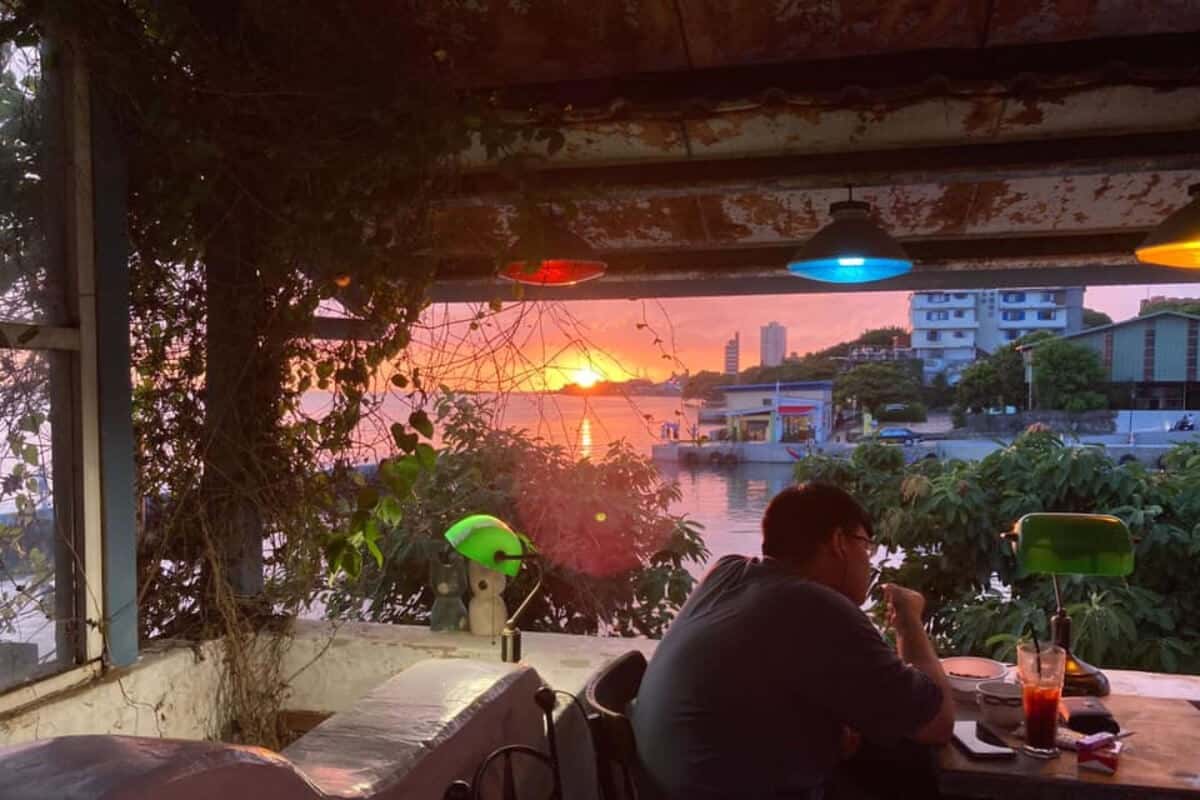 Lover's bridge
The Lover's bridge is one of the perfect spots where you can watch the sunset in Tamsui. The best part of it is that the bridge itself plays music that you can listen to while enjoying the sunset. It is in my opinion one of the best places in Taiwan where you can release your stress and connect with nature. The sunset is really beautiful from the Lover's bridge.
Tamsui River
My third suggested post would be along the Tamsui river. You probably know that the combination of sunset and water (sea, lake, or river) is one of the perfect wonders of nature. You can enjoy the sunset while riding your bike, you can also stand still or even walk along the river.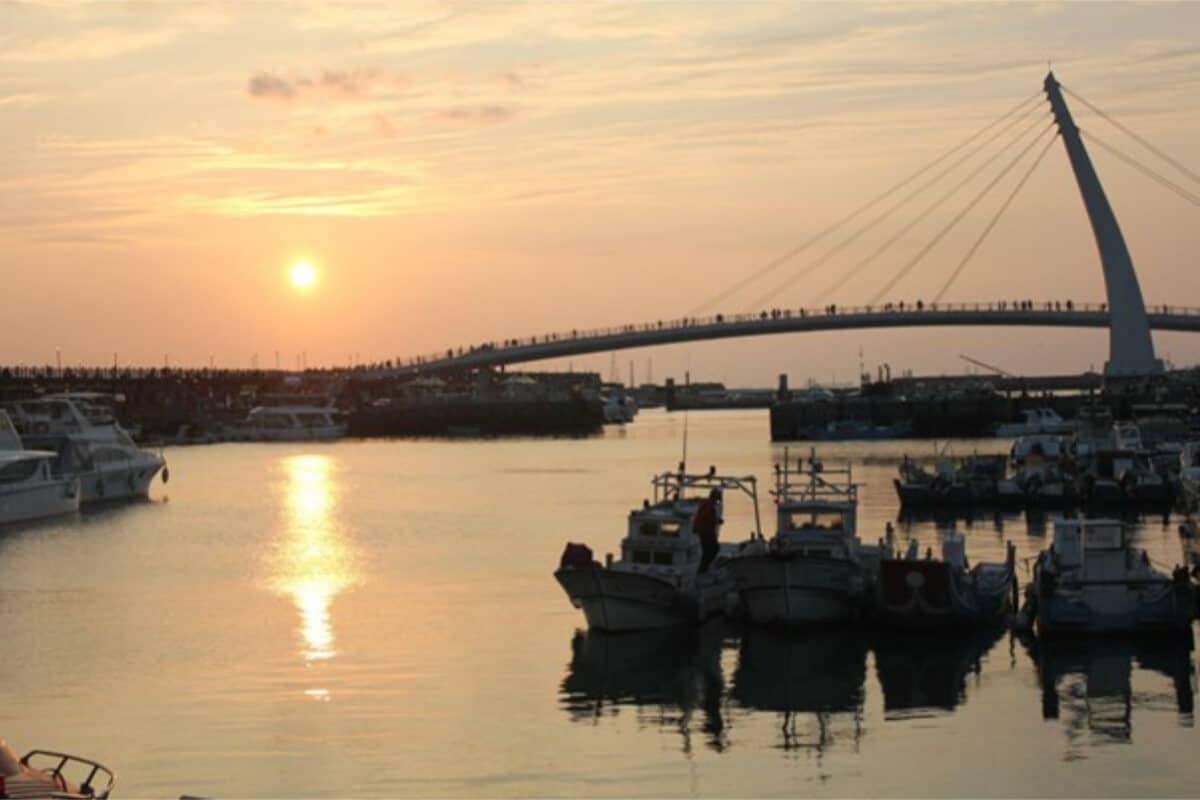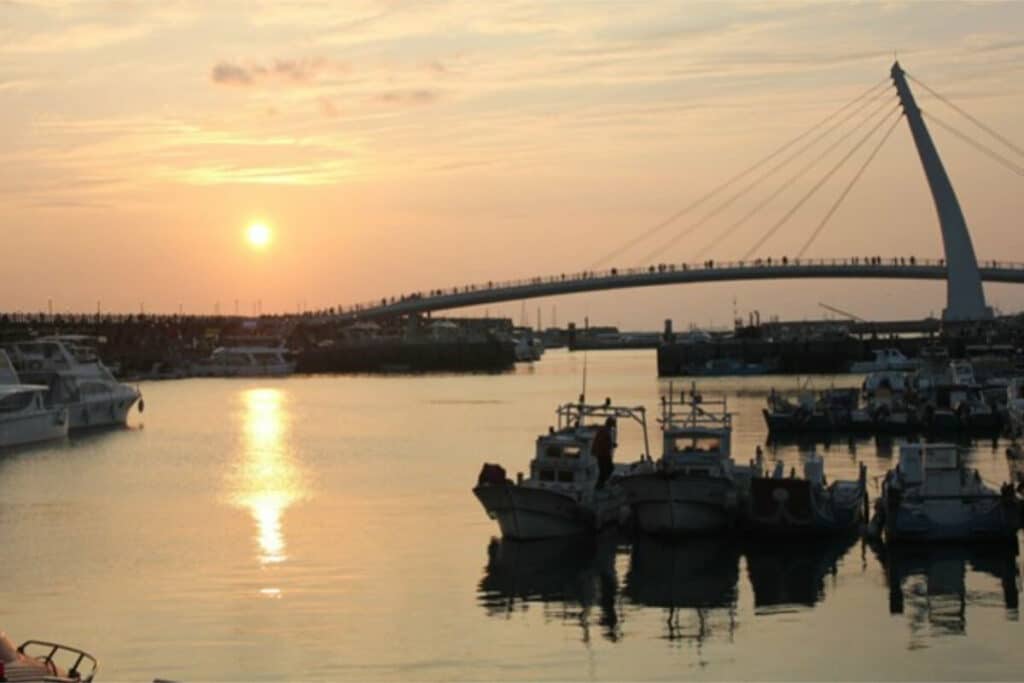 Eating in Tamsui
When it comes to eating in Tamsui, there are considerably many options. You can find some western-style restaurants such as Kooks, Number 7, or TNT. However, I believe you, coming to Tamsui, are more looking for traditional foods that you will not find in other places. When you arrive in Tamsui, you should definitely try the well-known iron eggs at the Tamsui Old Street (eggs which have been repeatedly stewed in a mix of spices and air dried) the most famous iron egg store is Grandma's Tiedan 135 Zhongzheng Road (Old Street).
Another must-try delicacy in Tamsui is Ah-Gei which is a fried bean curd stuffed with vermicelli noodles and is often served with a spicy sauce. There is an original Ah-Gei store at No. 4, Alley 11, Zhongzheng Rd, you can check it out. The price is usually around NT$ 40. Many people who come to Tamsui will go to this restaurant called Old Shop Tamsui Fish Ball. Although there are many stores selling Ah-Gei in Tamsui, I personally recommend this one the most because their fish balls are very elastic and the more you chew, the tastier they become. In addition, after the sauce is absorbed, you can't stop eating it.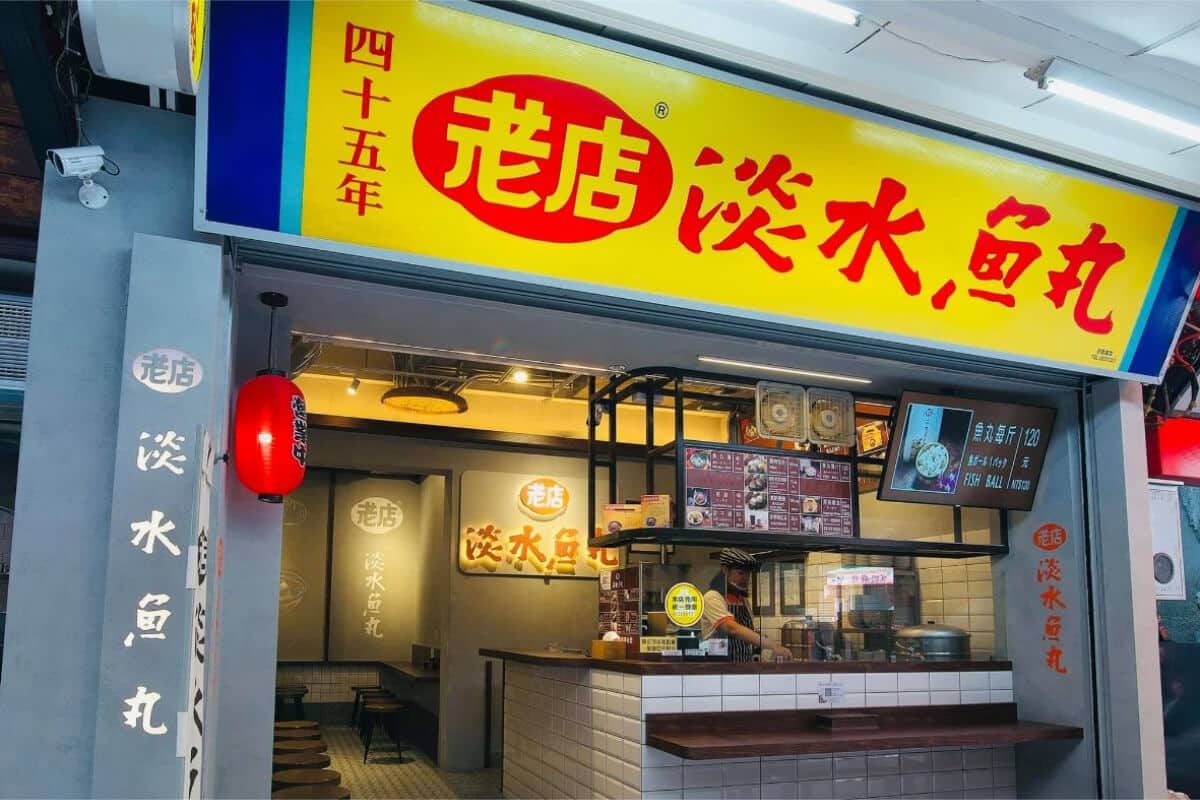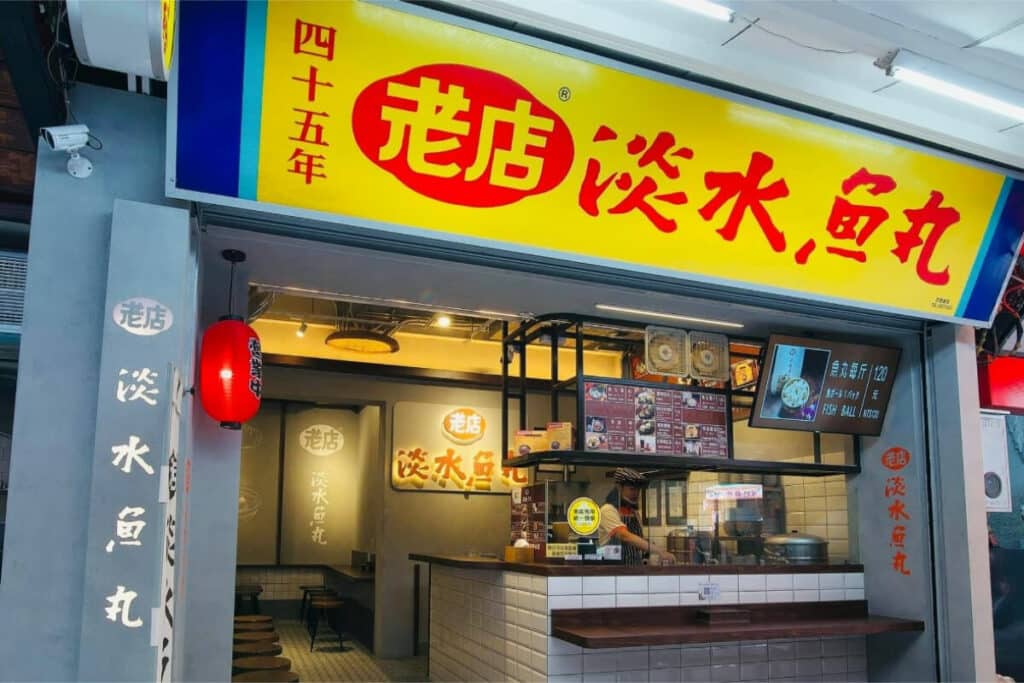 Source: Old Shop Tamsui Fish Ball FB page
In addition to the food mentioned above, there are other delicious foods in Tamsui. First is the Tamsui Huwei tofu pudding store(淡水滬尾豆花). This tofu pudding store has been open for 40 years and is popular among adults and children. Moreover, this store's basic tofu pudding is only NT$ 35. Many people come here in the summer to have a bowl of cold tofu pudding to cool off!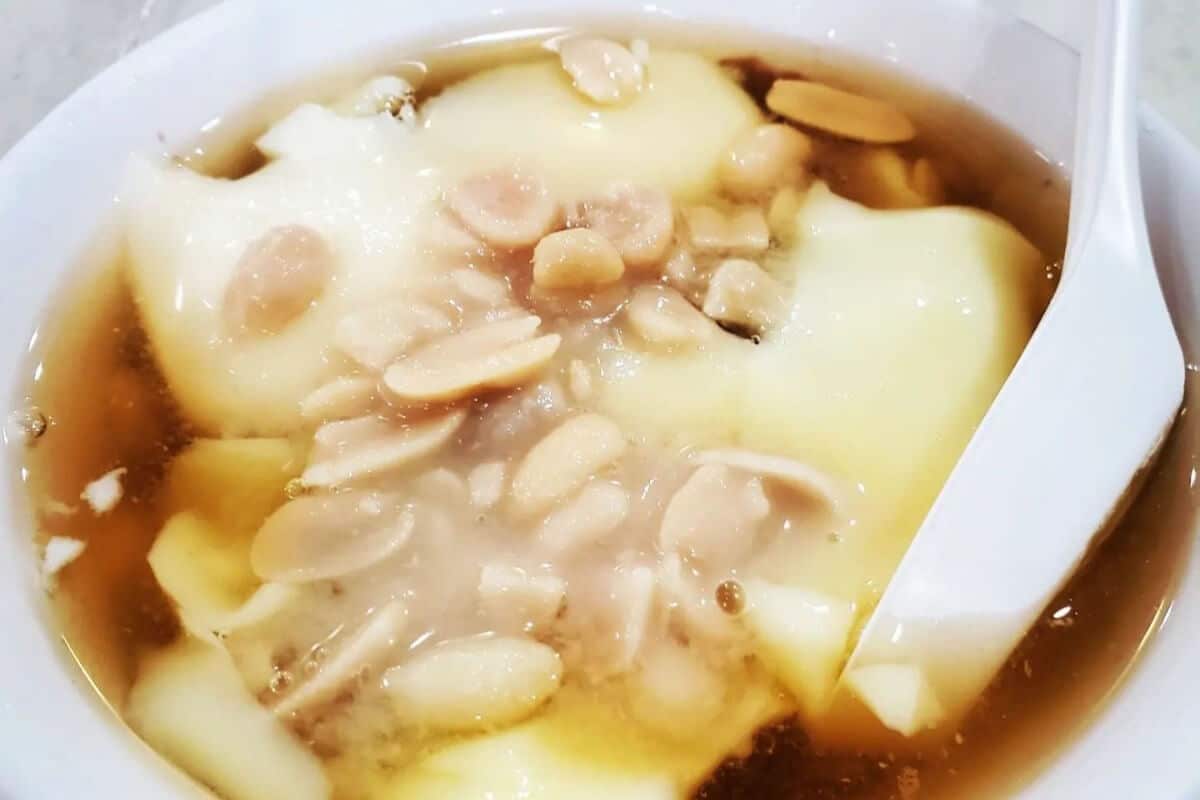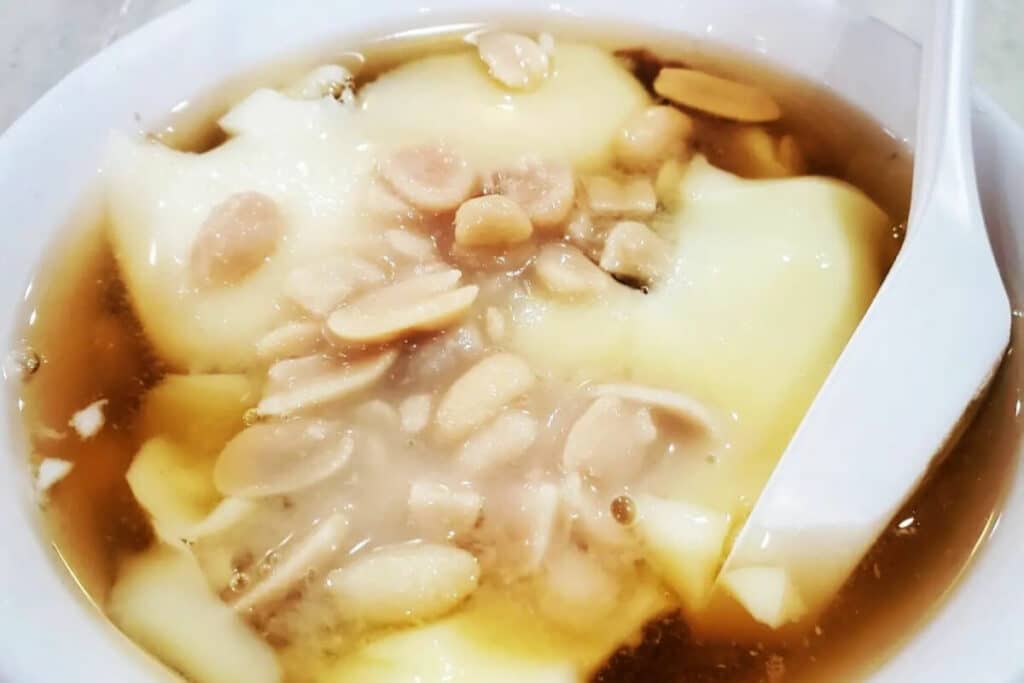 If you want a proper meal, there is also a famous ramen store called 鷄道樂 on Tamsui Old Street. Whenever it's dinner time, there will always be a line of people outside the store so you will definitely need to wait for a long time to eat. The specialty of this ramen is chicken soup as the base of the ramen. There is clear soup and thick soup, if you are a ramen lover, do not miss it!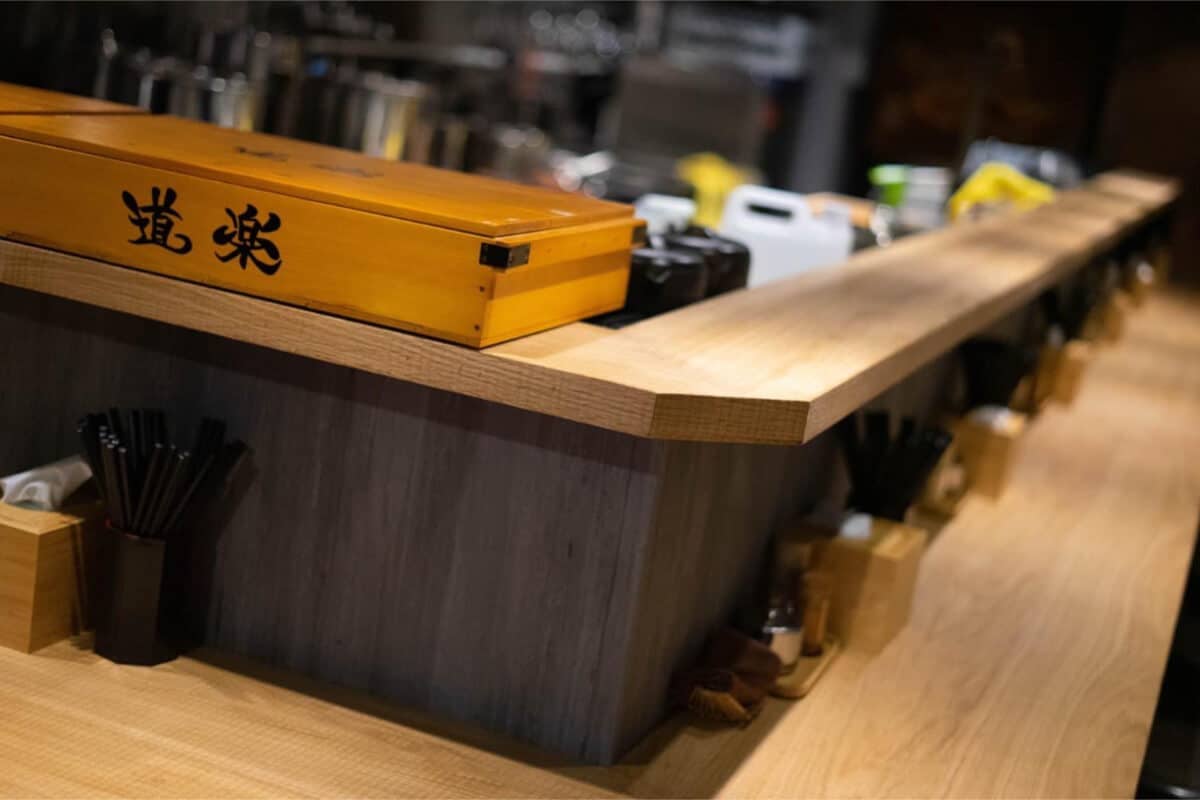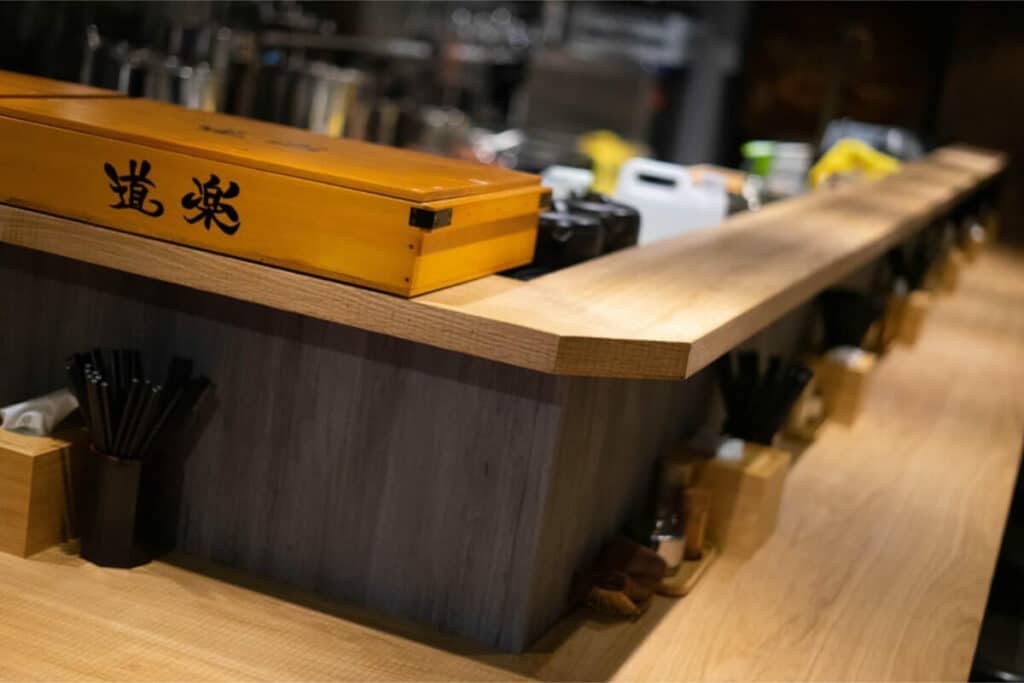 Tamsui is really a beautiful place to visit whether you come alone or with friends/family. The place has a lot to offer, from historical sites to delicacies you can find everything there. Maybe that is the reason why they call it: The heart of Taipei although it is situated in New Taipei.
Which Tamsui traditional food are you looking forward to eating the most?
Full List of Taiwan Monthly Hotel for 2023