Last Updated on 09-06-2023
Kaohsiung, Taiwan's bustling port and second-largest city. In recent years, Kaohsiung has witnessed a transformation in its public transportation landscape with the introduction of the Kaohsiung Circular Light Rail (KLRT). This modern Light Rail Transit (LRT) system has redefined how residents and visitors travel within the city. In this article, we'll delve into the origins of the KLRT, its unique features, the impact it has had on Kaohsiung, and its significance as Taiwan's first LRT, and we'll introduce you to the attractions along the LRT route.
Kaohsiung Circular Light Rail Phase 1 operation period
Taiwanese people appear to be unfamiliar with the notion of light rail as a public transit system. They frequently claim that it is sluggish and congested. Those who believe this are likely to be people who haven't experienced the convenience that public transportation provides, and they may not have had the opportunity to travel overseas and observe foreign public transit systems. They would recognize, if they genuinely knew, that Taiwan's public transportation system falls well behind the rest of the globe. A well-connected public transportation infrastructure, like the metro, is very important in a major city like Kaohsiung to support future expansion.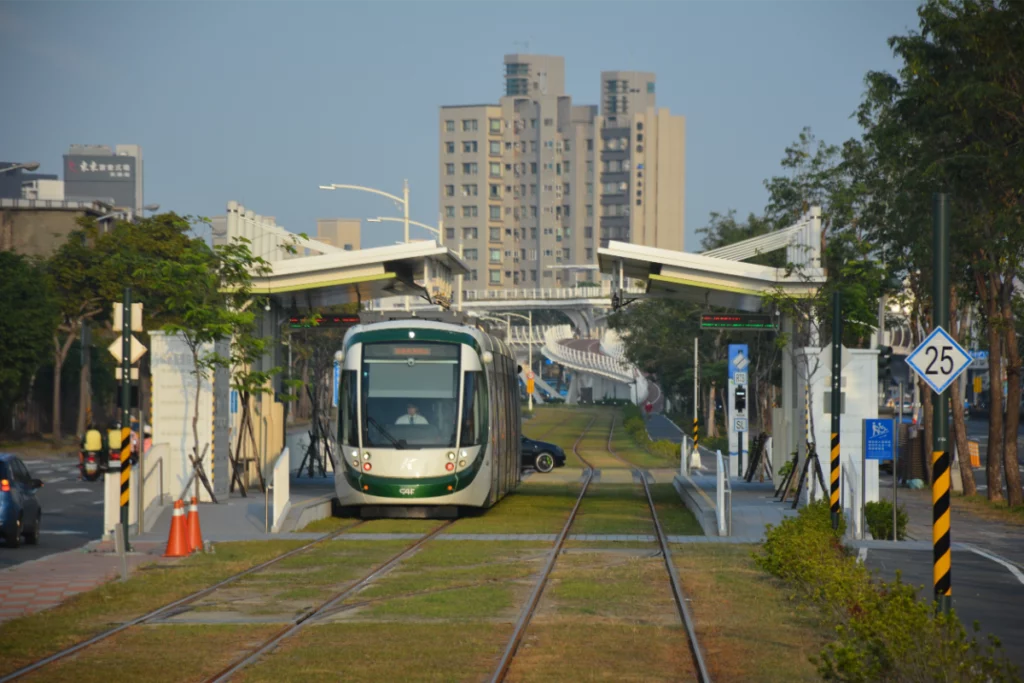 Aside from a few contentious areas, the present light rail project in Kaohsiung is being implemented in stages, with the goal of eventually completing a circumferential route. The green and white decor of the Kaohsiung light rail trains makes them seem incredibly attractive as they go across the city.
How to take the Kaohsiung Light Rail?
Many transportation experiences were unparalleled in Taiwan with the inauguration of the Kaohsiung Light Rail, creating a new adjustment for both Taiwanese and Kaohsiung natives. In principle, Light Rail is similar to buses that travel on dedicated tracks. Unlike buses, however, Light Rail has exclusive rights-of-way and dedicated signaling, resulting in a metro-like experience.
Ticket Purchase
Passengers using the open ticketing system can enter the station without going through ticket gates, and they can pay for their tickets after boarding the train by swiping their EasyCard, OneCard, and other multi-card e-tickets, or by purchasing their tickets on the platform.
Purchase one-way ticket
A one-way ticket vending machine is a touch-screen machine that exclusively sells one-way tickets. Please bring coins because the facility does not take cash.
A step-by-step sticker is attached to each automatic one-way ticket selling machine. Please follow the steps below to purchase a ticket.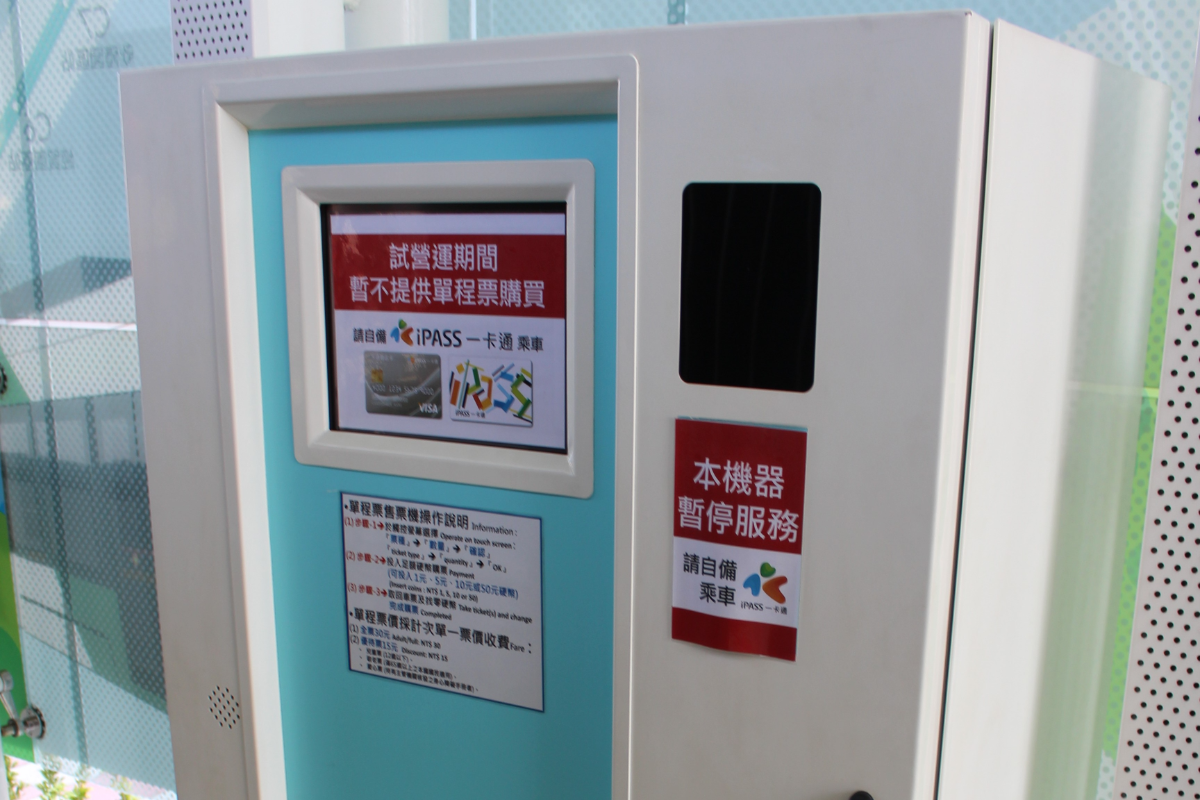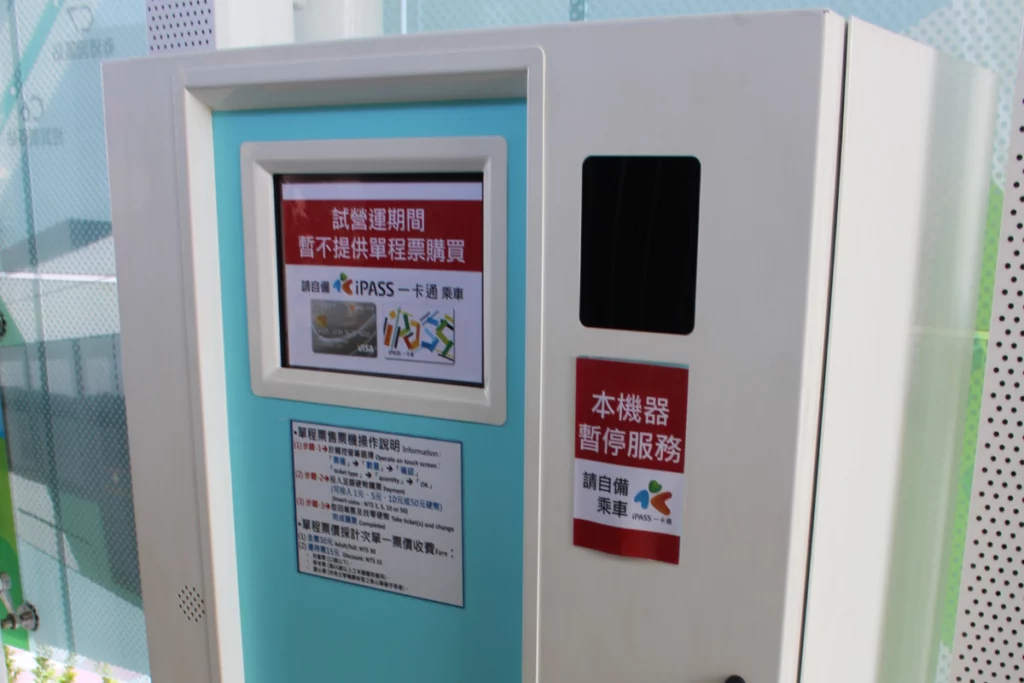 Electronic Ticket
Passengers having iPASS, Easycard, or icash may simply scan their card on the sensor section of the fare gate, which, if validated, lets them enter the station's paid area. Because the ticket is currently single-priced, there is no need to re-sense the card upon departing to avoid repeated reduction. A youngster under the age of six can travel for free while accompanied by a paying rider.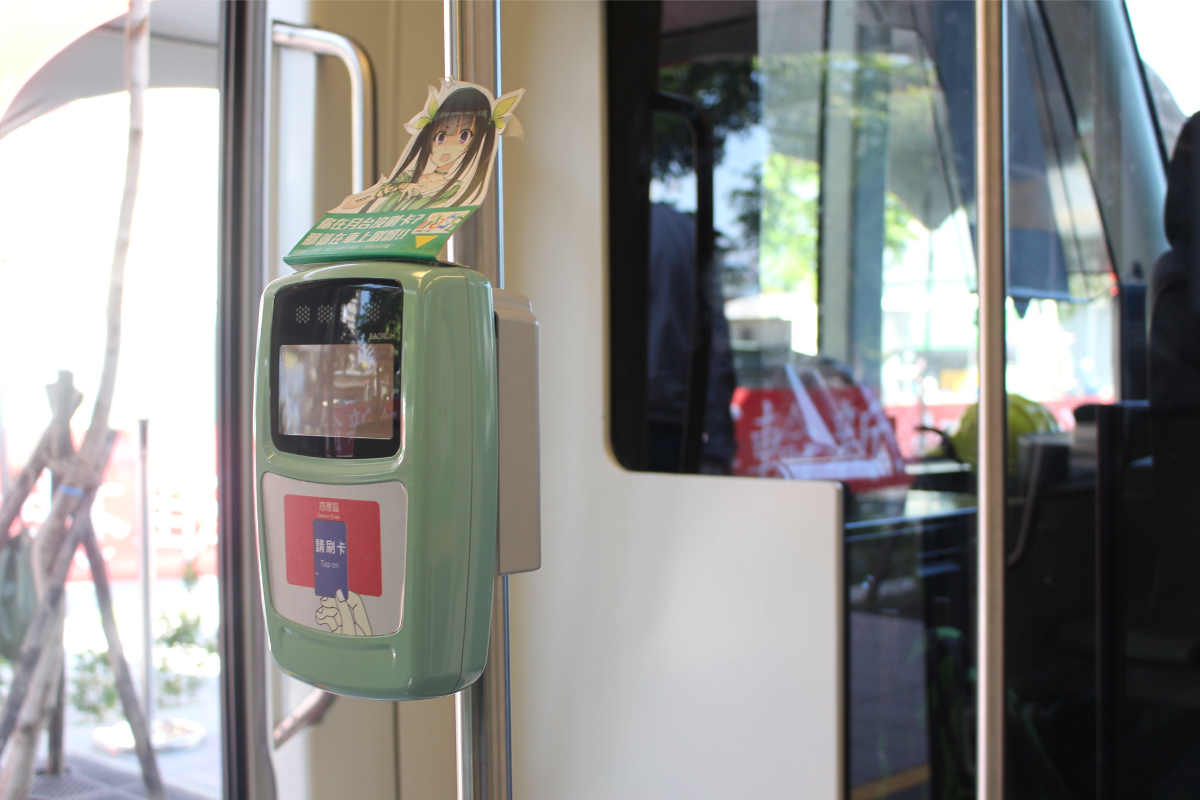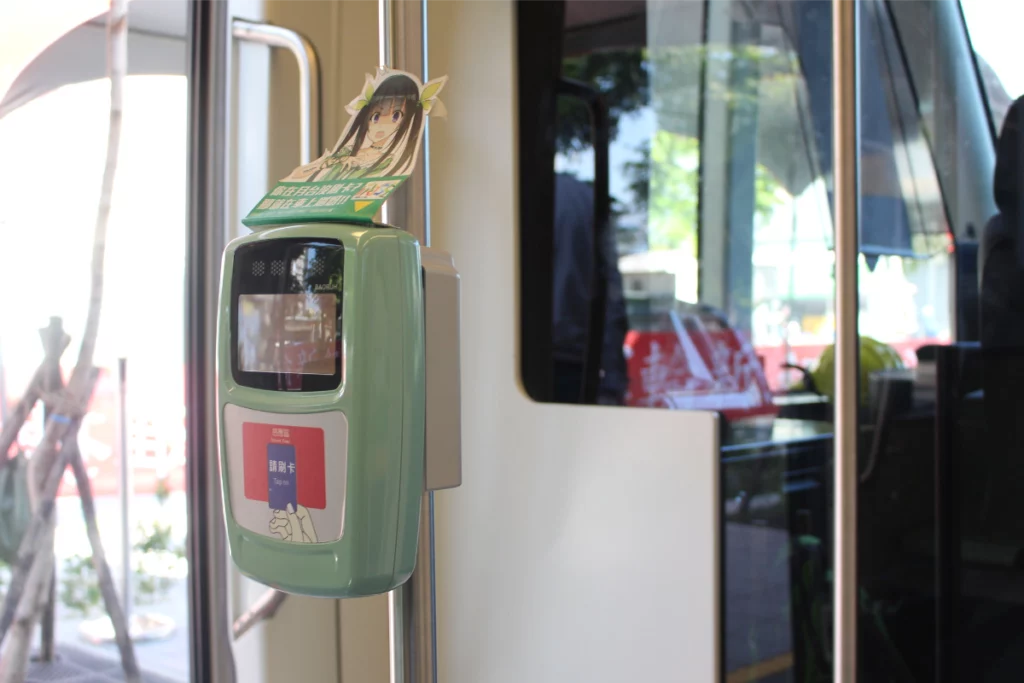 You must press the button to open the door
When the train arrives at the station and comes to a complete stop, passengers must push the train's button to board or exit. It is recommended that you do not stand near the doorway and that you get on and off the train as soon as possible.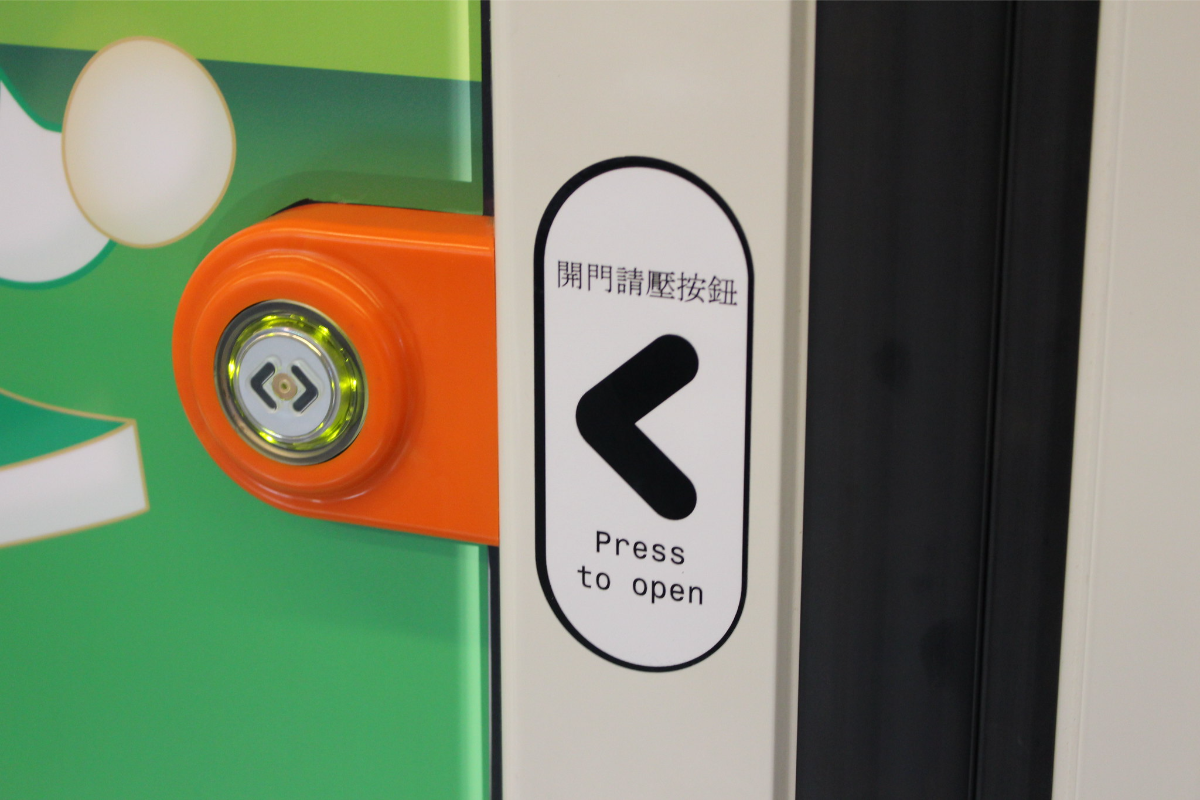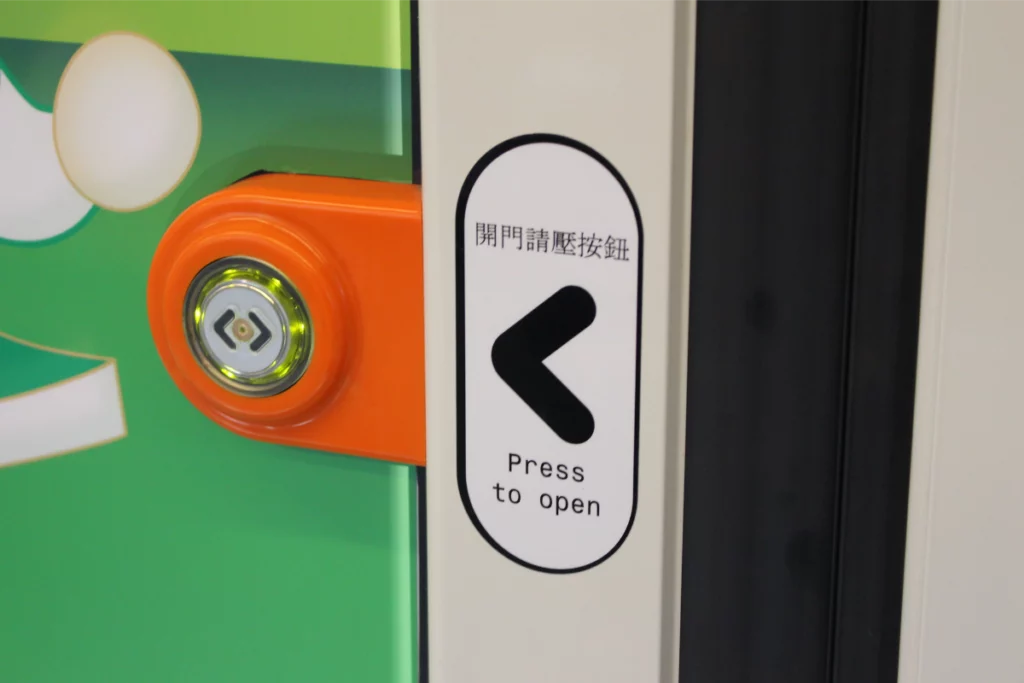 Kaohsiung Light Rail compartment
The train compartments offer limited seating space, with most of the area designed for standing passengers. However, there are dedicated accessible spaces and wheelchair areas for passengers with mobility challenges. The panoramic windows are enlarged, allowing passengers to enjoy the city's scenic views during their journey. These larger windows also bring in natural light, reducing the need for artificial lighting inside the train carriages.
The Kaohsiung Light Rail is now run by 9 sets of Urbos 3 light rail cars made by the Spanish firm CAF. These cars have a low-floor design, and one of its distinguishing features is the lack of overhead wires, which ensures that the landscape along the route is not disrupted by tram lines. To improve its operations, the system will deploy new trains produced in France in the future.
Introduction of Kaohsiung Light Rail Stations
Range of Light Rail Operations
In the light rail, the operation range is from C32 Kaisyuan Park to C1 Lizihnei to C24 Heart of Love River, and all stations on the way provide passengers to get on and off. For future information on the boarding, please refer to the latest News of the KLRT.
LRT Stations
C1 Lizihnei、C2 Kaisyuan Rueitian、C3 Cianjhen Star、C4 Kaisyuan Jhonghua、C5 Dream Mall、C6 Commerce and Trade Park、C7 Software Technology Park、C8 Kaohsiung Exhibition Center、C9 Cruise Terminal、C10 Glory Pier、C11 Love Pier、C12 Dayi Pier-2、C13 Penglai Pier-2、C14 Hamasen、C15 Shoushan Park、C16 Wenwu Temple、C17 Gushan District Office、C18 Gushan、C19 Makadao、C20 TRA Museum of Fine Arts、C21A Neiwei Arts Center、C21 Kaohsiung Museum of Fine Arts、C22 Kaohsiung Municipal United Hospital、C23 Longhua Elementary School、C24 Heart of Love River、C32 Kaisyuan Park 、C33 Department of Health、C34 Wucyuan Elementary School、C35 Kaisyuan Wuchang、C36 Kaisyuan Ersheng、C37 LRT Depot.
Attractions on the Kaohsiung Light Rail System
Kaohsiung Museum of History
During the Japanese colonial time, it was called "Kaohsiung City Hall," and after the war, it was renamed "Kaohsiung City Government." Since the city government's move in 1992, the facility has been transformed into the "Kaohsiung Museum of History." Subsidiary buildings were added to focus on themes such as railway culture, the history of the old city, traditional performing arts, human rights issues, and military dependent immigration, transforming the Kaohsiung Museum of History into a "museum complex" that continues to educate people about the city's heritage.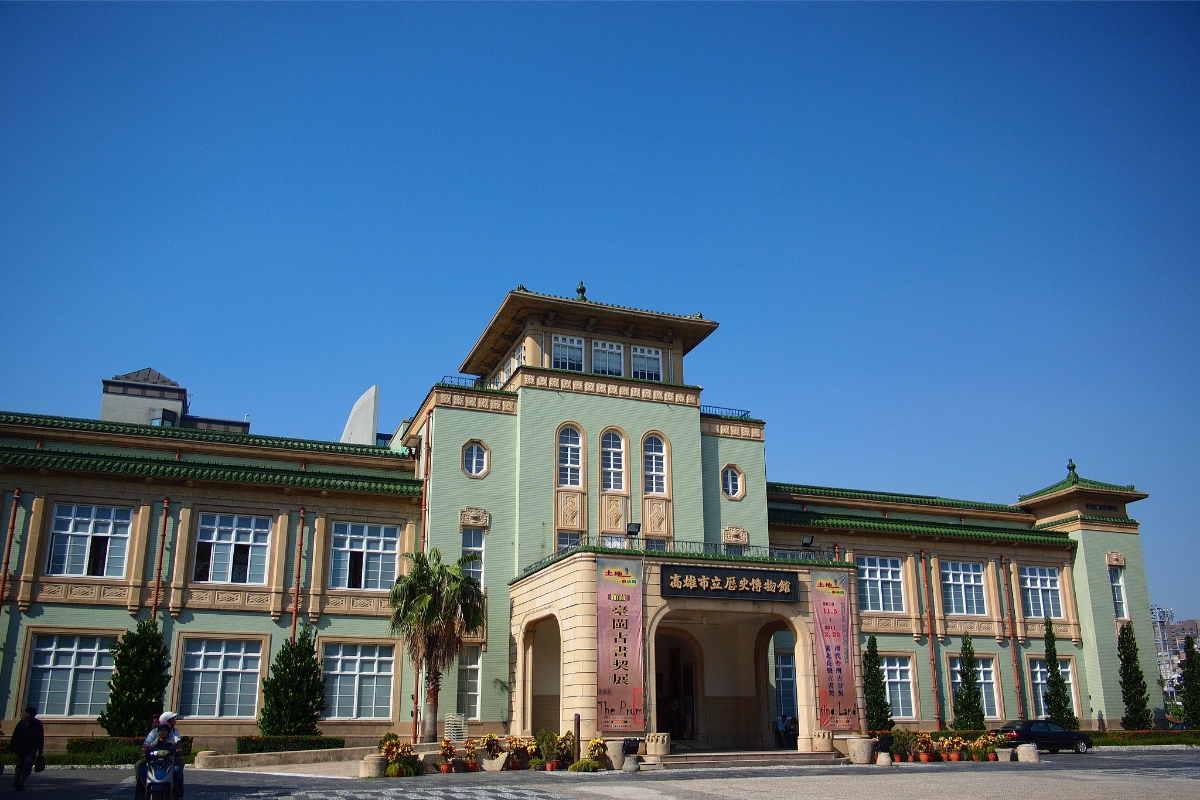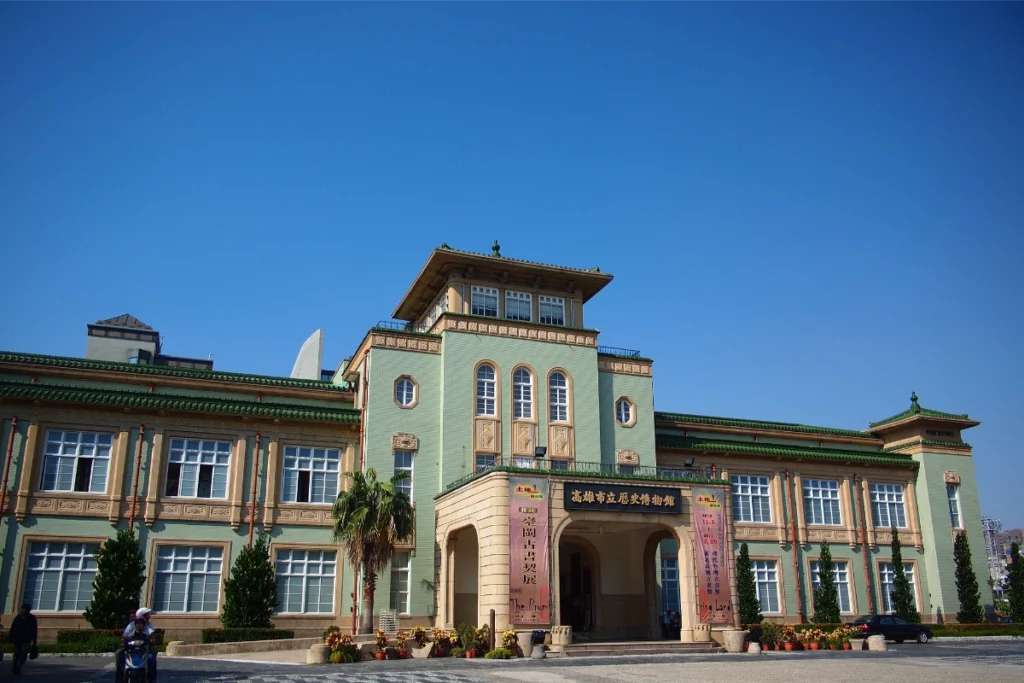 Love River Walking Area
Love River, being one of Kaohsiung's most recognizable features, has many people's love memories. Love River has become a major tourist site in the city as a result of redevelopment initiatives. As the sun sets in the evening, street entertainers come to amuse couples and individuals strolling down the riverfront, creating a gorgeous spectacle peculiar to Kaohsiung. Along the way, you'll pass Love Boat Wharf and the Kaohsiung Film Archive before arriving at the Kaohsiung Light Rail's "Zhenai Wharf Station" and "Kaohsiung Music Center." Exploring this fascinating metropolis is a great experience.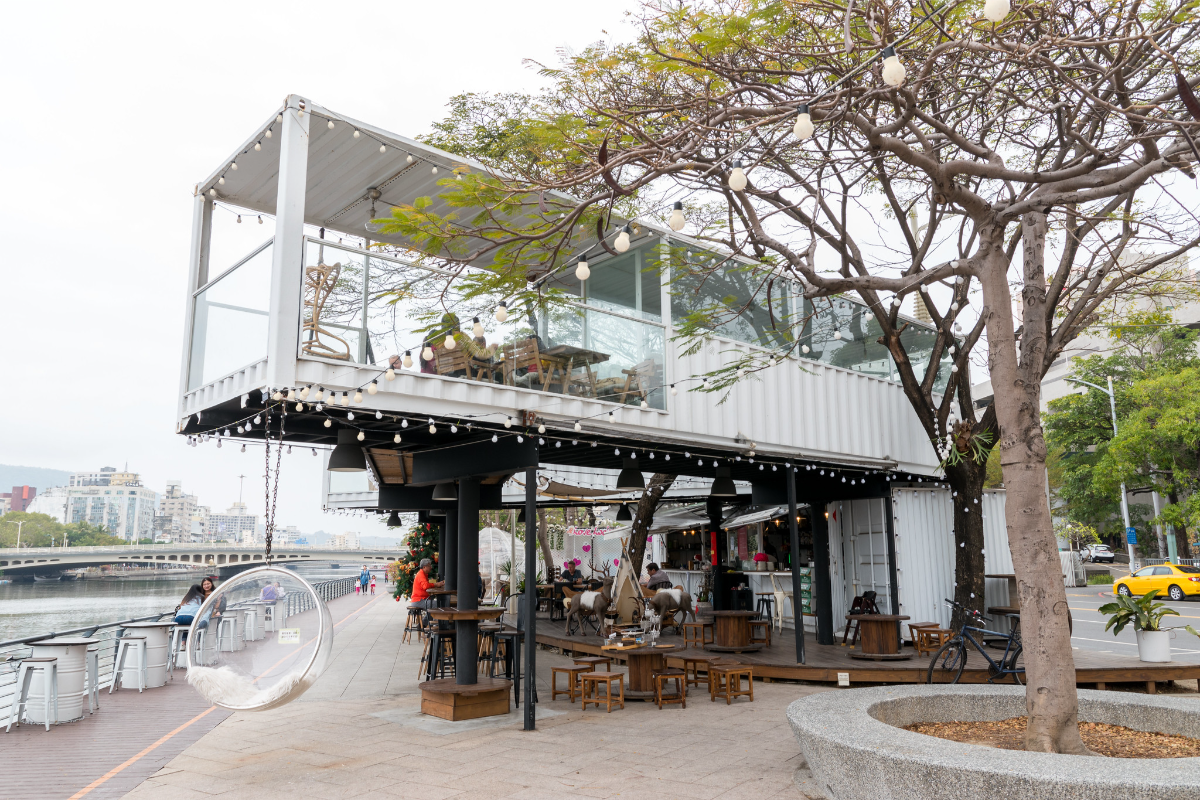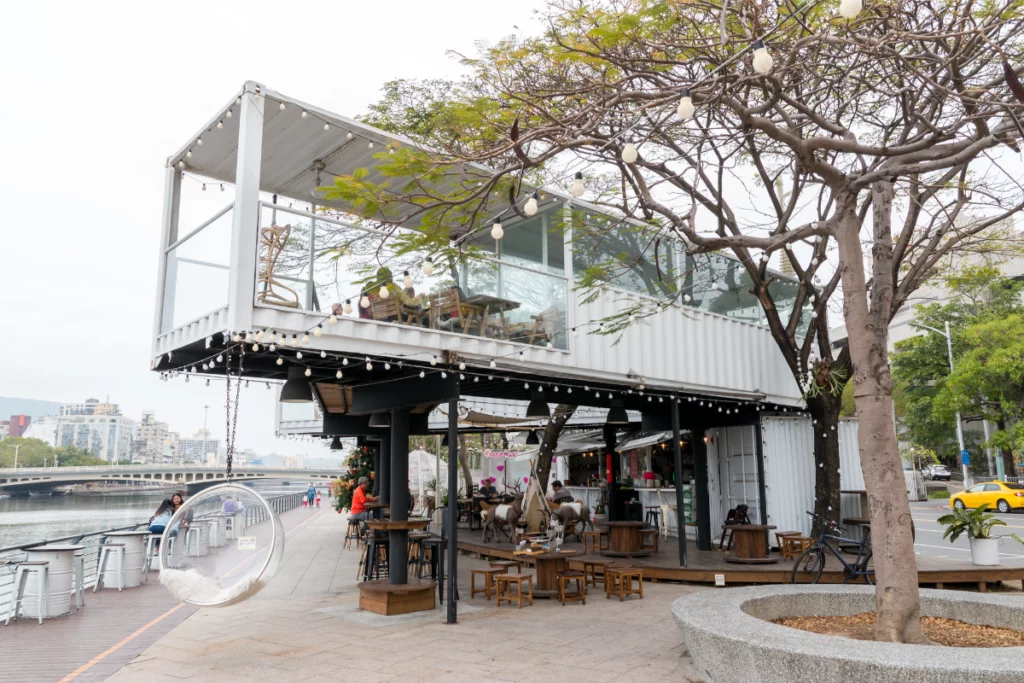 Kaohsiung Music Center
This Asian-famous Pop Music Center, built around the concepts of marine elements and pop music, has become a must-see destination for many visitors to Kaohsiung. The "Kaohsiung Music Center" is separated into several sections: the High and Low Towers, the Coral Reef Group, the Wharf of Whales, the Dolphin Trail, and the LIVE WAREHOUSE. It has become a prominent landmark in Kaohsiung, following in the footsteps of the 85 Sky Tower, as well as a popular location for pop music concerts in southern Taiwan. Live concerts are available for music fans, while tourists may enjoy the gorgeous architecture and Love River vistas along the neighboring path. The ambiance is especially charming at night, when the lights illuminate the center.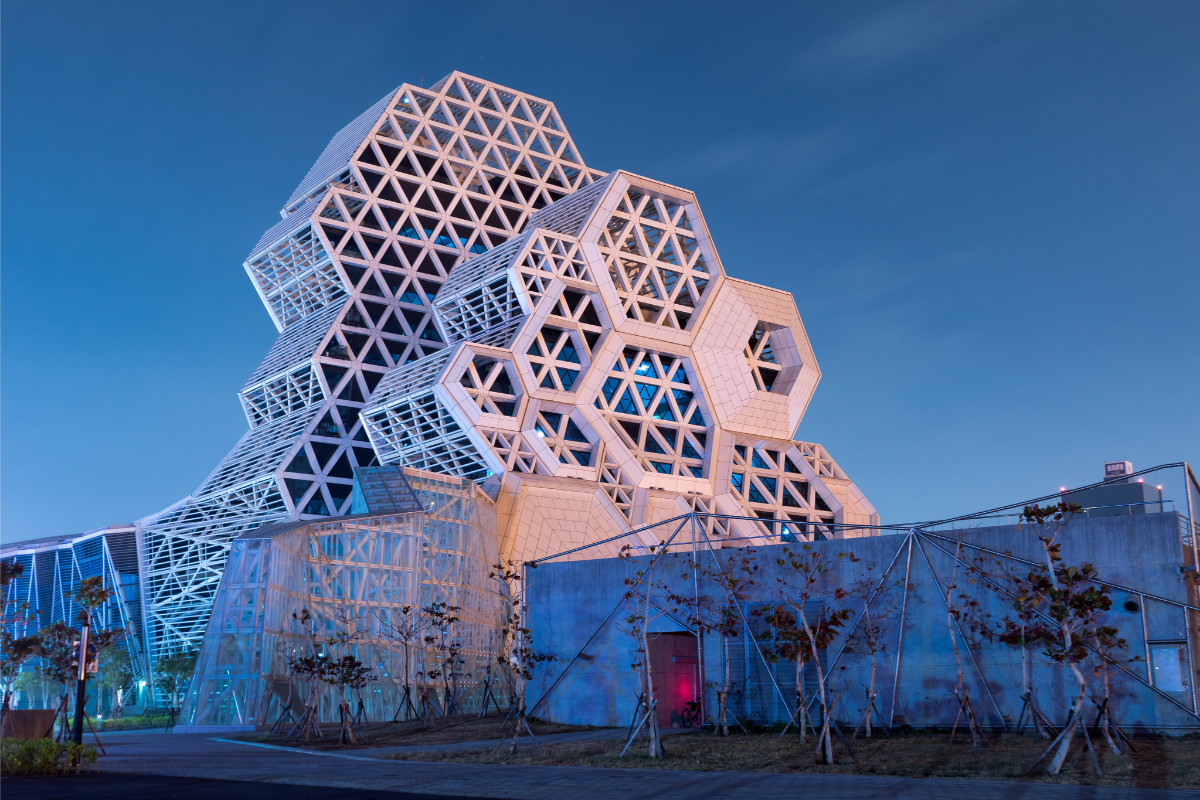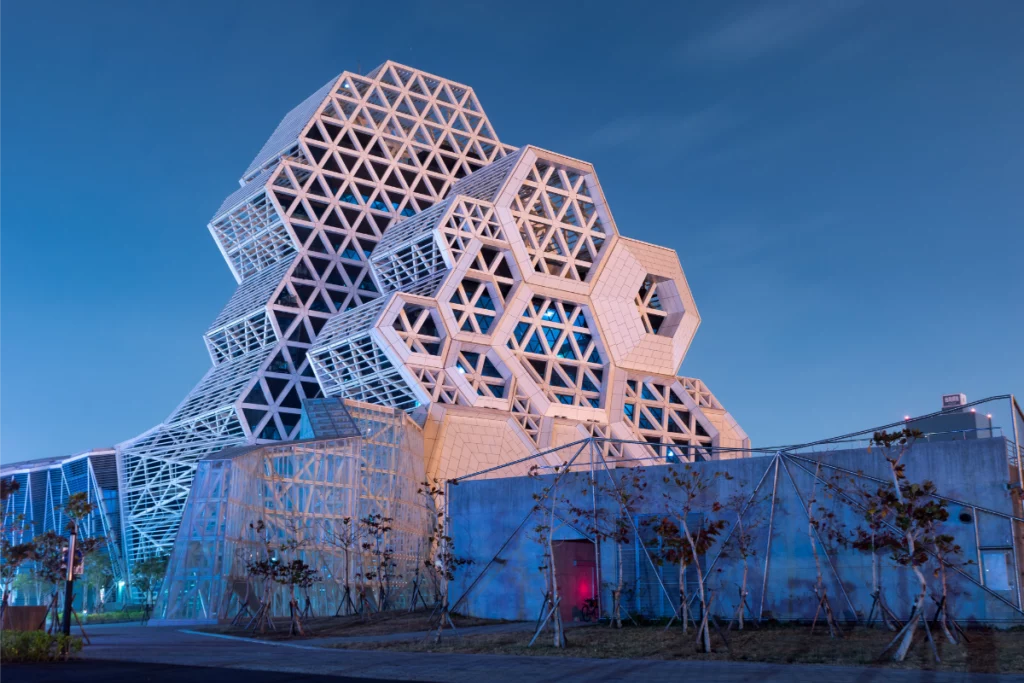 The Pier-2 Art Center
When it comes to Kaohsiung, one cannot miss the "Pier-2 Art Center." Since its establishment, this attraction has captivated countless visitors with its captivating art installations, regular exhibitions, and an abundance of unique shops and delicious eateries, making it one of Kaohsiung's liveliest districts. With a total of 25 warehouse spaces, including Dayong Warehouse Group, Dayi Warehouse Group, and Penglai Warehouse Group, each area has its own distinctive charm. Dayong Warehouse Group mainly hosts art exhibitions, Penglai Warehouse Group combines with the Hamasen Railway Cultural Park to hold events and food markets, while Dayi Warehouse Group is home to various individually operated studios with an artistic touch. This place is a favorite gathering spot for art-loving youth, a hotspot for tourist photography, and a fantastic destination for family trips, offering one of the most diverse and enriching experiences for visitors exploring Kaohsiung.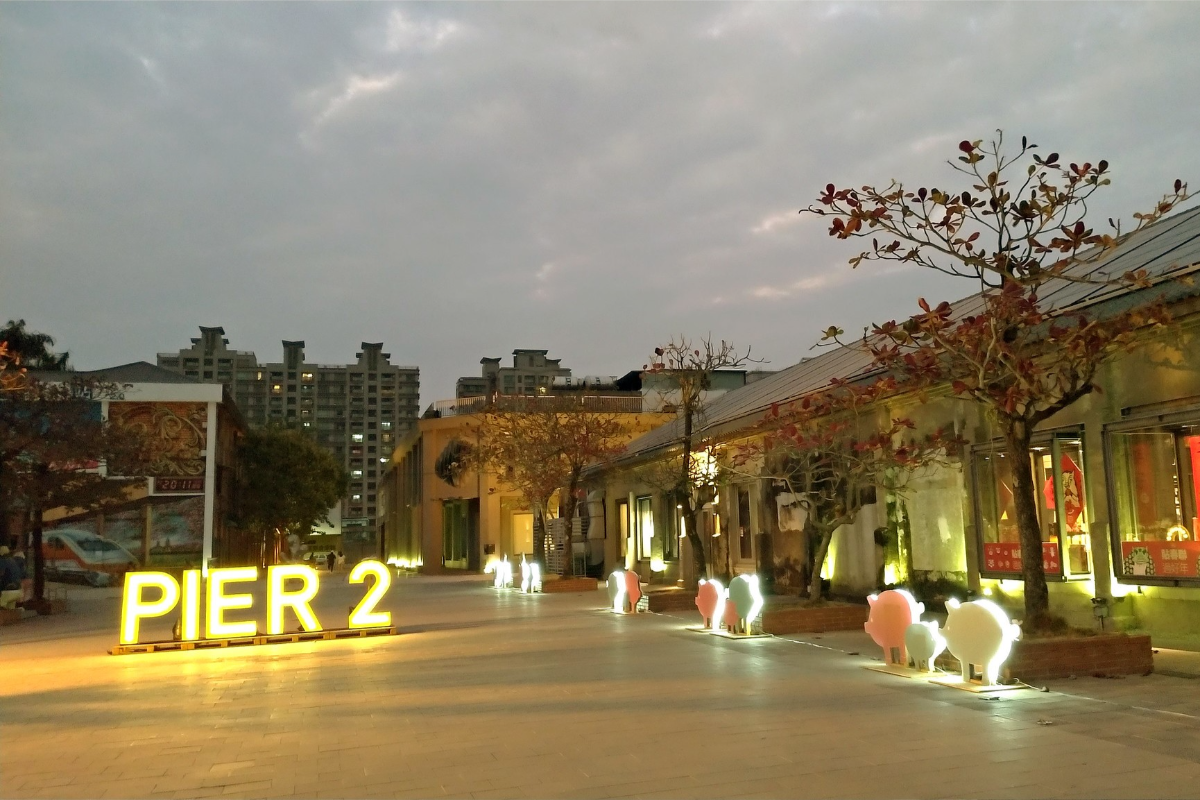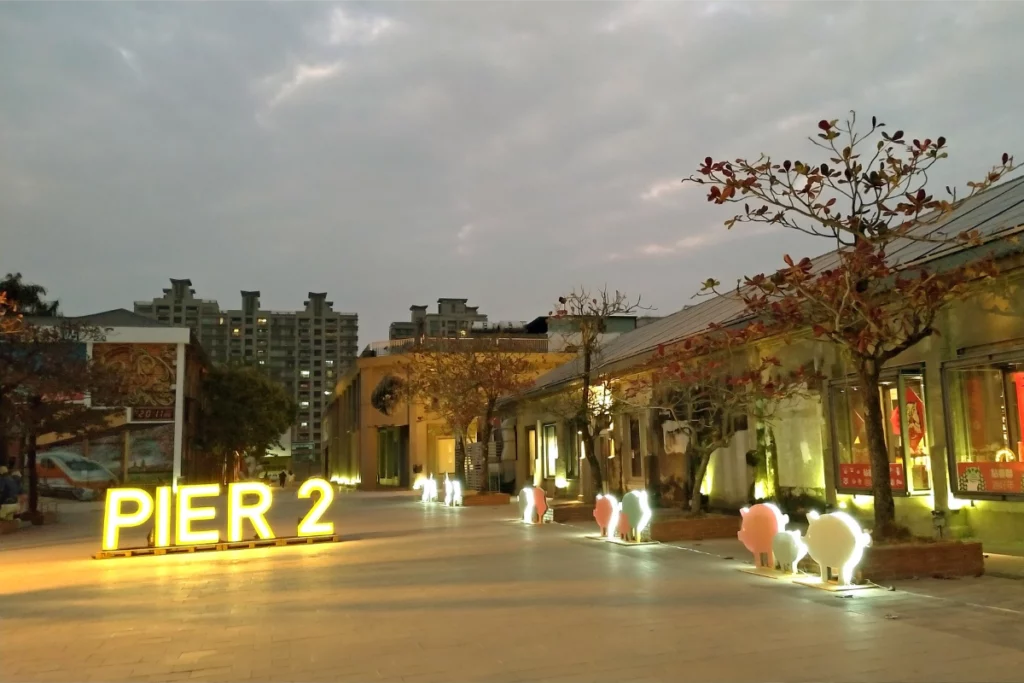 Hamasen Museum of Taiwan Railway
The Light Rail Hamasen Station is in close proximity to the MRT Xiziwan Station, making it an absolute must-visit for railway enthusiasts. At the Hamasen Railway Cultural Park, visitors will be delighted by a diverse array of art installations and vintage trains, leading to endless shutter clicks and memory storage challenges. Originally the first train station in Kaohsiung and once the largest freight station in Taiwan, it has since been recognized as a historical building in the city. Connected to the Pier-2 Art Center, it has become one of the most popular tourist hotspots in the area. Railway enthusiasts and art lovers alike will find this place captivating and an essential addition to their Kaohsiung itinerary.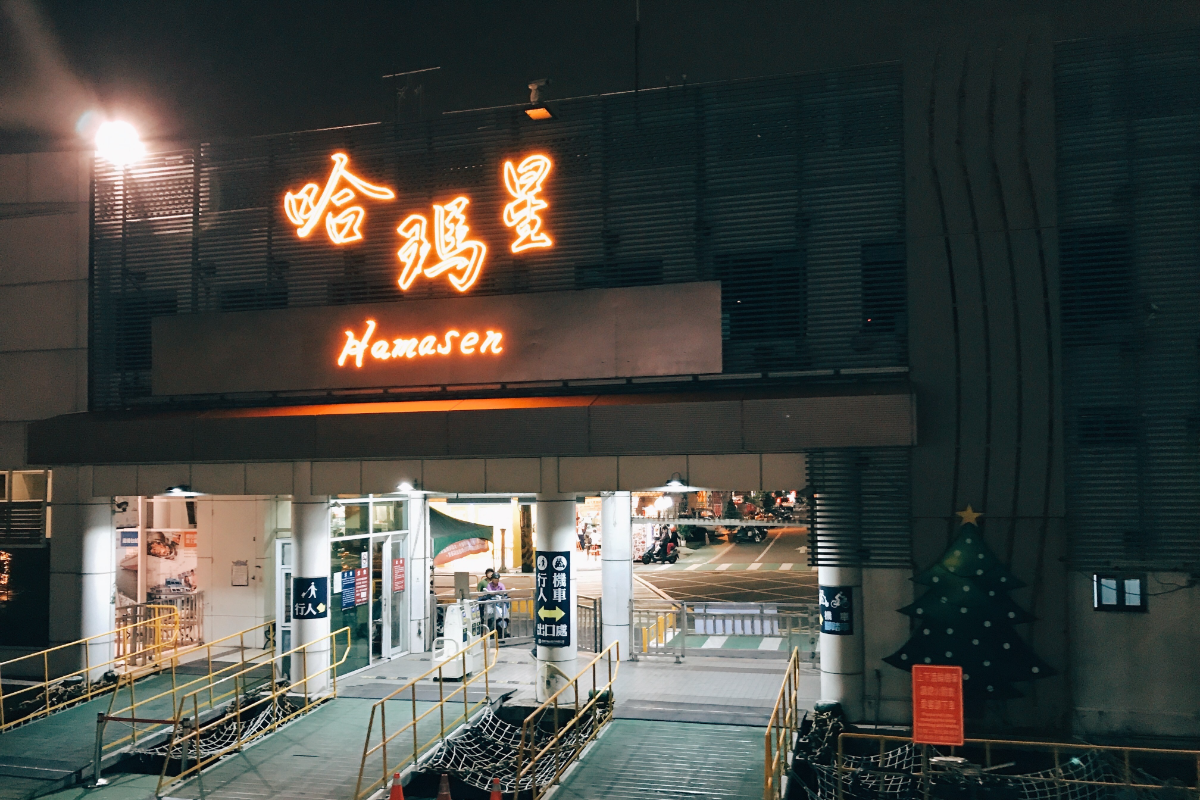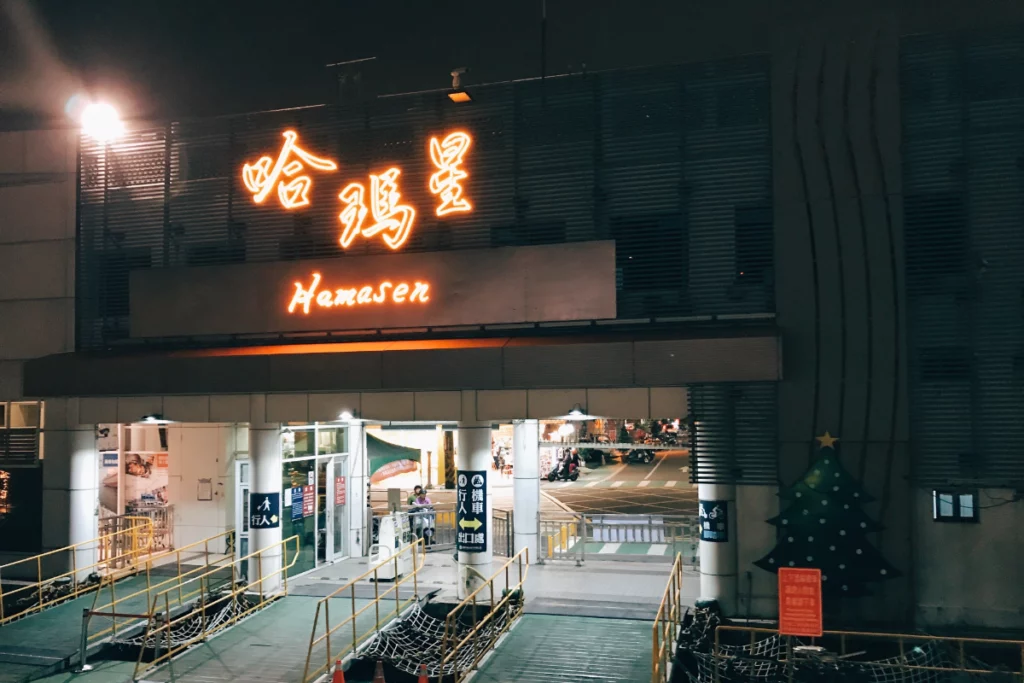 Recommended Accommodations near Kaohsiung LRT Station
Silks Club
Silks Club is a 5-star luxury hotel in Kaohsiung, Taiwan, recognized for its art-inspired environment and exceptional service. It has 147 executive level rooms with sophisticated décor and stunning views of the Kaohsiung Harbor. The hotel is perfectly positioned among many attractions in the dynamic new Asian Bay Area.
Guests may enjoy elegant meals at UKAI-Tei, the hotel's Michelin-starred restaurant. Silks Club offers a fantastic art collection, which creates a one-of-a-kind ambiance for guests. The hotel has a beautiful infinity pool that is ideal for relaxing.
Silks Club's closeness to the Kaohsiung Light Rail system, with the nearest stop being Kaohsiung Exhibition Center, is one of its features. This efficient mode of transportation allows visitors to conveniently tour the city.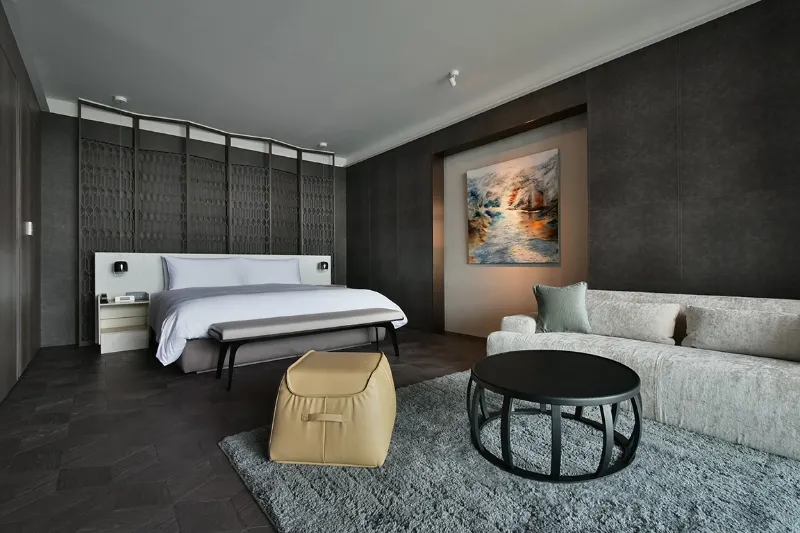 SAYO Hotel
SAYO Hotel is a stylish and comfortable accommodation in Yancheng, Kaohsiung. It offers a homely atmosphere for both business and leisure travelers. The hotel is conveniently located near the Orange Line Yanchengpu O2 MRT Station, just a 5-minute walk away. Guests can easily explore nearby attractions like Pier-2 Art Center, Fisherman's Wharf, and Love River.
The hotel provides 70 spacious rooms, a leisure area, children's game room, and meeting rooms. Additionally, there's a self-service laundry room and a complimentary welcome coffee bar. For transportation, the Shoushan Park Station for the LRT is also close to the hotel, making it easy for guests to travel around Kaohsiung.