Last Updated on 10-26-2023
Kaohsiung, Taiwan's second-largest city, is recognized for its historical temples, modern art centers, and public art pieces. However, the city is also known for its colorful night markets, which can be found all across Kaohsiung.
And if you have lots of time in the city, we highly recommend paying a visit to these 9 Kaohsiung night markets due to its accessibility, variety of cuisine, and atmosphere. After all, a vacation to Taiwan isn't complete unless you try the food at a local night market!
Continue reading to find out how to visit the greatest night markets in Kaohsiung!
Liuhe Night Market
Liuhe Night Market dates back to the 1950s, when it was known as Dagangpu Night Market. It is the most popular among visitors visiting Kaohsiung. It is well-known for its abundance of fish as well as Halal cuisine.
Many locals dismiss it as touristy and pricey, however this is changing as the market adjusts to the absence of travelers during COVID in Taiwan.
Exit 11 takes you directly to the eastern end of the night market, which takes up roughly four blocks of Liuhe 2nd road and has around 100 vendors in total. You may also reach there by using exit 1 on the large traffic circle, which has four stunning glass MRT exit buildings.
This is a typical road that is completely blocked to traffic at night, similar to Taipei's night markets, which is another reason visitors appreciate it. The market booths are also well-spaced, so even during peak hours, it never seems overcrowded, nor do you have to fear being hit by a scooter.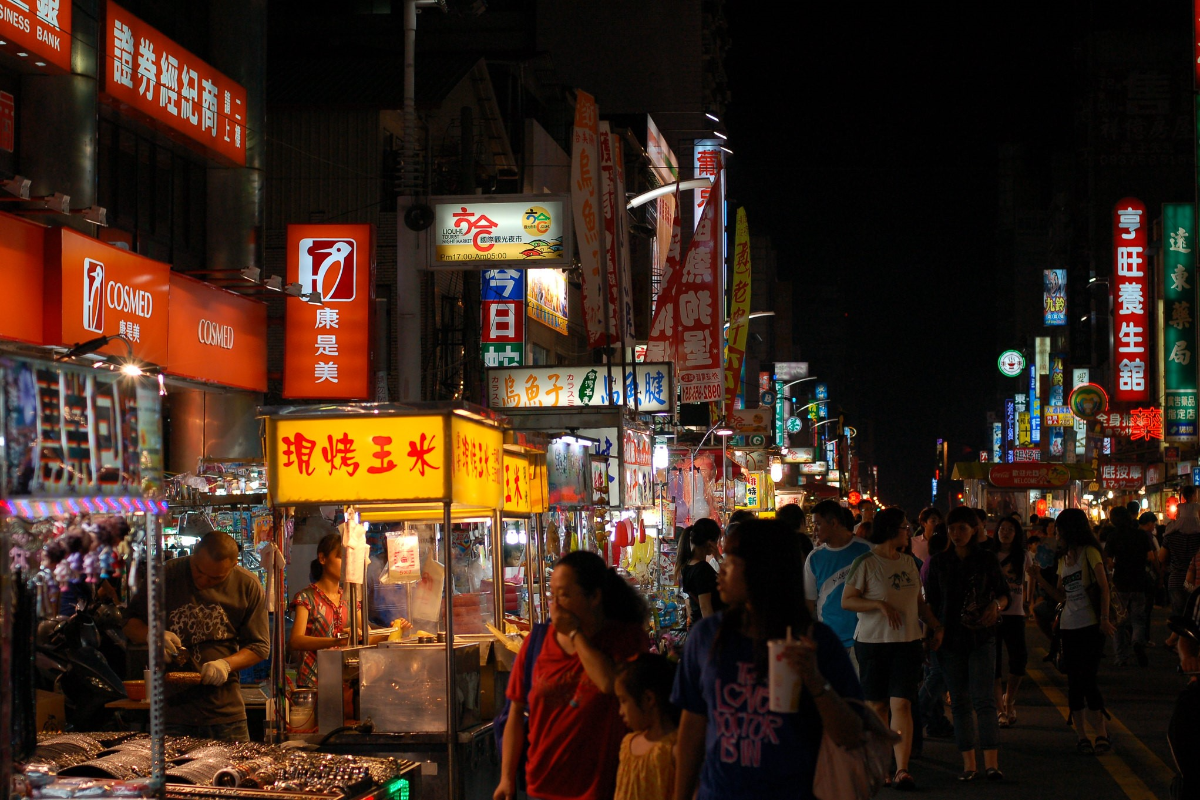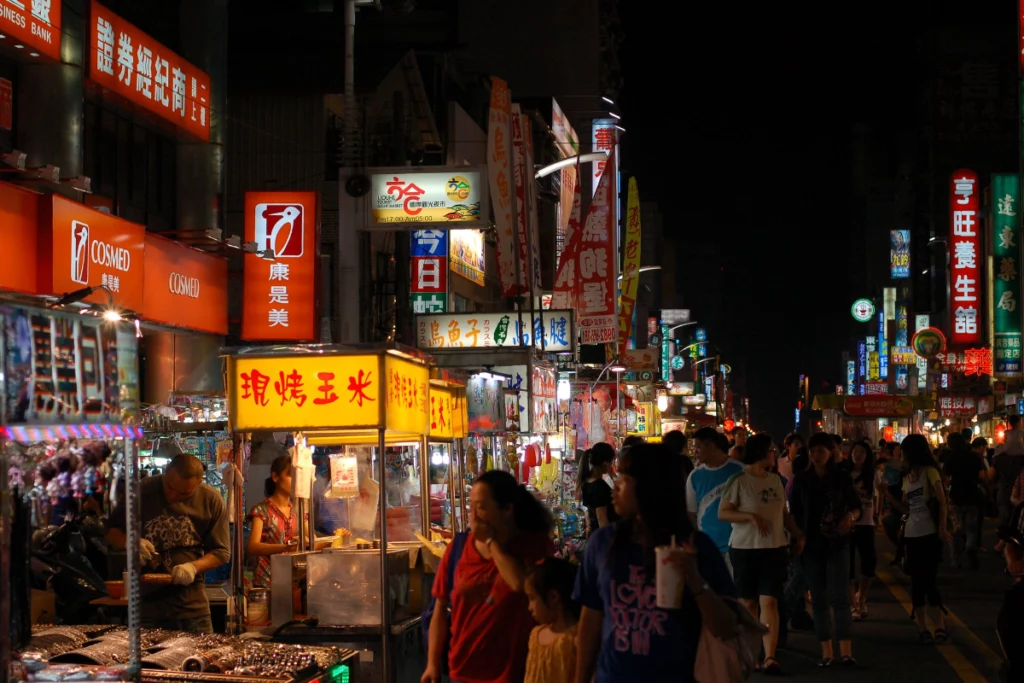 Famous Food Stalls/What to Eat in Liuhe Night Market
鄭老牌木瓜牛奶 (Zheng Lao Pai Papaya Milk)
Specialty: Famous for their signature papaya milk, a refreshing and creamy beverage made with fresh papaya and milk.
秘製燒烤 (Mìzhì Shāokǎo) – Secret Recipe Barbecue
Specialty: Offers a variety of secret recipe barbecued meats, a perfect blend of flavors that keeps people lining up for more.
超涮嘴QQ湯圓 (Chāo Shuànzuǐ QQ Tāngyuán) – Super Tasty QQ Glutinous Rice Balls
Specialty: Serves delightful and chewy glutinous rice balls in a savory broth, a popular treat enjoyed by locals and visitors alike.
Nanhua Night Market
Located in the heart of Kaohsiung's New Xinxing District, the Nanhua Night Market is a bustling hub that promises a sensory feast for locals and tourists alike. From dawn till dusk, Nanhua Night Market comes alive with a kaleidoscope of colors and aromas. During the day, visitors can browse through traditional market stalls brimming with fresh produce, local snacks, and essential goods. As the afternoon sets in, the market undergoes a transformation, welcoming shoppers with an eclectic mix of fashion boutiques, leather goods, and shoe repair shops.
However, the true allure of Nanhua Night Market emerges at nightfall. The maze of alleys and streets becomes a haven for food enthusiasts seeking delectable treats. The stalls come alive with the sizzling of grilled meats, the aroma of steaming soups, and the sweetness of freshly made desserts. Indulge in a variety of traditional snacks, savor iconic dishes like white sugar cake and aiyu jelly ice, or explore international cuisines that cater to various tastes and budgets.
Nanhua Night Market stands as a testament to the city's cultural heritage and its ever-evolving gastronomic landscape. A visit to this lively market promises a memorable and satisfying experience for anyone who craves authentic Taiwanese street food and the charm of a bustling night market.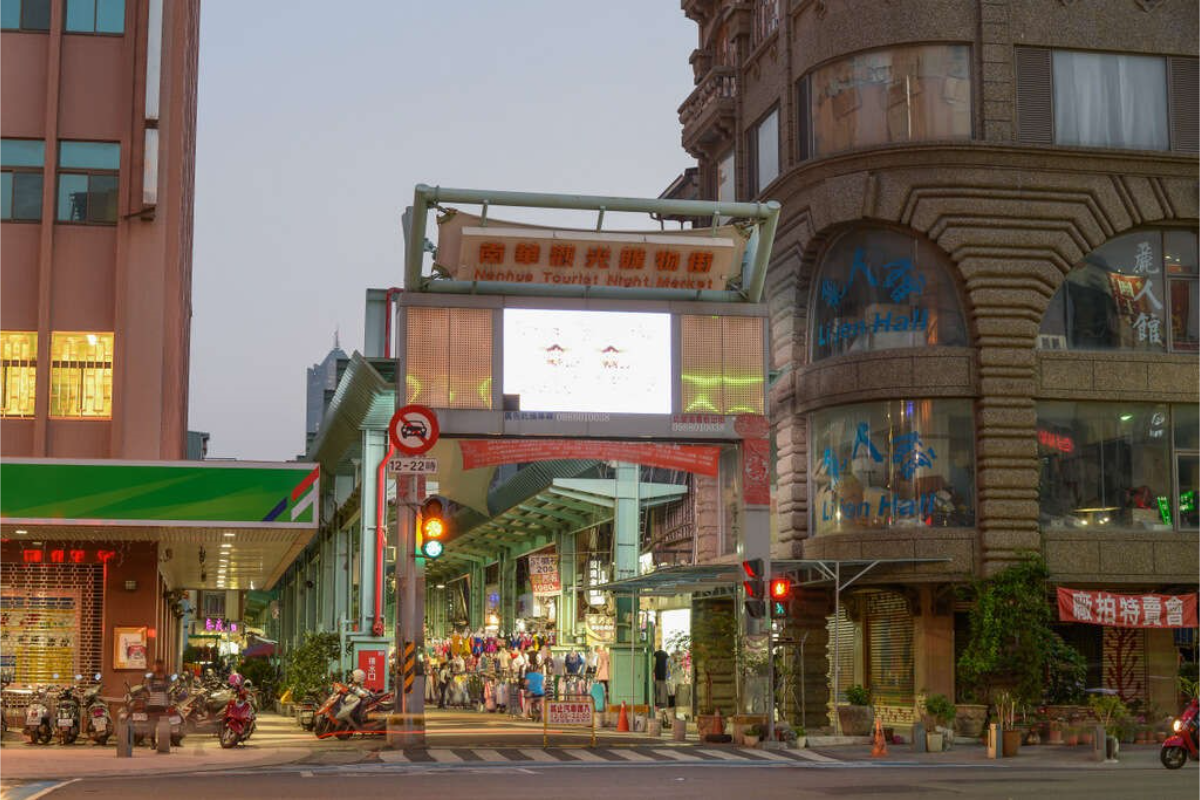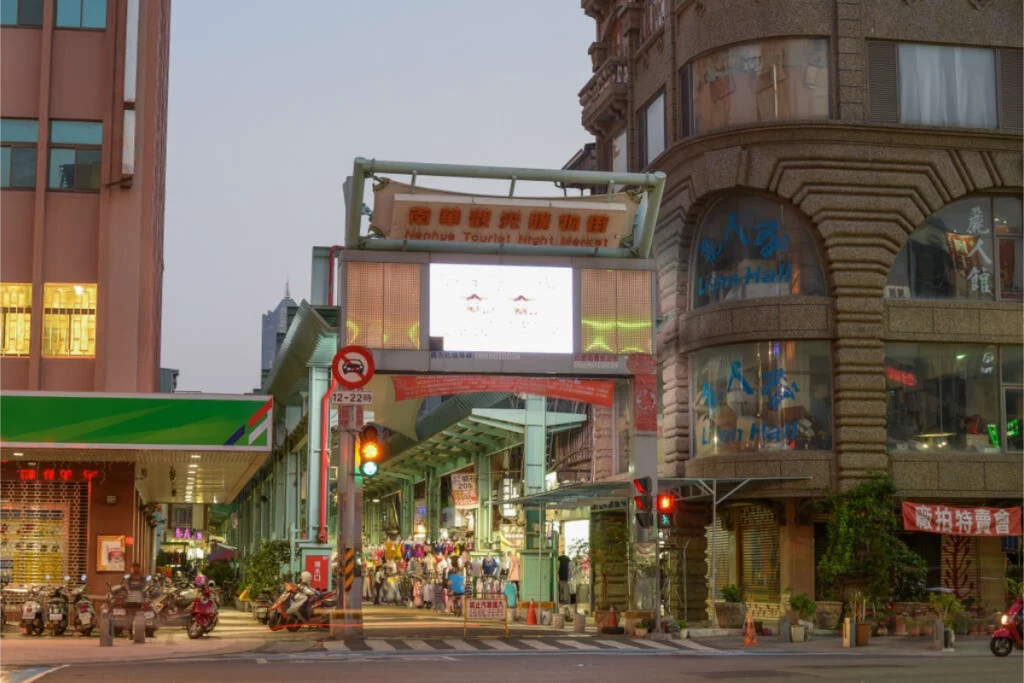 Famous Food Stalls/What to Eat in Nanhua Night Market
Specialty: Authentic Taiwanese Bowl Rice Cake (碗粿) and Pork Blood Soup (豬血湯) with a nostalgic flavor that has been cherished for over 60 years.
阿嬤鹽水薏麵 (amayan shueiyimian)
Specialty: Savory and Refreshing Yuzu Noodles (鹽水薏麵) made with unique yuzu flavor and a rich sesame sauce, offering a delightful taste sensation.
兩回熟豆花 (lianghueishudou hua)
Specialty: Traditional Tofu Pudding (豆花) with a smooth and delicate texture, available in a range of delectable flavors, such as red bean, taro, and green bean.
Ruifeng Night Market
Situated in the heart of the city, this Ruifeng Night Market has become a must-visit destination for locals and tourists alike. Boasting a vast array of delectable delights, Ruifeng Night Market promises an unforgettable gastronomic adventure.
As you venture through the lively alleys, the savory aroma of street food fills the air, enticing your taste buds to indulge in a culinary journey. As the sun sets, the vibrant night market comes to life, attracting visitors from all corners of the globe. Embrace the lively atmosphere, relish the diverse flavors, and immerse yourself in the spirit of Taiwan's beloved night market culture at 高雄瑞豐夜市 (Kaohsiung Ruifeng Night Market).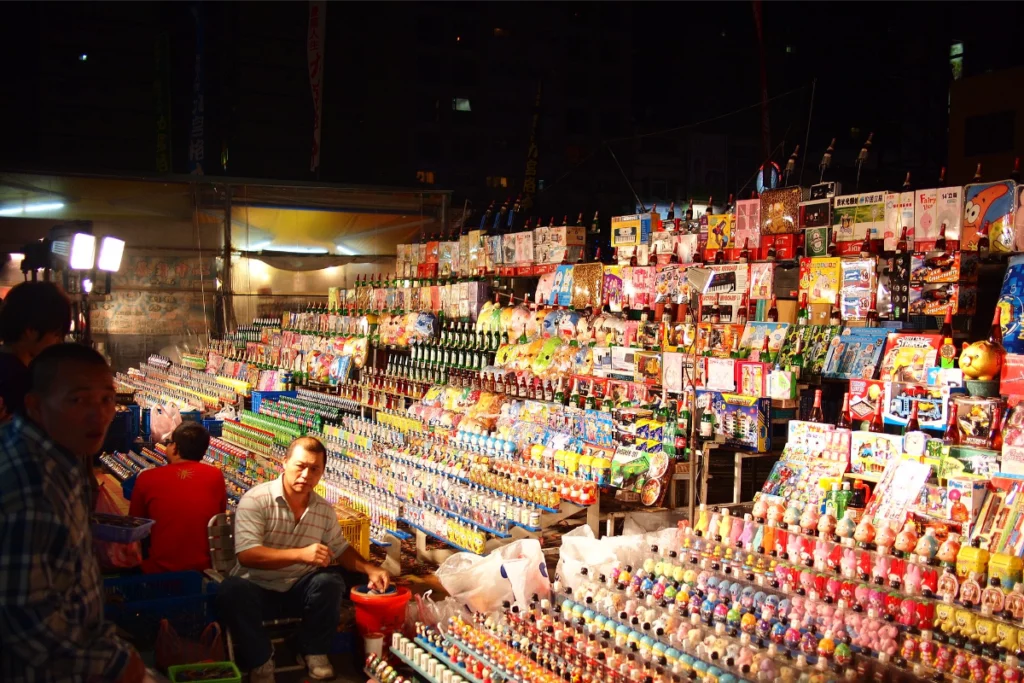 Famous Food Stalls/What to Eat in Ruifeng Night Market
天使雞排 (Angel Chicken Cutlet)
Specialty: 天使雞排 is known for its delicious and crispy chicken cutlet. The chicken is tender and juicy on the inside while coated with a flavorful and crispy outer layer. It's a must-try dish for chicken lovers and is one of the popular items that attracts many visitors to the night market.
Specialty: If you're craving for steak, 萬國牛排 is the place to be. They serve a variety of steaks cooked to perfection, offering a delightful experience for meat enthusiasts. With high-quality ingredients and skillful cooking techniques, their steaks are tender, flavorful, and definitely worth a try.
Food Stall: 岩武將日式岩燒 (Iwatake Japanese-style Yakiniku)
Specialty: This stall specializes in Japanese-style yakiniku, where you can grill a variety of meats and vegetables on a hot stone. It's an interactive and fun dining experience, and you get to enjoy the savory and smoky flavors of the grilled dishes. Yakiniku lovers should not miss this unique culinary experience.
Yanchengpu/ Pier-2 Night Market
Pier-2 Night Market is a hidden gem in Yancheng District, Kaohsiung, and it opens exclusively on Saturdays. It is located at the intersection of Gongyuan 2nd Road and Jianguo 4th Road. Locals often refer to it as the "Under-the-Bridge Night Market" or the "Jianguo Night Market." One of the reasons it is highly recommended is due to the diverse variety of food stalls, offering a wide range of savory and sweet delights. After strolling around the market, visitors can enjoy different kinds of snacks and desserts.
Pier-2 Night Market offers an extensive selection of food stalls, each with its unique specialties that are worth trying. If you come across any dishes that catch your eye and suit your taste, don't hesitate to give them a try!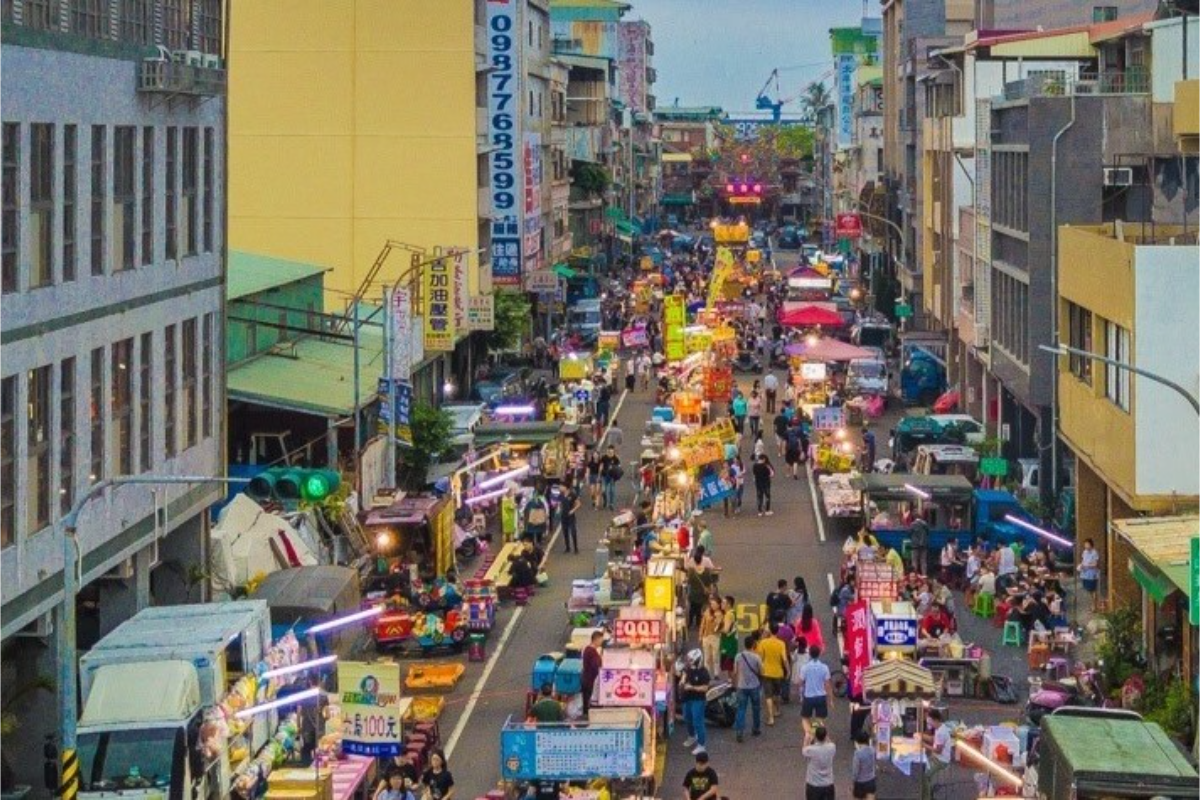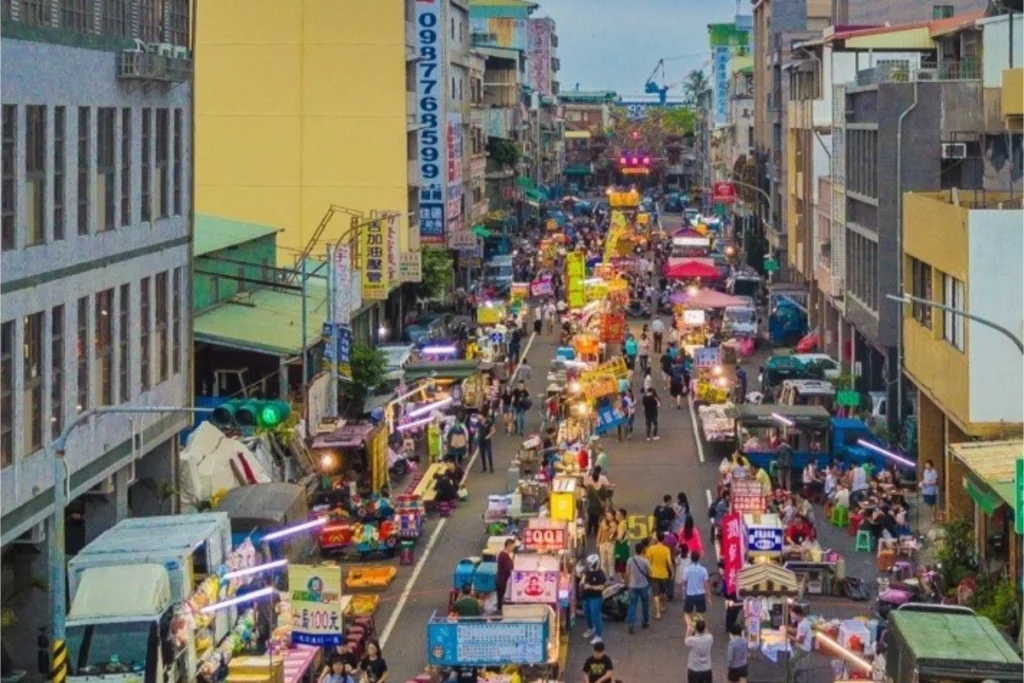 Famous Food Stalls/What to Eat in Yanchengpu/ Pier-2 Night Market
李家圓仔冰 (Li Family's Tapioca Ice)
Specialties: This well-known stall offers a variety of Tapioca Ice desserts that are highly praised by locals. Their Tapioca Ice comes in various flavors, providing a refreshing and delicious treat on hot summer nights. The generous amount of toppings in each bowl ensures a satisfying and flavorful experience.
Lingya/Ziqiang Night Market
Ziqiang Night Market is located in the Lingya District of Kaohsiung City, roughly at the intersection of Ziqiang 3rd Road and Lingya 2nd Road. It is one of the must-visit night markets for locals in Kaohsiung after nightfall. Stepping into Ziqiang Night Market, you'll find a multitude of stalls lining both sides, with each snack shop pulling out all the stops to present a variety of delicious dishes that will tantalize your taste buds and leave you amazed.
If you want to savor authentic Kaohsiung street food, a visit to Ziqiang Night Market will satisfy your cravings. The aromatic aroma of braised delicacies wafts through the air, tempting you to try them. Indulge in the mouth watering salt and pepper chicken, refreshing beverages from the ice fruit shops, and a variety of exotic international snacks. All the delicacies available in Ziqiang Night Market not only come in generous portions at affordable prices but are also undeniably delectable, leaving you speechless with delight.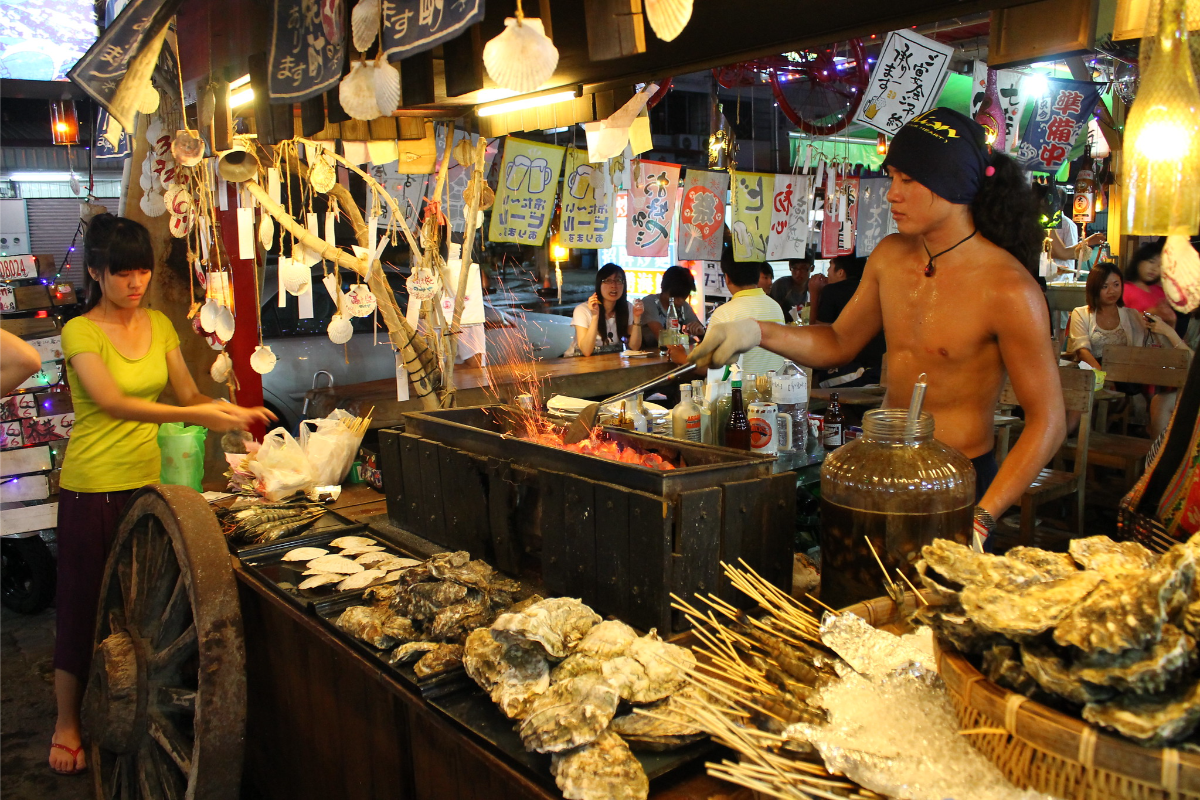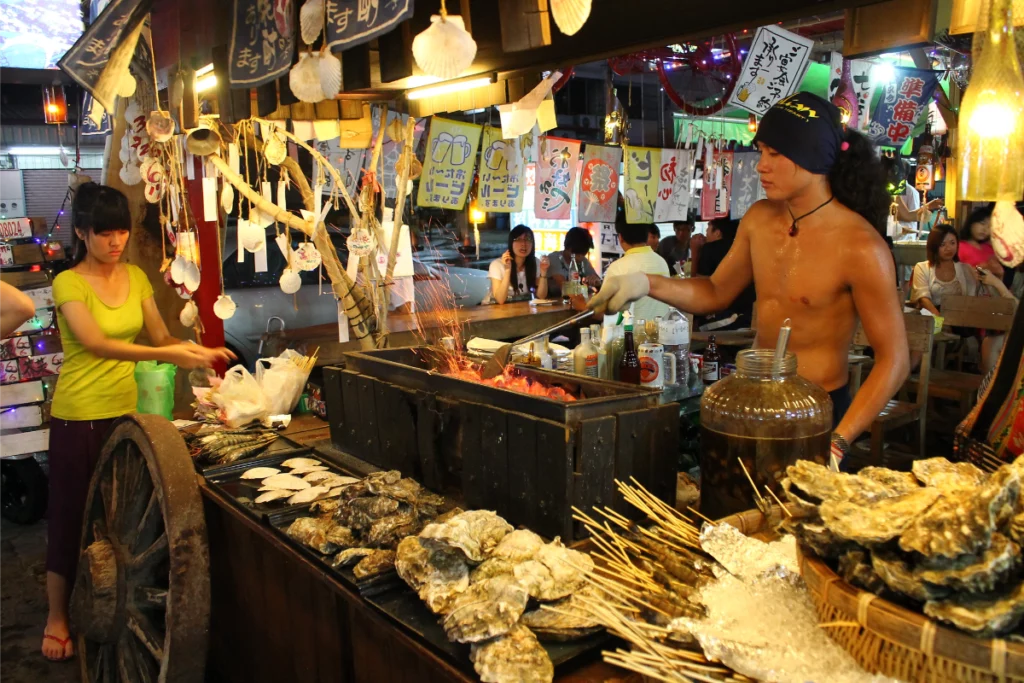 Famous Food Stalls/What to Eat in Lingya/Ziqiang Night Market
林家冰品 (Lin Family Ice Delights)
Specialties: Lin Family Ice Delights offers refreshing ice desserts, including mouthwatering shaved ice with various toppings, luscious fruit-flavored ice, and flavorful bean curd desserts. Their affordable prices and delicious treats make it a popular choice among locals to beat the summer heat.
甘家黑輪本店(Gan's Black Sausage)
Specialties: Gan's Black Sausage specializes in traditional Taiwanese street food, particularly their signature black sausages, grilled black sausage slices, cabbage rolls, and egg meatballs. These savory delights are tucked away in a small lane and offer a unique and satisfying snacking experience at the night market.
老牌白糖粿(Old-Timer White Sugar Cake)
Specialties: Old-Timer White Sugar Cake is a well-established stall known for its signature white sugar cakes, a classic Kaohsiung snack. These delicious treats have been crafted with love for over 50 years, making it a true representative of local Kaohsiung cuisine. The mouthwatering white sugar cakes are a must-try when exploring Lingya Night Market.
Zhongxiao Night Market
Along with the historic National Market, Zhongxiao Night Market is situated on Zhongxiao Road next to Kaohsiung City Government. It thrives by meeting the needs of housewives in the morning with fish, meat, and other necessities, as well as satiating gourmets in the evening with a wide variety of delectable street food. Despite being less established than Liuhe Night Market, Zhongxiao Night Market has a far larger number of food stalls and is known for its delicious cuisine. It is a favorite among housewives, office workers looking for lunch, and travelers looking for snacks because it is open from early in the morning until midnight.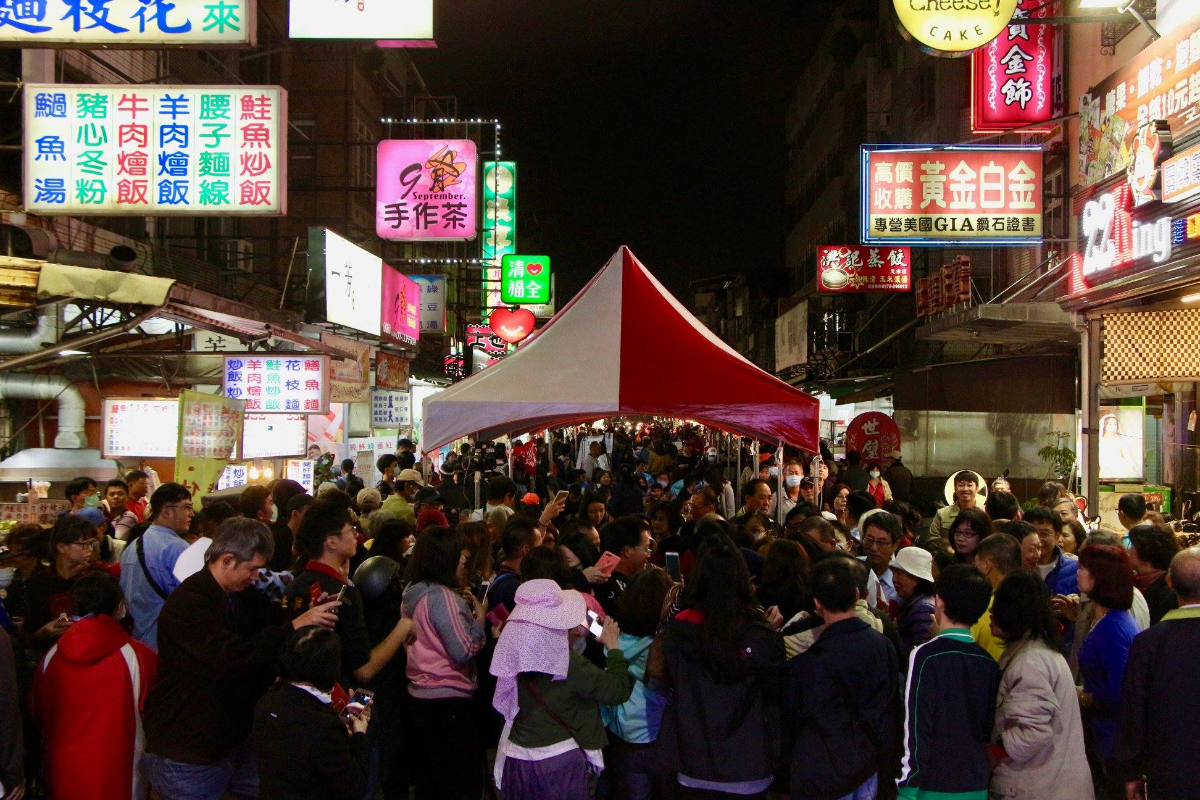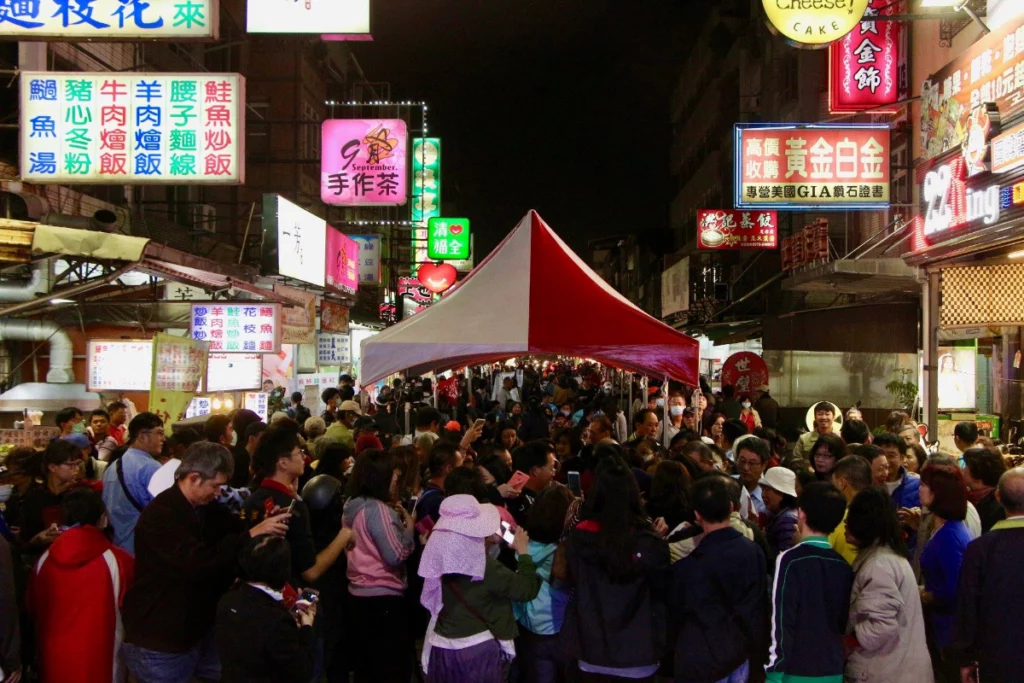 Famous Food Stalls/What to Eat in Jhongsiao Night Market
Specialty: They are known for their delicious "肉圓" (ròuyuán), a type of Taiwanese meat dumpling. The dumplings have a chewy and flavorful outer layer filled with seasoned pork and sometimes other ingredients. This stall is a must-visit for those who want to try authentic Taiwanese-style meat dumplings.
Food Stall: 弁丸家 忠孝總店 (Biànwán Jiā Zhōngxiào Zǒng Diàn)
Specialty: This stall serves a variety of dishes, but they are most famous for their "三明治" (sānmíngzhì), which is a Taiwanese-style sandwich. The sandwiches are filled with various ingredients and are a popular choice among locals and visitors alike. Apart from sandwiches, you can also find other delectable Taiwanese street food at this stall.
Food Stall: 森也 手作 (Sēnyě Shǒuzuò)
Specialty: This stall is renowned for their "丼飯" (dǒngfàn) and "咖哩" (kālí), which are Japanese-style rice bowls and curry dishes. They offer a range of mouthwatering toppings and flavorful curries that will surely satisfy your taste buds. Whether you prefer meat or vegetarian options, this stall has something to offer for everyone.
Guanghua Night Market
The GuangHua Night Market is situated on GuangHua Road in Kaohsiung's LinYa District. It has been a long-standing community fixture for more than 60 years. Everything began near the GuangHua Theater, where food vendors congregated for moviegoers. The night market eventually shifted a little towards GuanHua 2nd Road after years of growth and popularity, and it is now considered to be the neighborhood night market. The locals favor GuangHua night market over Liouhe Tourist Night Market.
GuanHua Night Market, which had over a hundred vendors and shops, was located on both sides of GuangHua 2nd Road and extended from SanDuo Road to GuanYi Road. Locals flock there to sate their appetites at a reduced rate. It's actually fairly easy to park in front of the shops and vendors because the market is situated on both sides of the street.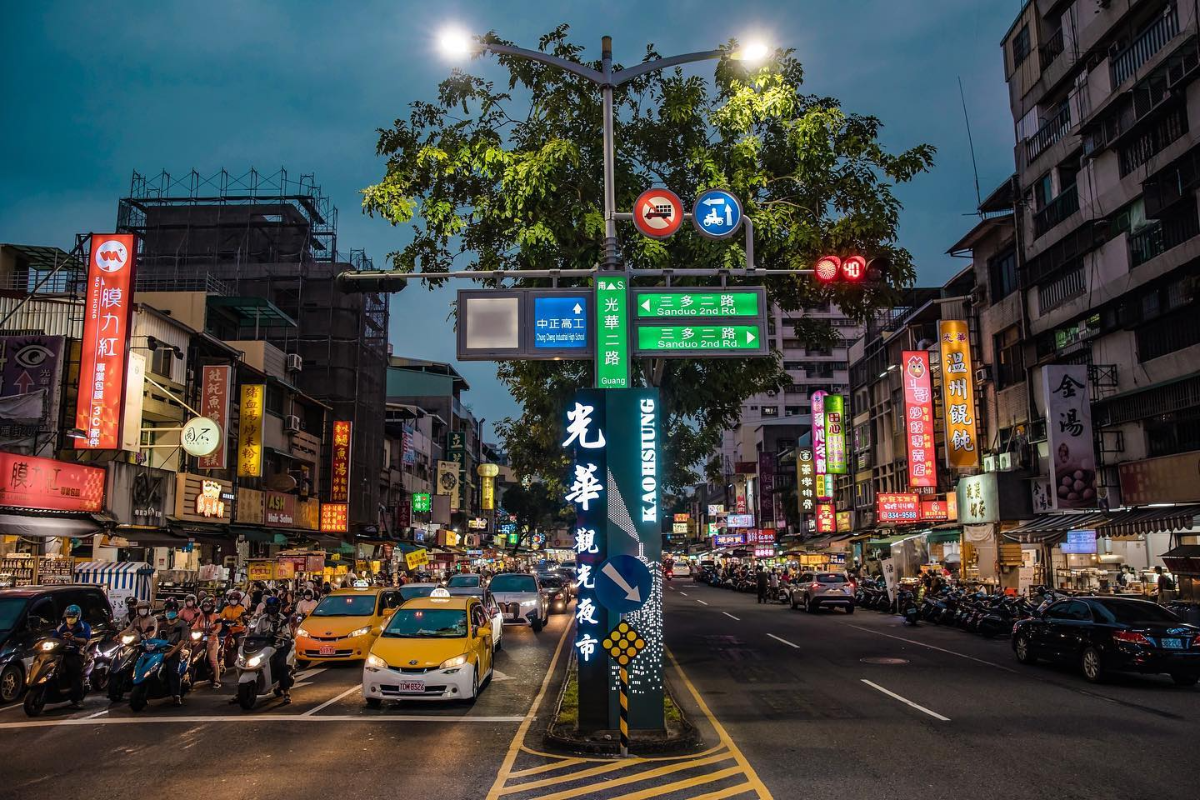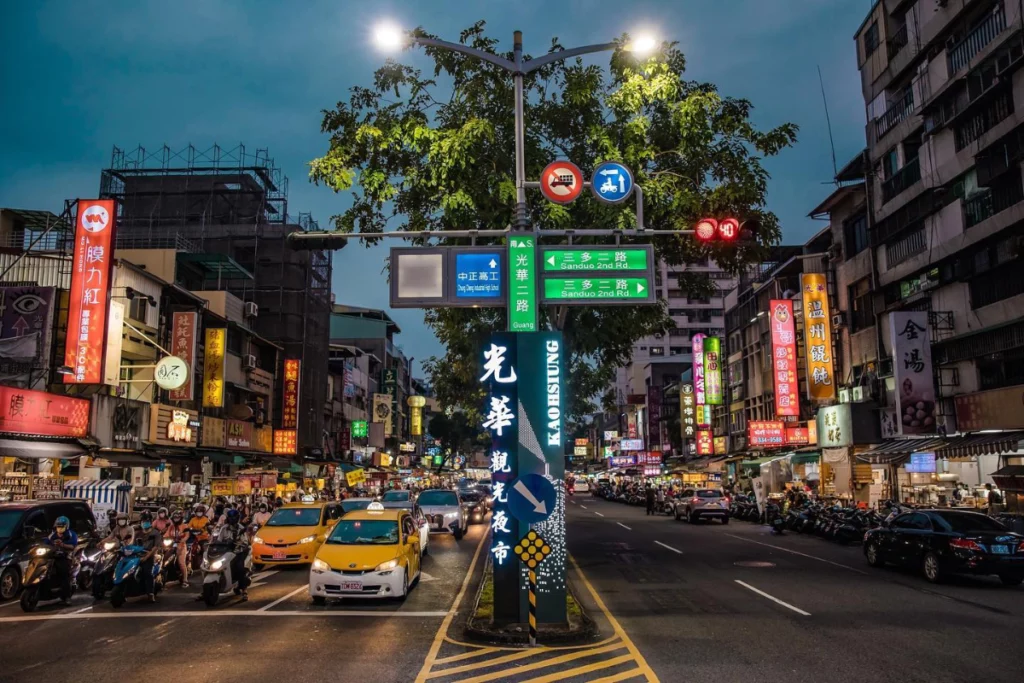 Famous Food Stalls/What to Eat in Guanghua Night Market
Specialty: Oyster omelette is a classic Taiwanese street food. It consists of a savory omelette made with eggs, sweet potato starch, and fresh oysters. The omelette is pan-fried until crispy, and it's usually served with a tangy and savory sauce.
Specialty: Taiwan is famous for its beef noodles, and Guanghua Night Market offers its own delicious versions. The dish features tender braised beef, flavorful beef broth, and chewy noodles. It's often garnished with green onions and pickled mustard greens.
Specialty: No visit to a Taiwanese night market is complete without trying bubble tea. Guanghua Night Market offers various bubble tea stalls with a wide range of flavors and toppings, including the iconic chewy tapioca pearls.
Sing Jhong Night Market
Sing Jhong Night Market, located in Lingya District, Kaohsiung City, Taiwan, is a vibrant and bustling night market that attracts both locals and travelers. While not as large as some of the more famous night markets in Taiwan, Singjhong Night Market still offers a delightful culinary experience with its renowned gourmet cuisine accumulated over the past thirty or forty years. Despite its size, this night market has a loyal following among the locals, and its fame remains steady.
Singjhong Night Market is known for its delectable Taiwanese street food offerings. The market is a paradise for foodies, offering a wide range of flavors and textures that are sure to tantalize taste buds.The market is easily accessible and is situated beside the bustling commercial area of Sanduo Avenue. Unlike some night markets in northern Taiwan, Singjhong Night Market also retains traditional games such as ring toss and shoot the balloon, adding a fun element to the overall experience.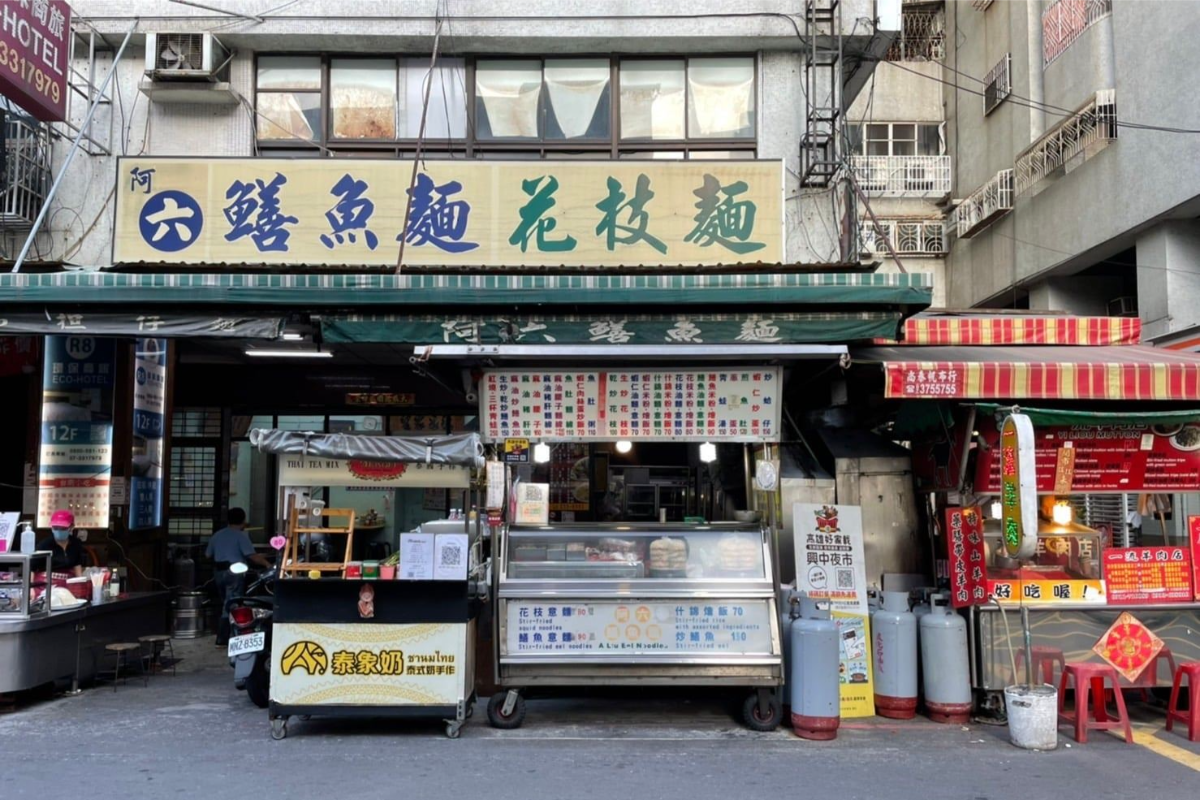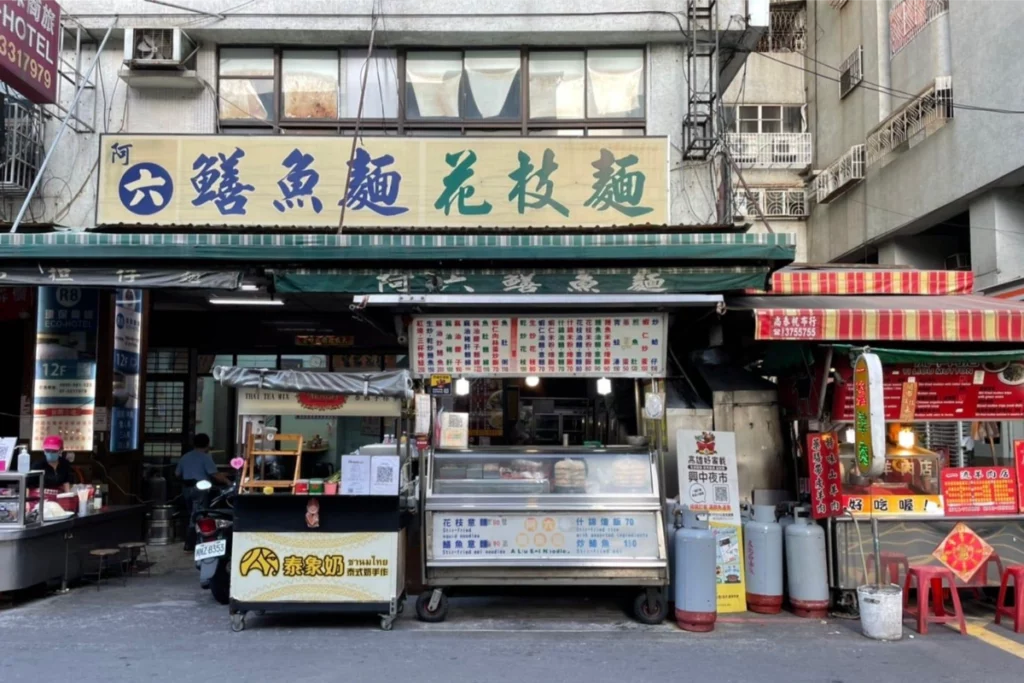 Famous Food Stalls/What to Eat in Singjhong Night Market
Specialty: This food stall is known for its handmade pan-fried dumplings, also known as "煎餃" in Chinese. The dumplings are filled with various delicious ingredients and are freshly made, offering a delightful combination of crispy and juicy textures.
大廟口塩水雞 (Da Miao Kou Salty Chicken)
Specialty: This stall is renowned for its flavorful and tender salty chicken, a classic Taiwanese dish. The chicken is seasoned with a special blend of spices and cooked to perfection, making it a popular choice among locals and visitors alike.
Specialty: Zhen Zhou Dao is well-known for its delicious porridge, or "粥" in Chinese. The stall offers a variety of porridge options, including both savory and sweet flavors. Their porridge is comforting and satisfying, perfect for a warm and filling meal.
Kaisyuan Night Market
The Kaisyuan Night Market is a vibrant and bustling night market located in Cianjhen District, Kaohsiung, Taiwan. Covering an extensive area of 46,000 square meters, the night market boasts approximately 1,000 vendors and stalls, making it one of the largest night markets in Taiwan.
Aside from the delicious food offerings, the night market also provides a lively and bustling atmosphere, with various vendors showcasing a diverse range of products, including clothing, accessories, souvenirs, and more. The vibrant ambiance, lively music, and colorful lights add to the overall charm of the night market experience.
Whether you're a food enthusiast, a shopaholic, or simply looking to immerse yourself in Taiwan's rich local culture, Kaisyuan Night Market offers a delightful and unforgettable experience for all visitors.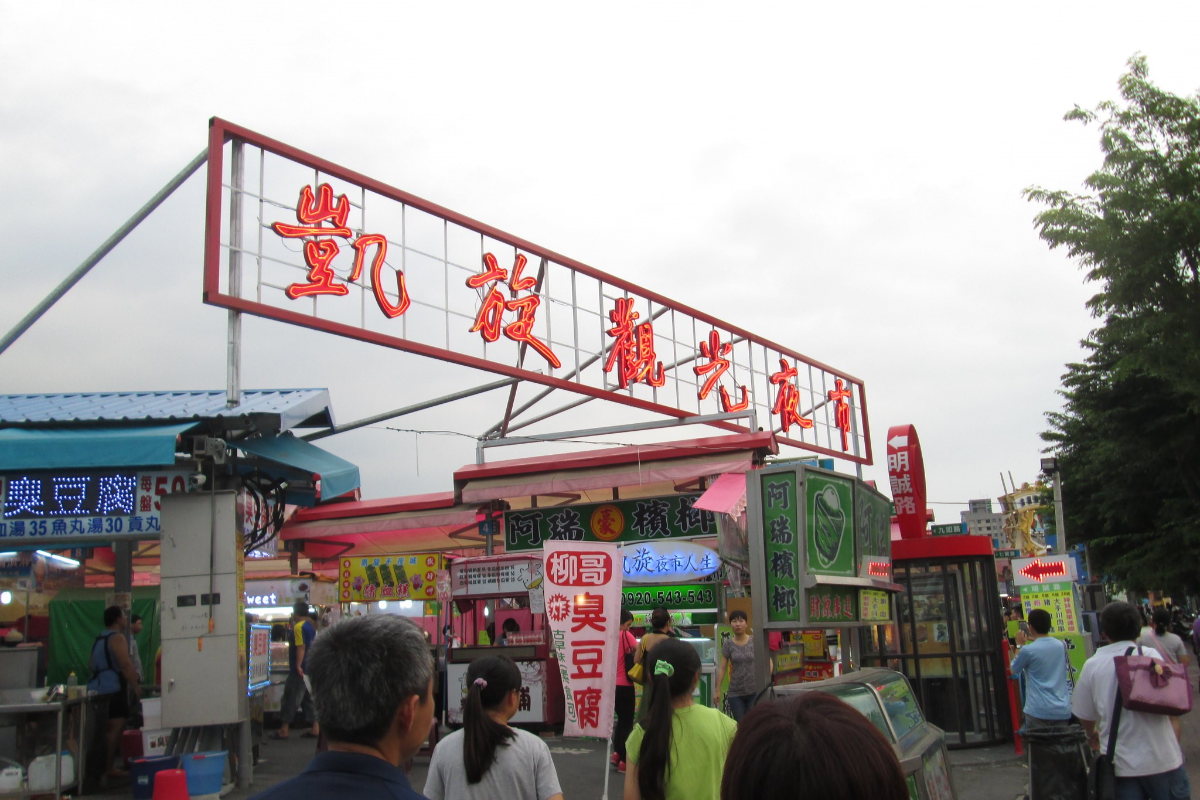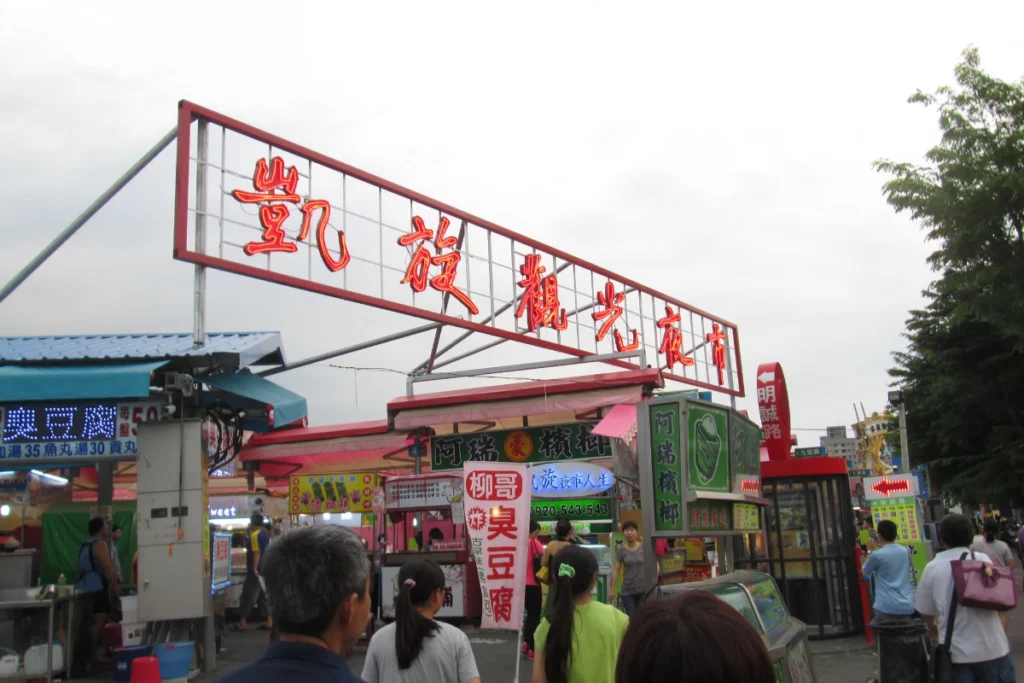 Famous Food Stalls/What to Eat in Kaisyuan Night Market
Snow Bear Ice Cream (雪霸霜淇淋)
Specialty: This stall offers a delightful selection of ice cream treats, and their specialty is Snow Bear Ice Cream. Their ice cream is known for its rich and creamy texture, served in various flavors that cater to both locals and tourists. It's a perfect treat to cool down on a warm evening while exploring the night market.
Taichung-style Braised Pork Rice (台中卤肉饭)
Specialty: At this food stall, you'll find a popular dish known as Taichung-style Braised Pork Rice. This classic Taiwanese dish features tender and flavorful braised pork served on top of steamed white rice. The savory pork is cooked to perfection with aromatic spices and is a must-try for those looking to savor authentic Taiwanese flavors.
MLD Grilled Squid (MLD烤花枝)
Specialty: MLD Grilled Squid offers a delicious and flavorful grilled squid dish that is cooked to perfection. The squid is grilled to a delightful char, giving it a smoky flavor, and it's served with various seasoning options to suit different tastes. This stall's grilled squid is a favorite among locals and tourists alike, making it a must-try dish at Kaisyuan Night Market.
Accommodations in Kaohsiung near the nightmarket
Silks Club
Silks Club is located in Kaohsiung, only a 5-minute drive from Lingya/Ziqiang Night Market, a 7-minute drive from Jhongsiao Night Market and a 9-minute drive from the Guanghua Night Market. The hotel provides 24-hour front desk service, and assistance is readily available to guests upon request.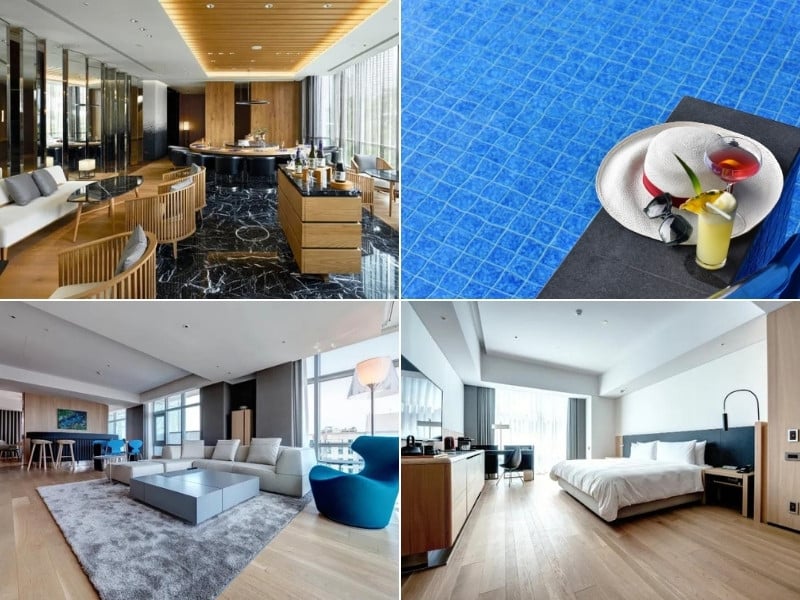 SAYO Hotel
SaYo Hotel is located in Kaohsiung, only a 10-minute drive from Lingya/Ziqiang Night Market, a 11-minute drive from Jhongsiao Night Market and a 16-minute drive from the Guanghua Night Market.