Last Updated on 11-26-2023
If you're planning a trip to Taiwan, here's some exciting news for you! The Taiwan Tourism Bureau has introduced a special subsidy scheme called "Taiwan the Lucky Land" to encourage more foreign tourists to visit the country.
As part of this scheme, foreign travelers have the chance to participate in a lucky draw and win a NT$5,000 (US$163) travel stipend. In this article, we will delve into the details of this enticing offer and provide you with all the information you need to know.
Before planning your visit to Taiwan, you can look for suitable accommodation on mrhost Taiwan Short-term rentals and find out if they have a partnership with "Taiwan the Lucky Land".
What is "Taiwan the Lucky Land" ?
Taiwan, known for its rich culture, stunning landscapes, and warm hospitality, has always been a popular tourist destination. To further boost tourism and attract more visitors, the Taiwan Tourism Bureau has launched the "Taiwan the Lucky Land" subsidy scheme. This scheme aims to provide foreign tourists with a chance to win a NT$5,000 travel stipend through a lucky draw.
The "Taiwan the Lucky Land" subsidy scheme offers a total of 500,000 lucky draw prizes over a span of three years, from May 1, 2023, to June 30, 2025. The distribution of prizes is as follows: 250,000 winners in the first year, 150,000 winners in the second year, and 100,000 winners in the third year. This distribution ensures that a significant number of travelers can benefit from this scheme each year.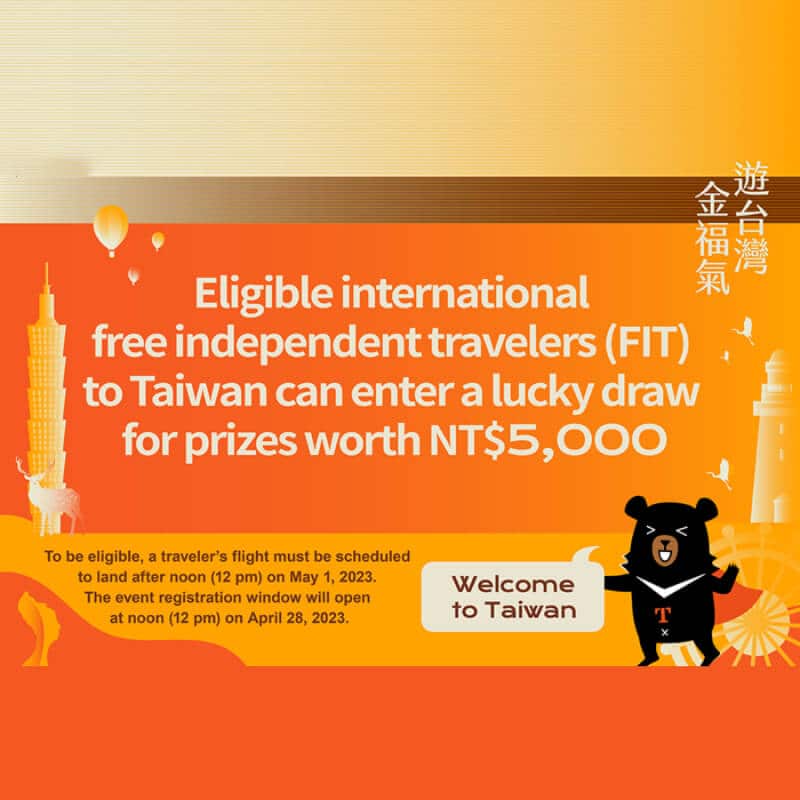 Eligibility for the Lucky Draw
Foreign independent travelers who hold foreign (non-ROC) passports, have stays in Taiwan of 3-90 days, are not members of tour groups, and are not applying for any group-related ROC travel incentives.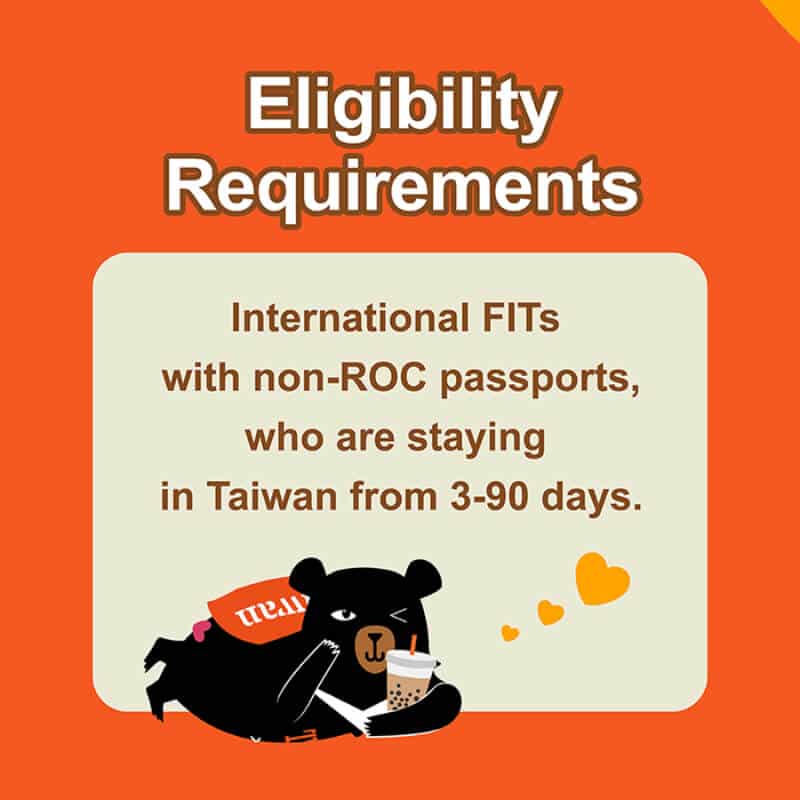 How to participate for the Lucky Draw
To participate in the lucky draw, foreign tourists must register on the "Taiwan the Lucky Land" registration website. The registration process requires travelers to provide their personal information, including name, nationality, passport number, arrival date, departure date, and email address. It is important to note that registration should be completed 1-7 days before the scheduled arrival date in Taiwan.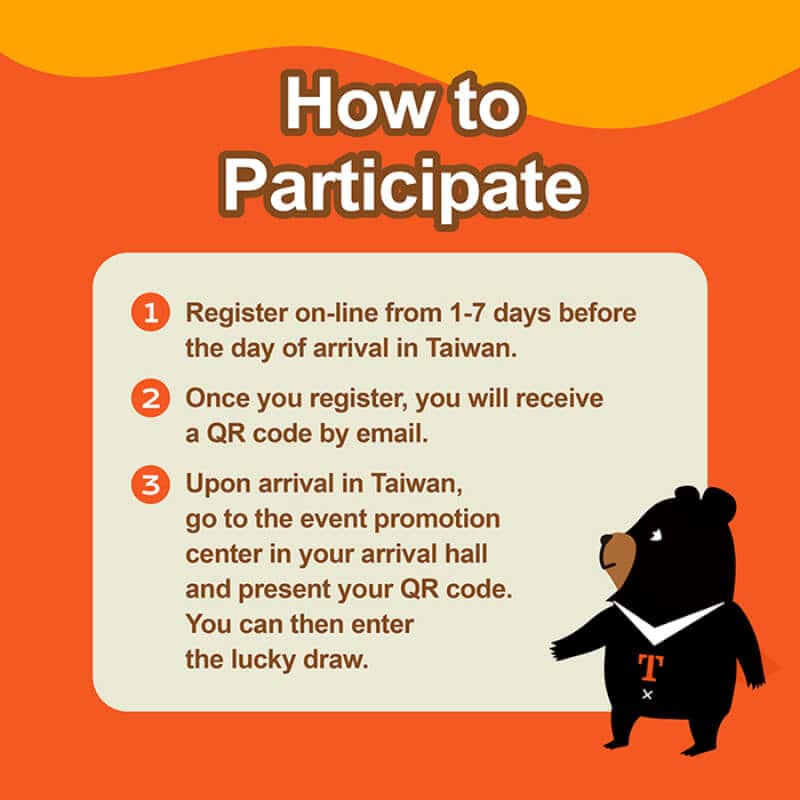 Lucky Draw Method
Step 1. Register at least 1 day and within 7 days before arrival.
Step 2. Try your luck and draw at the arrivals hall of airports in Taiwan.
Step 3. Receive your prize on the spot and enjoy your trip to Taiwan.
Prize Options for Winners
Winners of the lucky draw have the option to choose their preferred method of receiving the NT$5,000 prize. There are two options available:
E-voucher
Winners can opt to receive the funds via a pre-paid payment card. Two types of cards are offered: EasyCard or iPass. These cards can be used for various transactions within Taiwan, including transportation and purchases at affiliated stores. The maximum single purchase limit with these cards is NT$1,500.
Accommodation discount coupon
Alternatively, winners can choose to receive an accommodation voucher. These vouchers can be used to cover the cost of accommodation during their stay in Taiwan.
If you want to full this of accommodation cooperate with this program, you can refer to the official website. Or you can check out our article on the 5 best hotels that have collaborated with this program.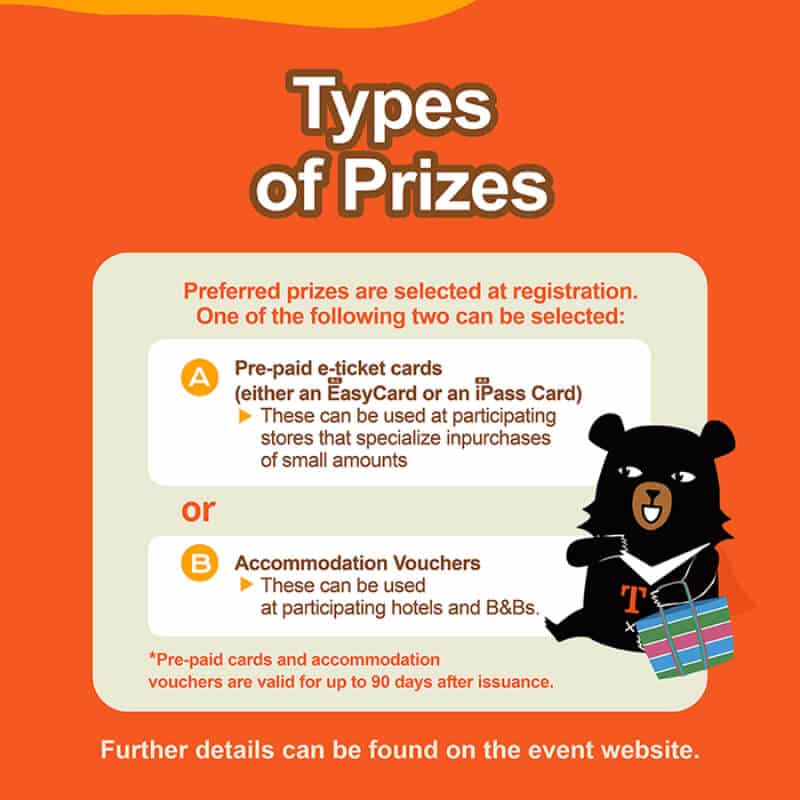 Bonus Prize of Taiwan the Lucky Land
Taiwan's NT$5,000 lucky draw for foreign tourists starting from September 15, 2023, in addition to the existing EasyCard, iPass and Accommodation Coupon options, will add the icash 2.0 Stored Value Card option.
Starting from September 15, 2023, travelers who enter Taiwan and win prizes after the raffle will receive additional prizes for choosing different prizes as follows:
Choose icash 2.0 Stored Value Card: one NT100 dollars 7-11 merch Card + 2 Iced Americanos (to be redeemed at 7-11store)
Choose EasyCard: A.S. Watson Coupon (NT 120 off upon spending of NT 1,200 or above), and a complimentary mask upon spending of coupon (limited to 30,000 coupons, first-come-first-served basis, while stock lasts)
Choose iPass: Hi-Life convenience store Coupon tickets. (NT 50 off upon purchase of NT 250 or more, limited to 30,000 tickets, first-come-first-served, while stock lasts.)
If you don't know what Easy Card is, you can refer to our All the things you can do with your Taiwan Easy Card article.
Redemption Process
Once winners have chosen their preferred prize option, they must present the supporting documentation at the designated airport or Tourism Bureau office to claim their prize. The supporting documents include the passport, entry stamp, boarding pass, and electronic round-trip air ticket. Winners will need to sign a confirmation receipt upon collection of their prize.
Conclusion
Taiwan's "Taiwan the Lucky Land" subsidy scheme presents an exciting opportunity for foreign tourists to win a NT$5,000 travel stipend. By participating in the lucky draw, travelers can enhance their experience in Taiwan and make the most of their visit. Register for the lucky draw, explore the wonders of Taiwan, and enjoy the warm hospitality of this captivating land.