As a traveler exploring Zuoying District in Kaohsiung, you're in for a captivating experience filled with a wide array of activities that cater to diverse interests. From immersing yourself in the district's rich historical heritage to indulging in its modern offerings, there's something for everyone to enjoy. Let's delve into some of the things to do in Zuoying District that will make your visit truly memorable. In addition to Zuoying, Kaohsiung has other interesting areas worth exploring.
Introduction:Zuoying District
The Taiwanese city of Kaohsiung's Zuoying District is a charming fusion of modern dynamism and historical attractiveness. This neighborhood has a strong sense of culture thanks to its Lotus Pond, which serves as a gorgeous backdrop for elaborate temples and pagodas. The respected Confucius Temple, the Dragon and Tiger Pagodas, the beautifully carved Spring and Autumn Pavilions, and more serve as symbols of Zuoying's rich history.The Zuoying High-Speed Rail Station, a significant transportation hub, represents connectedness as it smoothly connects the past and present. Zuoying District captures the spirit of Kaohsiung's diverse charm, whether one is meandering through its historic alleyways, indulging in regional food, or immersing themselves in cultural inquiry.For those seeking accommodations, a range of options awaits in Zuoying. Whether you're looking for a luxurious retreat or a cozy guesthouse, you can conveniently explore your choices on the mrhost official website.
How to get to Kaohsiung Zuoying?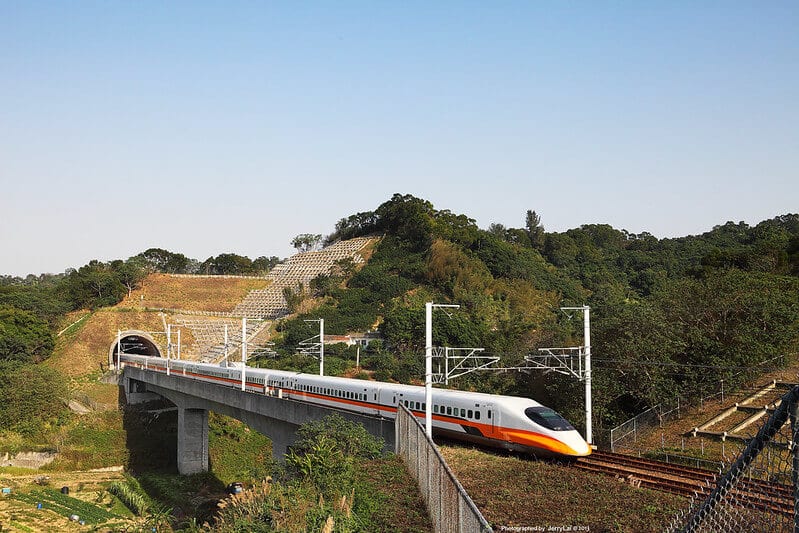 High-Speed Rail (HSR):
Taking the Taiwan High-Speed Rail (THSR) is the fastest way to get to Zuoying. Zuoying High-Speed Rail Station, one of the major THSR stations, is located in Zuoying. You may travel quickly and comfortably to Zuoying from Taipei by taking the THSR. It is simple to get to Kaohsiung Zuoying from a variety of cities thanks to the THSR station's good connections to other regions of Taiwan.
Train(TRA):
You can take a regular train run by the Taiwan Railways Administration (TRA) to Kaohsiung Railway Station if you'd like a more affordable choice. To get to Zuoying District from there, you can simply change to the Kaohsiung Mass Rapid Transit (KRTC) system, take a taxi, or board a bus.
Bus:
Kaohsiung has a robust bus system that connects the city's major neighborhoods, including Zuoying District. To determine the best bus routes to take to get to your location in Zuoying, check with the local bus operators or utilize internet maps and navigation applications.
Kaohsiung Mass Rapid Transit (KRTC):
The Kaohsiung MRT is a convenient and efficient way to travel within the city. Zuoying is served by the KMRT, and you can take the Red Line (Line 2) to Zuoying Station. This station is well-connected to other parts of the city, making it easy to access different attractions within Zuoying.
Scenic Spots close to Zuoying District
Lotus Pond
The Zuoying Confucius Temple is presently near what was once Lotus Pond, a tiny natural pond. The pond was gradually developed for water storage and irrigation purposes beginning in 1686, when the Qing Dynasty took Taiwan from the Kingdom of Tungming. The pond's name comes from the cultivation of lotus plants there. It was regarded as one of Fengshan Old City's eight most beautiful scenes. Additionally, it developed into a hub for temple construction; today, there are over 20 temples by the lake. Over a million people visit the park annually, though numbers have decreased recently as a result of deteriorating infrastructure and a dearth of new attractions. It is a refuge where Taiwanese retirees can go to unwind.
It is also a well-liked tourist destination in Kaohsiung due to its proximity to the Zuoying Jiucheng TRA station and Zuoying HSR station.
Price: Free
Opening Hours: 24hrs
Farewell 886 Military Veteran Village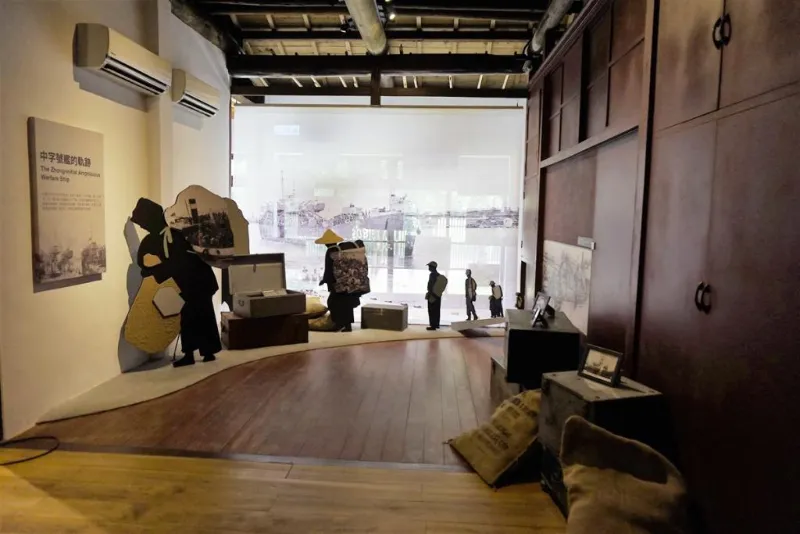 Originally a hostel for the dependents of prominent generals, Farewell 886 Military Veteran Village in Zuoying, Kaohsiung, was later redesigned into a cultural park, enabling the complete preservation of the family village culture. Six exhibition halls, each with a different theme, can be found in the Farewell 886 Military Veteran Village: the Dependents' Village Club, the Dependents' Village Tide, the Dependents' Village Symbiosis Base, the General's House, and the Corner One. In addition to the numerous antique pictures and artifacts that depict life in the former Dependents' Villages, the most recent VR and AR technologies are also used to transport us into the realm of the realm. The park also features some photogenic landscapes to transport visitors back in time, such as ancient bicycles and tables from primary schools.
Address: No. 2, Mingde New Residential Quarter, Zuoying Dist., Kaohsiung City 813006, Taiwan.
Price: NTD50
Opening Hours: Tuesday to Friday: 11:00 – 17:00;Saturday , Sunday and national holidays: 10:00 – 18:00.Closed on Monday.
Guomao Community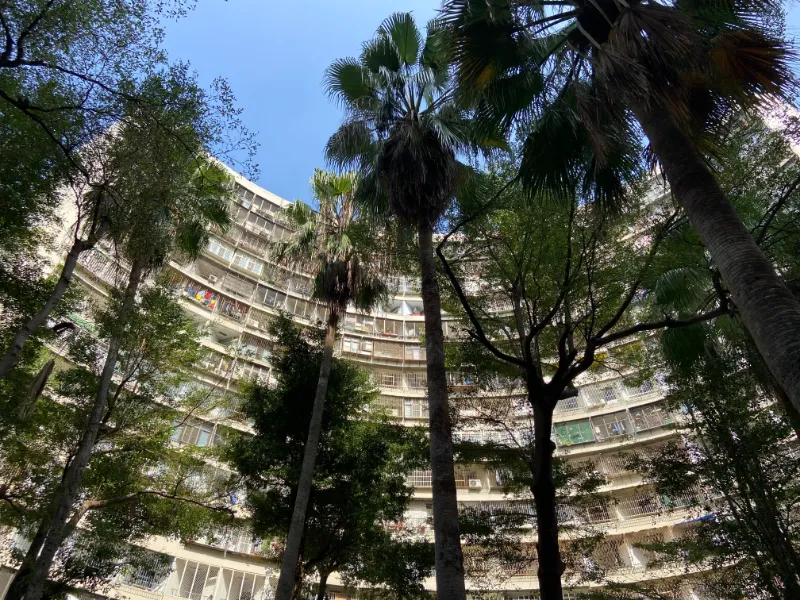 One of the 25 military dependents' villages in Zuoying District is Guomao Community, also known as the Bihai New Community. It was formerly known as Guomao Third Village. The facility was developed and built in 1981 by Sanfu Engineering Company and architect Zhang Shu-qin. The community is a multi-dwelling unit with 2,475 residential homes occupied by military dependents and middle- or low-income households, spread among thirteen buildings that are each 18 stories tall (plus an underground floor).Guomao Community's most noticeable feature is its circular, arc-shaped construction that surrounds a community park. This composition gives the area depth and tranquility in the midst of the hectic city. The facades of the buildings have balconies distributed in a circle, giving the facades a compact and rhythmic visual appearance. Green courtyards line the streets, forming a charming residential neighborhood.
Address: No. 67, Wufu 1st Road, Lingya District, Kaohsiung City 802214, Taiwan
Price: Free
Opening Hours: 08 : 00 ~ 17 : 30,Not open on weekends
Cuisine from the Zuoying District:
Ruifeng Night Market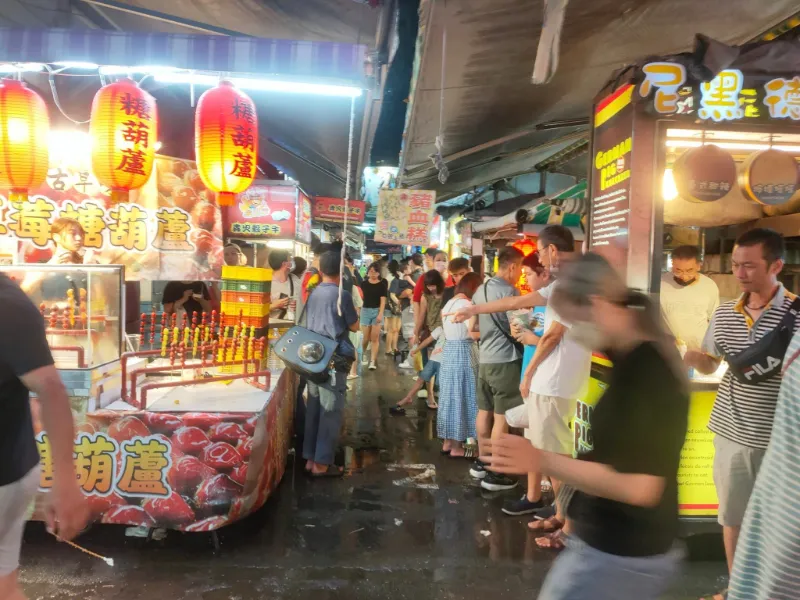 Locals consider Ruifeng Night Market to be Kaohsiung's most well-known night market. There are hundreds of food stalls there, selling everything from classic, traditional foods to cutting-edge, modern products.Although it's a little far to walk to the night market from Lotus Pond, cycling is the best option. From Kaohsiung Arena MRT station on the red line, you can travel to the city center. select exit 1.
Freedom Sunset Market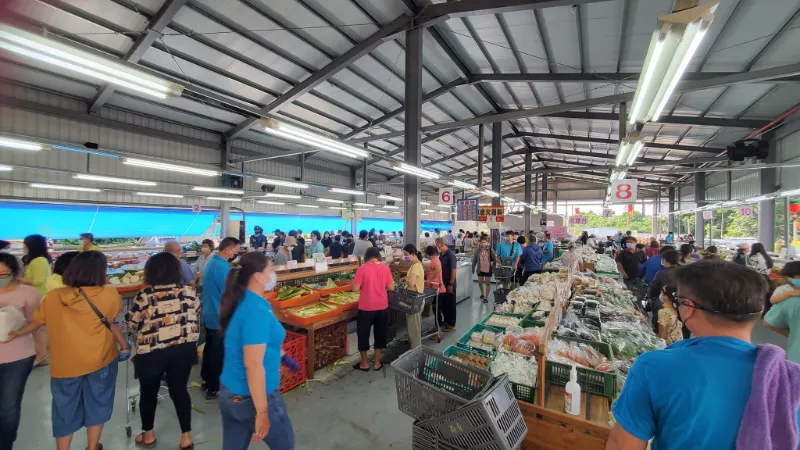 The Freedom Sunset Market is well known for its wide variety of street cuisine, regional specialties, and retail options. It is a culinary paradise where you may go on a gourmet excursion and indulge in a variety of flavors that are a representation of Taiwan's vibrant culinary tradition. The market offers a broad variety of goods, including stinky tofu, oyster omelets, fried chicken cutlets, bubble tea, grilled seafood and more. These include both savory and sweet items. Visitors are enticed to experience a wide variety of mouthwatering foods by the delicious fragrances and vibrant displays of food vendors, which create an appealing environment.
Conclusion:
In Summary,Zuoying's strategic location also makes it a pivotal hub, seamlessly connecting to other parts of Kaohsiung. From here, you can effortlessly explore the city's diverse facets and then return to relish the delights of this place once more.
In essence, Zuoying District is a haven worth cherishing, awaiting your discovery. Whether you seek cultural depth or a taste of local life, Zuoying promises an unforgettable journey, imprinting precious memories of your time in Kaohsiung.