CityMany "independent bookstores" with humanistic features can be found in the busy metropolis of Taipei, and they aim to provide readers with a comfortable reading experience. Put these five of Taipei City's top independent bookshops on your pocket list and get ready to hit the books—they each have their own unique aesthetic, literary ambiance, and open-ended cafes.
Top 1:The Misanthrope Society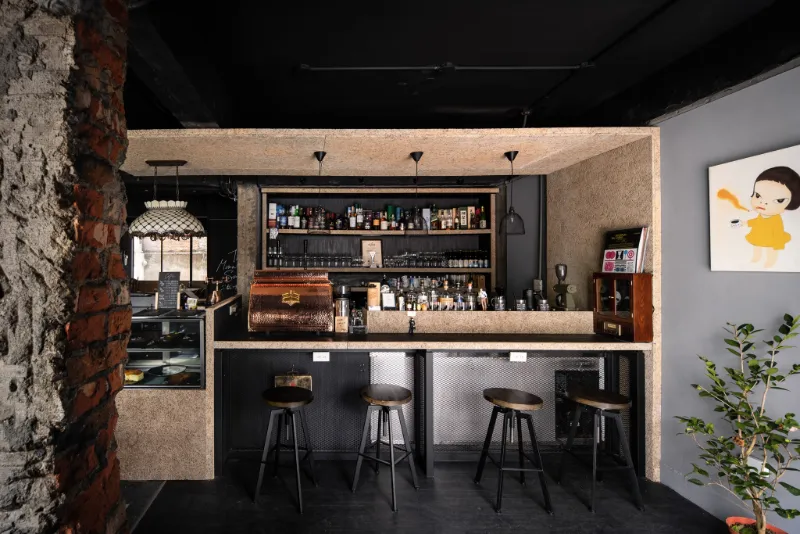 About The Misanthrope Society
You can find a place that accepts and understands you in the Gongguan alleyways called the Misanthrope Society.A high school student who founded The Misanthrope Society experienced despair as a result of a significant change in his life. He has reached this point in his life after going through a significant transition, and he created a bookstore named The Misanthrope Society in the hopes that by going through the depressive process, people can ultimately be cured.You can play coy for as long as you like in the restaurant.Additionally, it is the first independently owned bookstore pub in Taipei to be awarded a grant by the Ministry of Culture. You don't have to act like you're here; just bring your worn-out body and mind, enjoy some wine, eat some food, read some texts, and get to know some other people who are similarly down. The Misanthrope Society's thick black walls and capsule-like arc design, which draws you in like a black hole, are its most distinctive feature. You can take a rest as you'd like because the location is also a complex with a CAFE, Bistro, and Bookstore.
The Misanthrope Society information:
Address:No. 1-2, Ln. 40, Sec. 4, Roosevelt Rd., Zhongzheng Dist., Taipei City 100046, Taiwan
Tel:(02) 2365 4535
Business hours:15:00-01:00
Features:No service charge,No minimum consumption requirements and no time restriction.
Top 2:Bleu&Book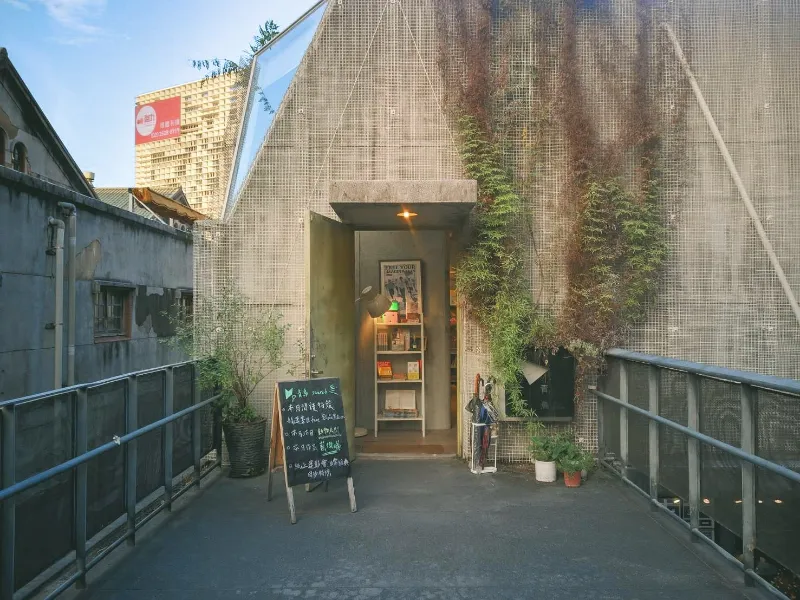 Bleu&Book Story:
According to Tsai, the creator of Bleu&Book, "To gain freedom from reading is the meaning of Bleu&Book's appearance." A small, calm bookstore called "Bleu&Book" can be found on the corner of the second floor of the busy Huashan Cultural and Creative Park. It has a selection of about 2,500 carefully chosen books with a wide range of subjects. The enormous bookstore features gorgeous and textured dried flower bouquets that hang naturally from the ceiling and an innovative architectural feature of triangular windows that let sunshine gently stream in from the outside.For individuals who enjoy reading and find freedom in books, Bleu&Book is an incredibly cozy reading space right in the center of a busy city. Additionally, "Bleu&Book" is an outdoor cafe where you may take in the views.
Bleu&Book Story information:
Address:No. 1, Sec. 1, Bade Rd., Zhongzheng Dist., Taipei City 100013, Taiwan
Tel:(02) 2341 8865
Business hours:10:00-21:00
Features:No time restriction,Free WiFi internet access and socket.
Top 3: The boven Cafe & Library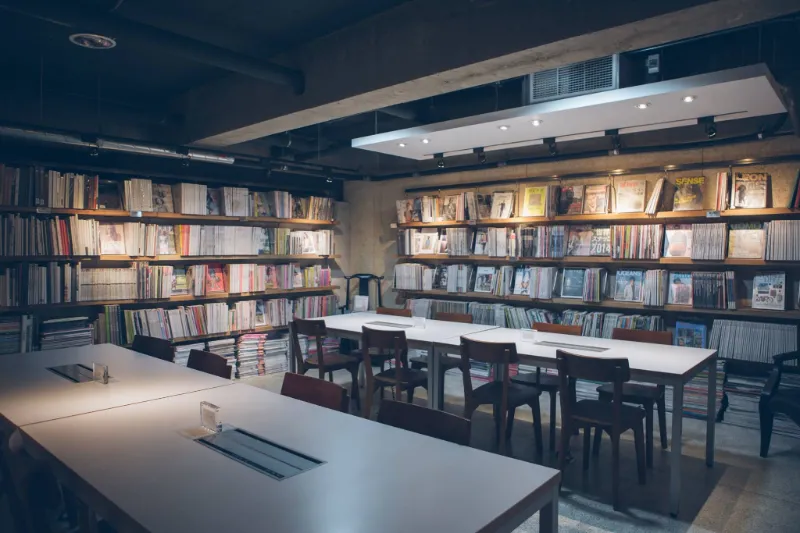 About The Boven Cafe & Library
With tens of thousands of books, a cafe on the first floor, and a magazine library in the basement, the Boven Cafe & Library is a place where you can temporarily escape the busy city. Here, you won't have to worry about the clamor and noise and can instead enjoy a lovely afternoon with a cup of aromatic coffee and your favorite magazines.The creator of boven Cafe & Library, Mr. Zhou, wants to develop the idea of a three-dimensional magazine. He claims that the design of the library is based on the idea of "how to edit a magazine," from the layout of the room to the numerous items there.In actuality, the Boven library existed before the cafe, and the first-floor Boven Cafe wasn't built until the library had been open for five years. The Boven Library, located on the first floor of the ground floor, serves as an inspirational venue for everyone to find inspiration and enjoy reading among the tens of thousands of magazines in the library. In the cafe, one can enjoy a cup of aromatic coffee while reading selected themed magazines and feel the stimulation of different inspirations. The bottom floor's Boven Library serves as a place where anybody may find inspiration and experience the joy and nourishment of reading in a library with thousands of books.
The Boven Cafe & Library Story information
Top 4: Ukou Bookstore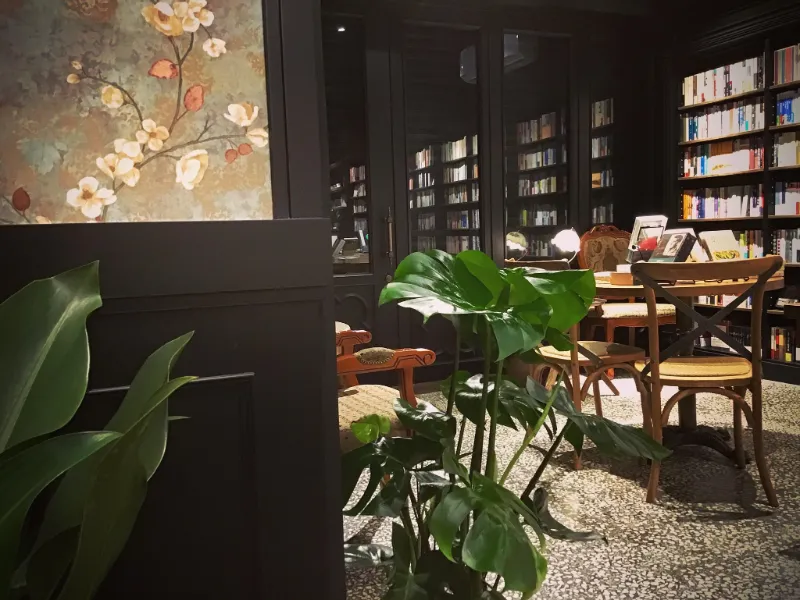 About The Ukou Bookstore
Chifeng Street, which has a vibrant humanistic environment, is also where you can find Floating Light Bookstore. A 70-year-old mansion's second floor conceals the bookstore. Many first-time visitors to this complicated area are greatly drawn to the store's lovely and exquisite ambiance, which is a blend of old and contemporary design, ancient house remains, and a modern literary ambience. The bookstore spans three floors, and every nook can serve as a pleasant spot to read and enjoy a cup of coffee. The atmosphere is also quite elegant and peaceful, making it ideal for spending the entire day there.
The Ukou Bookstore information
Address:2F,No.25,Ln.47,Chifeng St.,Datong Dist.,Taipei City 103017, Taiwan.
Tel:(02) 2550 7288
Business hours:12:00-22:00
Features:No time restriction,Free WiFi internet access and socket.
Top 5: The1bookstore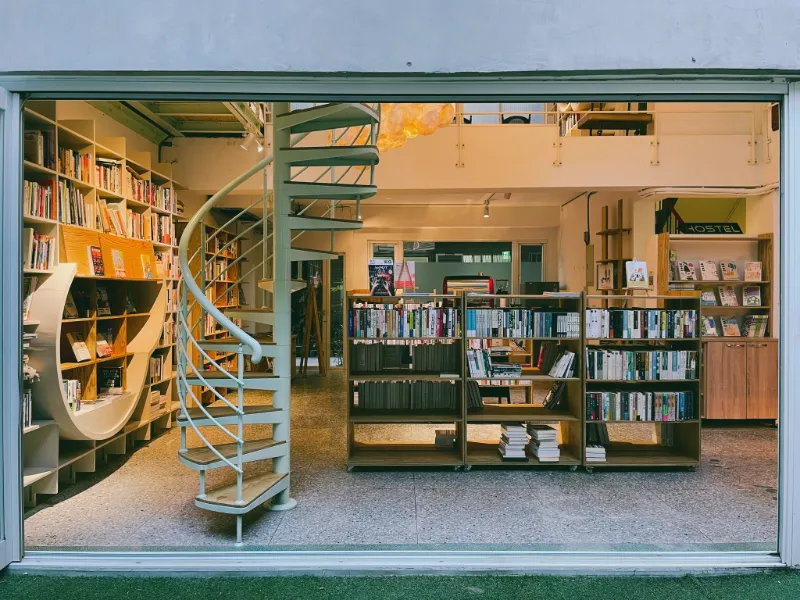 About The1bookstore
A well-known work of Japanese literature called "Friday's Bookstore" principally portrays a bookstore where "you can definitely find the bookstore you need and want to read," and "The1bookstore" in Taipei is likewise regarded by many book lovers as such a bookstore! The bookstore is a cozy interior space in a building that is tucked away in Datong District. It features eye-catching floating cloud lighting hanging in the air, elegant and noticeable winding staircases, and a comfortable seating area on the second floor reserved for readers who can read all the books in the store by simply ordering a drink.
The planning of "The1bookstore" is very meticulous; in addition to the book shelves with numerous staff-made, simple-to-understand reading recommendations, a corner of the store is even attached to a notepad, allowing readers to record their own reading of a particular book and then stick the paper to the book that you want to recommend, so that other customers who visit the store can learn more about the book's information. This kind of subtle interactivity and design encourages more covert human interactions in this tiny, lovely bookstore.
The The1bookstore information
Address:4F, No.11, Aly.3, Ln.138,Chang'anW.Rd.,Datong Dist,Taipei City 103013, Taiwan.
Tel:(02) 2559-9080
Business hours:14:00-22:00
Features:A low-consumption limit of one drink per person,Free WiFi internet access.
Conclusion
In Taipei City, there are special bookstores that aren't part of big chains. These bookstores are like cozy havens for people who love books and culture. Imagine a place where you can find all kinds of interesting books, from stories to facts, and even books in different languages. These bookstores are special because the people who run them carefully choose the books to make sure they're really good.
What's cool is that these bookstores aren't just about books. They're like little worlds where you can explore different ideas and cultures. You might find events where writers talk about their books or where people share their thoughts. It's not just about reading – it's about sharing and learning together.
Even though we talked about the top 5 bookstores, there are even more wonderful ones hiding in the city. Each of these bookstores adds something special to Taipei's love for books and stories. So, if you're a book lover or someone who enjoys different cultures, you'll definitely have a great time discovering these awesome places.