Last Updated on 04-05-2023
When traveling to another country, one of the points we care about the most is where we are going to stay. More often, we just stick to regular hotels or Airbnb without knowing the other options. Choosing the appropriate accommodation for our stay whether it is for a business trip, vacation, or weekend getaway, is not always an easy task as we usually have to take into consideration the length of our stay, the amenities that come with the accommodation, the location, etc.
Apart from hotels/Airbnb, we do have more options than we would think, such as extended stay hotels, aparthotel, serviced apartments, etc. However, many of us, if asked what a aparthotel is, would not know the answer. In this article, you will have a better idea about the concept, how you can book one, and the recommended aparthotels in Taipei.
Living in a Taipei aparthotel
What is a aparthotel? You can think of it as a home away from home.
A aparthotel offers both short-term and long-term accommodations and is fully furnished with home-like facilities along with services that you would probably find in the best hotels. Now you might wonder, isn't that the same as a hotel? In reality, they are very different from each other, so keep reading to find out the differences.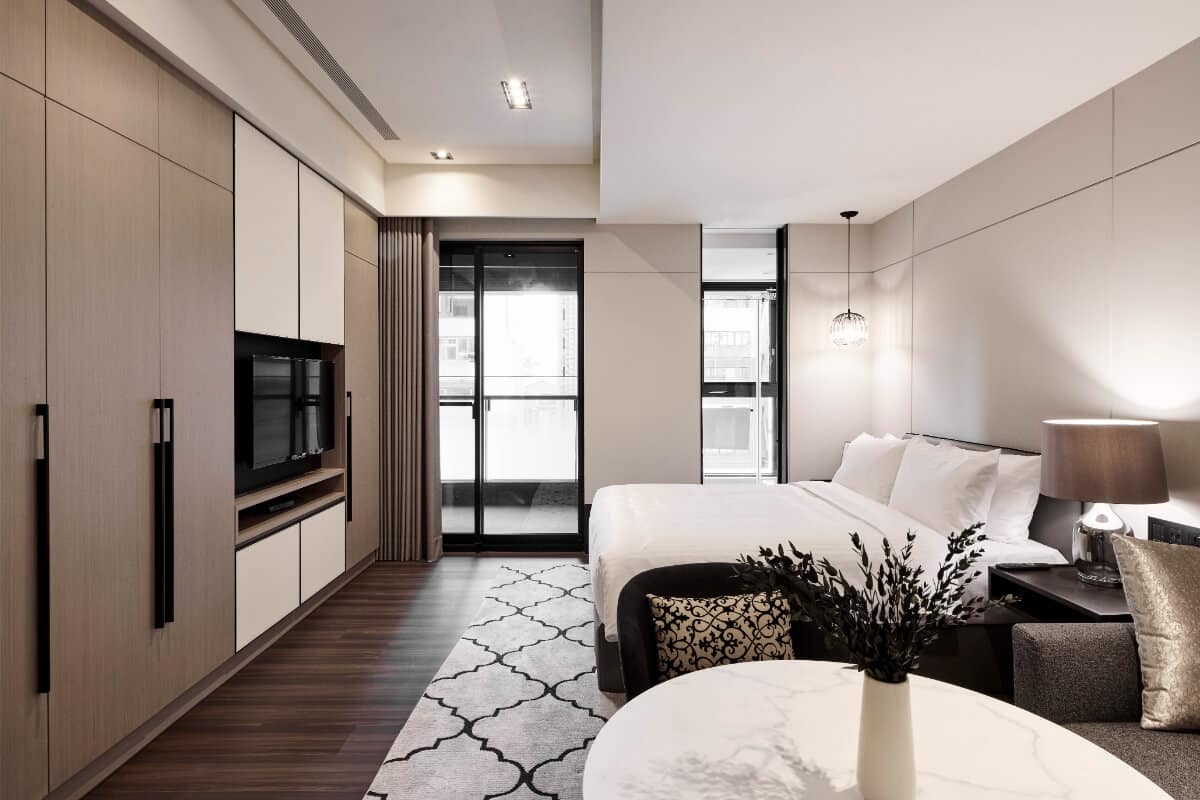 Among the amenities provided are a washing machine and dryer, Cable TV, and an in-suite kitchen making it a more convenient option than staying at a normal hotel, and more convenient for us as tourists or business travelers. Housekeeping and all the services are included in the rental price and the rooms have a much larger space to walk around.
Who would stay in a aparthotel?
Those who usually go for a aparthotel are business travelers, remote workers, interns, people on vacation, etc.
Business travelers
When you are traveling for work, one of your priorities is to be comfortable and have enough space to work in especially when staying for a 2-3-month period. You are not looking to rent a place permanently and in Taiwan, landlords do not rent places for only two, or three months. Therefore, a aparthotel is what will give you the level of comfort you are looking for.
The Corner House
About a 2-minute walk from Daan Park MRT, The Corner House is located at the heart of the Da'an District. It offers modern apartment-style rooms with a kitchen and it also comes with a fitness center. Living in The Corner House is enjoying an elegant feel thanks to the neutral colors and warm lighting of the rooms. You get direct-dial domestic and international phone services and satellite TV channels which allow you to stay connected with the world while you are traveling. You also have access to a laundromat and a 24H luggage storage service.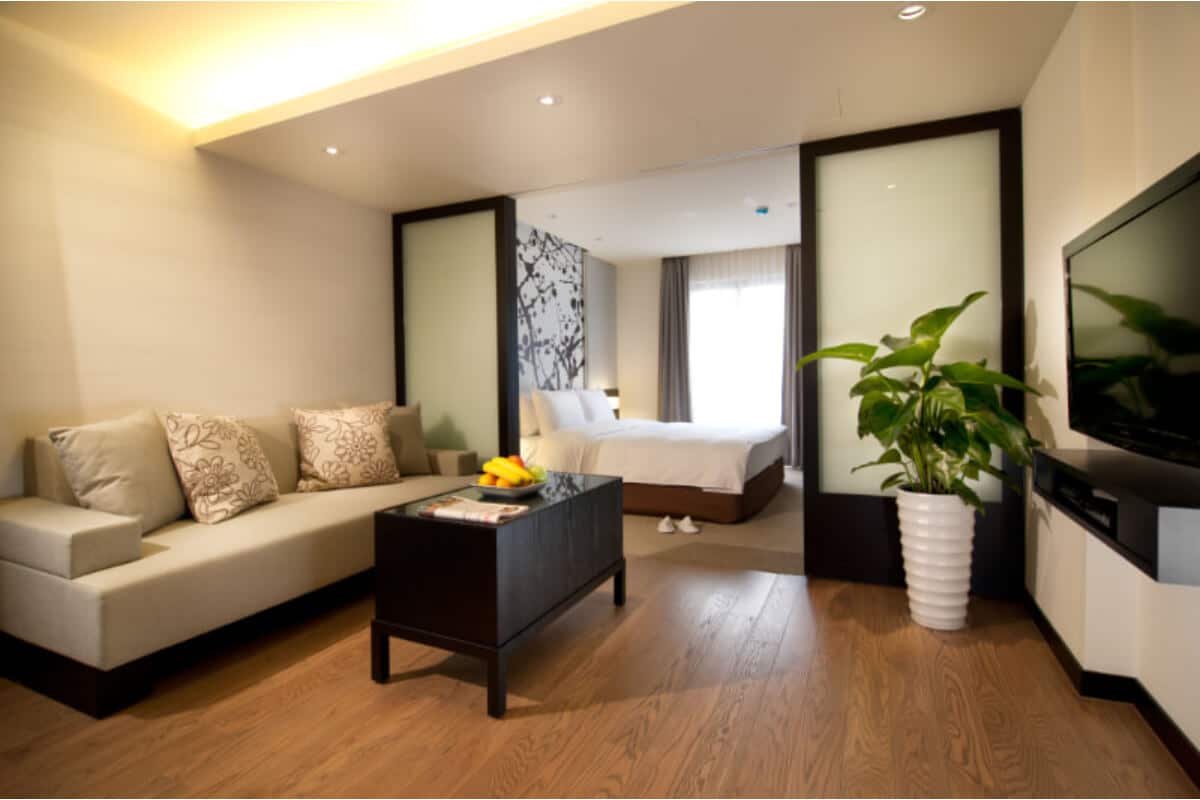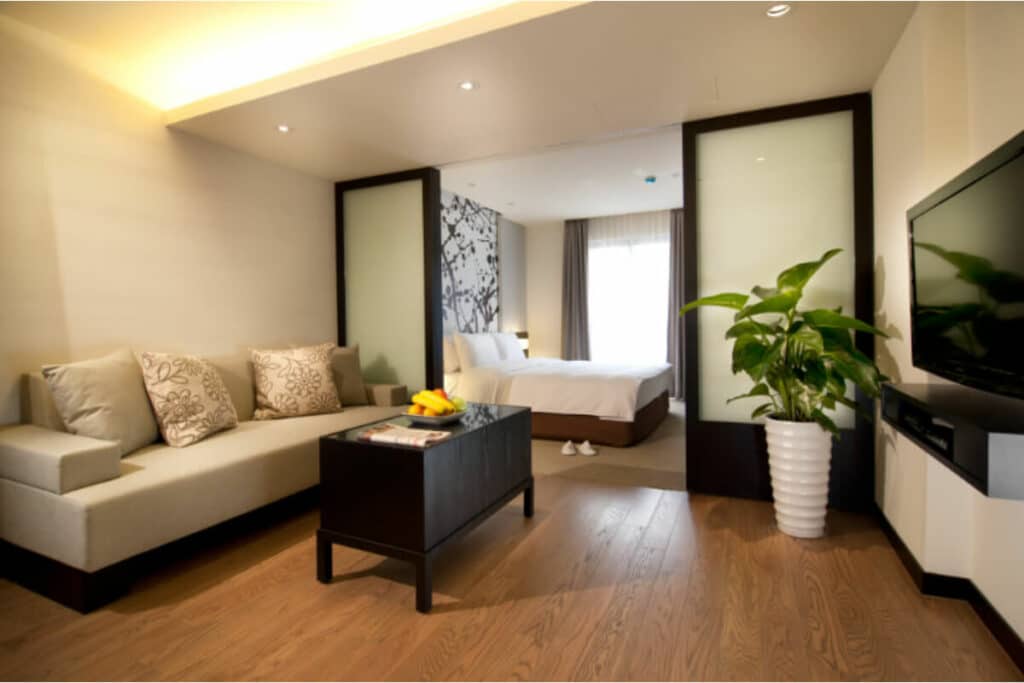 The Corner House is only a few walks away from the famous Yongkang street (永康街) (famous for its food stores); talking about food, the Shilin night market (士林夜市) is only 15 minutes drive away. Convenient transportation satisfies both your business and shopping needs.
Leisure travelers
Vacation is another reason you may want to stay at a aparthotel. Whether you are traveling alone or with your friends/family, you will always want to find the best place possible to enjoy your stay. Additionally, a aparthotel is more kid-friendly since it has a separate living area with dedicated bedrooms for relaxing which makes it an ideal accommodation for leisure.
Gloria Residence
Gloria Residence is where the new and old vibes of Taipei City meet each other. It is located in the district of Zhongshan, 8-minute walk from Shuanglian Station (雙連站) on the Red Line, and close to many attractions in Taipei such as Qingguang Shopping District (晴光市場), the Museum of Contemporary Art (台北當代藝術館), and the famous Dadaocheng (大稻埕).
Gloria Residence has everything you are looking for: spacious and decorated with wooden furnishings, a kitchen, a swimming pool, public parking at a location nearby, and great customer service. The hotel's building design was done by the master architect Jun Aoki who has also worked with Louis Vuitton. The facade is decorated with an over two-million-tiles mosaic, each of them reflecting sunlight to create a beautiful effect. Come see for yourself.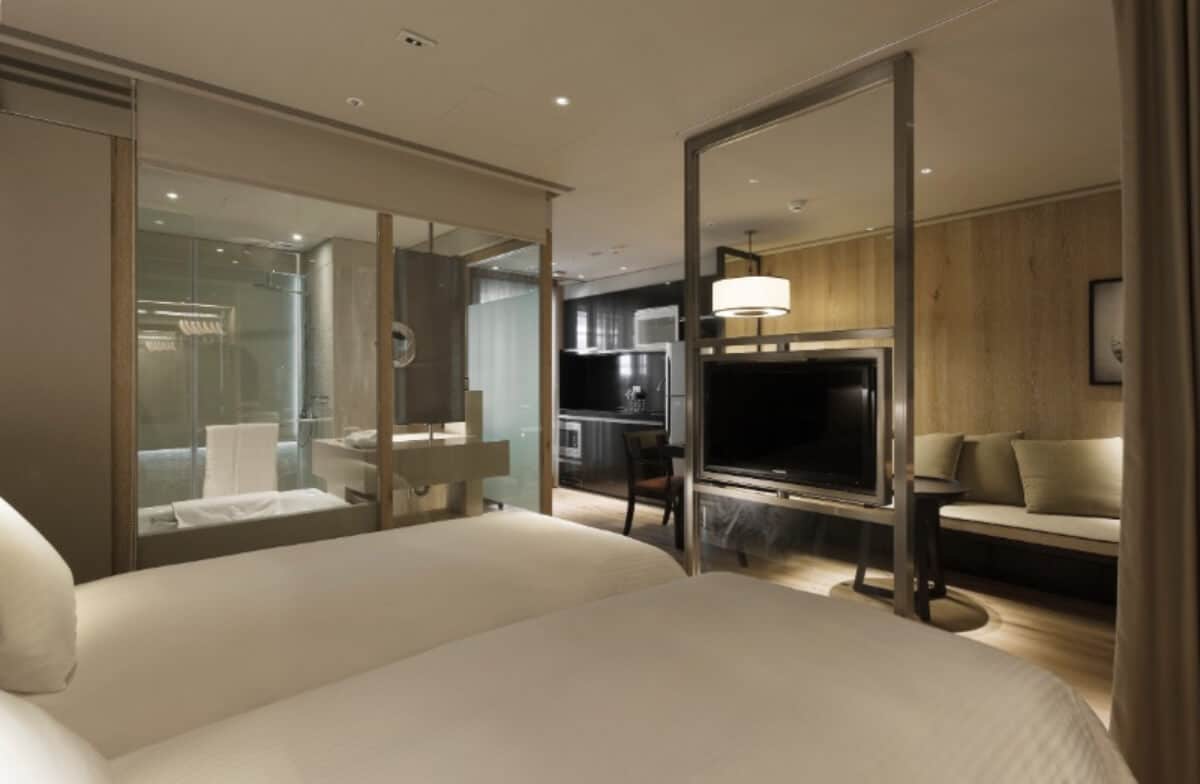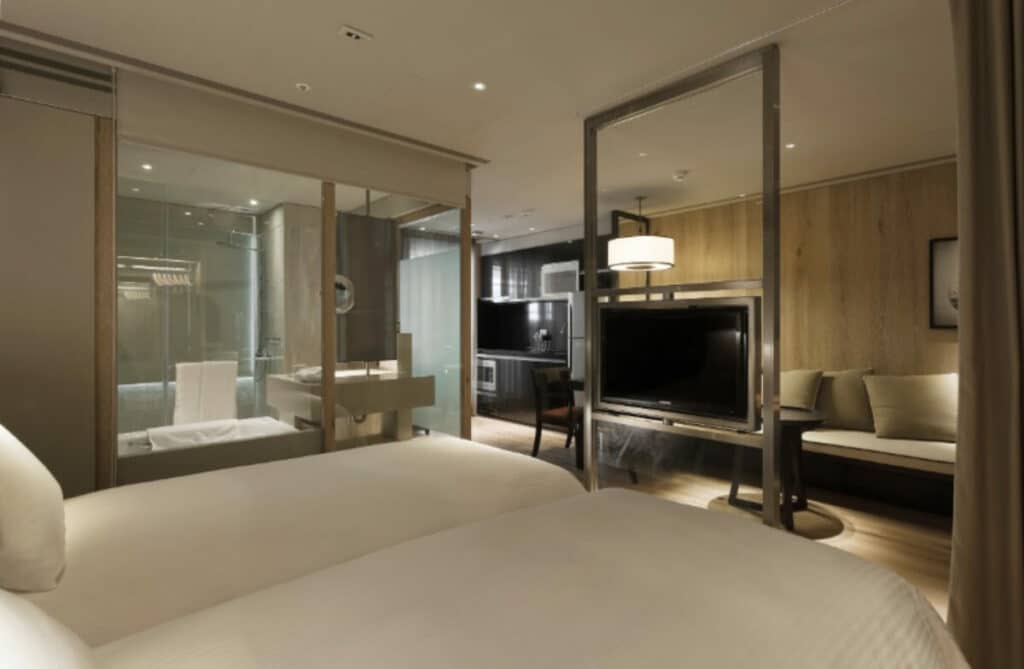 Other reasons
Maybe you moved to Taipei for a 2-3 month internship and are looking for a place to stay. A aparthotel will be a good choice for you to consider. In general, aparthotels are a better option than hotels for those who want to stay for a long period of time at an excellent price with more services and comfort.
Jolley Hotel
It is said that home is where you as a traveler begin your journey and finish it as well. Jolley hotel gives you a feeling of home during your time in Taipei every single day. Located in the Zhongshan commercial district, it is only 2 miles from the famous Dihua Street (迪化街) where you can have a feel of Taipei City's past. There you can also find a variety of shops selling traditional goods such as Chinese medicines and herbs, spices and dried food, etc.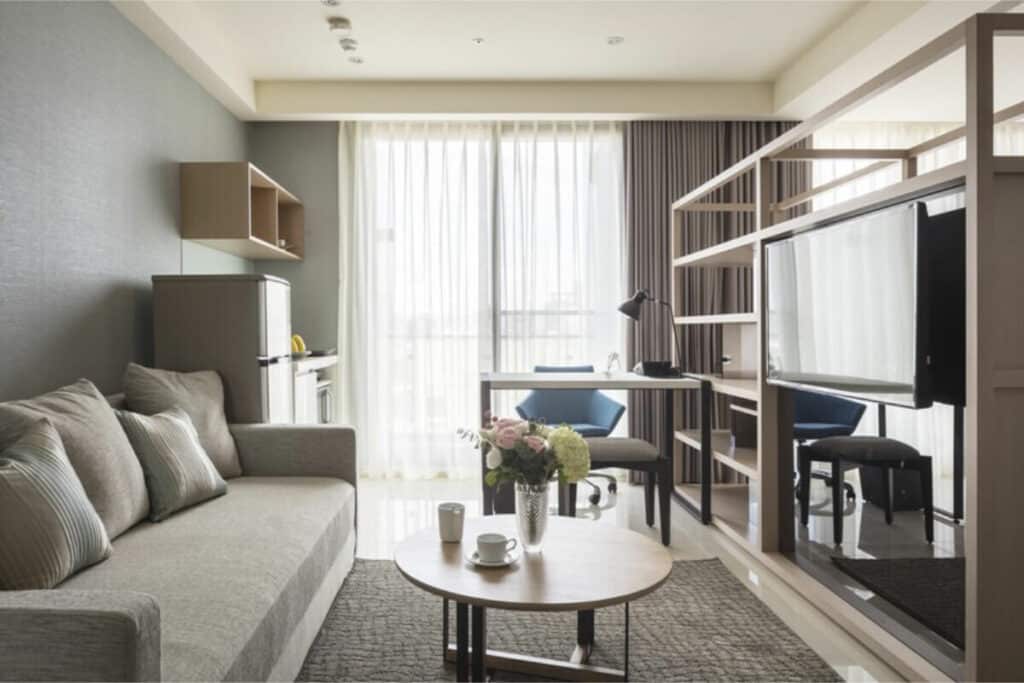 The hotel provides you with a kitchen, luggage storage service, taxi/airport pick-up service, and wake-up call service if you're scared that you might be late. MRT-accessible, Jolley hotel gives you the best choice for your "home in Taipei".
How is a aparthotel different from a regular hotel?
As stated earlier, aparthotels and hotels are very different from each other. In this section, you will have a better insight into the differences.
The typical length of stay
Most hotels, with the exception of extended-stay hotels, are designed for short-term stays. In Taipei, you can usually stay in a aparthotel for at least 30 days while you can stay in a normal hotel for at least 1 day.
Living space and kitchen
Staying in a normal hotel room without a kitchen or laundry facility for a long period of time can be challenging. Usually, typical hotels have only one suite with a private bathroom. They may also come with a mini-fridge, a coffee maker, and maybe a small microwave on some occasions.
A aparthotel, however, offers 30-50% more space than a normal hotel room. It comes with a fully equipped kitchen where you can cook your own food for yourself or for your family especially when you just arrive in Taiwan, you may not be used to the food. You can eat healthier! Additionally, you have access to a laundromat where you can wash your clothes during your time of stay.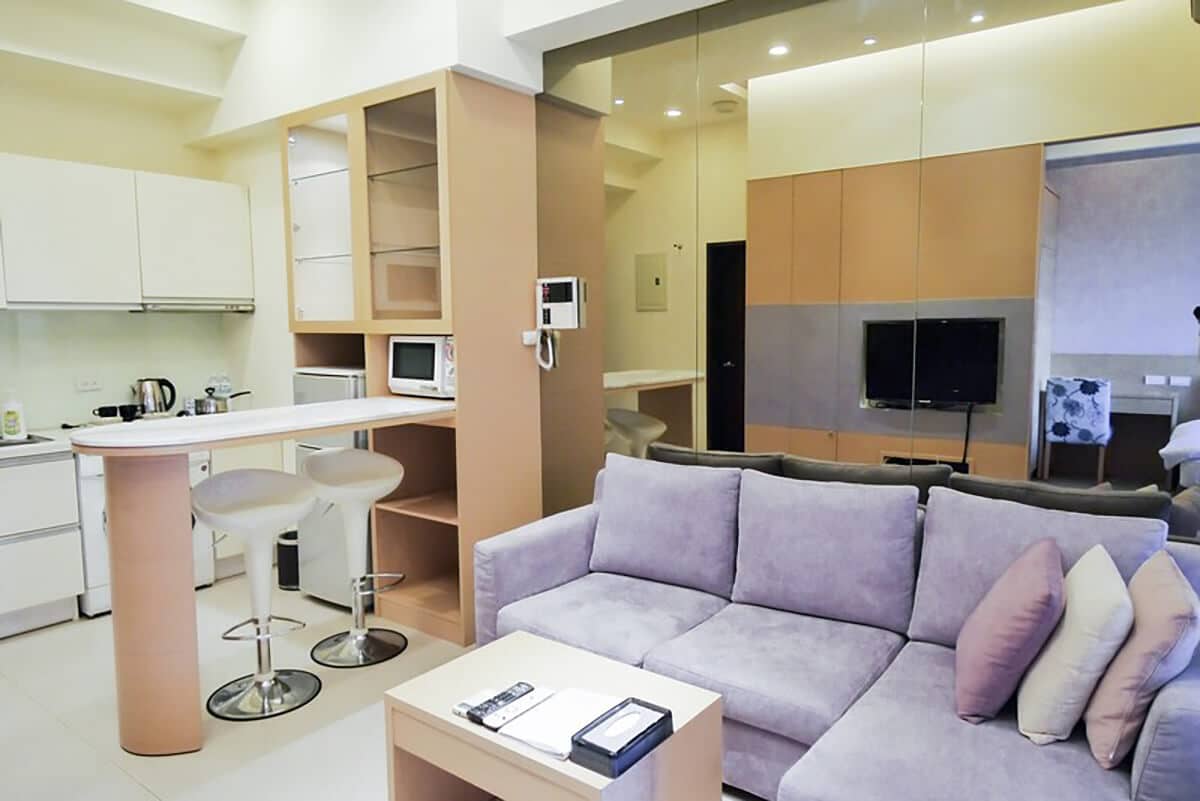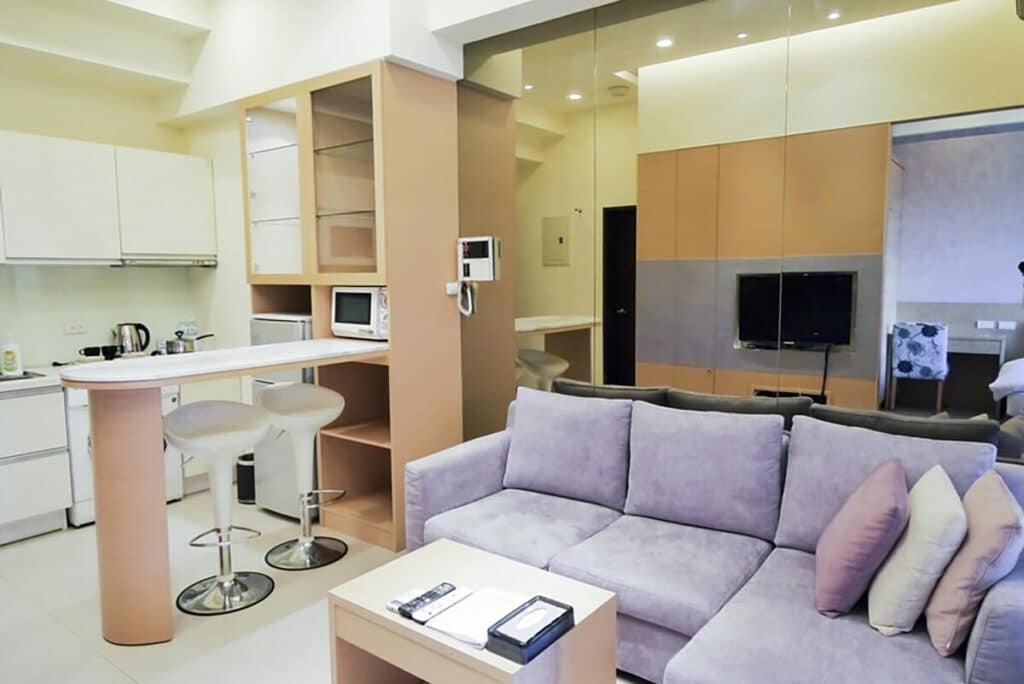 Services and Amenities provided
Amenities provided by hotels and aparthotels can vary. In a normal hotel, you can have room service, minibars, a spa, an indoor restaurant, etc.
However, aparthotels are basically home-like facilities fully functional and furnished with everything you need on a daily basis. You have bedrooms, a kitchen, a laundromat, etc. Aparthotels also have very good connections to public transportation, gyms, room service, and access to a 24-hour helpline in case you have an emergency.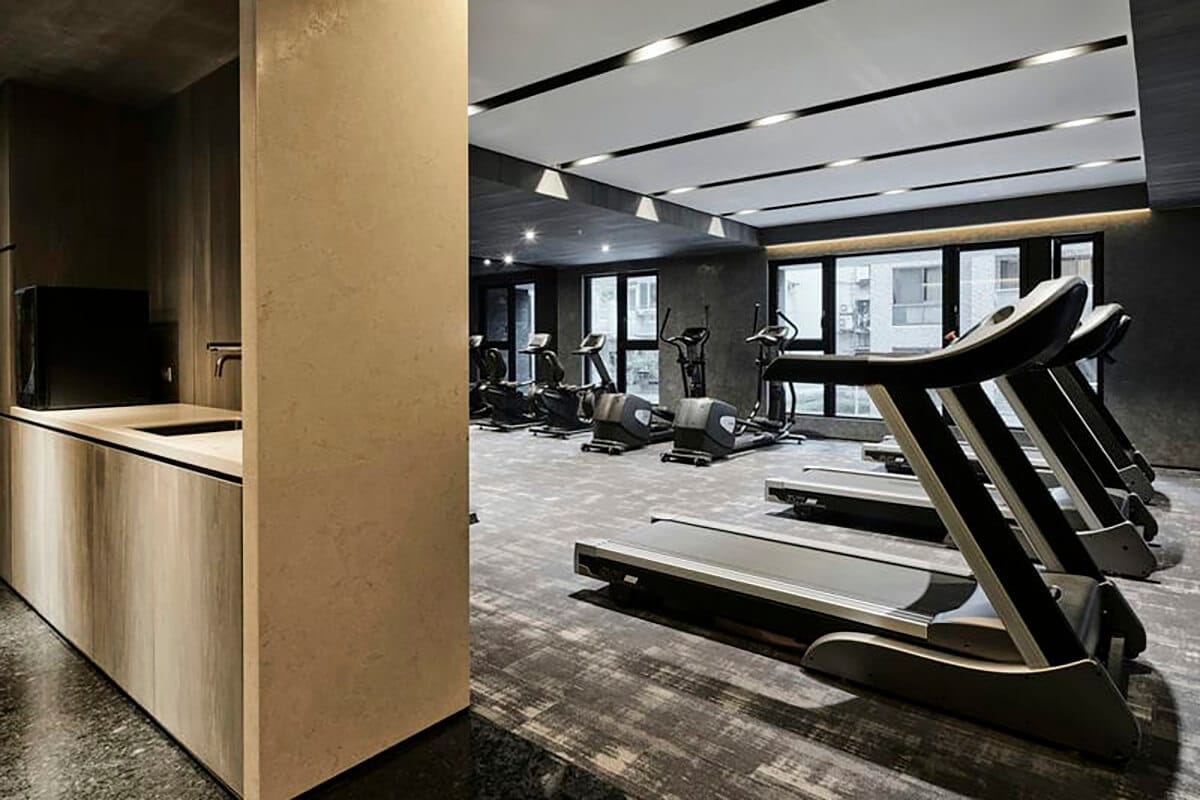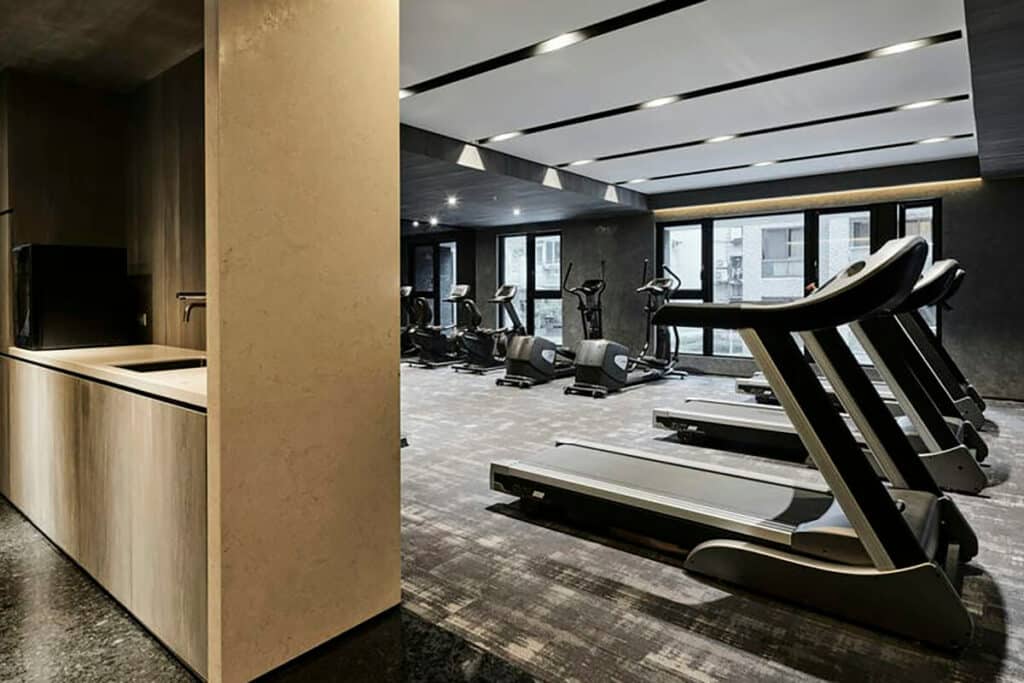 Cost and locations
The price differences between normal hotels and aparthotels come from the length of stay. The cost of long-term hotel stays can blow your mind especially if you have to order food or eat in restaurants rather than cook by yourself.
A aparthotel is less expensive as they charge 30 to 50% less than a normal hotel for a long stay. Moreover, you get to cook and save more money. You don't have to worry about the electricity cost since everything is already included in the fee that you paid.
Another difference is the location. Usually, normal hotels are generally located in central cities near major attractions or airports while aparthotels can be situated anywhere within a city. Most of the time, aparthotels are located in the heart of the city.
How to book a Taipei aparthotel
Booking a aparthotel in Taipei has a variety of benefits that we mentioned earlier in the article. A aparthotel offers all the comforts of home. As the title said, it is a home away from home. Whether you're moving overseas permanently and need a place to live or have to stay somewhere temporarily for work or studies, you need a winter vacation rental, or you are a remote worker in need of accommodation for a few weeks at your next destination, mrhost will help you find the right place.
If you need to compare prices and find a professionally managed property, we will help you get the right accommodation. We provide personal/business accommodation services based on your specific needs or the needs of your organization. You will save time in the process. If you like the idea of living in a aparthotel, you should go ahead and book one. If not you can always stick to extended-stay hotels or look for other forms of accommodation.
Full List of Taiwan Monthly Hotel for 2023