Last Updated on 07-19-2023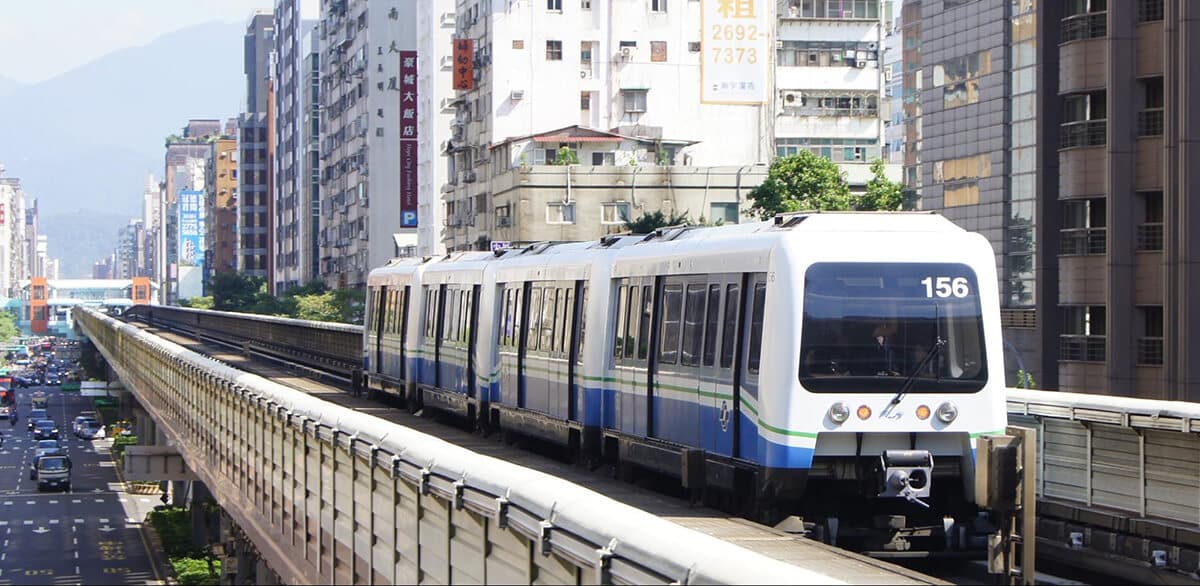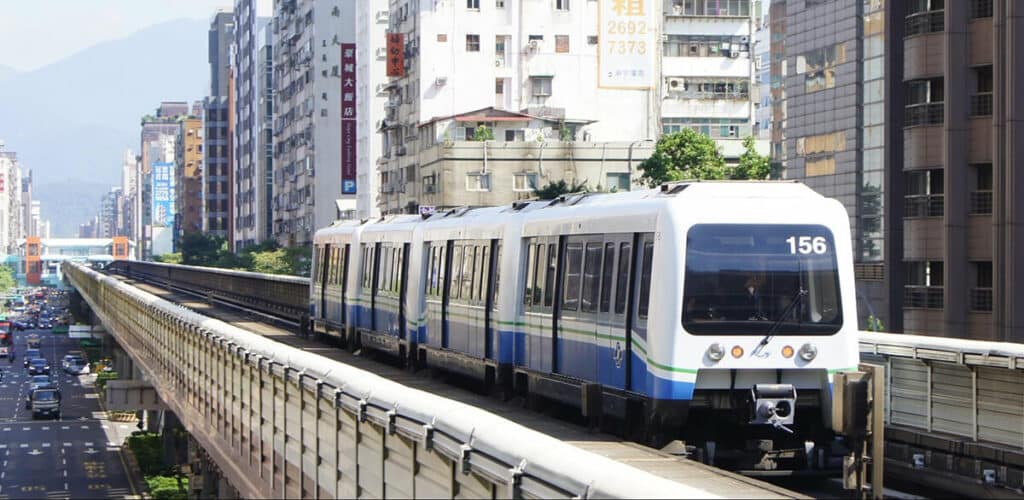 In our previous article, we presented the Taipei MRT Blue and Red Lines as the most important routes in the Taipei MRT system. However, if you want to visit places like Taipei Zoo or see a live concert at Taipei Arena, you must be familiar with the Brown and Green Lines. Before we go any further, did you know that the Brown Line is one of the only metro lines in Taipei that has its stations above ground, which means during your entire trip you will be able to see the beautiful mixed landscape of Taipei?
Brown Line – Wenhu Line


The Brown Line, also called the Wenhu Line, connects Wenshan and Neihu districts. The Brown Line has all its stations above ground compared to the other metro lines. So when you take it, you enjoy the views between Taipei and New Taipei City.
Neihu District is a business district located northeast of Taipei. Since there are lots of companies there, many people who live in either Taipei or New Taipei districts take the Brown Line to Neihu every day. Wenshan district is also home to Taipei Zoo, the biggest zoo in Taiwan, which even has a station named after it on the brown line (Taipei Zoo Station).
Wenhu Line Stations
The Brown Line is made up of 24 stations.

BR01:Taipei Zoo
BR02:Muzha
BR03:Wanfang Community
BR04:Wanfang Hospital
BR05:Xinhai
BR06:Linguang
BR07:Liuzhangli
BR08:Technology Building
BR09:Daan
BR10:Zhongxiao Fuxing
BR11:Nanjing Fuxing
BR12:Zhongshan Junior High School
BR13:Songshan Airport
BR14:Dazhi
BR15:Jiannan Road
BR16:Xihu
BR17:Gangqian
BR18:Wende
BR19:Neihu
BR20:Dahu Park
BR21:Huzhou
BR22:Donghu
BR23:Nangang Software Park
BR24:Taipei Nangang Exhibition Center
Intersection with other Metro Lines
The Wenhu Line also intersects with other stations, as shown in the following table:
Blue Line
Red Line
Orange Line
Green Line
Yellow Line
Station
BR10
(Zhongxiao Fuxing),
BR24
Taipei Nangang Exhibition Center
BR09
(Daan)
–
BR11
(Nanjing Fuxing)
–
Wenhu Line intersections
If you are going to the Songshan Airport in Taipei, you can also get off at BR13 (Songshan Airport Station) on the Brown Line.
Brown Line Ticket Fare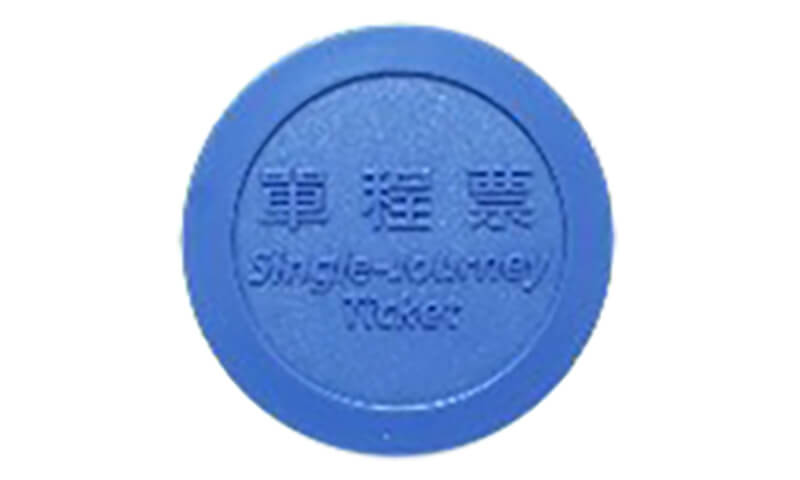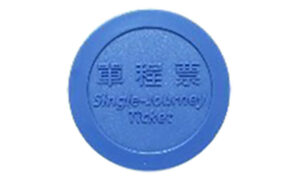 One thing you may be curious about is the ticket fare for the Brown Line. As with all the other metro lines, the ticket fare depends on your departure and destination stations. The cheapest you will pay is NTD$20, while the maximum you will pay for the ticket fare is NTD$40. The single-journey ticket (discount ticket) is 60% off, and the one-day pass is NTD$150.
Interesting facts about Taipei MRT Brown Line and nearby Attractions
The Brown Line was the first MRT line built in Taipei.
This line is the slowest among the other metro lines (70km/h)
The subway cars are the smallest compared to the other lines
The Brown line is the only metro line that has automatic-operated trains in Taiwan.
When you are visiting Taipei, you can take the Brown Line to go to different famous attractions.
Taipei Zoo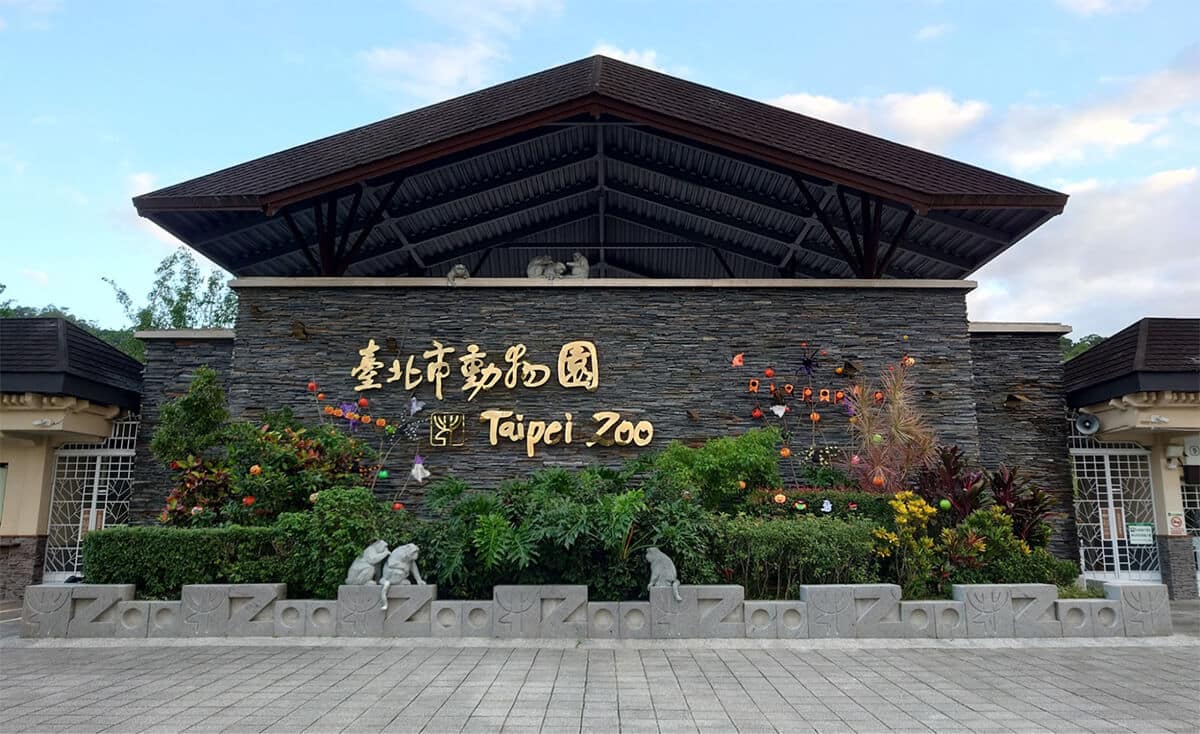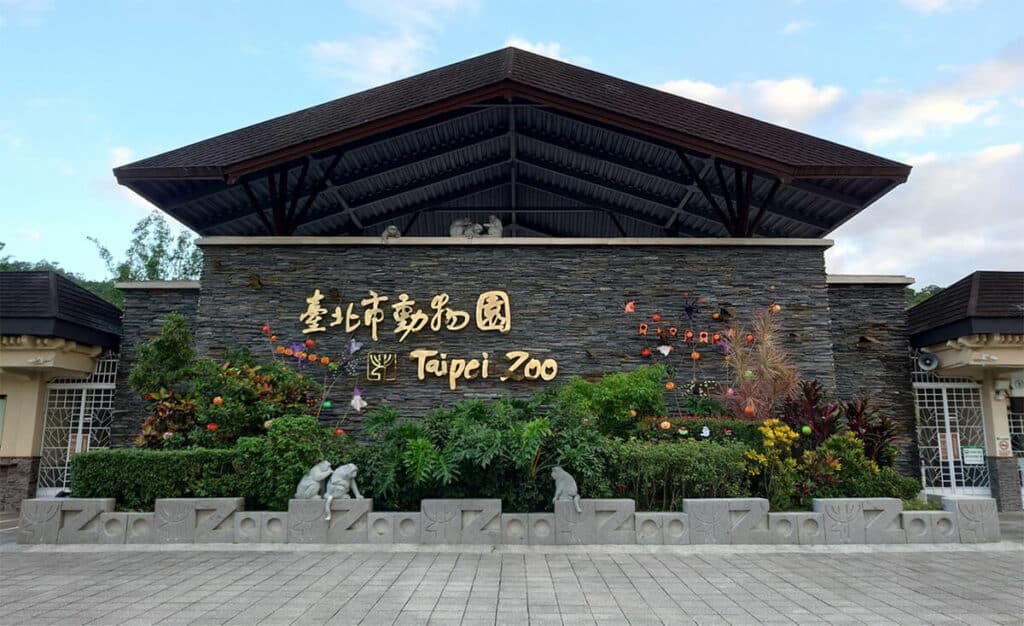 Taipei Zoo is the biggest zoo in Taiwan, located in Muzha District, and has a station named BR01 Taipei Zoo. It is also called Muzha Zoo. The zoo is quite cheap ($60 NT for adults, $30 NT for students). It is open every day from 9 a.m. to 5 p.m. There are 11 kinds of zoological gardens in Taipei Zoo, including the Formosan Animal Area, Children's Zoo, Insectarium, Tropical Rainforest Area, Giant Panda House, Desert Animal Area, Australian Animal Area, African Animal Zone, Bird World, Amphibian and Reptile House, and Temperate Zone Animal Area. Its most popular attraction is the panda bear house. From Taipei Zoo, you can also take the gondolas away from the city and to Maokong. I have to say it was one of the most beautiful experiences I had in Taiwan. In Maokong, you can enjoy the view of the city while sipping on some tea.
Miramar Entertainment Park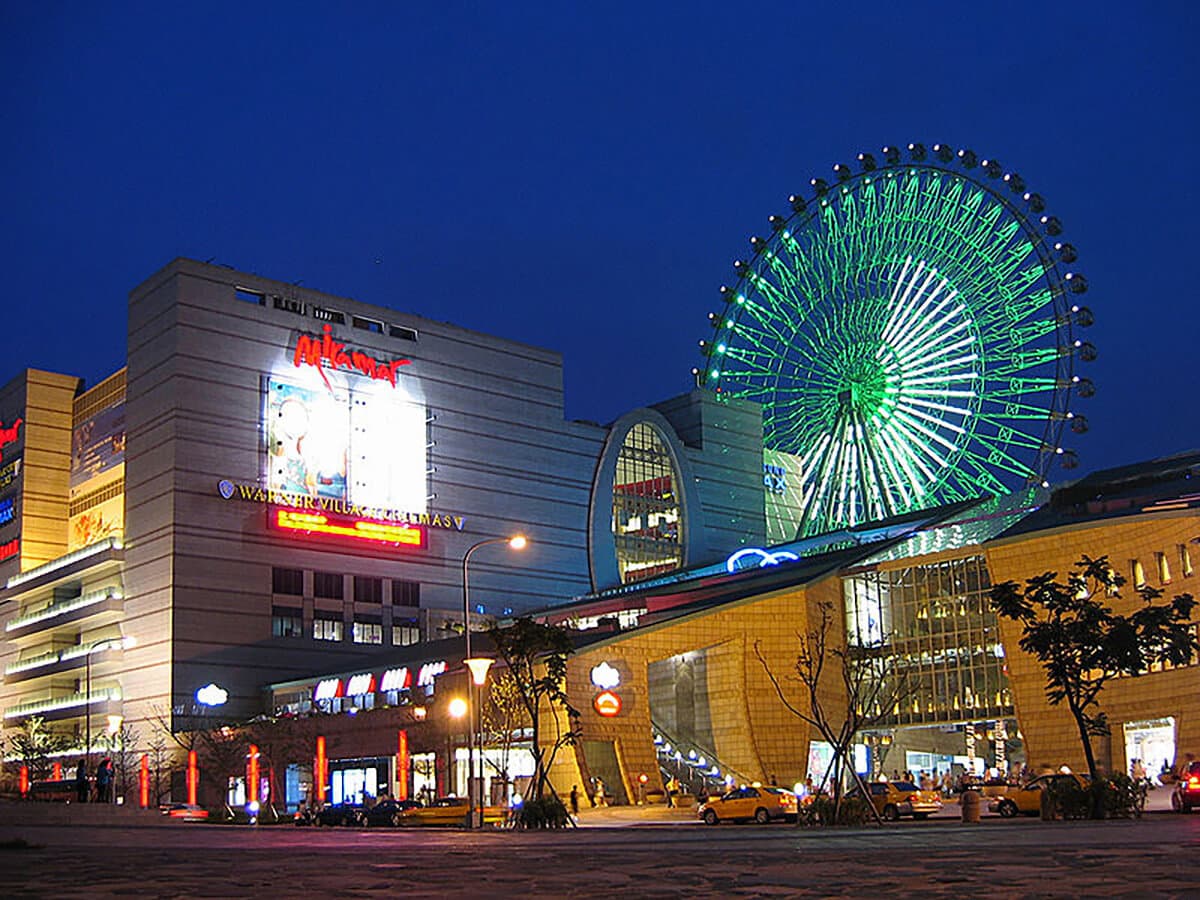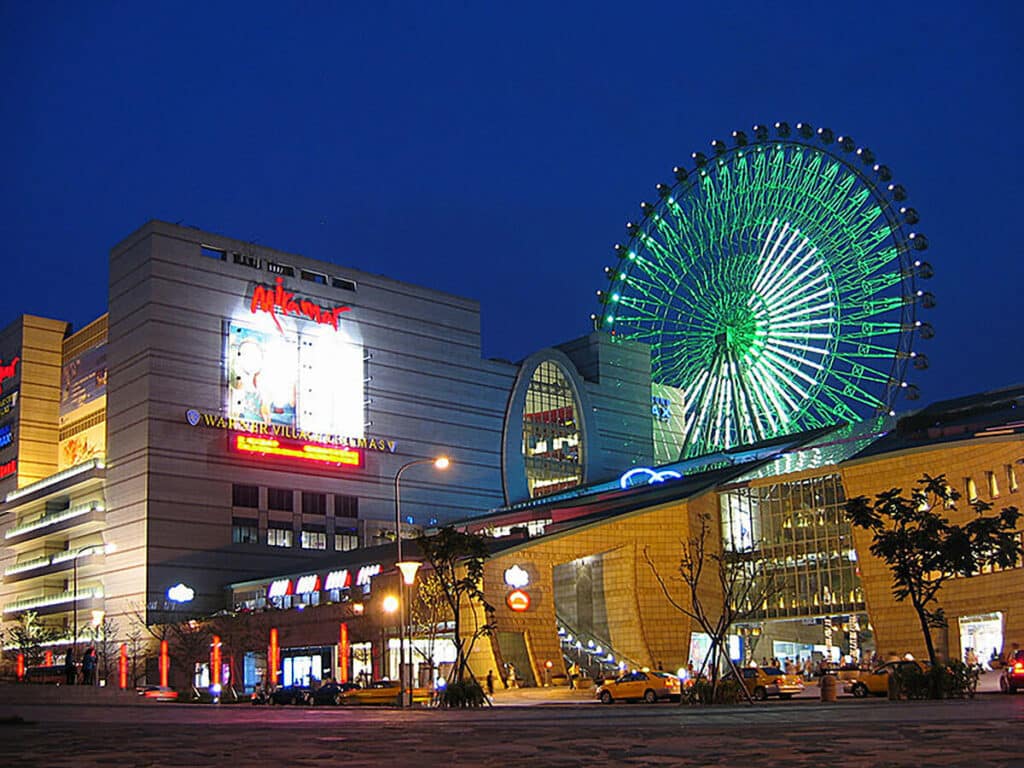 Located a 3-minute walk from BR15 Jiannan Road Station, Miramar Entertainment Park is a wonderful shopping mall located in Zhongshan District. It has the largest Ferris wheel in northern Taiwan and the fourth largest in Taiwan, with a wheel diameter of 70 meters. At night, the Ferris wheel will light up and make the whole area more romantic and colorful. It is a recommended spot for fun date nights with your other half.
Dahu Park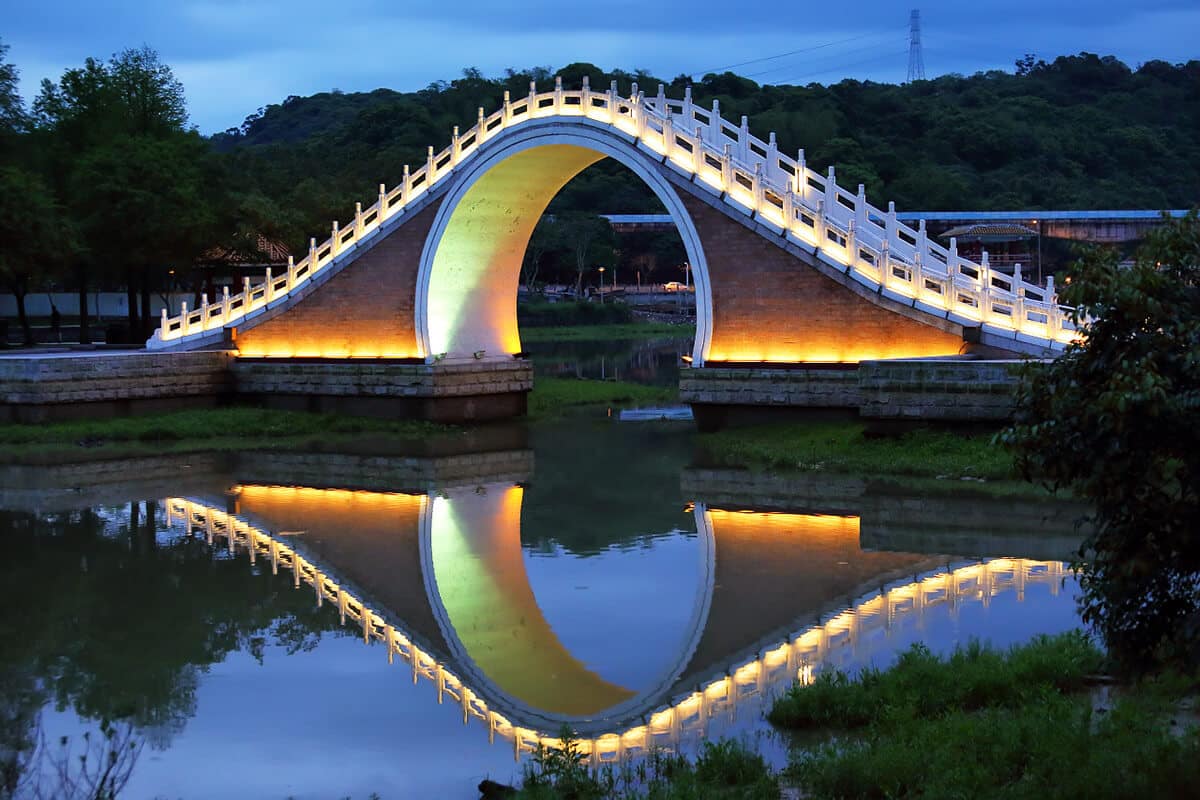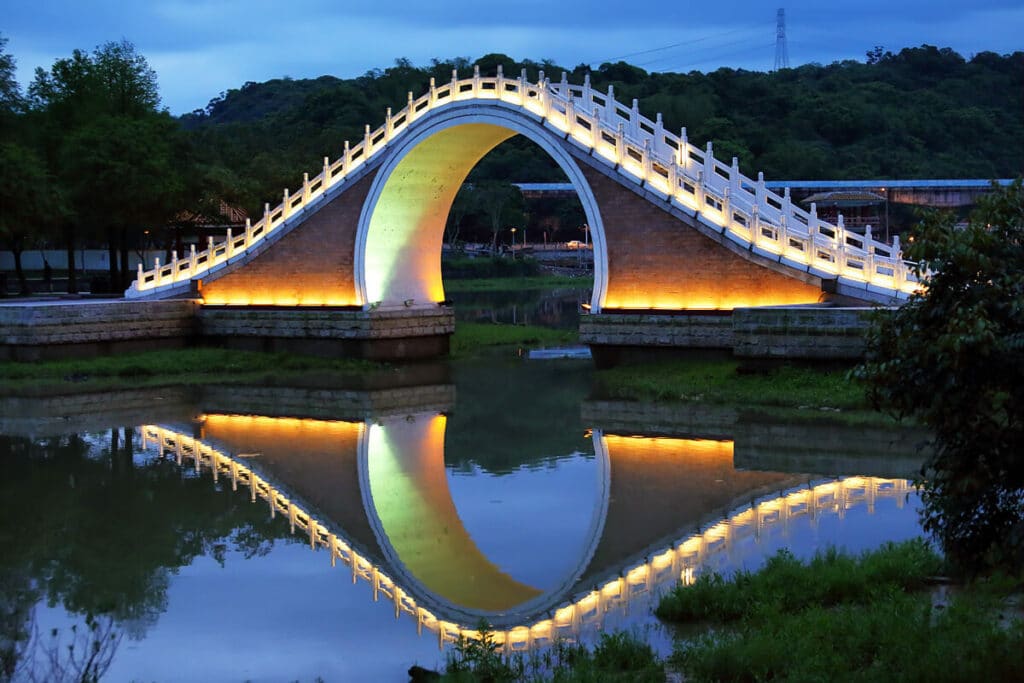 Located a 5-minute walk from Dahu Park Station on the Brown Line, Dahu Park is best known for its large scenic lake. The 13-hectare lake is crossed by the Jindai Bridge. There is also a beautiful lake pavilion that is built in a traditional Chinese style. People usually come there to take wedding pictures. Dahu Park is designated to be a multifunctional park. It is a popular spot for weekend fishing and picnics. Apart from the green trees and trails, there is also a heated swimming pool, steam room, sauna, water slide, and other recreational facilities to enjoy.
Green Line – Songshan-Xindian Line


The Green Line connects Songshan and Xindian District. It passes through some commercial or school districts. The Green Line is mostly known for places like Taipei Arena, Raohe Night Market, and National Taiwan University. It also plays an important role as a transportation hub, as it connects with all the other metro lines. Therefore, you can easily transfer to other stations and go to many places in Taipei or New Taipei City.
If you are traveling around Taiwan from Taipei, you can transfer to the Taiwan Railway System at Songshan Station on the Green Line so you can get to other cities. If you are To Get to Taoyuan Airport, take the Green Line to Beimen station, and transfer to the Taoyuan Airport MRT. Generally, whether tourists want to find some local food, go shopping, or even transfer to other public transportation, the Green Line is really convenient to get to their destinations.
Songshan-Xindian Line Stations

G19:Songshan
G18:Nanjing Sanmin
G17:Taipei Arena
G16:Nanjing Fuxing
G15:Songjiang Nanjing
G14:Zhongshan
G13:Beimen
G12:Ximen
G11:Xiaonanmen
G10:Chiang Kai-shek Memorial Hall
G09:Guting
G08:Taipower Building
G07:Gongguan
G06:Wanlong
G05:Jingmei
G04:Dapinglin
G03A: Xiaobitan
G03:Qizhang
G02:Xindian District Office
G01:Xindian
Intersections with other Metro Lines
The Songshan-Xindian Line intersects with the Xiaobitan Branch line at Qizhang Station (G03)
Green Line transfer to other metro lines
As mentioned earlier, the Green Line connects with all the other metro lines, which is why it is important as a transportation hub. The table below shows us where it intersects with the others.
Blue Line
Red Line
Orange Line
Brown Line
Yellow Line
Station
G12
(Ximen)
G10
(Chiang Kai-shek Memorial Hall),
G14
(Zhongshan)
G09
(Guting),
G15
Songjiang Nanjing)
BR11
(Nanjing Fuxing)
G04
(Dapinglin)
Songshan-Xindian Line intersects
The Green line also intersects with the Taiwan Railway at Songshan Station (G19) and the Taoyuan Airport MRT at Beimen Station (G13).
Green Line Ticket Fare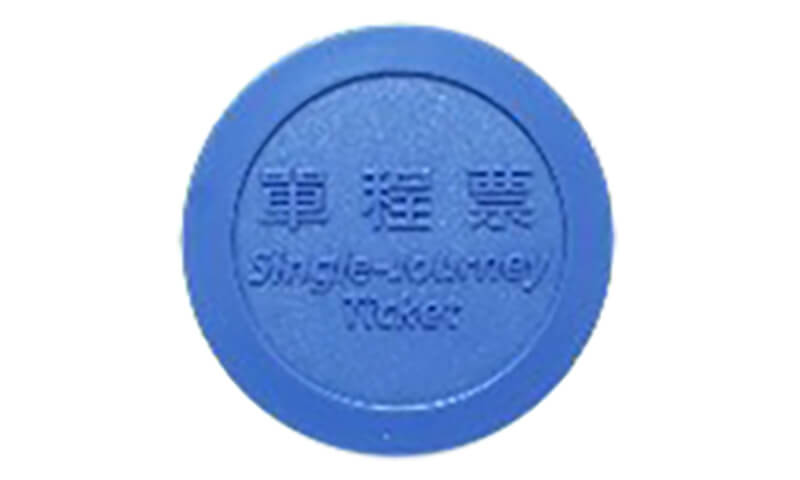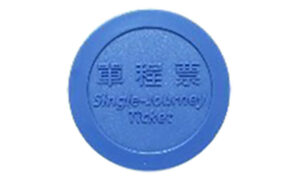 The ticket fare depends on your departure and destination station. The cheapest you will pay is NTD$20 while the maximum you will pay for the ticket fare is NTD$40. The single-journey tickets (discount tickets) are 60% off, and the one-day pass is NTD$150.
Attractions nearby Taipei MRT Green Line
Taipei Arena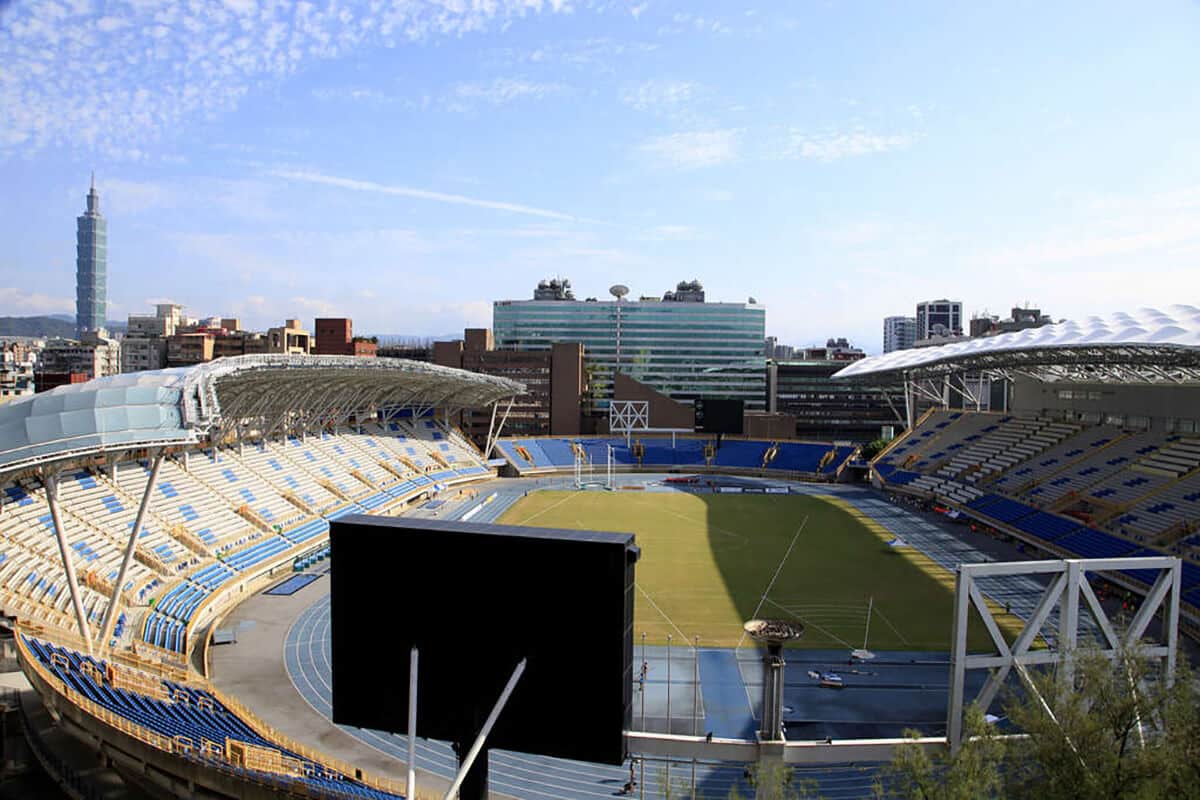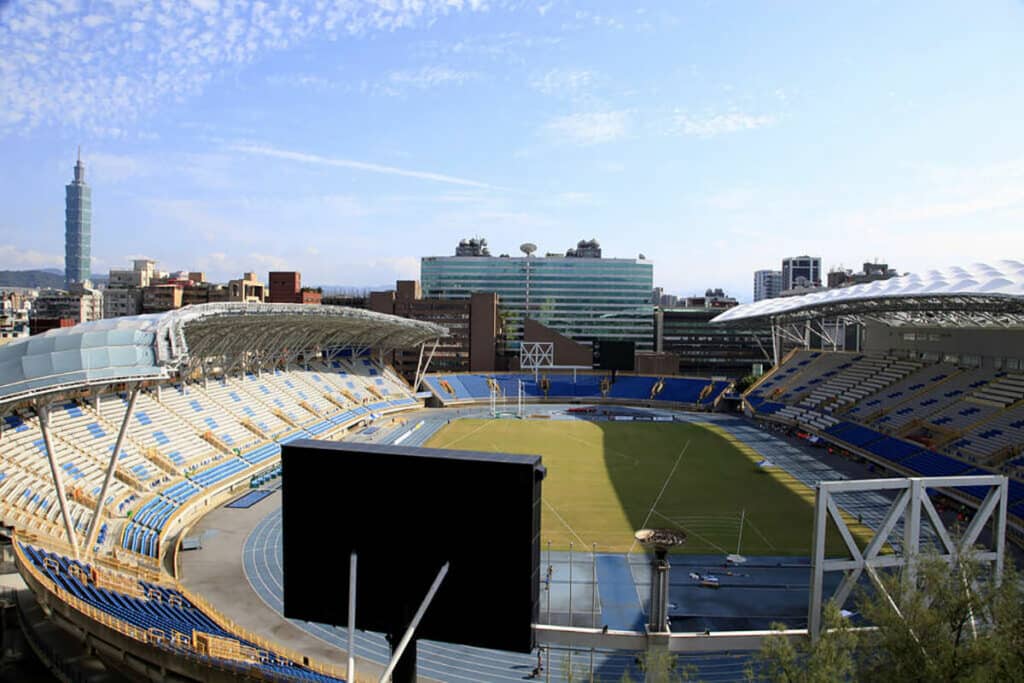 Taipei Arena is a multi-functional stadium in Songshan. On the Green Line, you can get off at G17 Taipei Arena Station. Taipei Arena provides several sports spaces, such as ice skating, basketball, tennis, badminton, table tennis, etc., and major sports events are held there frequently. In addition to sports, Taipei Arena can also hold a big concert. Many popular singers consider hosting a concert in Taipei Arena as a great career achievement.
National Chiang Kai-Shek Memorial Hall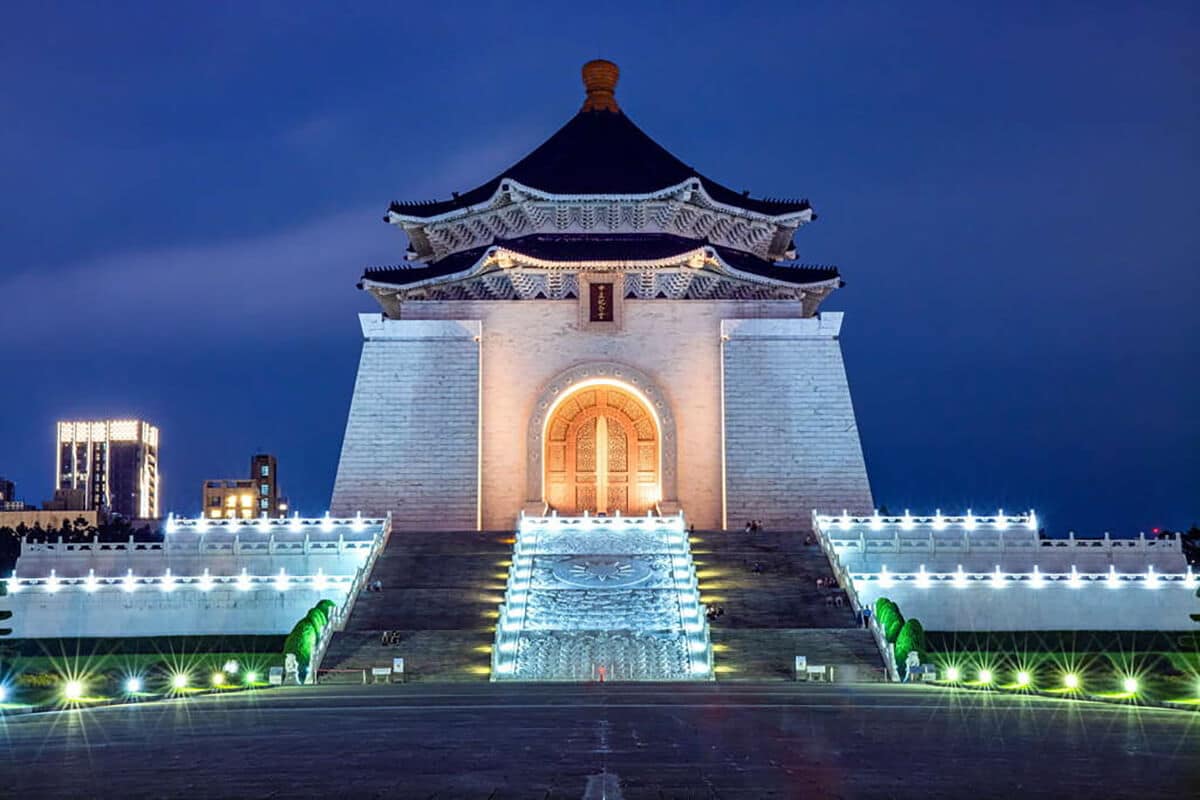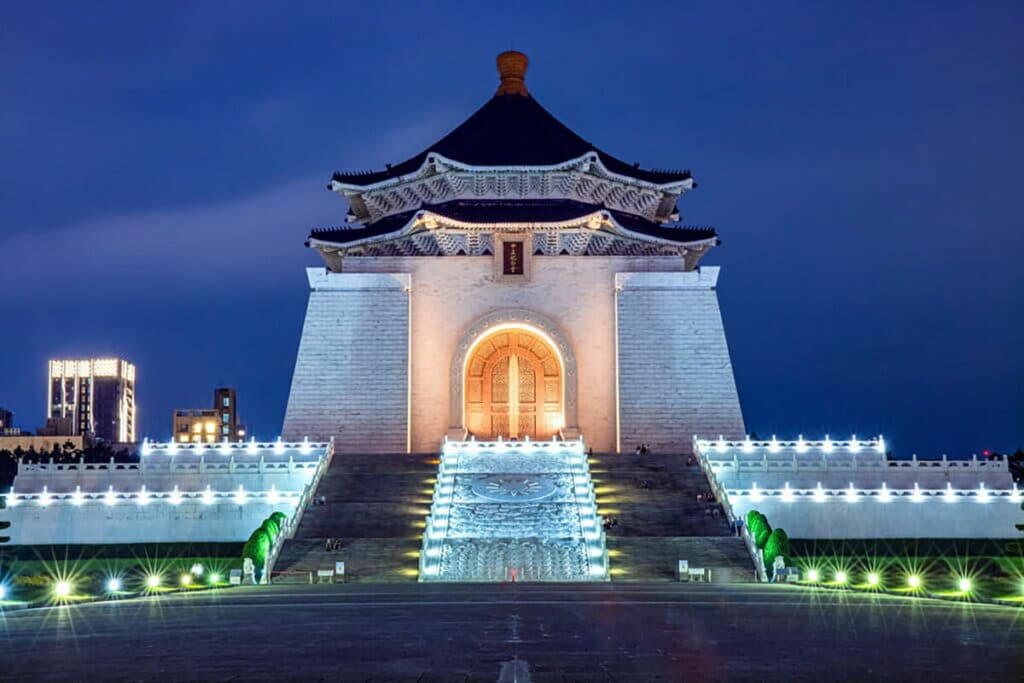 The National Chiang Kai-shek Memorial Hall is a national landmark in memory of Generalissimo Chiang Kai-shek, former President of the Republic of China. It is located a 3-minute walk from Chiang Kai-Shek Memorial Station. As time flows on, this memorial hall is no longer a political place. There are some international art or music performances frequently held in this place. In addition to art performances, a lot of people will walk or dance in the square in front of the Memorial Hall. If you are interested in Taiwan's history, this place will be a good choice. Just be ready to see a lot of people dancing there. It used to be my hangout during my college years.
Gongguan Night Market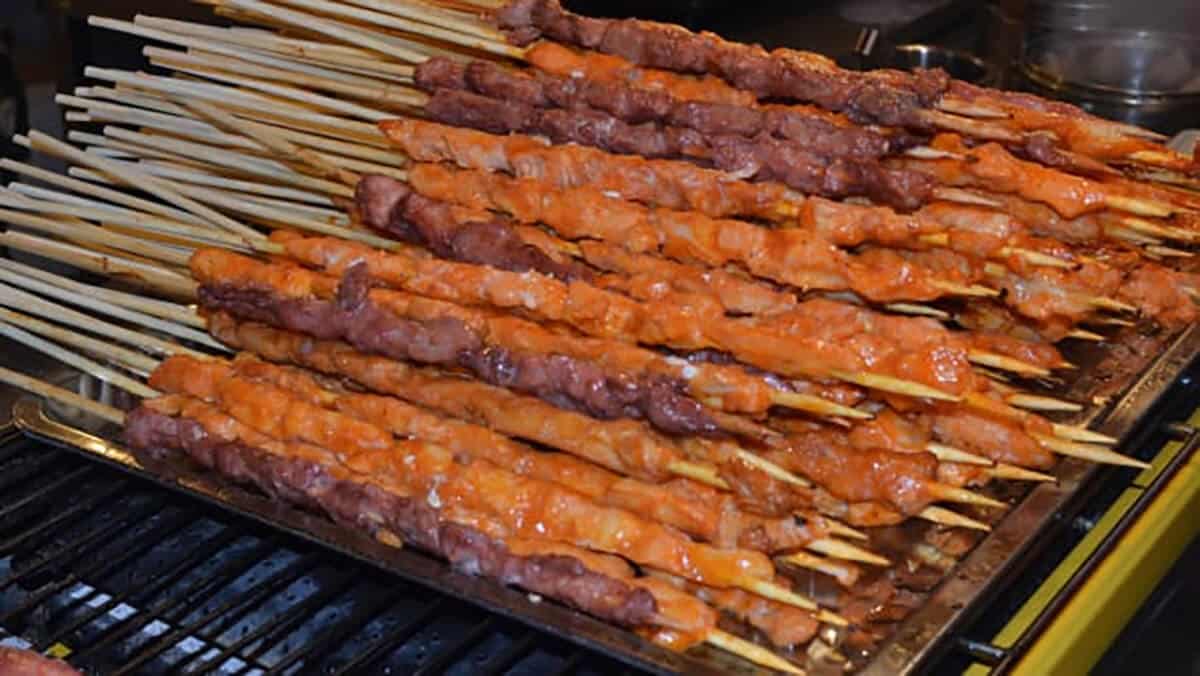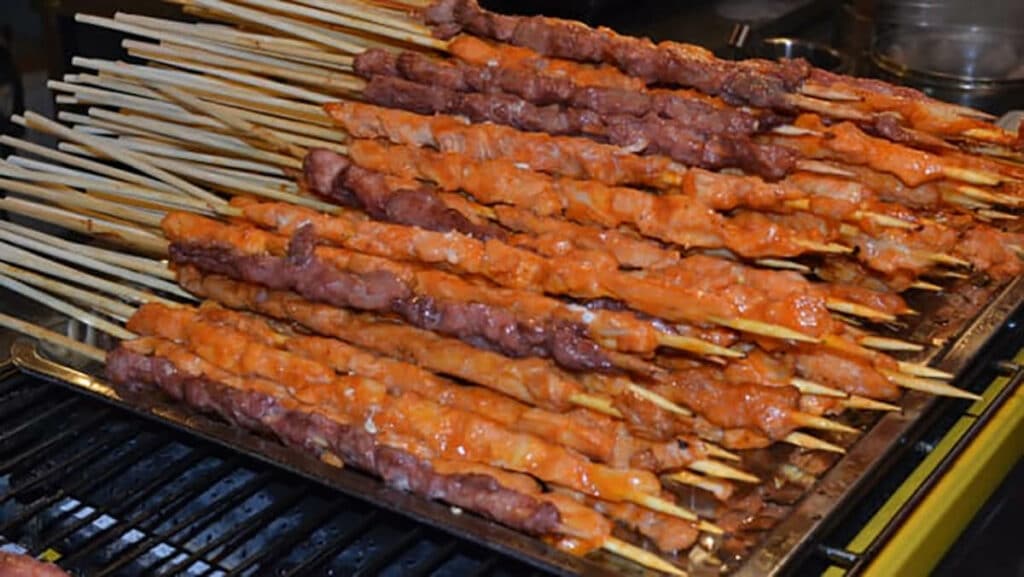 Gongguan Night Market is located a 1-minute walk from Gongguan Station G07 between the Zhongzheng and Daan Districts. Nearby is National Taiwan University, which you have probably heard is among the greatest universities in the world. Because of it, the Gongguang area is filled with a lot of diverse stores, including bookstores, clothing stores, food stores, and restaurants. Whether you are a tourist or not, you can taste local Taiwanese street food in Gongguan Night Market. There are so many options to choose from, including pig's blood cake, oyster omelet, braised pork rice, etc., that you won't want to miss it.