Last Updated on 10-21-2023
Whether you are an international or local tourist coming to Taipei, your first stop will probably be Taipei Main Station. Located in the Zhongzheng District of Taipei City, it is the largest railway station in Taiwan in terms of traffic, and there are also multiple businesses and schools nearby. However, Taipei Main Station is much more than just a train station. Inside, there are many restaurants, shopping places, and so on. In this article, you will learn more about Taipei Main Station and its fascinating underground maze. Watch out or you may get lost on these multiple and confusing roads.
Taipei Main Station: Center of Taipei
Taipei Main Station is a historical landmark. This dual railway and metro station were established in July 1891, and it is now controlled by Taiwan High-Speed Rail, the Taiwan Railways Administration, and the Taipei Metro. It was not always where it is now; the first Taipei Main Station was built in Dadaocheng, and as the traffic was growing, the current building you see now was built in 1989 in the center of Taipei.
Every day, there are over 50 thousand people transiting through it and you can easily get lost in this flow of people on these confusing roads. I do believe that the only way for someone to get out is by following the signs. I have the testimony of many local Taiwanese who got lost in Taipei Main Station, and I can guarantee you that as a foreigner I got lost there more times than I could count. The station is surrounded by a commercial area that is very popular with tourists, students, and others.
The famous Nanyang Street next to it is known for offering a wide range of local styles like cafés and everything one would expect from such an amazing city and its friendly people. It is definitely a place not to miss while you are in Taipei. Some describe it as "cheap eating heaven" especially because there are a lot of students in the area. This place is also known as the home of most of Taipei's cram schools. You can ask your Taiwanese friends about it. They definitely have stories related to it.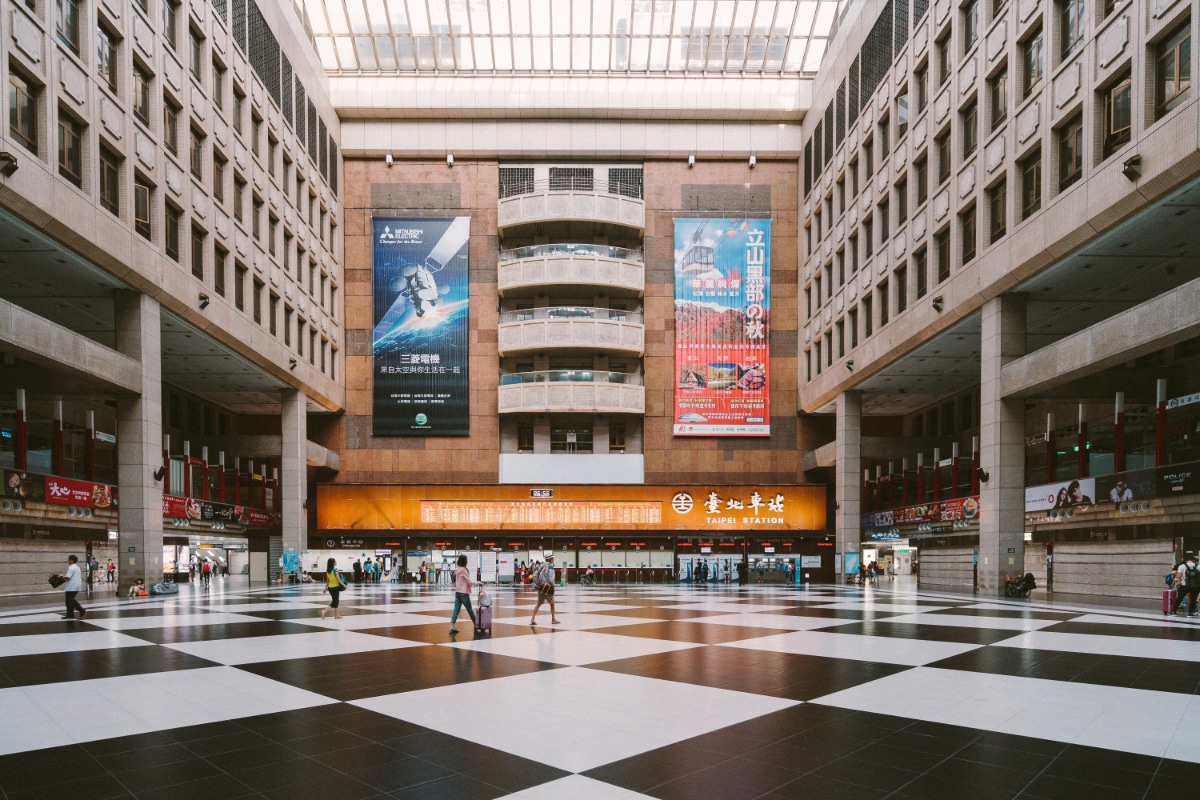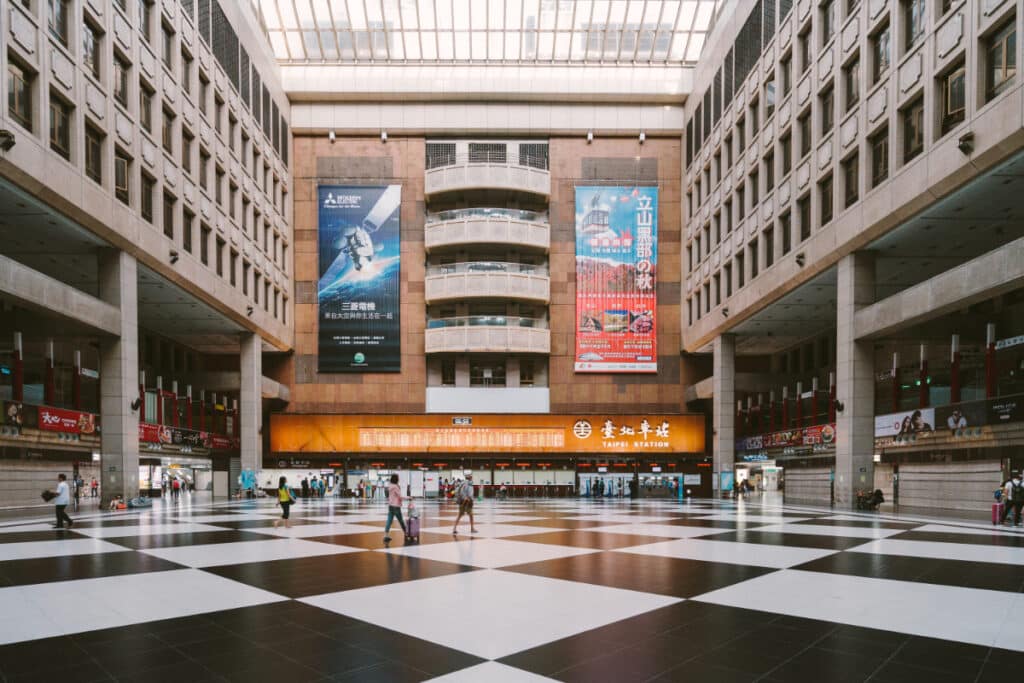 Strange Phenomena and Legends in Taipei Station
Like any other place in the world, Taipei Main Station has strange phenomena and legends related to it. After talking to my Taiwanese friends and doing some research, I found two of them: the bird-headed statue and the white tile phenomenon.
Bird-headed statue
Located near Exit 1 of Zhongshan Metro Mall in Taipei Main Station, you probably passed by this "bird-headed" statue when you came there. From 2010 to 2021, this statue has been iconic in the station; a girl with a bright yellow bird's head holding a pencil in her hand and standing on the grass with water flowing over her body.
According to the artists who created it, Joyce Ho and Craig Quintero, this intriguing sculpture is a symbol of dreams: a girl that will never grow up because she is caught between a static and dynamic state, reality and fantasy, with a pencil that will never write. It is indeed an invitation to dream and not to grow up too fast and face the adult world. This statue also serves as an important sign for disoriented travelers.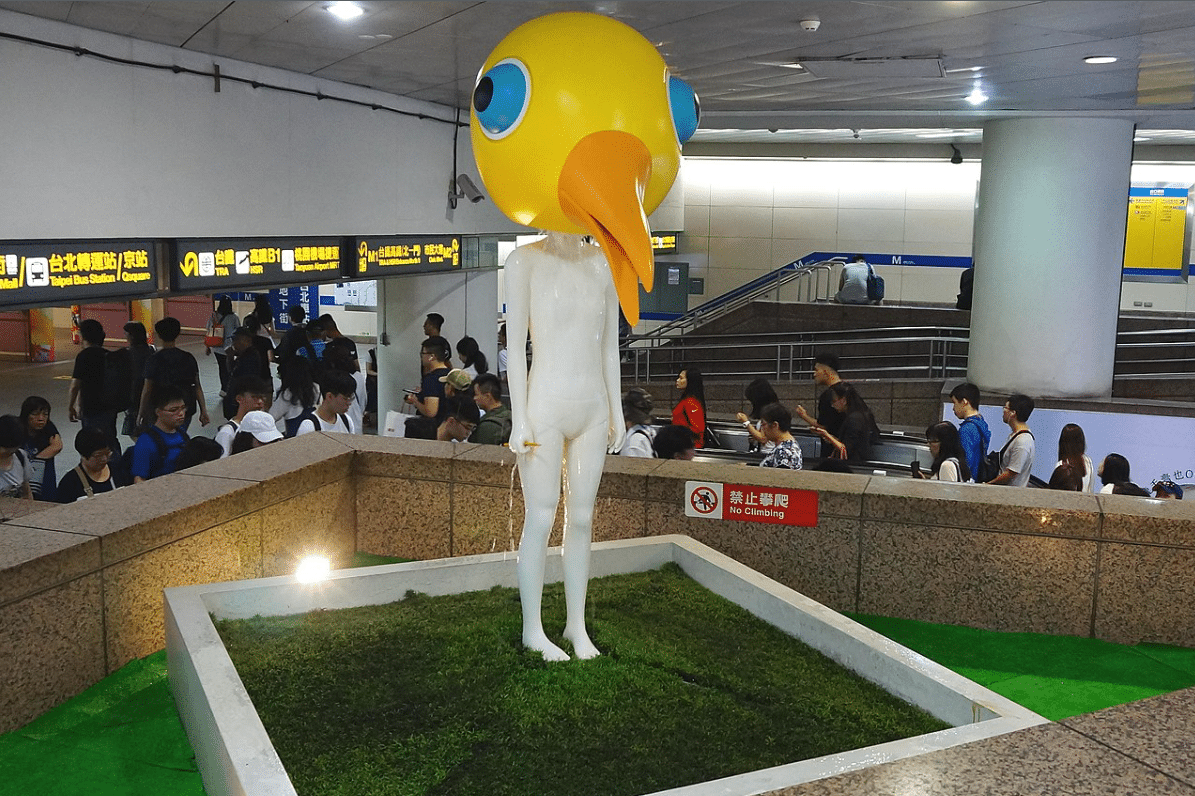 bird-head statue near exit 1 of Zhongshan Metro Mall, Source: Solomon203
However, people say that at night, it wanders the underground streets of Taipei looking for the next body… The legend says that the statue comes to life and looks for people who are walking alone, kills them with the pencil in its hand, and replaces them with a new body. That's why many homeless people have disappeared. They associated the water coming out of its head as the tears the girl could not hold back from taking people's lives. Others say it is because of its curse that people can now easily get lost in Taipei Main Station. Do you believe that?
"White tile phenomenon": To sit or not to sit
Some people noticed that in the Taipei Main Station lobby, nobody sat on the white tile. This caused a trending discussion on the internet a few years ago. It's like everybody is avoiding the white tile. Is it a coincidence, an unspoken rule, or a psychological choice? I don't know, but it has been like that from that day. Some say that black makes you feel safe; others say that it's because white is easier to get dirty.
A group of people said the main reason is because the color white symbolizes death in Chinese culture, while some call that phenomenon "a live-action version of chess."I guess we will never know what's really behind it. Come to see for yourself.
Taipei Main Station Transportation: MRT, HSR, Train and Bus Station
Taipei Main Station is the busiest station in Taipei Metro's network and one of the busiest stations in the world. It has four levels below the surface and has many transportation options. At the station, you can take the MRT (Metro), Taiwan HSR (high-speed rails), the regular trains (TRA), the Taoyuan Airport MRT, local buses, and long-distance intercity buses.
If you are worried about carrying around your luggage, Taipei Main Station also has luggage locker services available at the B1 level. They allow two sizes: medium size luggage, which costs NT$20 per hour, and small size costing NT$10 per hour. However, you have to be careful because the lockers can only be opened and closed once. The maximum rental period is 24 hours, and beyond that time, your items will be held by the staff and they will charge you for up to 30 days.
The Taoyuan Airport MRT, in cooperation with Taipei Main Station, brought a new luggage service feature. If you are traveling with the following airlines: China Airlines, Mandarin Airlines, EVA Air, and UNI Air, you can send your baggage from Taipei Main Station to Taoyuan Airport. That will give you some time to walk around before catching your flight. Isn't that interesting? You definitely do not have to carry a heavy bag.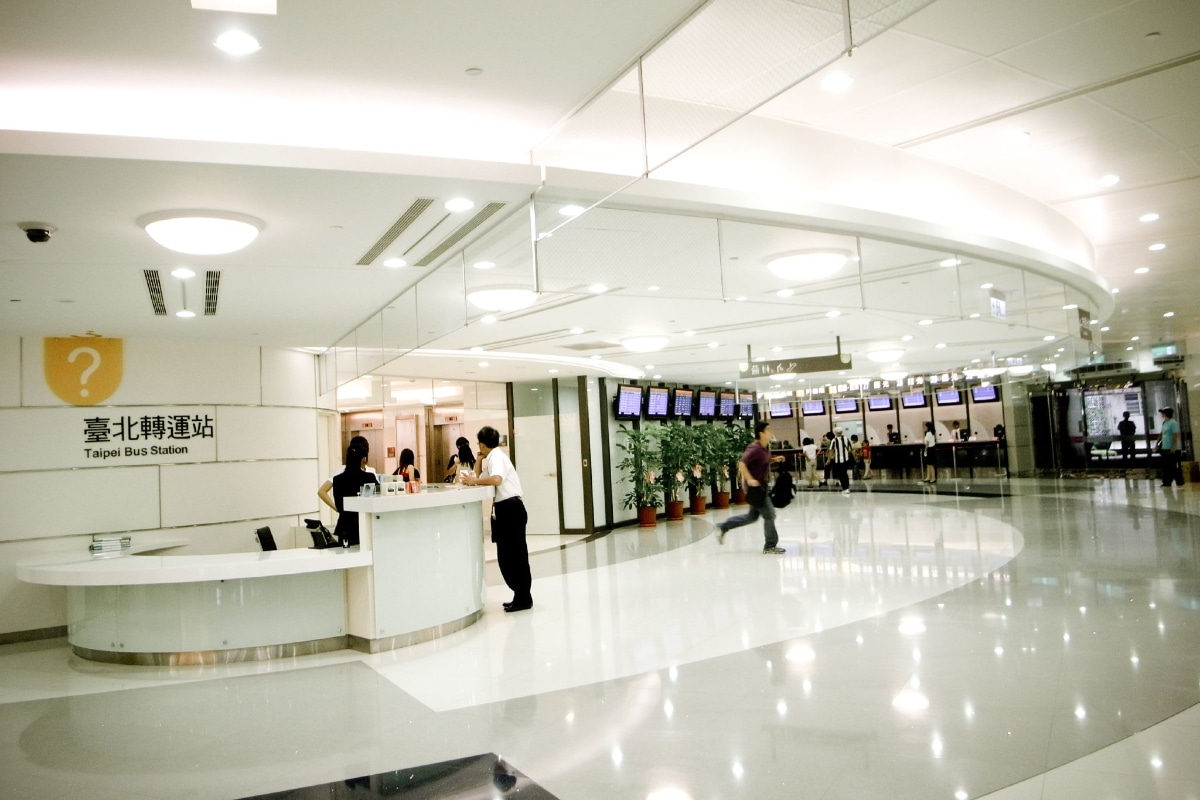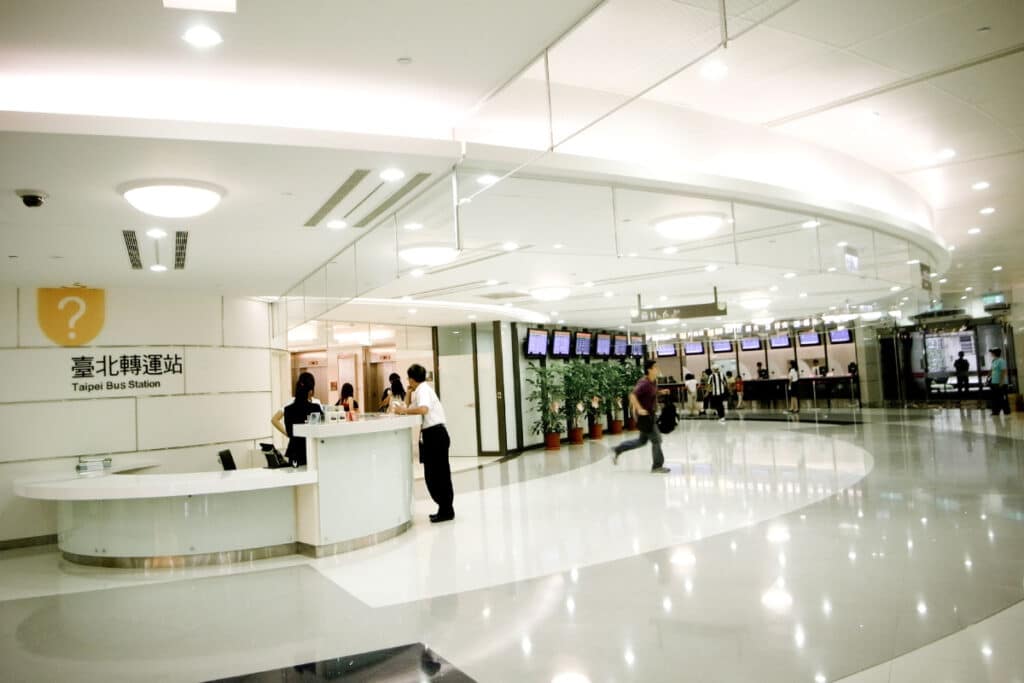 Taipei Main Station is where the headquarters of the Taiwan Railways Administration is located. It also connects the Tamsui-Xinyi Line (Red Line), the Bannan Line (Blue Line), and the Songshan-Xindian Line (Green Line) through Beimen, where you can visit the famous Beimen North Gate and the old walled city.
From Taipei Main Station, you can go to Taipei 101 by just taking the Red Line MRT to Xiangshan Station and you will get there in 15 minutes. Taipei Main Station is among the largest transfer stations in Taiwan, along with Nangang and Banqiao Stations, so anyone who comes to Taipei from other cities or needs to go to the Taoyuan Airport by MRT will have to at least go through it.
Taipei Main Station Shopping and Dining
Taipei Main Station is not only known for being one of the largest train stations in Taiwan. It is also known for being a meeting point, a shopping and dining area.
Taipei Main Station underground Mall: Taipei City Mall
Also called Taipei City Mall, Taipei Main Station is home to the famous underground market of Taipei. This mall includes:
Zhongshan Metro Mall (R-Mall).
Taipei New World Mall (K-Mall) also called Eslite Mall, is where you can find bookstores
Station Front Metro Mall (Z-Mall) if you want to buy food, clothes and daily necessities.
Taipei Metro Mall (Y-Mall) where you can find crystals and electronic products, especially video games.
The shops are usually open between 9 AM and 10 AM. They close between 9:30 PM and 10 PM. You can basically find anything there, starting from daily necessities to even live performances and Taiwanese delicacies. If you are bored at home and you want to play some games, Taipei Main Station is definitely your go-to. They have arcade games for only NT$10 ($0.30 USD), which includes arcade basketball, fighting games, and even dancing games. For ice cream lovers, you will find a variety of shops such as Frozen Yogurt, Duroyal Ice Cream, and Meiji Ice Cream.
Among the shopping facilities located in and around Taipei Main Station, you can find:
The Eslite Spectrum – Taipei Main Station
Q-Square
Shin Kong Mitsukoshi Taipei Station which was the tallest building in Taiwan before Taipei 101 was built.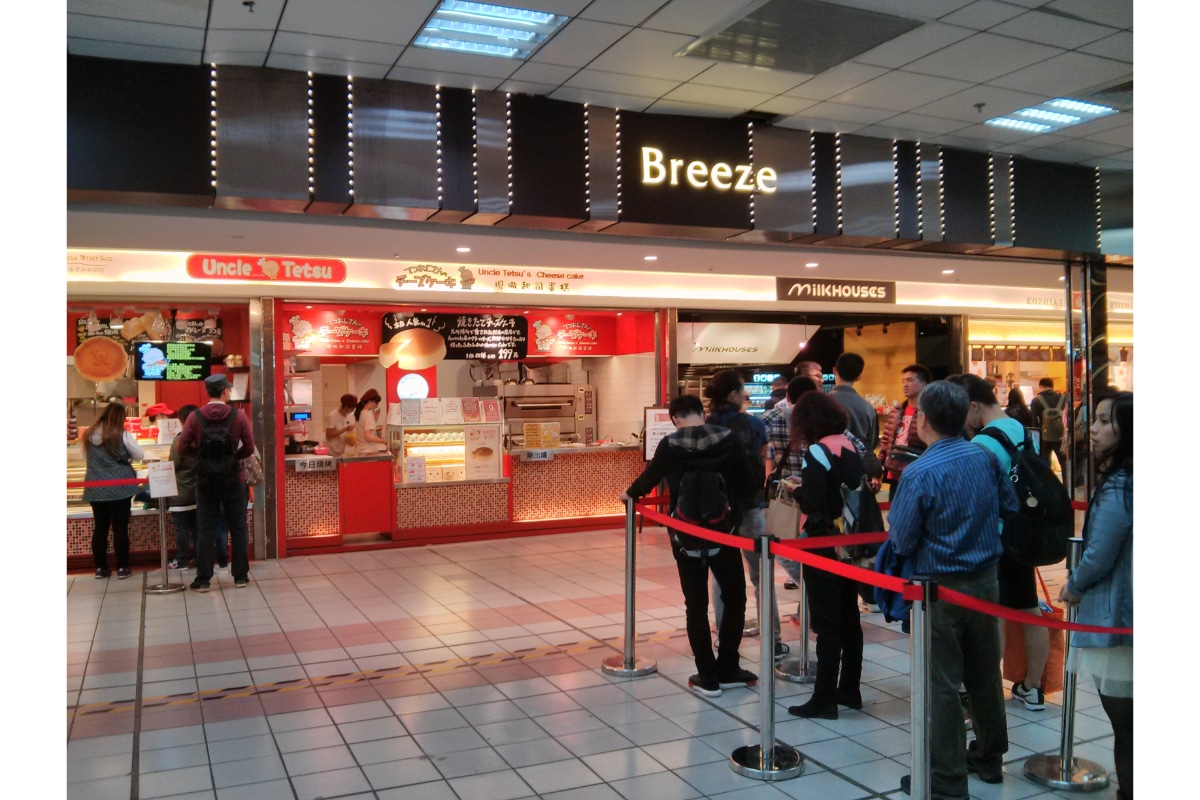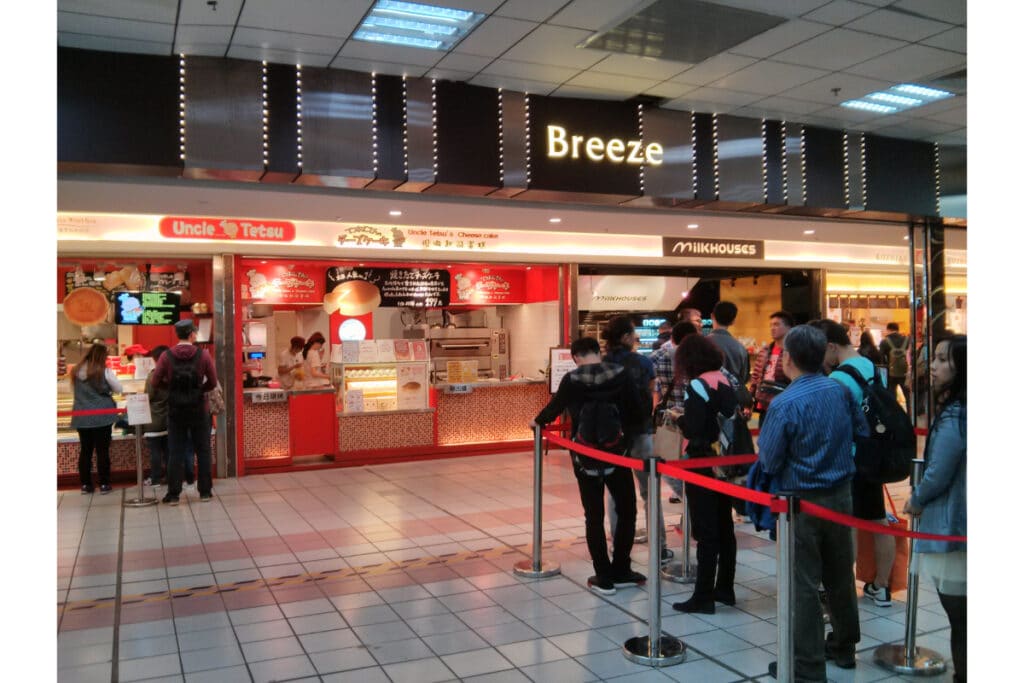 Taipei Main Station Dining Area
The food court in Taipei Main Station is located on the second floor. They mainly serve Asian food, including Taiwanese, Vietnamese, Japanese, Korean, and Malaysian. You can also find some Italian food. Dishes usually cost between NT$120 and NT$200. Most will come with side dishes like soup and vegetables. Although Taipei Main Station might not be your first choice for dining, it might be your first stop in Taipei. After a long flight or long hours of bus driving, once you arrive at Taipei Main Station, you can head to the food court. If you also want to try some MRT-accessible restaurants, you can refer to the Taipei MRT food map! Top 10 restaurants, street food you must try when you travel to Taiwan
Here are two recommended dining places you definitely should try in Taipei Main Station:
Breeze:
Located on the first and second floors, Breeze has multiple restaurants (more than 30). You have everything there, from coffee/tea shops and drink shops to fast food and traditional cuisine restaurants. They are open from 10 AM to 10 PM.
HOYII:
This dining area includes several Japanese restaurants. Prices aren't as cheap as a night market, but they are reasonable. Most restaurants are open from 11 AM to 10 PM.
Living around Taipei Main Station
Living around Taipei Main Station is not too expensive compared to the rest of Taipei in terms of daily necessities, although we must agree that rent is expensive in any area of Taipei. If you come to Taiwan for the first time and have not rented a house yet, it is often recommended to book an extended stay hotel or serviced apartment.
These are two recommended extended stay hotels and serviced apartments near Taipei Main Station you might consider:
CK Serviced Residence which is located in the city center. The area's natural beauty can be seen at Daan Forest Park and Elephant Mountain.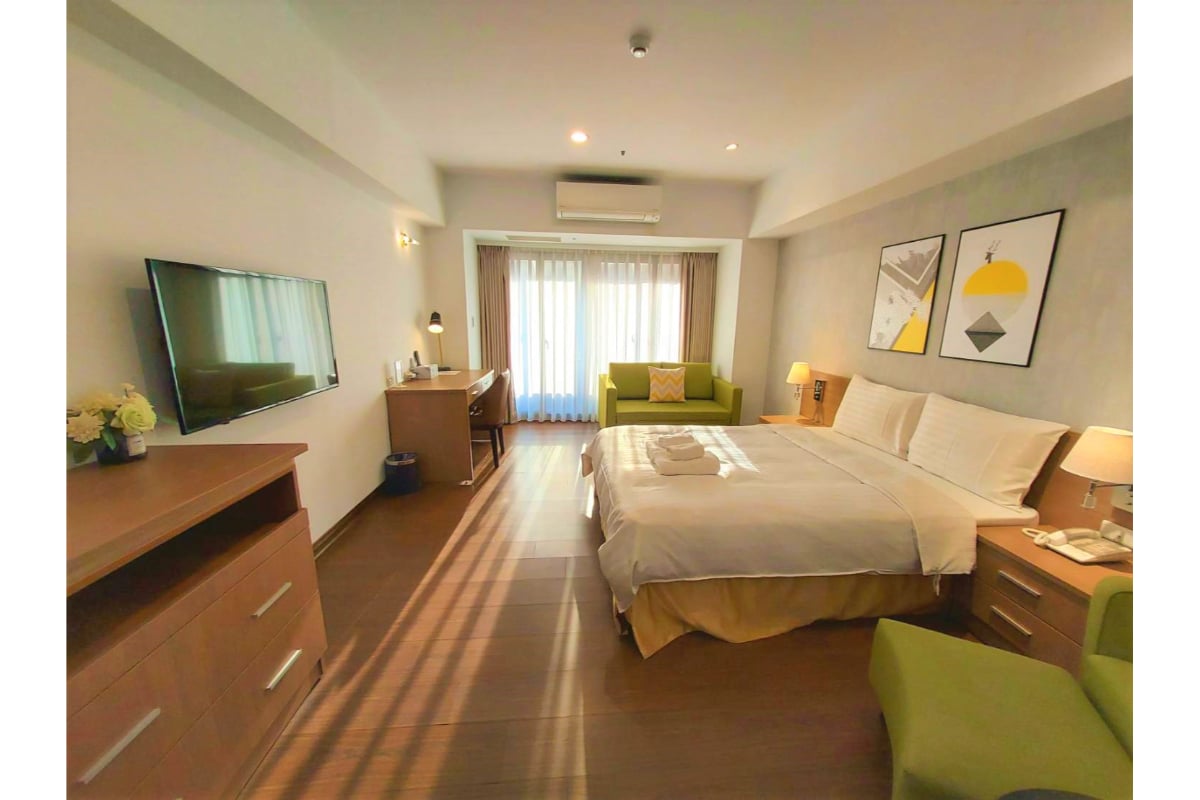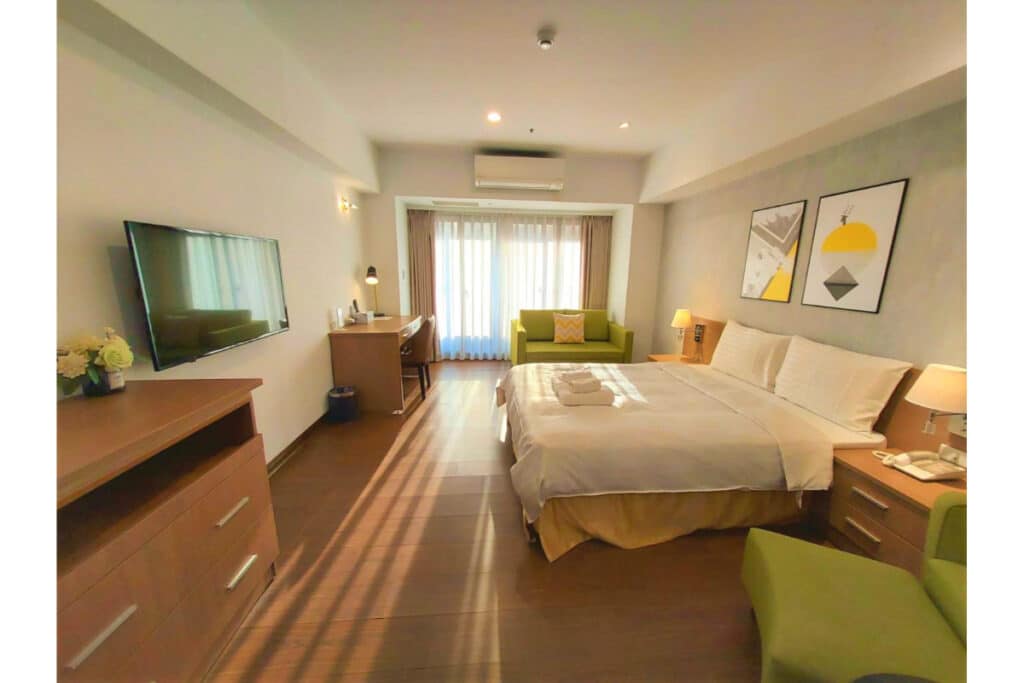 Sky19 Hotel is located 400 m from Taipei Bus Station and a 9-minute walk from the Presidential Office Building. At this extended-stay hotel, you will have a 24-hour front desk, organize tours for guests, and other features. Some units even have terraces that you can enjoy.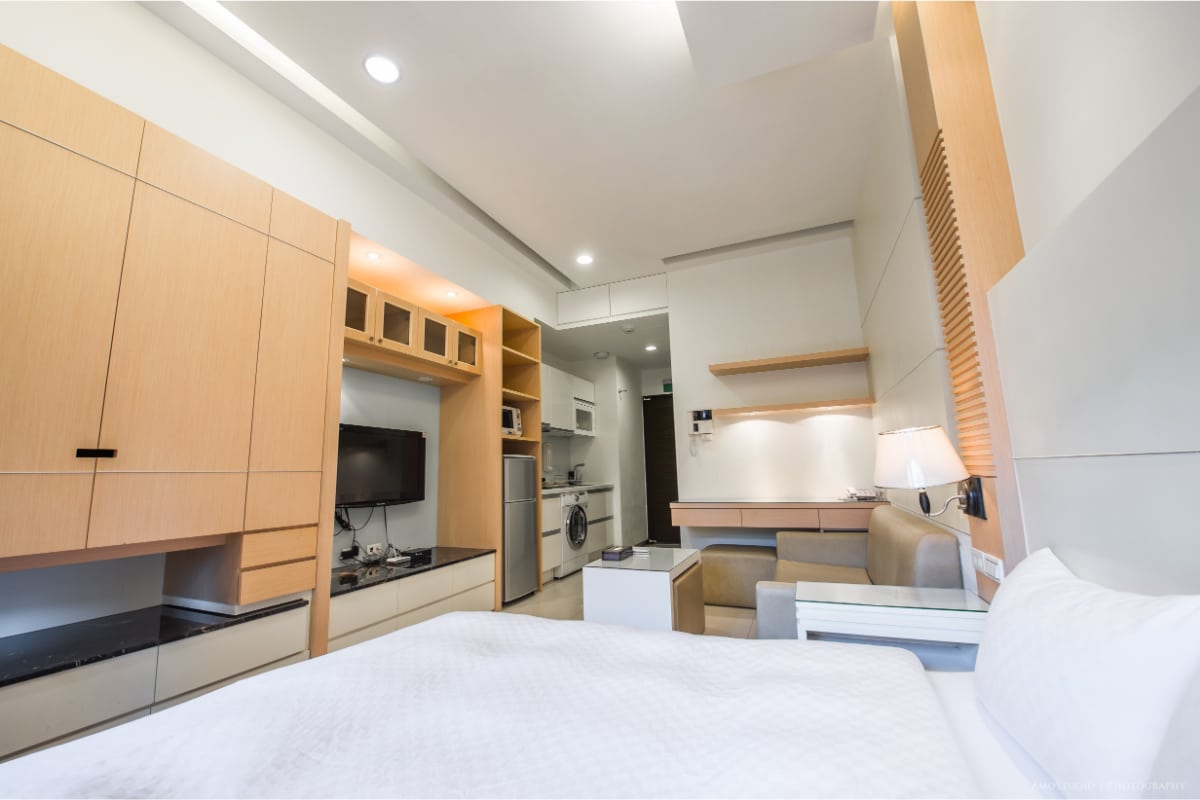 The Taipei Main Station area is pretty convenient as it is the center of Taipei City. From there, everything looks close to you. When you are coming to Taipei for the first time, before heading to your hotel, you can always spend some time walking around. As you probably realize after reading this article, Taipei Main Station is not just some random train station. Some people even call it an underground city where Taiwanese and foreigners can meet each other, eat, and have a good time together. This place is not affected by the weather. It is a great place to go on a rainy day, or if you feel like exercising, you can walk through the underground malls starting from Beimen to Shuanglian Station.
Have you visited Taipei Main Station's malls yet? When do you plan to do that?