Last Updated on 10-11-2023
Whether for business or travel, have you ever encountered problems and troubles due to short-term living arrangements? Traditional monthly rentals may have contract issues, as well as considerations for living functions, convenient transportation, and internal facilities, making it difficult to choose the right suite. The types of short-term rentals in Taipei are becoming more diverse, such as serviced apartments and monthly hotels. At this time, you will have more references to choose from. If you have short-term rental needs (5 nights or more), this article summarizes the serviced apartment and monthly hotels in Taipei, allowing you to quickly find the ideal accommodation for yourself.
Also, you can refer to the「Taiwan Monthly Hotel Selection」. The list includes 46 budget-friendly monthly hotels in Taiwan with Long Stay Deals.
What is a Serviced Apartment?
Serviced apartment originated in Europe and means "hotel-style service, apartment-style management." They usually have bedroom, bathroom, living room, and kitchen facilities. This type of apartment is like living in your own home while enjoying the high-quality services of a hotel. In order to meet the needs of short-term tenants as much as possible, it has developed flexible leasing periods, hotel-style service nature, and complete facilities for a comfortable living environment.
Differences between serviced apartment and Regular Hotels
1、Business executives
2、Families

1、Short-term travel
2、General consumers

Relatively expensive.

This type of apartment is usually located in high-end communities, offering hotel-style services and community facilities. Because of its home-like layout, the rent is higher compared to regular hotels or monthly rental suites.

Relatively cheaper.

Regular hotels usually have a one-room, one-bathroom layout, smaller living space, and less complete facilities. The main customer group is general consumers, so the rent is relatively cheaper.

Washer in the room or laundry delivery service

Public laundry or laundry delivery service

Gym, swimming pool, business center,…etc.

Gym, swimming pool, restaurant, meeting room, business center, …etc.

Some hotels have 24-hour front desk service

To have a home-like feeling while enjoying various high-quality hotel services.

To seek convenient living and transportation nearby at a discounted price.
7 reasons why you should choose a serviced apartment
Provides you with the comfort of home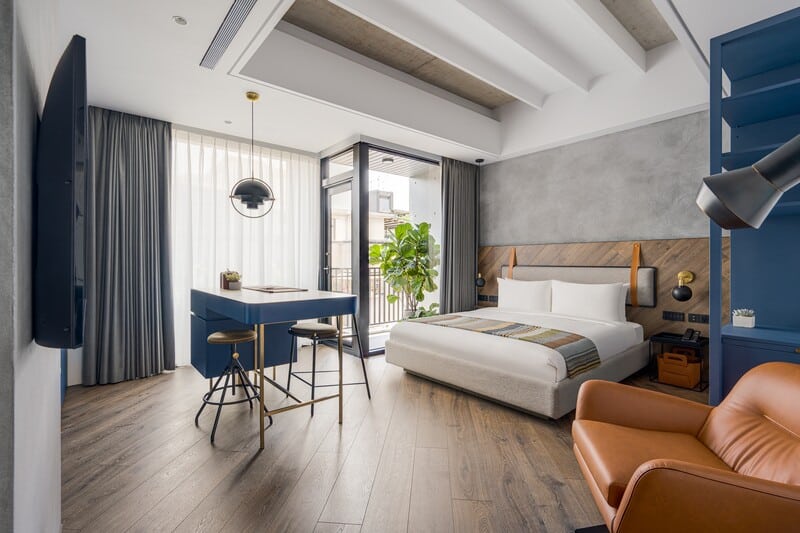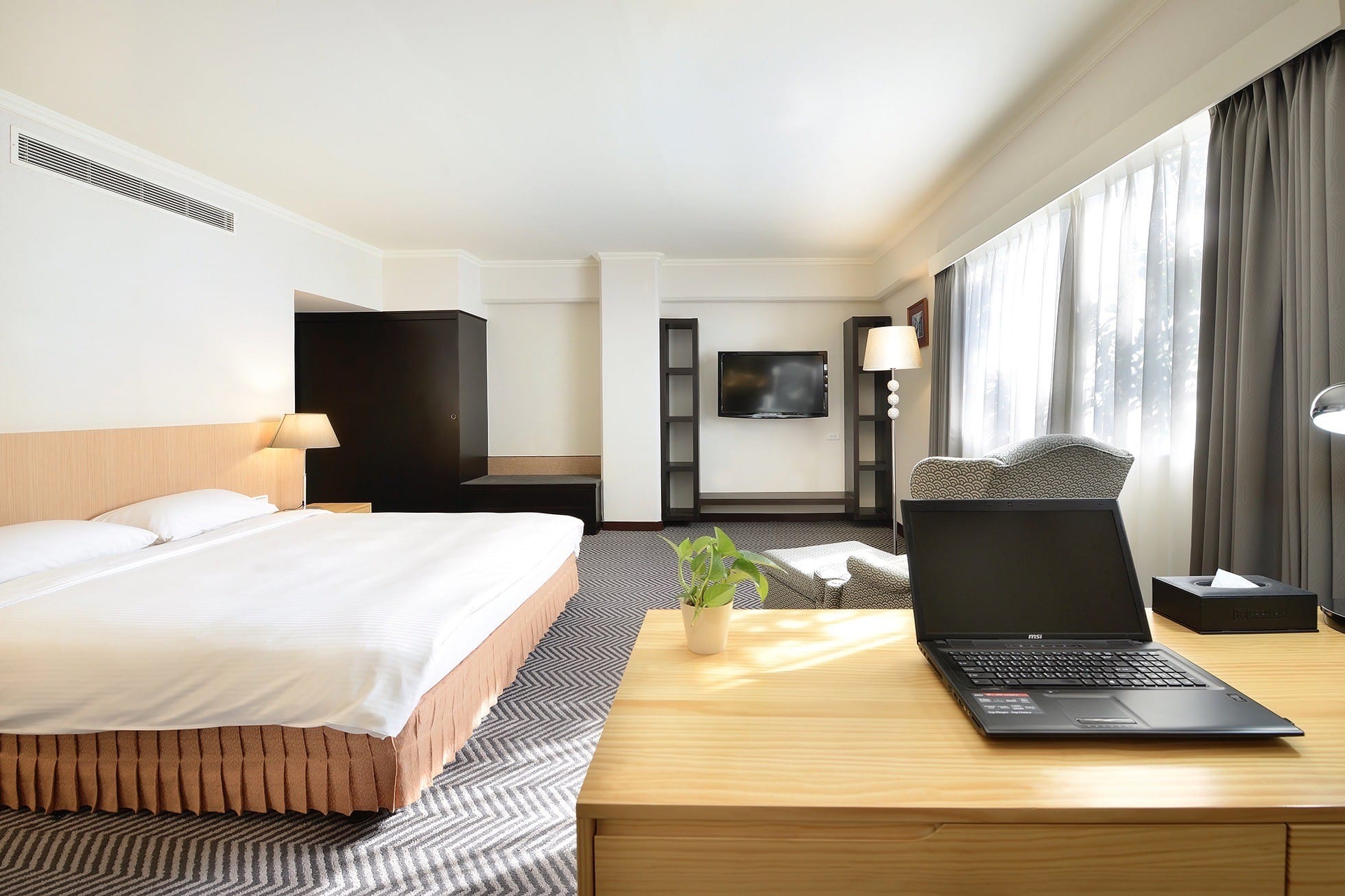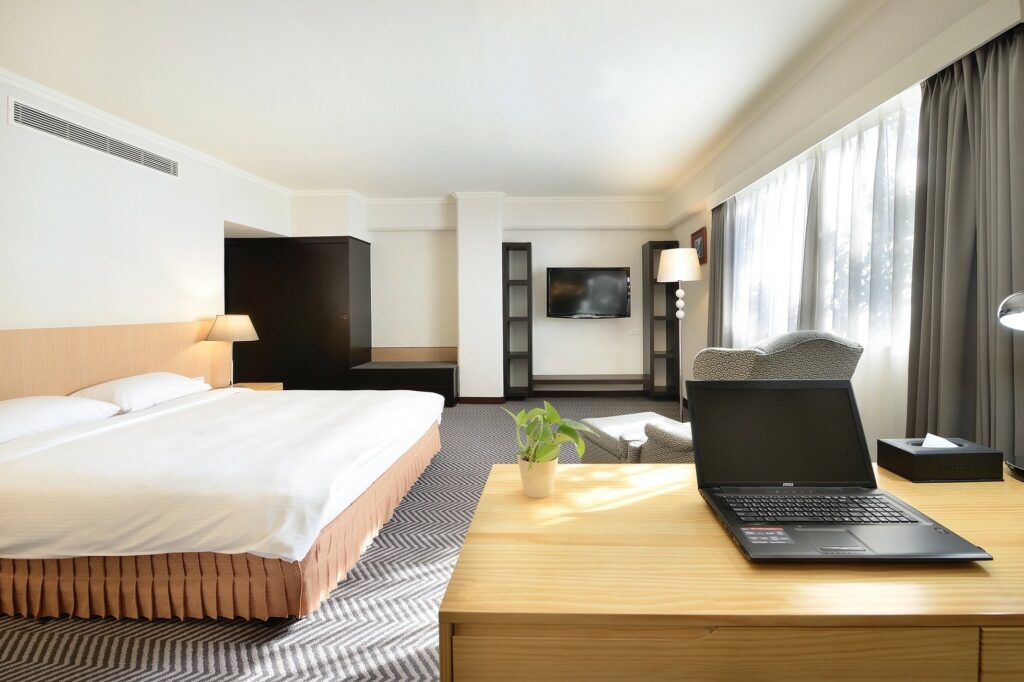 Spacious rooms
The rooms in serviced apartments are larger than those in regular hotels, typically consisting of one bedroom, one living room, and one bathroom. The indoor activity space is spacious, and the overall space does not feel crowded, although it still depends on the difference in room types. If you enjoy a spacious living environment, we highly recommend staying in a serviced apartment.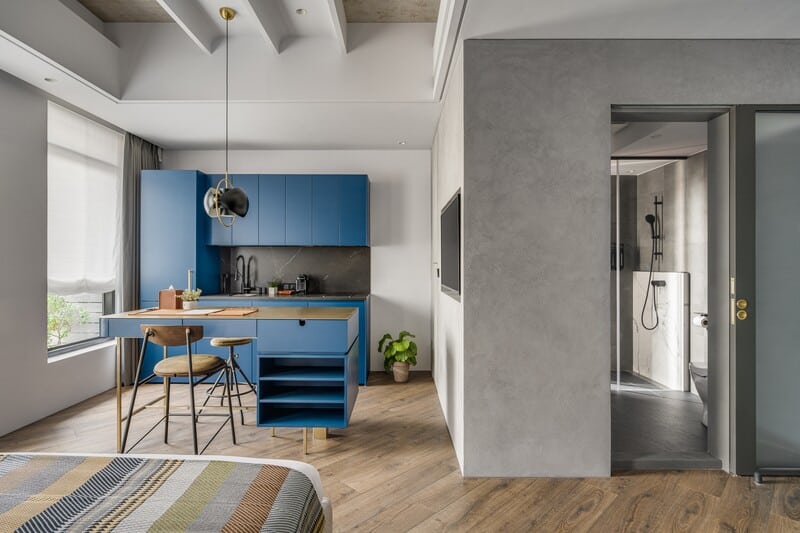 Serviced apartment service
Although serviced apartments differ from regular hotels, they still provide hotel-style services, including assistance with package collection, food delivery, taxi booking, etc., and most of them are available 24/7, providing immediate consultation. If you encounter any problems in the middle of the night, don't worry about not being able to find someone to help.
Convenient transportation
Serviced apartments mainly serve business people and are usually located in crowded or convenient locations. When you need to socialize or discuss business, you can save time searching for restaurants and arrive at your destination faster.
Good sound insulation
Serviced apartments are usually located in high-end communities to provide tenants with a perfect living environment. Therefore, they mostly do not have separate compartments, and all the walls are made of cement compartments, making the sound insulation effect excellent. You can easily enjoy your life!
Utilities included
Serviced apartment does not require any additional costs, as their rental prices already include all expenses, except for the use of special facilities. However, the rules set by each landlord for general rental housing vary, and communication between both parties often results in discrepancies, leading to subsequent disputes. Choosing a serviced apartment can free you from such problems!
Cleaning service
Serviced apartment provides professional cleaning services, such as changing bed sheets, cleaning bathrooms, and room tidying, as well as regular disinfection of public areas, allowing you to have a clean and comfortable living environment.
In these situations, staying in a serviced apartment is more suitable for you
Temporary Return to Taiwan
If you've just returned from abroad and need to find accommodation but friends and family cannot provide a place to stay, a serviced apartment is a good choice. You can quickly move into a fully equipped space with just a suitcase, saving you time.
During the house hunting period
If your original lease has expired and you are still searching for the ideal home, how can you get by during this house hunting period? You can choose a serviced apartment because the room layout usually includes a kitchen, bathroom, and provides amenities such as a washing machine, kitchenware, and a water dispenser. The overall environment is like living at home, allowing you to maintain a high standard of living while searching for a new place to live.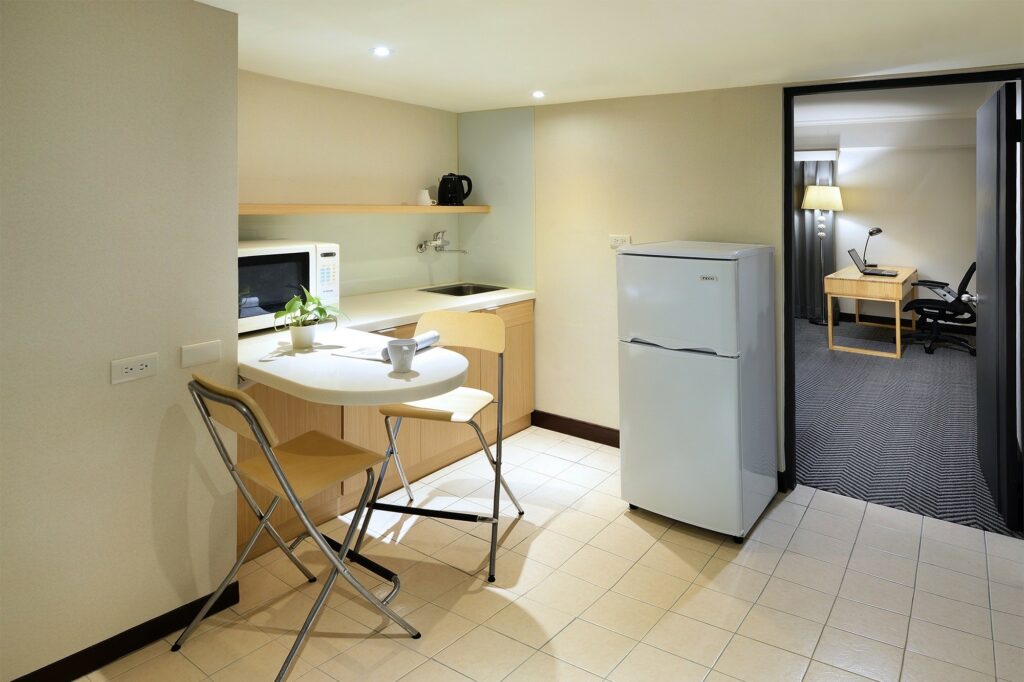 House Renovating
Worried about not having a place to stay during house renovation? You don't have to spend extra time looking for a place to live. A serviced apartment is your best choice. Serviced apartments come with basic equipment, so you don't have to worry about bringing a lot of household items or going through the hassle of moving. Both individuals and families can comfortably stay and enjoy a high-quality life.
Recommended Taipei Serviced Apartments
| | | | |
| --- | --- | --- | --- |
| Name | Price | Monthly Price | Address |
| Jasper Villa Banqiao | From TWD 2,667 | From TWD 88,000 | No. 59-79, Ln. 188, Sec. 1, Wenhua Rd., Banqiao Dist., New Taipei City |
| Forte Green garden apartment | From TWD 1,100 | From TWD 33,000 | No.9 Ln. 199 . Dunhua N. Rd. Songshan Dist. Taipei City |
| The Denizen | From TWD 4,200 | From TWD 126,000 | No. 18, Lane 11, Leli Road, Daan District Taipei City, Taiwan |
| Leofoo Residences | From TWD 4,335 | From TWD 130,050 | No. 38 Nanjing East Road, Sec. 1, Zhongshan District, Taipei City, Taiwan |
| Gloria Residence | From TWD 4,194 | From TWD 125,820 | No.359, Linsen N. Road, Zhongshan Dist. Taipei City, Taiwan |
| Jolley Hotel | From TWD 3,099 | From TWD 92,970 | No. 568, Linsen N. Rd., Zhongshan Dist. Taipei City, Taiwan |
| Jean Residence Park259 | From TWD 2,733 | From TWD 81,990 | No. 259, Sec. 2, Xinyi Rd., Zhongzheng Dist. Taipei City, Taiwan |
| GLORIA RESIDENCE | From TWD 4,603 | From TWD 141,090 | No.359, Linsen N. Road, Zhongshan Dist. Taipei City, Taiwan |
Full List of Taiwan Monthly Hotel for 2023