Last Updated on 04-05-2023
These may be difficulties that you face: "Do I have options that are suitable for me if I'm temporarily out of the city?" or "Where should I stay during quarantine?" Although there is an abundance of housing options in Taiwan, lack of time may prevent people from choosing the most suitable housing. Meanwhile, you still have options such as extended stay hotels and aparthotels! Do you know the differences between them? This article compares the three types of housings so you won't make the wrong decision!
What are Extended Stay Hotels?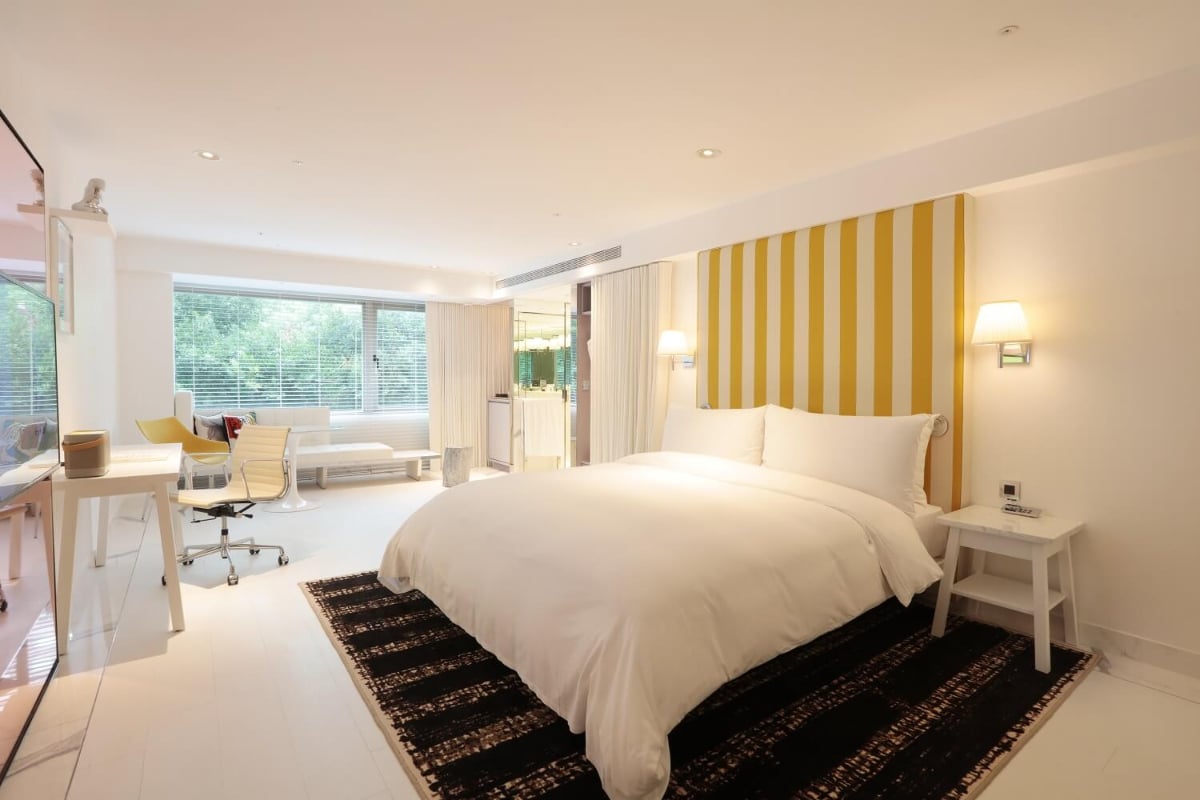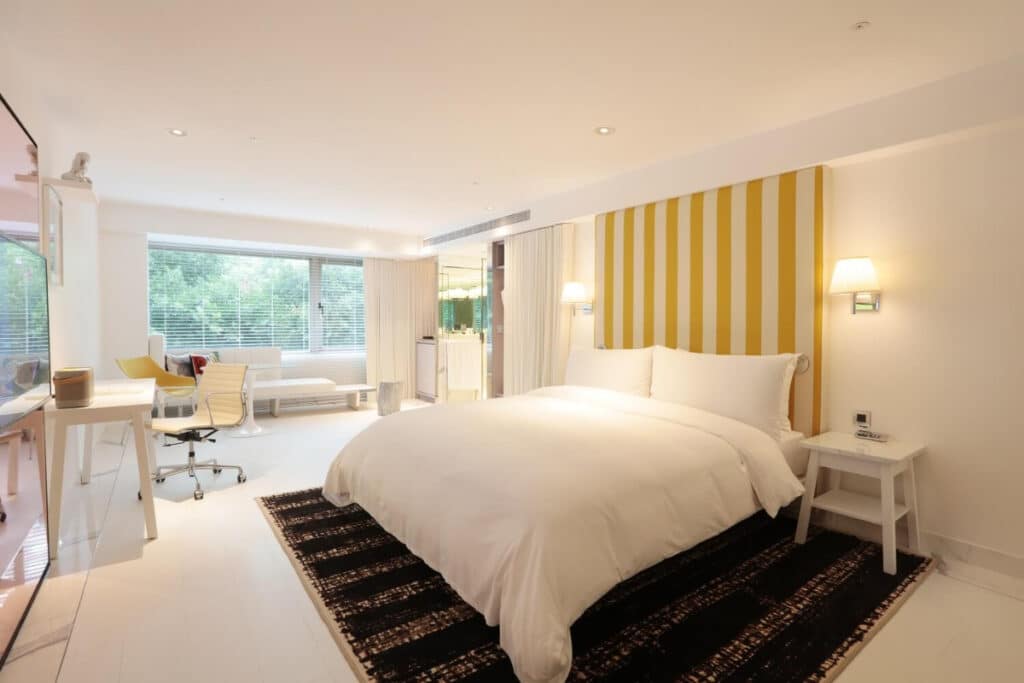 Extended stay hotels are hotels that allow short-term or long-term stays, most of them are monthly rentals. Due to the rise of the pandemic, lots of hotels located in the downtown started to provide short term discounts, such as allowing rentals for those simply staying more than 5 days. There is a list of some hotels below for your reference. Besides the basic equipment in the room, extended stay hotels provide hotel services such as cleaning, faxing/printing, foreign currency exchanging, packages collecting, and even a 24 hours operating front desk to ensure guests' safety. Moreover, guests are also welcome to enjoy hotel amenities like gyms, washing/drying machines, swimming pools, restaurants, and kitchen, etc.
What are Aparthotels?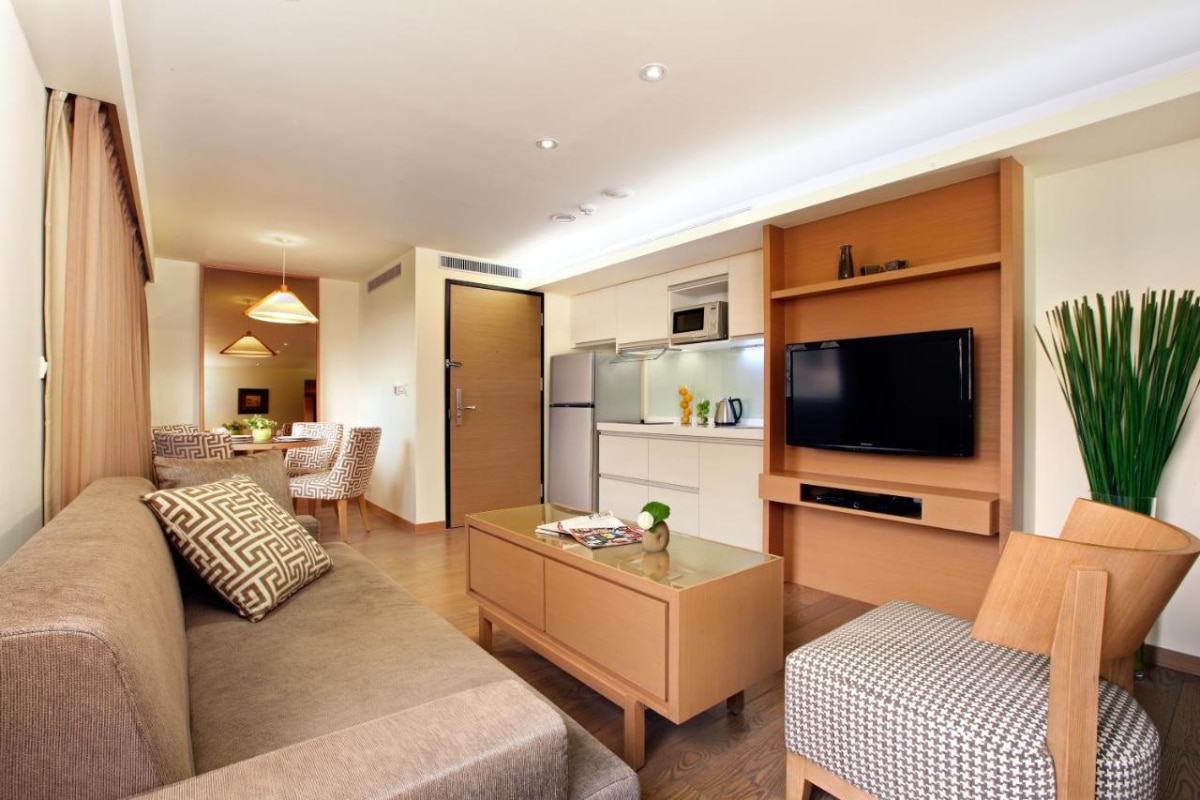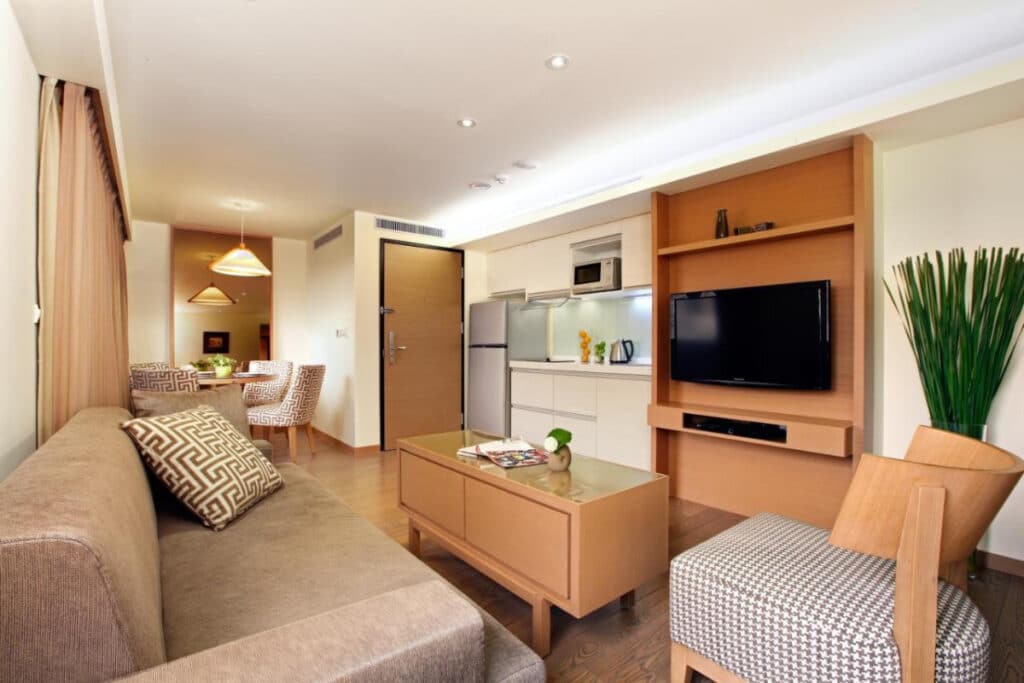 Aparthotels originated in Europe, where they provide "hotel services with apartment style management." At first, it was designed for tourists who needed temporary accommodations, but now it has been expanded for people who need long-term rentals. This type of apartments not only provide home-like setup, hotel services, suites with bedrooms, bathrooms, and kitchens, business and cleaning services, lease managements, and also a plenty of amenities. Although most lease terms are calculated in months, aparthotels serve as guests' "temporary home".
How to Look for General Housing Rentals?
Even though general housing rentals have lots of choices, most lease terms are calculated in years and the housings' qualities also vary. People have to consider the prices, transportation convenience, location, safety, managements, equipment, and contract terms. Below is a list of room types and websites for your reference.
Room types
General rentals ​​​​are divided into traditional rooms, studios, suites, and villas.
Traditional rooms: Most of them are smaller than 178 square feet while deluxe rooms are 214 to 285 square feet. The prices are relatively lower so it is suitable for college students or those with lower budgets. The rooms provide independent private spaces but require guests to use the common bathrooms outside of the room with other guests.
Studios: Studios are often 142 to 285 square feet. Since there are independent bathrooms within each studio, the prices are relatively higher than traditional rooms. Therefore, studios are more suitable for college students with higher budgets or job beginners.
Suites:Suites have independent doorplates like general rental apartments. The sizes are normally between 249 to 712 square feet and are suitable for couples or partners with double income and no kids.
Villas:Villas also have independent doorplates and are usually larger than 712 square feet. The setups are more designed in family style with bigger spaces and more rooms. These are more suitable for small families or a small group of friends to share the rent.
Where to Find?
By yourself:591、樂租網、好房網、Facebook groups…etc
With real estate agents:Sinyi Realty、Yung Ching Realty…etc
What Differences Between Extended Stay Hotels, Aparthotels, and General Housing Rentals?
Include 5 days or more/30 days or more



Discounts: guests who are staying for more than 5 days are able to select flexible time period


More than 6 months/1 year

About NT$15,000-NT$80,000/month

About NT$13,000-NT$150,000/month

About NT$8,000-NT$20,000/month

Gym, swimming pool, restaurants, business lounge…etc

Gym, swimming pool, business lounge…etc

The buildings' amenities may vary

Mostly consist of a masters' room, and some with another bedroom and living room

Mostly include a bedroom, living room, and a bathroom

Suites, studios, traditional rooms, and villas

TV, desks, kettles, refrigerator, bathtub, deluxe beddings, safe…etc.

TV, desks, small kitchens, refrigerator, bathtub, washing machine, safe…etc

Determined by different rooms, most furnitures are not provided

24 hours operating hotel front desk management

Depends on the management company

Cleaning, packages collecting, clothes washing/drying, faxing/printing, fixing, and other types of hotel services

Packages collecting, room cleaning, business lounge services…etc

Sign contracts, pay utility bills

Additional bills needed, amount depends

Credit cards or money transfer

Provide receipts, can be used for tax return

Provide receipts, can be used for tax return
According to the table, extended stay hotels and aparthotels are very similar. However, extended stay hotels have more flexible lease terms that allow short stays for simply 5 days. Aparthotels hotels have fewer options but mostly include living rooms and kitchens. Lastly, general housing rentals provide multiple choices but have less services.
Advantages of Extended Stay Hotels
Provide comfort as if you're at home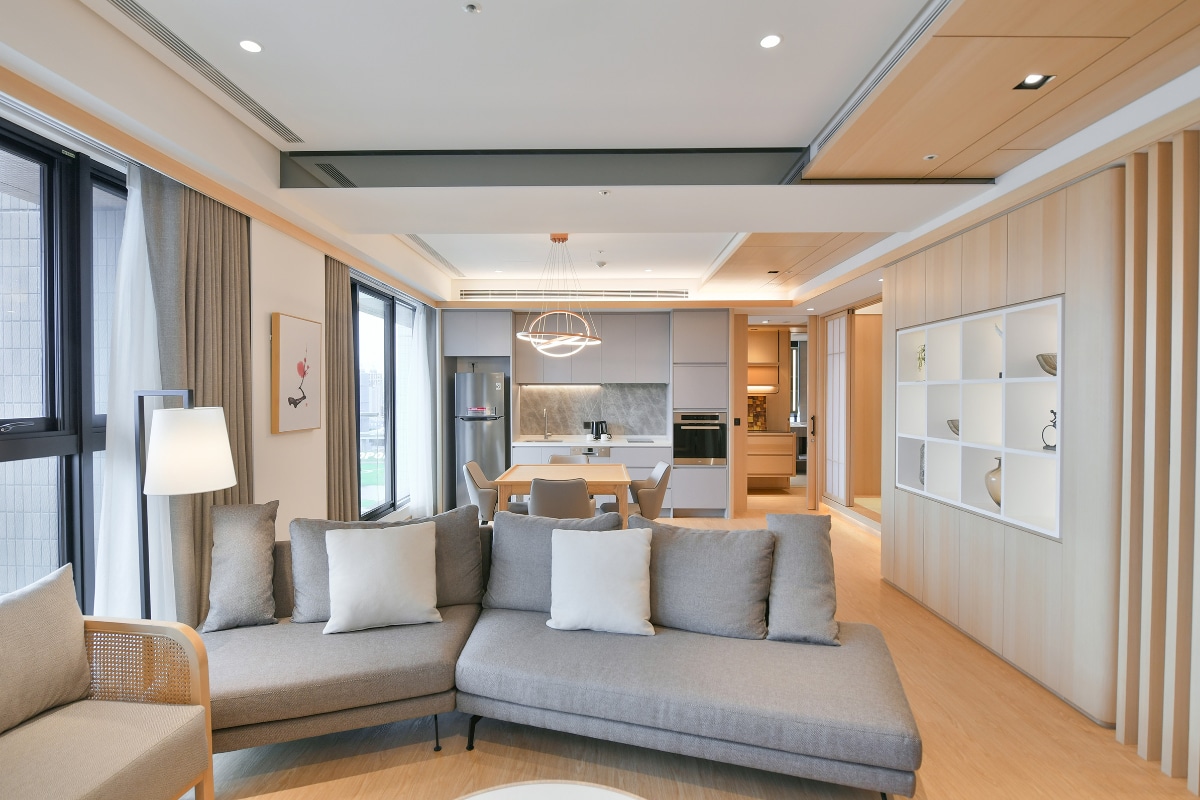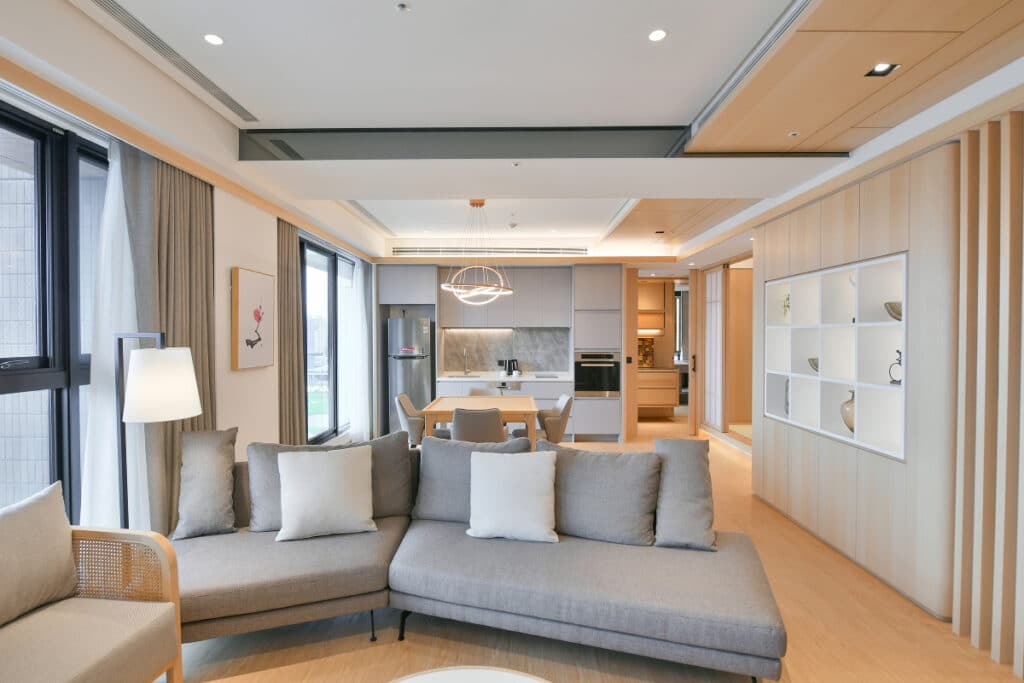 Source: CHECK inn Select New Taipei Sanchong Waterfront
Extended stay hotels include complete equipment such as deluxe comfortable beddings, stable Wifi, kettles, and refrigerators. The variety of hotels are also designed for guests to feel like home.
Enjoy flexible bookings
Allow flexible bookings for stays that are more than 5 days whenever during quarantine, temporary studying or working abroad, or house renovations. You are welcomed to choose your own check-in and check-out date.
Include a satisfying environment
There are an abundance of options according to your preferences no matter if you need a work desk, a balcony, a comfortable bed, or a relaxing bath.
Free cleaning services
Hotels offer professional room cleaning services, including bed sheet changing, bathroom and floor cleaning, and common area sanitizing to ensure a perfect experience for guests.
Legal hotel license
You no longer have to worry about having mean landlords. All hotels are legal and provide receipts so guests are also able to file tax returns. Booking hotels are now so easy that guests can simply browse hotels from websites and pay with credit cards.
24 hours operating front desk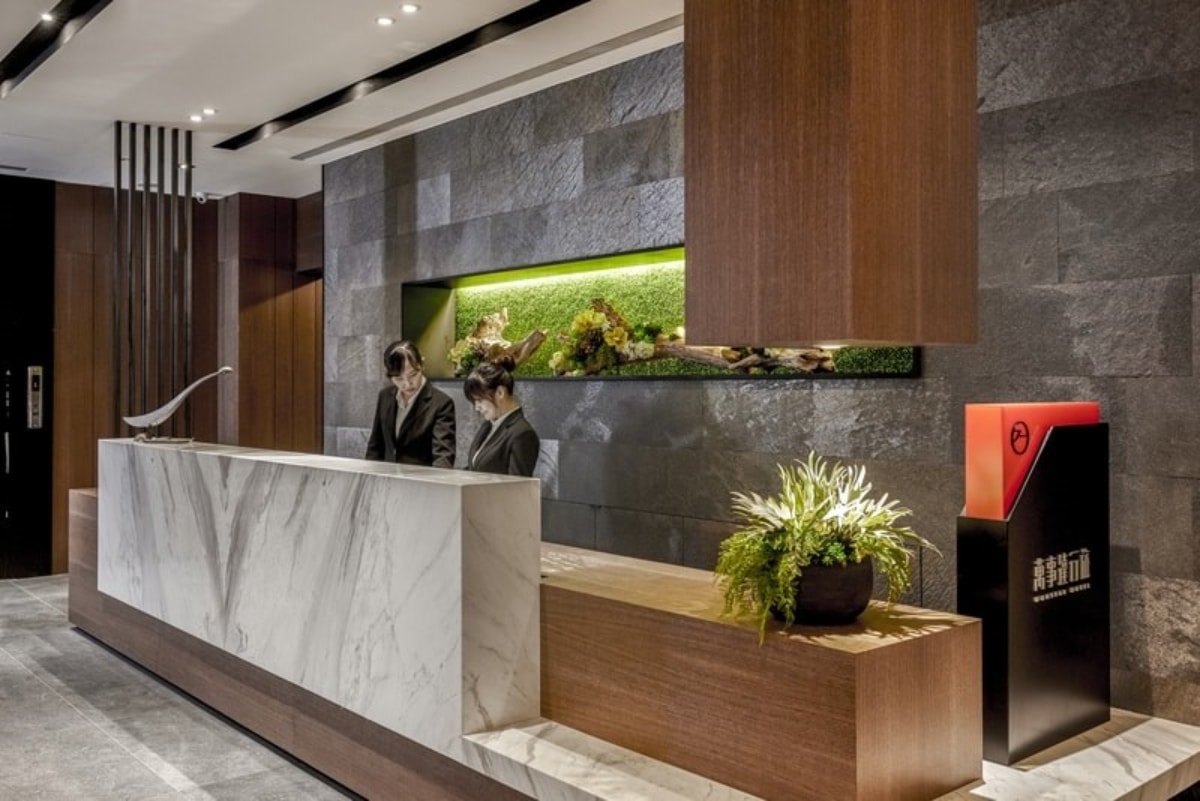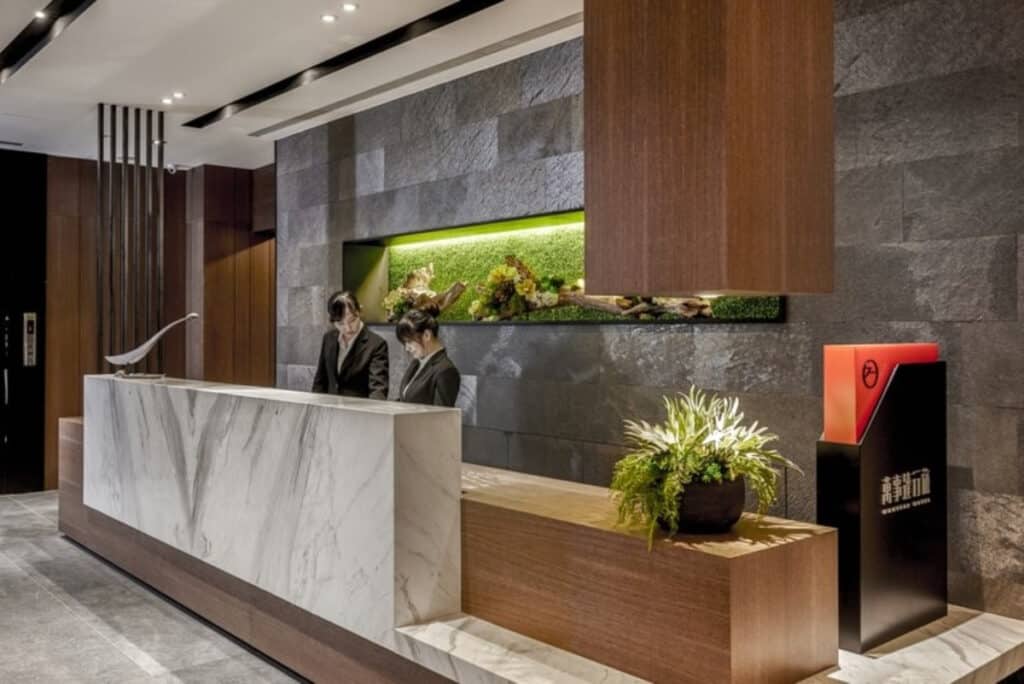 Hotels include 24 hours operating front desks to provide immediate consultations. They are also available to collect packages and food deliveries for guests. Even if you encounter urgent issues like having broken room equipment, the front desks are also able to fix them immediately.
Who is Suitable for Extended Stay Hotels?
Quarantine
During the pandemic, who is required to quarantine? Those who:
PCR results are negative
Required to home quarantine
Required to isolate
Had Lengthened home quarantine
Have mild symptoms/no symptoms
People who satisfy the list above require 1-2 weeks of quarantine. If you are worried about infecting elders or children in your household, you can choose extended stay hotels that include quarantine programs. These hotels ensure you with a well-rounded quarantine environment, convenient transportations, and proximity to your house. A lot of hotels nowadays provide quarantine programs, and some even arrange discounts for stays longer than 14 days. Therefore, you are able to find the most suitable housing for your quarantine among a variety of choices.
Business Trips
When you are on business trips to other cities and desire a temporary housing, extended stay hotels provide these services to ensure a more convenient trip for guests:
Good wireless & wired WIFI
Convenient location for public transportation
Business equipment rentals
Business desks within rooms
Included furnitures
Multiple choices
Packages collecting service
Guests are able to enjoy these services and equipment by staying more than 5 days. The hotel ensures you feel comfortable like home and provides a good working environment even when you're on business trips.
Family Trips For Longer Periods of Time
During summer or winter breaks, parents and children may have a few weeks or months of vacation. After an exhausting 6 months, a family trip to other countries or cities is a common family activity during the breaks. In this case, staying at extended stay hotels may be the perfect option for long trips. Extended stay hotels provide high quality services so parents may relax after a long drive while children may enjoy the hotel amenities such as swimming pools or gaming rooms. The hotels also offer a variety of different room types, so families of any size are able to reserve any room type they prefer.
Preparing for Exams
Extended stay hotels may be a great option if you have to take exams in other cities or if you want to study in a quiet space. Even if you desire a temporary or long-term study space, any stays for more than 5 days may be reserved and satisfy your needs. The hotels include these equipments to provide a better learning environment: ​​​​​​​​​
Good wireless/wired WIFI
Desks
Soundproof rooms
Fax/Printer
Kettle
Deliveries collecting service
Temporary Return to Taiwan
When you need a place to stay for a week or a few months after temporarily returning to Taiwan and your families couldn't provide room for you, staying at extended stay hotels is a perfect option. Extended stay hotels avoid wasting your time to find sign rental contracts and provide flexible reservation time periods. Moreover, a lot of Taipei's extended stay hotels are located near public transportation so guests are able to shorten commute times.
Still House Hunting
​​​​​​​​​​​When your lease expires soon and you haven't made up your mind on your next apartment, you may choose extended stay hotels as your temporary home. The hotels include all basic equipment such as refrigerators, desks, air conditioners, water fountains, hair dryers, televisions, etc. Even though you are still searching for your next apartment, extended stay hotels ensure you live in a home-like environment. Every hotel provides extended stay programs which provide guests with a variety of options.
House Renovating
When you are not able to stay at home due to house renovations, you can choose to stay at extended stay hotels near you. Extended stay hotels include all basic equipment, which prevents guests from having to carry a lot of daily necessities. It is suitable and satisfying for both families and individuals. Normally, the hotels include these setups:
Twin size bed suites
Double size bed suites
Triple/Quadruple suites
Suites with a living room
Balcony suites
6 Best Extended Stay Hotels in Taipei
| | | | | |
| --- | --- | --- | --- | --- |
| Name | Type | Facilities | Price | Address |
| GLORIA RESIDENCE | Aparthotels | Free WiFi, Air-Conditioning, TV, Coffee Maker, Business Center…etc | From $3,984 | No.359, Linsen N. Road, Zhongshan Dist. Taipei City, Taiwan |
| Finders Hotel | Extended Stay Hotels (Backpacker) | In House Movies, Children Play Area, Non-Smoking Rooms, Business Center…etc | From $1,600 | No.86, Sec. 1, Chongqing S. Rd., Zhongzheng Dist., Taipei City, Taiwan |
| K Hotel – Tapei 2 | Aparthotels | Business Center, Non-Smoking Rooms, Air-Conditioning, Foreign Exchange Services…etc | From $4,000 | No. 139, Section 2, Zhong Shan North Road, Zhongshan District., Taipei City, Taiwan |
| Dandy Hotel-Daan Park Branch | Extended Stay Hotels | Cable TV, Air-Conditioning, Non-Smoking Rooms, Business Center…etc | From $2,871 | No. 33, Section 3, Xinyi Road , Daan District Taipei City, Taiwan |
| Parkview Taipei | Extended Stay Hotels | Foreign Exchange Services, Gym, Free WiFi, Air-Conditioning…etc | From $3,861 | No.49, Jilin Rd., Zhongshan Dist., Taipei City, Taiwan |
| Art'otel Ximending Taipei | Extended Stay Hotels | Cable TV, Air-Conditioning, Fire Sprinkler System, Business Center…etc | From $1,729 | 4F. No. 124-2 WuChang Street Section 2, WanHua District Taipei City, Taiwan |
Conclusion
Overall, extended stay hotels and aparthotels are the best choices if you are looking for short-term housings. However, the two options still differ in some ways, so you should choose carefully according to your preferences. Short-term rentals with hotel services prevent you from wasting time on furniture shopping or dealing with bad landlords while providing excellent services. mrhost has prepared a list of extended stay hotels and suites so customers are able to select a legal and high quality short-term housing.
Full List of Taiwan Monthly Hotel for 2023