Last Updated on 07-04-2023
Xingtian Temple is a popular destination for many overseas visitors to Taipei who are fond of its aesthetic and the cultural practices of Taiwan's traditional folk religion.
The majority of Taiwan's folk faith is about 45% in a survey conducted by the Taiwanese government, with Buddhism (佛教) in second place at 21%, other religions at about 13%-16%, and Christianity (基督教) at about 6%. Polytheistic folk beliefs are the most dominant in Taiwan, which combine the ancient Chinese beliefs of Confucianism (儒家), Buddhism, and Taoism (道教). According to 2013 statistics from the Ministry of the Interior, more than 15,000 registered religious buildings in Taiwan. It shows that temples play an essential role in the religious culture of the Taiwanese community.
If you are interested in Taiwanese worship culture, you can start with a visit to Xingtian Temple.
Xingtian Temple: The Most Innovative Temple
In the Zhongshan District of Taipei, Xingtian Temple was established in 1968. Xingtian Temple is the most visited temple in Northern Taiwan. This famous temple is devoted to Guangong (關公), a gallant general during the Three Kingdoms (三國時期). As Guangong embodied the image of justice and bravery, He was worshiped as a God of War since the Wei and Jin Dynasties (魏晉時期). He was therefore revered by police officers, militarists, and other related professions. Legend has it that when He was a youth, Guangong was an expert in bookkeeping and accounting, making him a legendary symbol of wealth and prosperity for many merchants.
For Taiwanese people, religion is a part of their lives. It has become a common practice in Taiwan to go to temples to pray for blessings during significant festivals. Besides, the Taiwanese seem to use temple visits to pray everything is going well, be it love, marriage, children, work, health, etc.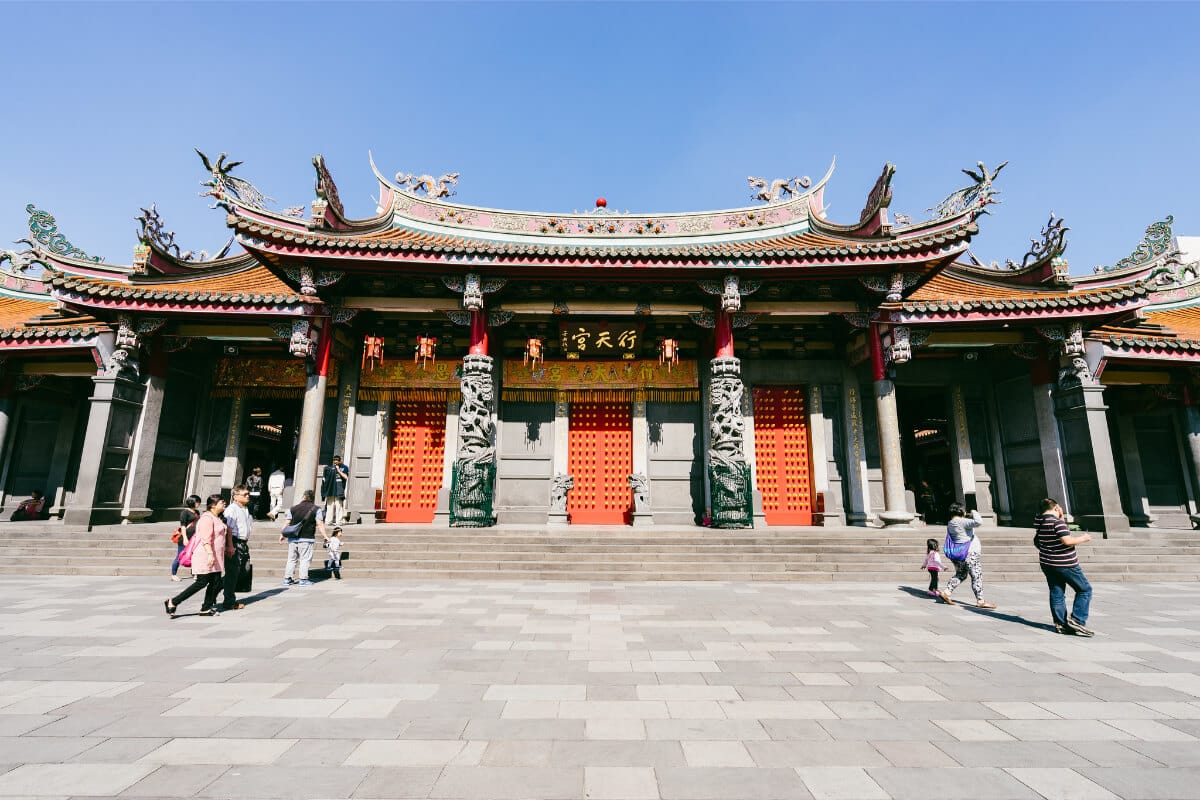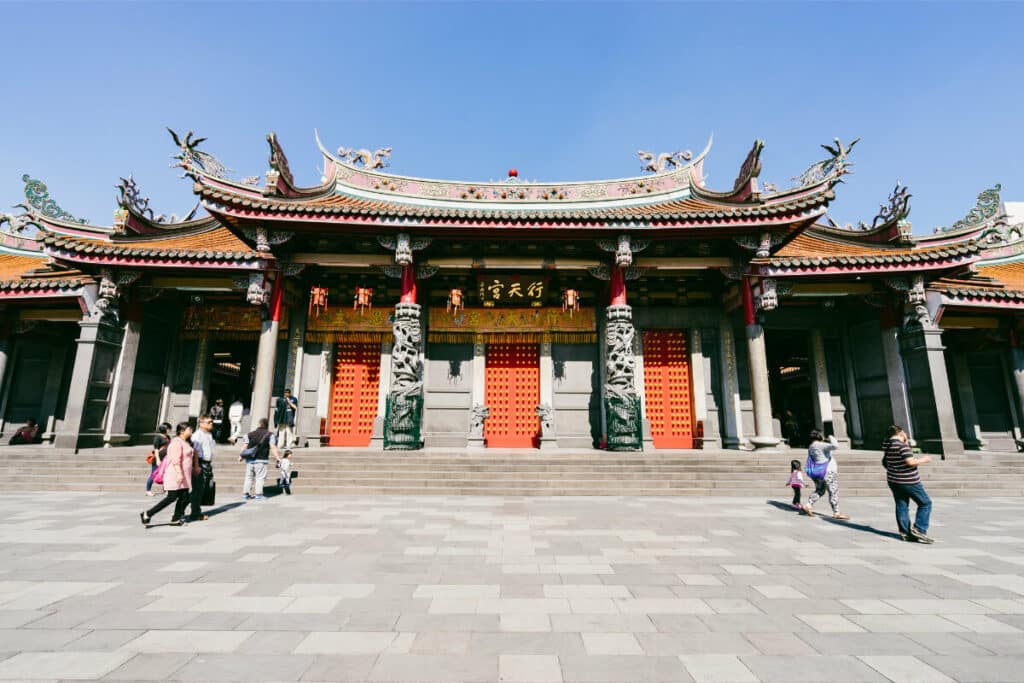 The religious affiliation of the Xingtian Temple is the unification of Confucianism, Buddhism, and Taoism, which emphasizes the concept of worshiping the Gods based on the spiritual heart. Since August 2014, Xingtian Temple has removed the large incense burners and altars while firmly implementing the moral beliefs: no mediumship, no burnings of spirit money, no performances to please the Gods, no gold medals of gratitude, no animal sacrifices, and no offertory boxes. It is very noteworthy in traditional religious circles that Xingtian Temple has broken the superstition to promote environmental protection and conservation.
Fortune Telling – Reading Your Fate
There will be moments of doubt and hesitation at all times in life. In the West, when people have such moments, they tend to consult a psychotherapist to resolve their inner confusion and anxiety. Instead, the Taiwanese prefer to look for a fortune teller to tell them what to do next if they meet crossroads.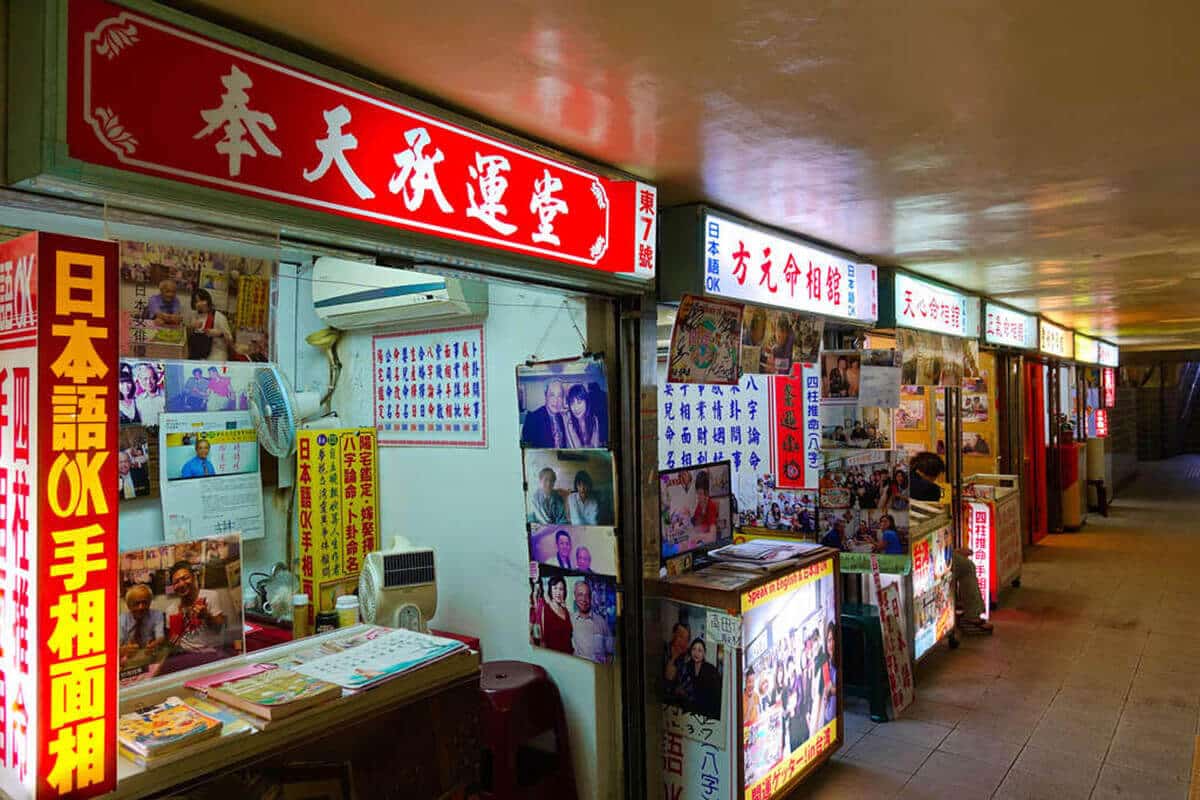 Here are a few common ways to have your fortune told in Taiwan. You can try it at Xingtian Temple Underground Fortune telling Street, located in a subway station underpass at the intersection of Minquan E Road and Songjiang Road:
Bazi (4 Pillars Chart) (算八字)
Bazi numerology is one of the oldest forms of fortune telling, by evaluating the relationship between the year, month, day, and hour of a person's birth, along with the five elements (metal, wood, water, fire, earth).
Zi Wei Dou Shu (Chinese Astrology) (紫微斗數)
Zi Wei Dou Shu is a complex system of astrology widely used during the Song and Ming Dynasties. The ancient diviners believed that the time and place of birth could predetermine people's destinies with the 108 stars. Zi Wei Dou Shu and Western Astrology concepts are similar in that both involve puzzlingly complex mathematical calculations.
Physiognomy (Face Reading) (面相)
Physiognomy is a folk science of telling fortunes by looking at facial features and is a branch of the classical philosophy of the five elements (metal, wood, water, fire, earth) of Yin and Yang. Yin and Yang come from a dualistic concept in traditional Chinese philosophy. Ancient Chinese philosophers expressed the characteristics of sky and earth, sun and moon, day and night, male and female, movement and stillness, and rigidity and flexibility as being compatible and connected. They used these contrasts to embody the abstract connotation of "mutual opposition and interdependence". The five elements of Yin and Yang create all creatures in the world, and humans destined for the heavens have manifestations reflected in their physical appearances. Hence, the ancients believed that as long as they could observe the rules, they could estimate a person's wealth, poverty, and fortune from the information revealed by their face.
Palmistry (Hand Reading) (手相)
Palmistry is a method of divination that uses the shape and structure of the hand to deduce fortunes. The left hand is controlled by the right brain, which reflects the inner part of a person. The right hand is governed by the left brain, which reflects the person's outward behavior influenced by the social environment.
Speaking of fortune-telling, I Ching (易經) has to be mentioned. The I Ching is one of the oldest classical texts in China. It is a divination book used by ancient Chinese to foretell future fortunes and disasters using the 64 hexagrams. The I Ching uses a system of symbols to describe the evolution of things, expressing the philosophy and cosmology of classical Chinese culture. There are a few methods to have your fortune told based on the philosophy of I Ching, such as Fortune Telling Bird (Niaogua) (鳥卦), Rice Divining (Migua) (米卦), Flowers Divination (Huazhan), and so on. You can also try these interesting methods to have your fortune told at Xingtian Temple Underground Fortune telling Street.
Many fortune tellers in the Xingtian Temple Underground Fortune telling Street offer multilingual services to foreign visitors. So there is no need to worry about the language barrier when having your fortunes told.
Food Tour Around Xingtian Temple
For travelers, Xingtian Temple is a tourist attraction worth visiting. For some people living in Taipei, Xingtian Temple is a place to rest their minds after a busy life. According to statistics, crowds of up to 10,000 people visit Xingtian Temple daily. Therefore the area surrounding Xingtian Temple is lively, and popular restaurants are nearby, offering Taiwanese, Japanese, Korean, and other foreign cuisines.
Taiwanese Cuisine
Korean Cuisine
American Cuisine
Japanese Cuisine
Chinese Cuisine
How to Go to Xingtian Temple?
MRT
Xingtian Temple Station (Exit 3) (Orange Line) → exit the station and walk 300m. It takes 5 minutes to arrive.
Read more: Taoyuan Metro Passenger Guidelines
By Bus
Take Taipei Bus 5, 26, 41, 49, 63, 72, 74, 109, 203, 214, 214, 222, 225, 226, 277, 279, 280, 285, 286, 286 subs, 298, 505, 527, 612, 617, 642, 643, 676, 685 to Minquan Songjiang Road Station or Xingtian Temple Station.
Recommended Hotels in Taipei
According to the new policy of the Taiwan government, foreigners still need to stay at a self-initiated epidemic prevention hotel for 7 days when entering Taiwan. Here are some hotel recommendations in Taipei.
N Hotel
Ideally set in the Zhongzheng District district of Taipei, N Hotel is located at a 3-minute walk from Taipei Zhongshan Hall, 275 m from Presidential Office Building and an 8-minute walk from The Red House (西門紅樓).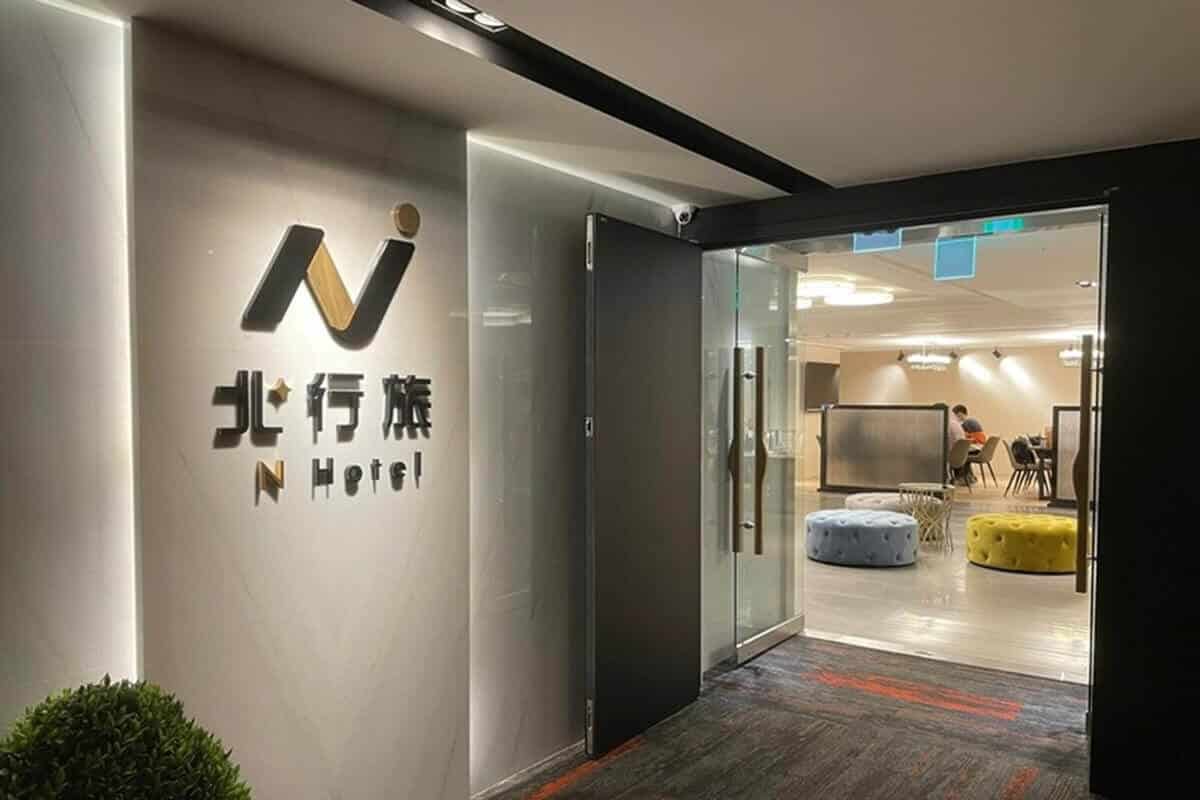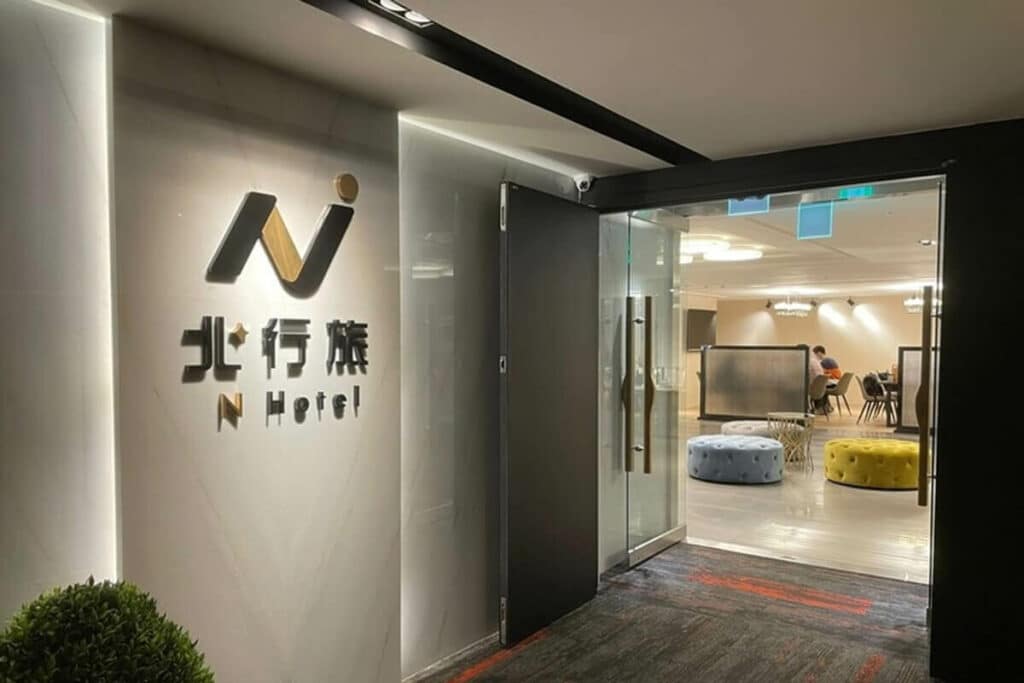 Ximen Hotel
Ximen Hotel is located at Taipei's Wanhua District, only a 5-minute walk from Taipei Main Station.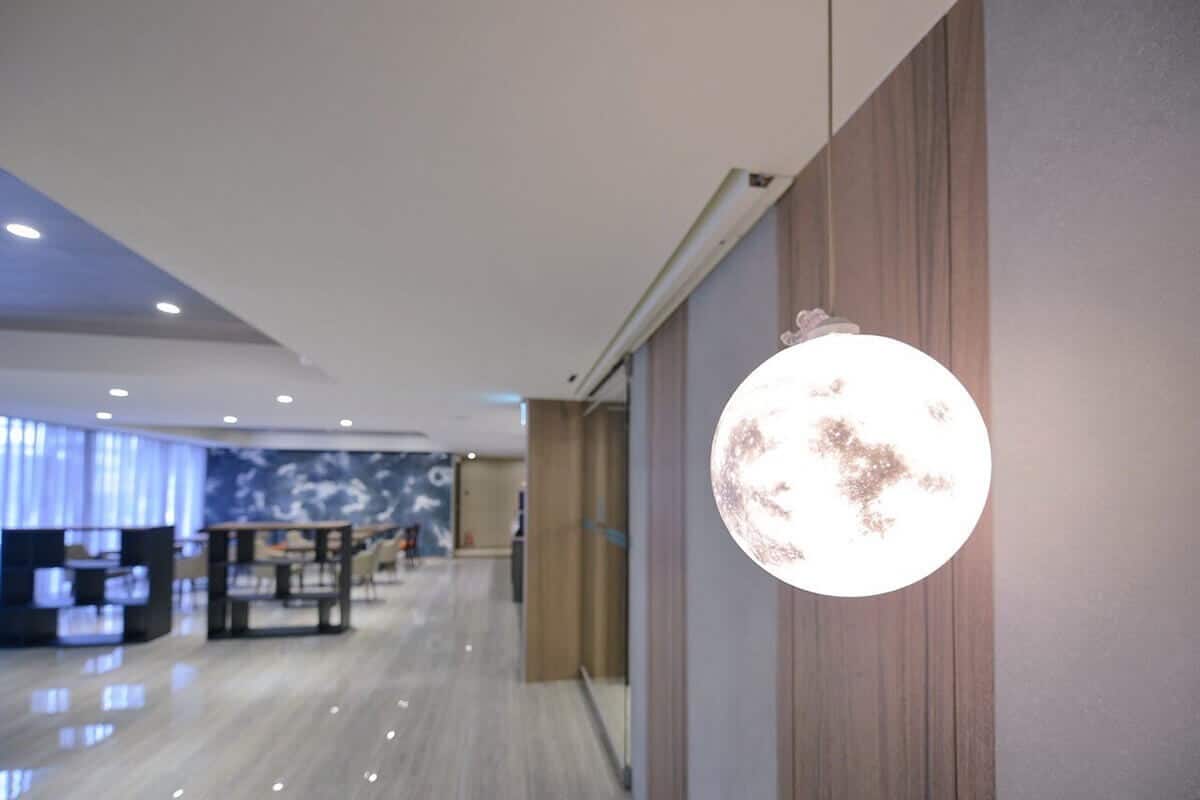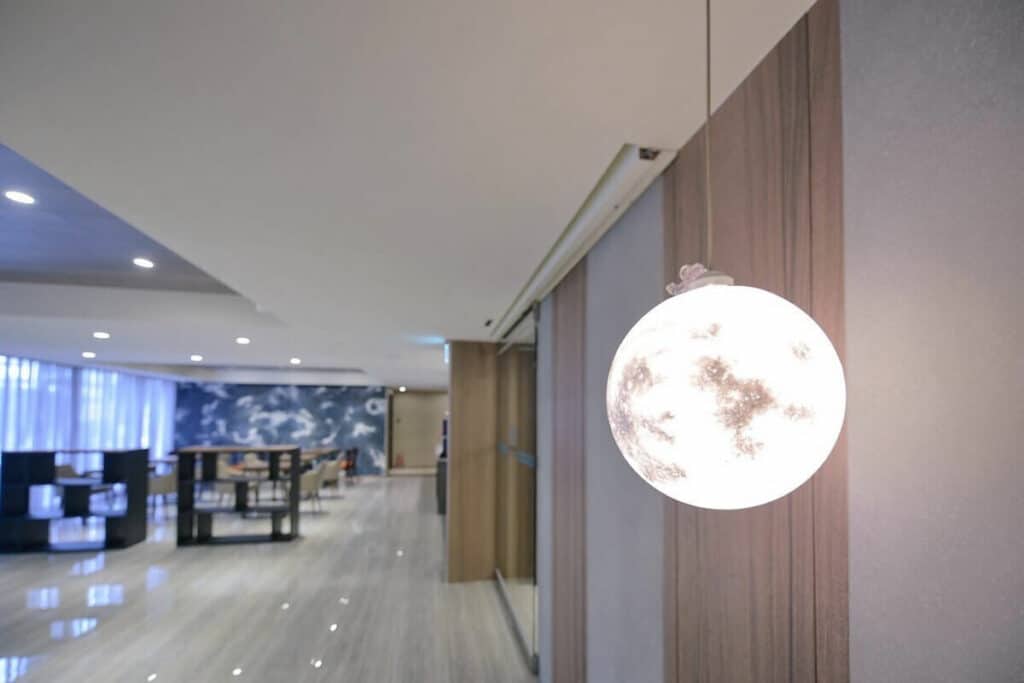 Caesar Park Hotel Taipei
Located in the central business district, Caesar Park Hotel Taipei is located directly opposite Taipei Main Station, which links to Taipei Metro, Taiwan High-Speed Rail, Taoyuan Airport MRT and Bus Terminal.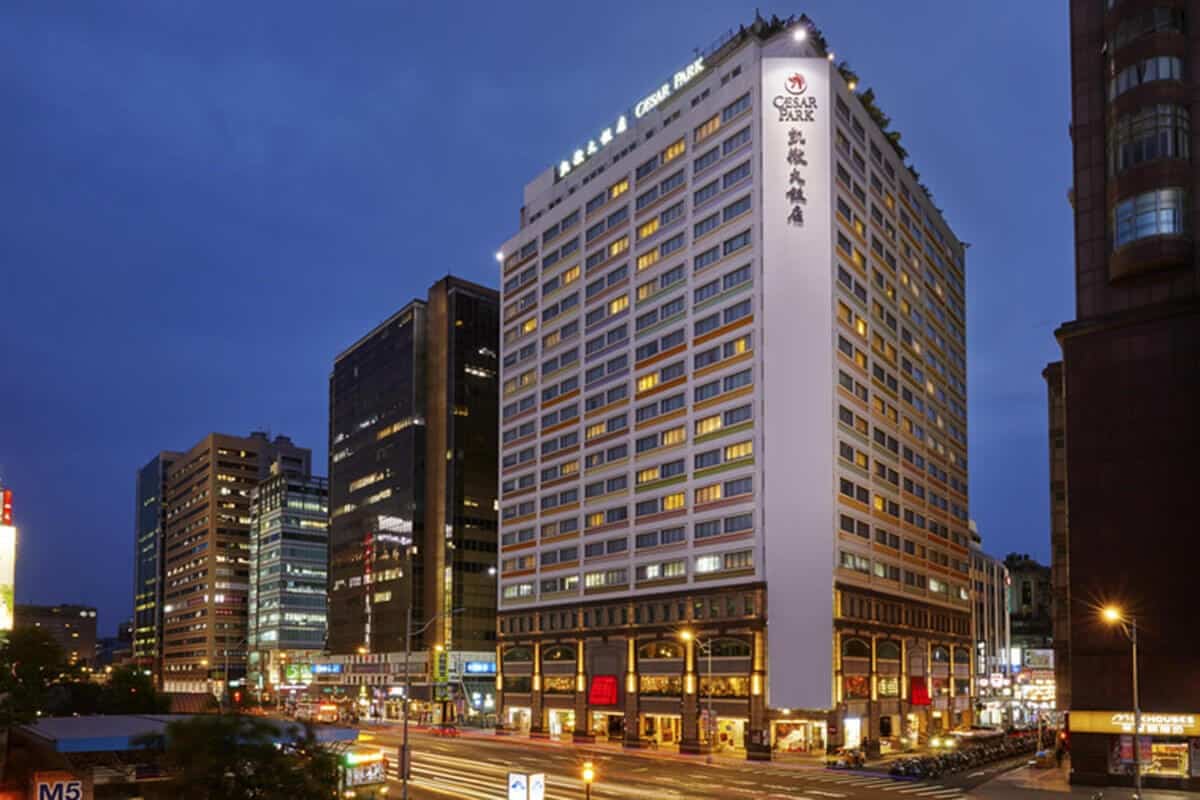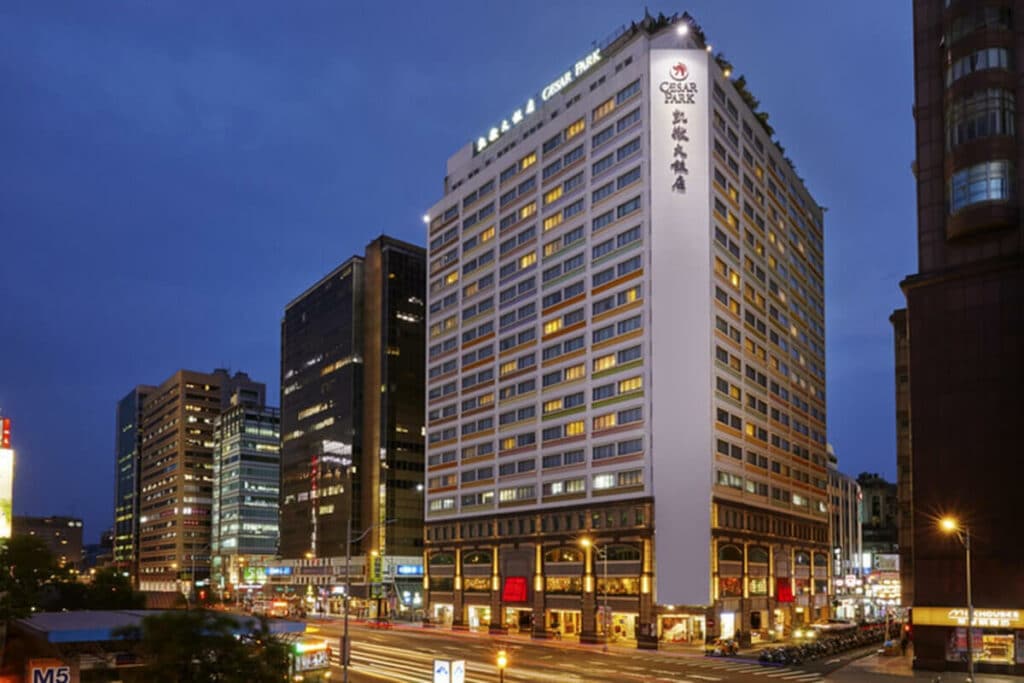 Green World Hotel – Zhonghua
Boasting its convenient location, Green World Hotel – Zhonghua is located in Ximending, only a 5-minute walk from Taipei Railway Station. It offers accommodations with lively decoration and various dining options nearby.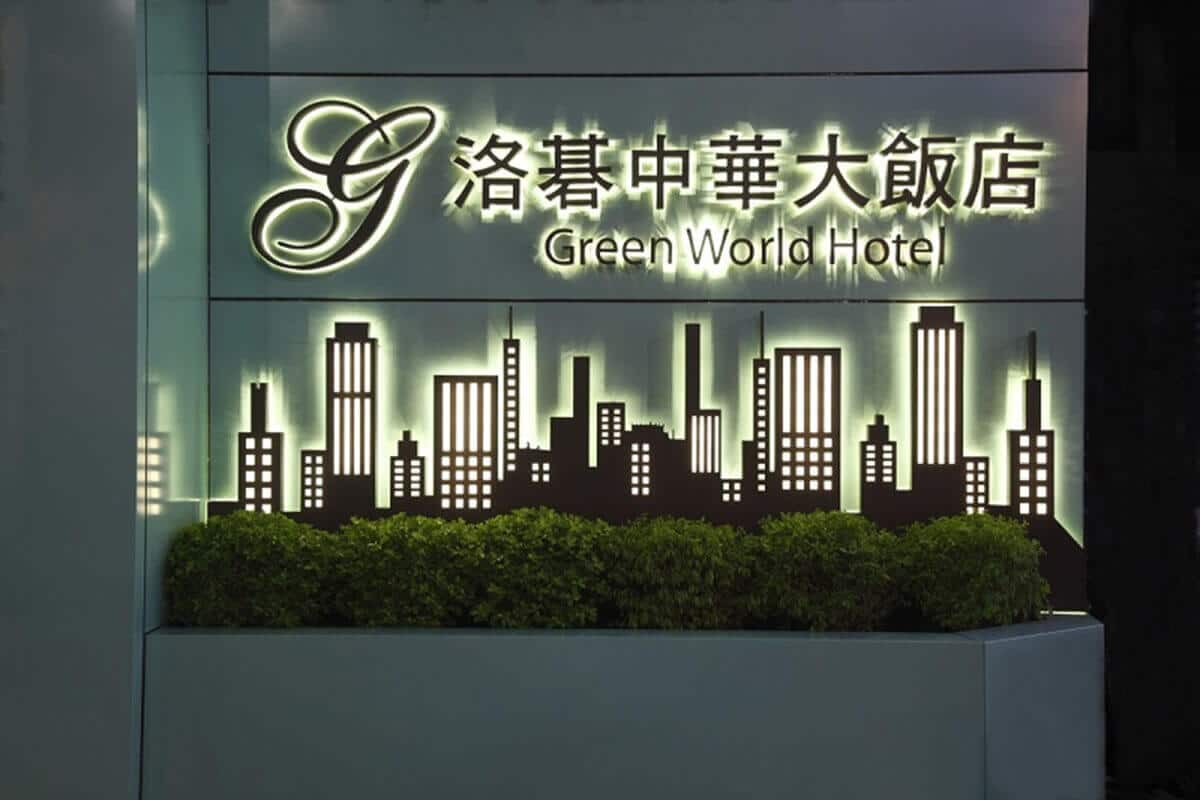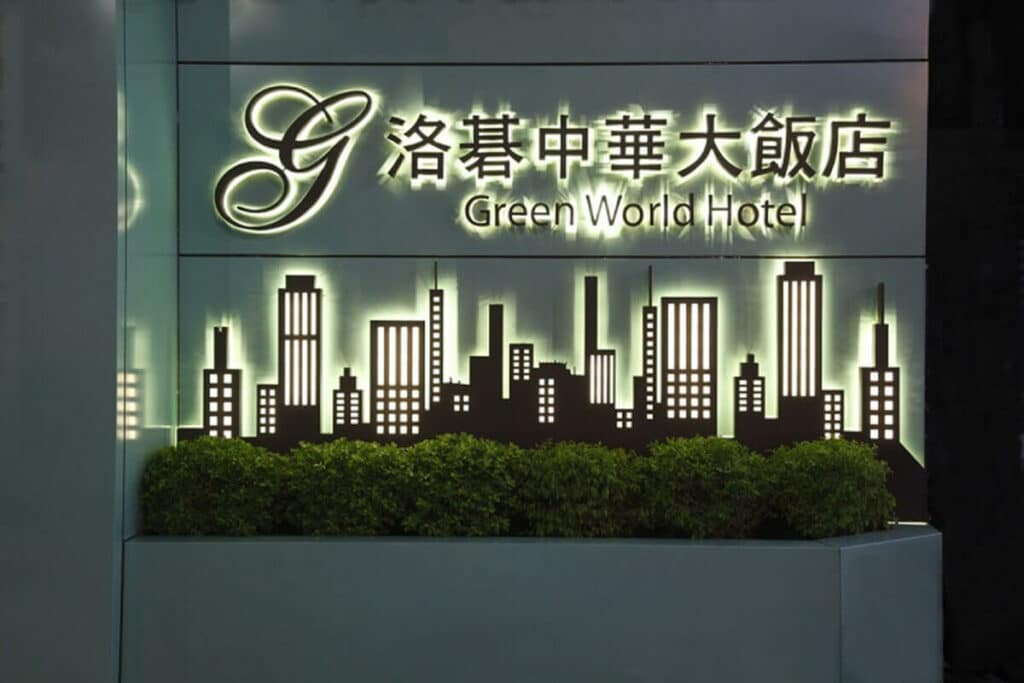 Hotel Relax III
Featuring free WiFi access, Hotel Relax III is Taiwan's first intelligent voice IOT boutique hotel. To enhance communication with international guests, a Google speaker with a translation function is installed at the front desk to speed up the check-in and check-out time. The hotel is only a 5-minute walk from Taipei Main Station, where guests can take trains or buses to explore the city.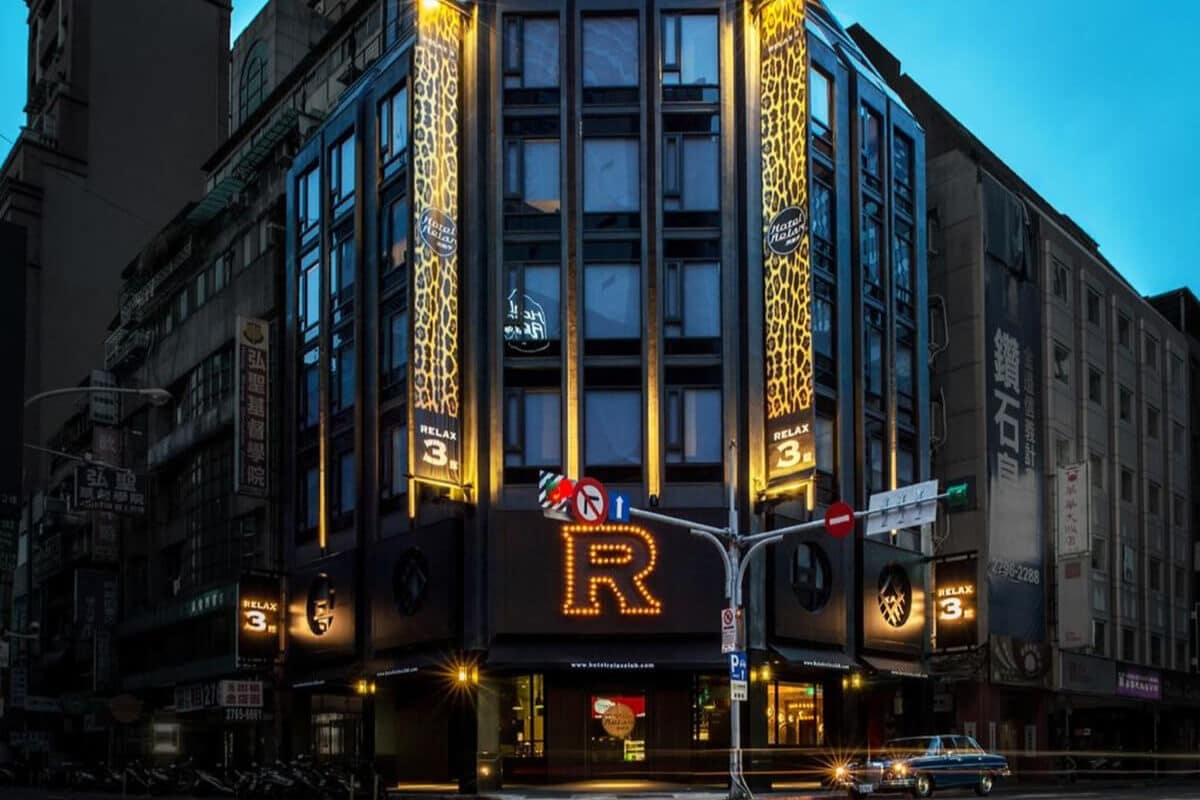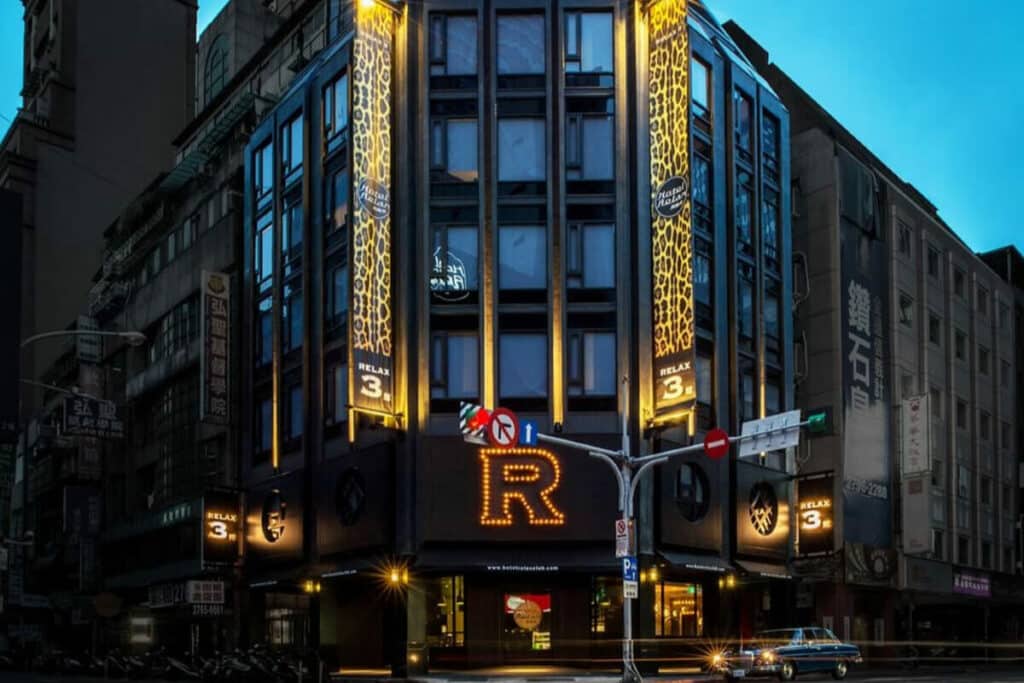 K Hotel Taipei Songjiang
K Hotel Taipei Songjiang is located in Taipei City's Zhongshan District, a 1-minute walk from MRT Xingtian Temple Station.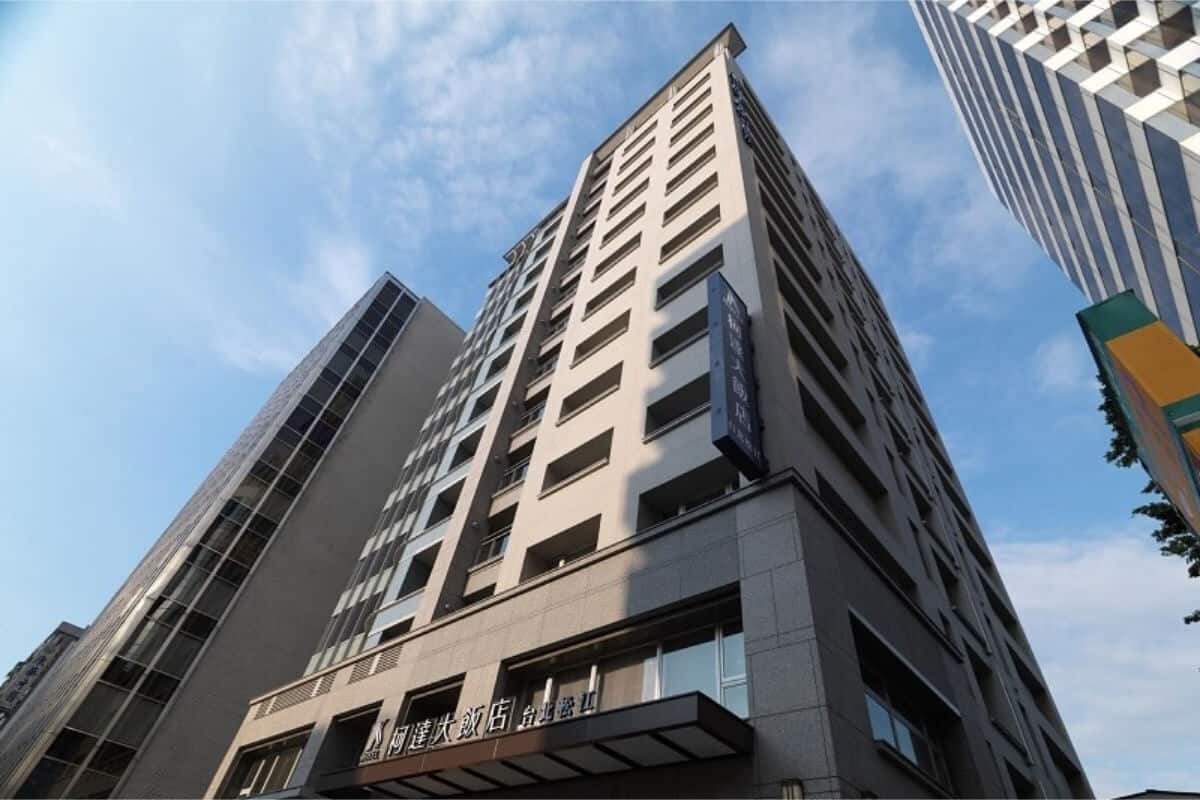 Simple+ Hotel
Simple+ Hotel is located at a 3-minute walk from MRT Nanjing Fuxing Station (Exit 5) and offers modern and cozy guest rooms in Taipei.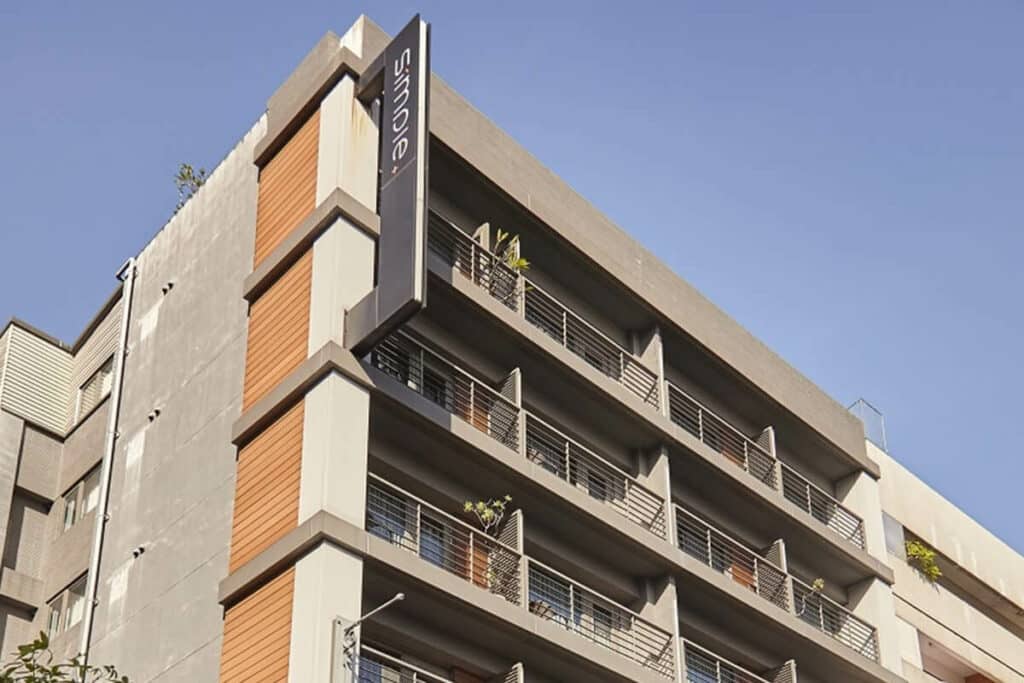 CHECK inn Taipei Songjiang
Located only a 1-minute walk from Xingtian Temple MRT Station and a 3-minute walk from Xingtian Temple, Check Inn offers nicely-designed rooms in Taipei.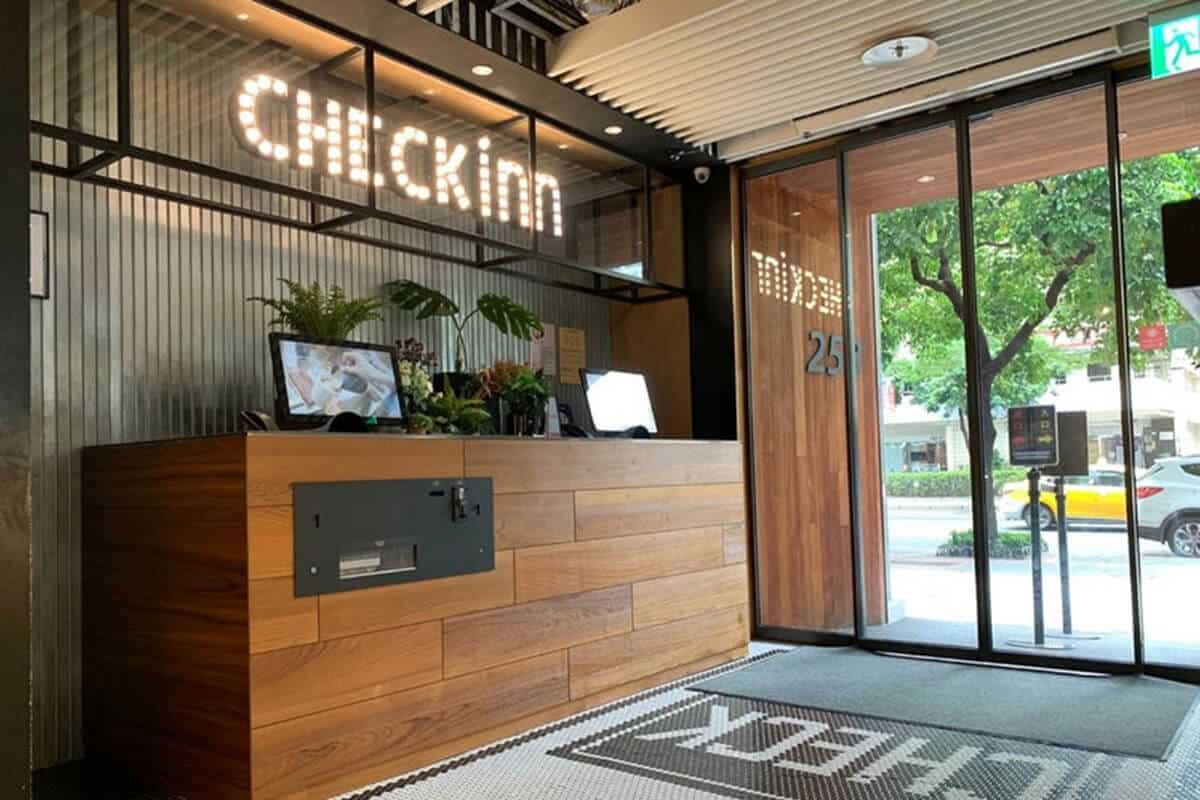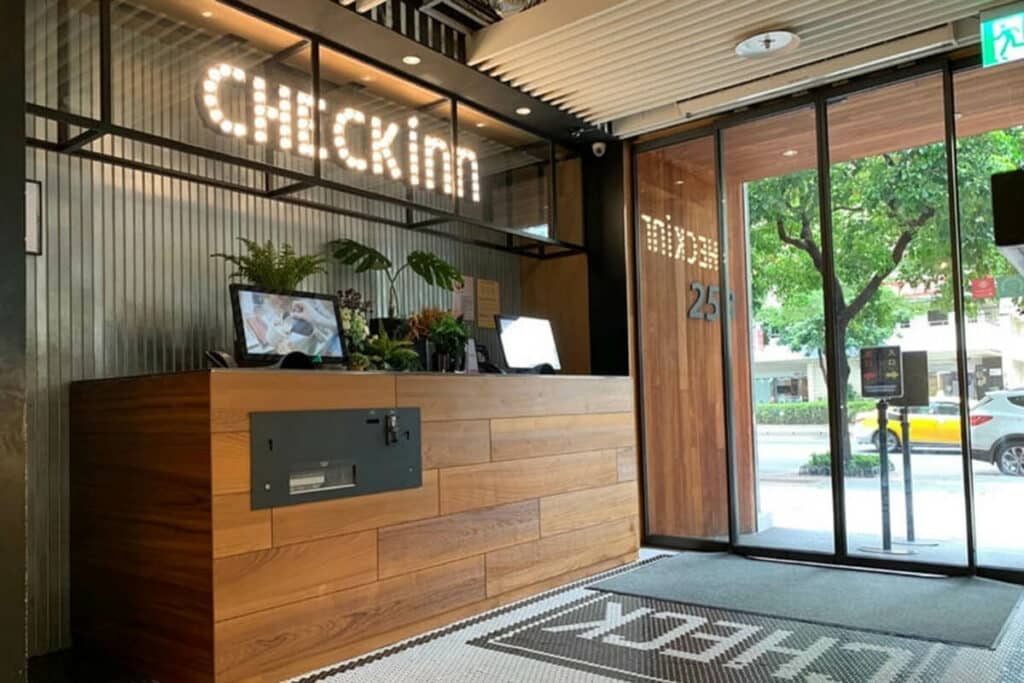 S Hotel
Face a tree-lined boulevard, 5 minutes walk from MRT Taipei Arena Station, S Hotel offers accommodations in the heart of Taipei. A world-renowned designer designs the property. Guests will find the elements of "Surprise" and "Timeless" in the interior decorations and the hotel's high-standard services. The idea of S Hotel is to create an extraordinary living experience where guests can be surrounded by "Love" and "Happiness", which also kneads the culture of the orient and west.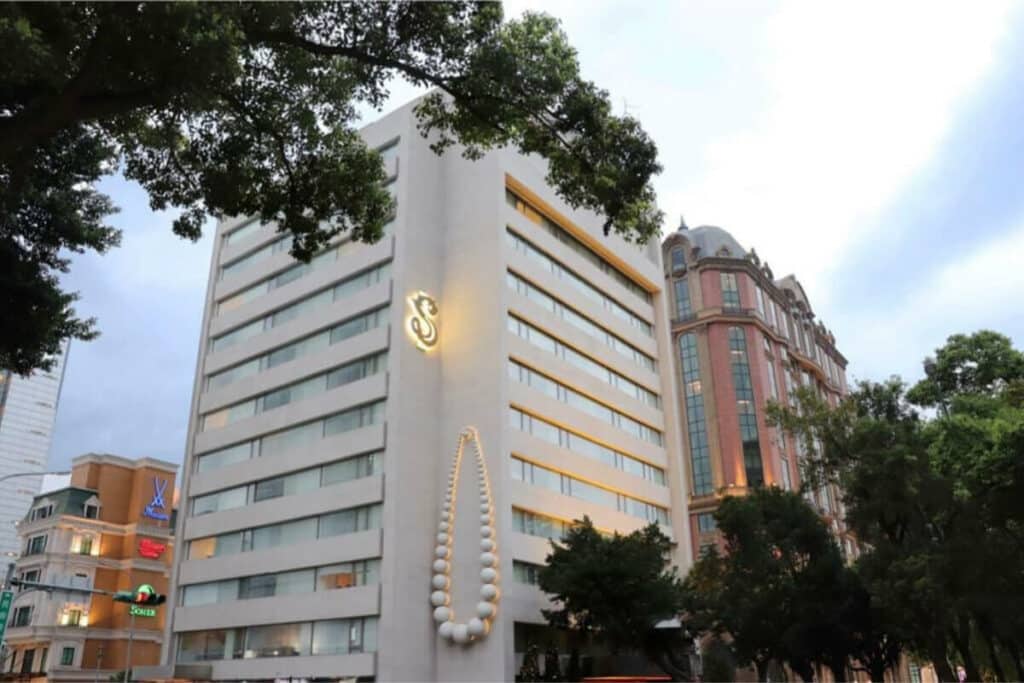 CityInn Hotel Taipei Station Branch II
CityInn Hotel Taipei Station Branch II offers modern and minimalist rooms just a 5-minute walk from Taipei Main Train Station. A 1-minute walk from Q-SQUARE, rooms at this hotel have a 32-inch LCD TV and free Wi-Fi. A self-service kitchenette and laundromat are available.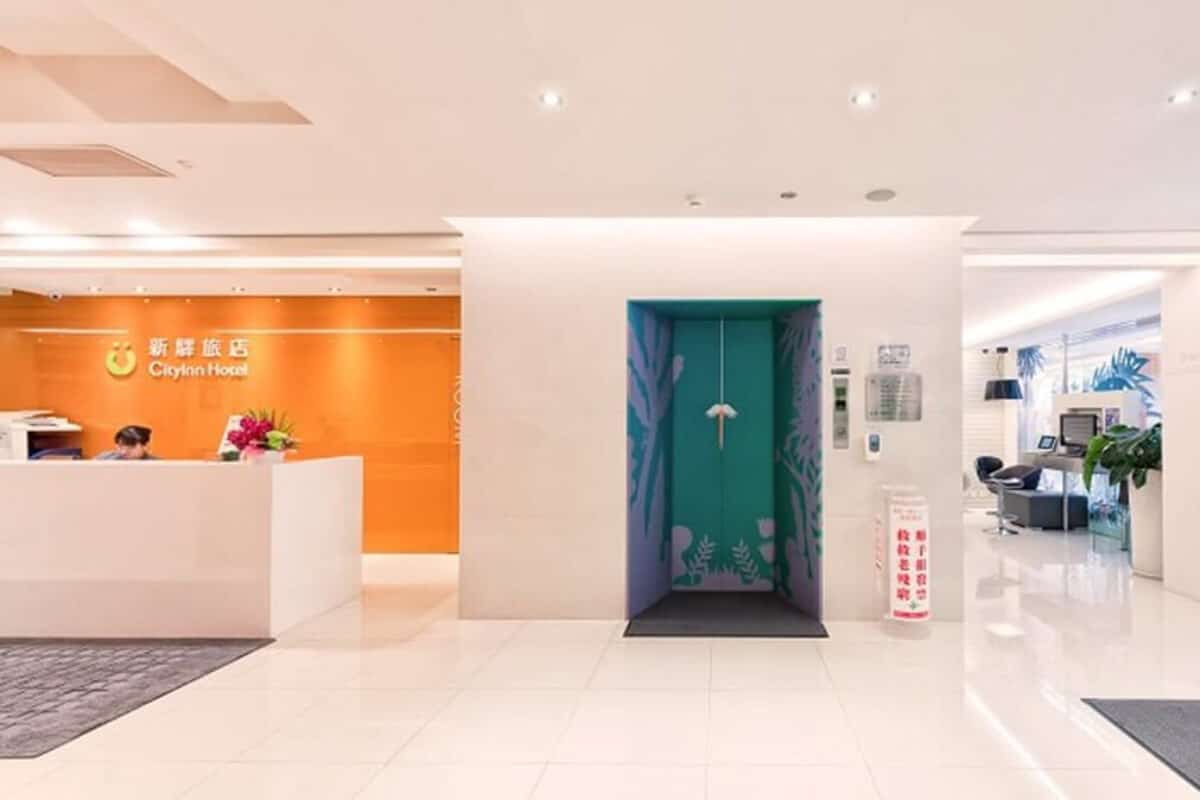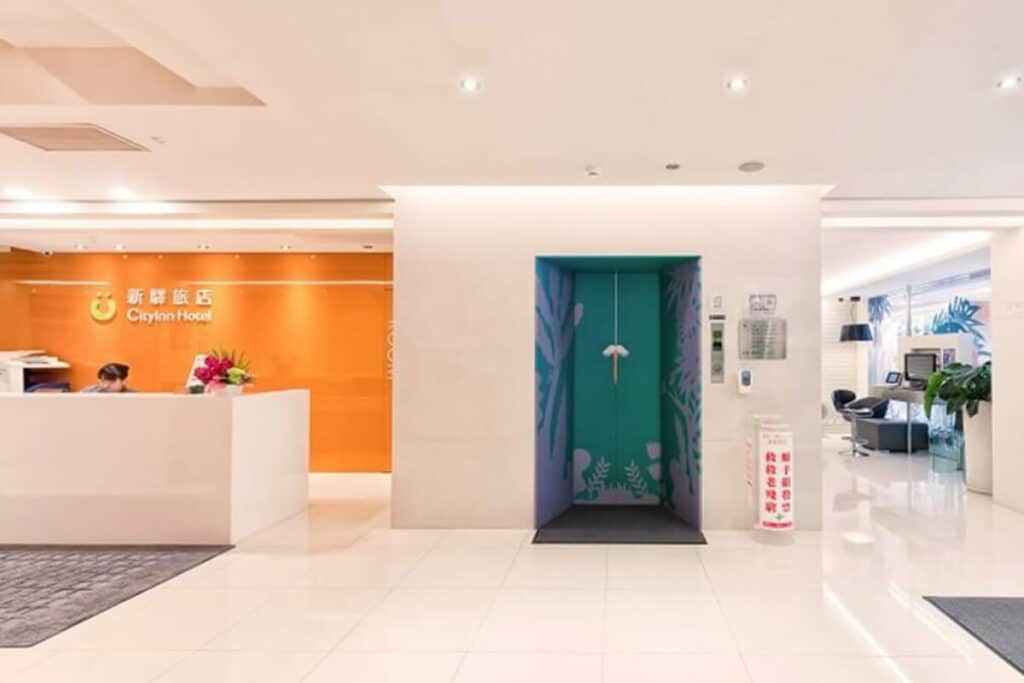 Full List of Taiwan Monthly Hotel for 2023