Last Updated on 04-05-2023
Choosing the appropriate extended stay hotel is one of the keys to a successful business trip to Taiwan. Your accommodation choice will influence your stay. Looking for a hotel in an unfamiliar city can be time-consuming, especially if you are visiting Taiwan for the first time. Cultural factors and language barriers can even add more to the confusion, and as a business traveler, you know that time is money.
When you are looking for your home away from home in Taiwan, it is important to be aware of the factors that will be mentioned in the following article. This will help you know what is more important to consider.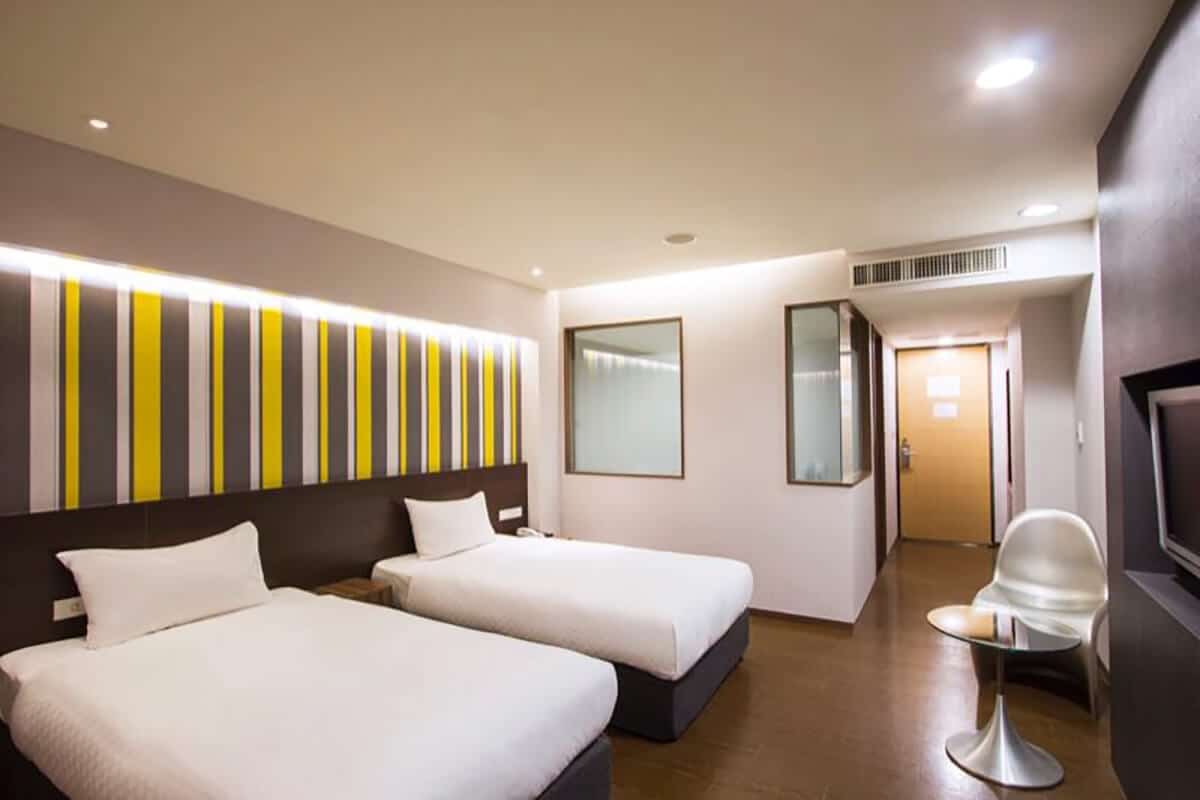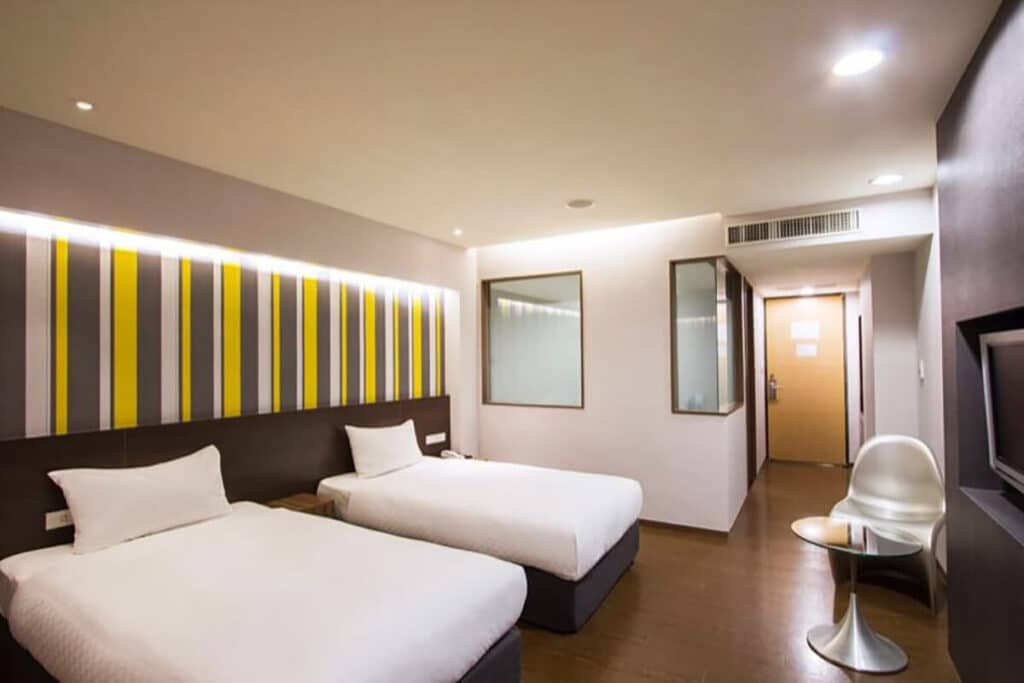 Importance of the location of your extended stay hotel
One of the most important things to consider when choosing an extended stay hotel for a business trip is the location and proximity to your workplace. As stated earlier, time is money, so you don't want to waste it by worrying about traffic or transportation every day. Therefore, you need to make sure you have easy access to public transportation. It is also advised that your hotel be located near your workplace; doing so will prevent you from getting lost in a place that you're not too familiar with, especially in Taiwan! Imagine that you get lost and you don't know Chinese! It's a tough situation, isn't it? You want to minimize time spent on the road and focus on the purpose of your visit, or simply relax and enjoy your surroundings.
An extended-stay hotel located within a reasonable distance of the airport is also essential. Often, business trips are short and packed with important meetings and events, so you forget to relax a bit. Staying at a hotel where your neighborhood has restaurants or entertainment options for you to enjoy during your downtime plays an essential role in optimizing your extended business trip. Location is the number one factor when selecting a hotel for your business trip.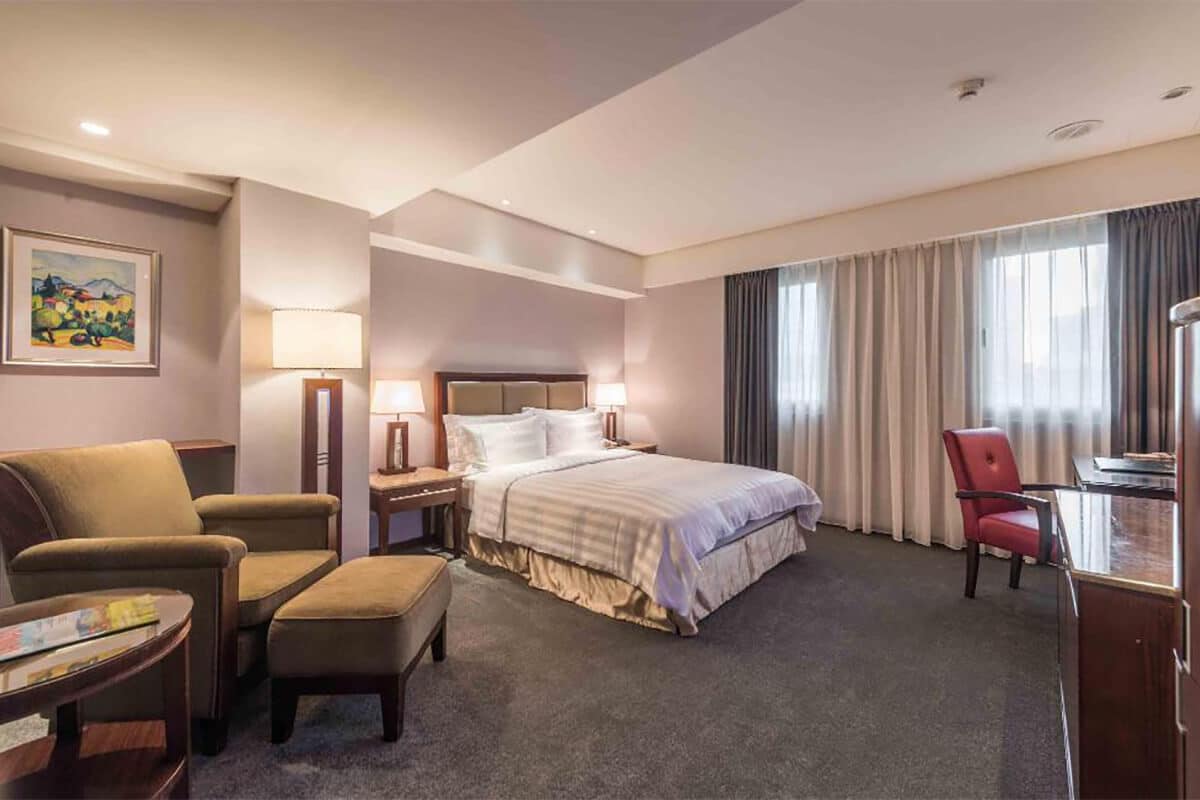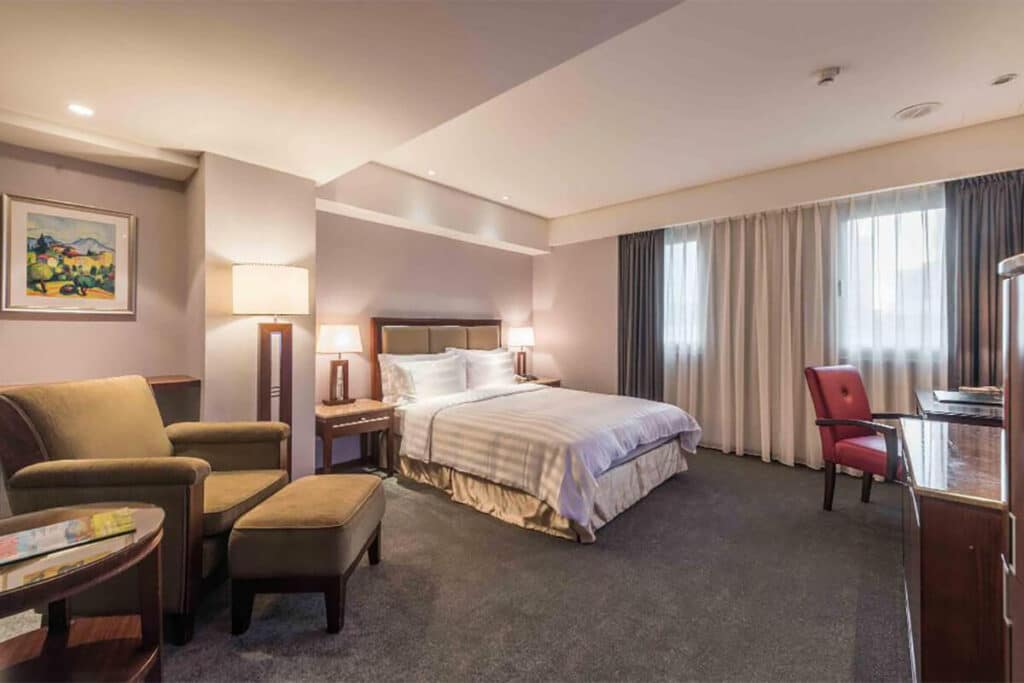 Check online reviews from other business guests
One of the most underrated ways to make sure you pick the right hotel is by looking at online reviews of other business guests. The hotel's reputation is one of the first things you should know about, which includes what business travelers think of the place if their needs were met, what else was missing, and so on. Reading reviews should then be your second priority when checking out extended stays for business trips. From the reviews, you can get an overall picture of the service, accommodations, cleanliness, amenities, location, and more.
Positive and negative reviews help you analyze how the hotel works and its reputation. Doing so is convenient and time-saving by narrowing down your choices. Decide what you want for your extended stay and filter online reviews using those keywords. To decide where to stay, weigh them all equally.
Your extended stay hotel should match your business type
The first and foremost purpose of your business trip is business, and the business field you are in plays an important role in your choice of extended stay hotel. Because decor influences productivity and creativity, creative business guests prefer a more boutique-style hotel with a vibrant personality, whereas finance-related business guests may prefer a more formal setting. Guests from technology companies would prefer a modern design with facilities that match the innovation of the tech world. If you are there to promote a product or service, you might need a hotel that offers facilities for you to demonstrate them.
After a long day of attending meetings and doing business, all you want to do is rest and enjoy some quality room service. During your stay, you may want to conduct business meetings or conferences inside your hotel room; therefore, you need enough room for your workspace, which might include screen-sharing, audio technologies, fast and reliable Wi-Fi, and the ability to answer emails or conduct a conference call. So when choosing your hotel, reliable and quick room service and comfort are non-negotiable. When it comes to choosing accommodation, quality is a crucial factor. You want to avoid any stress and ensure your hotel is both comfortable and has all the necessary amenities you require to work effectively. Fortunately, our platform can meet the most sophisticated of demands and guarantee you the best available accommodation at the most competitive rates.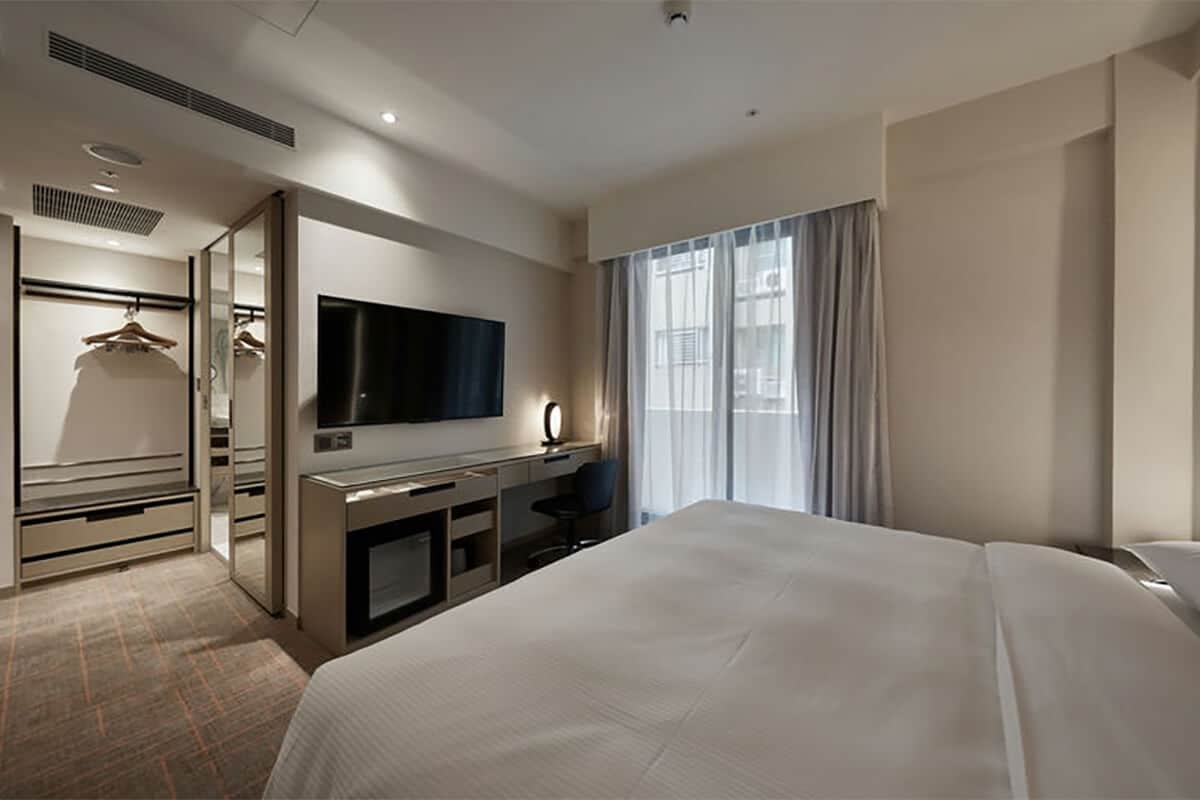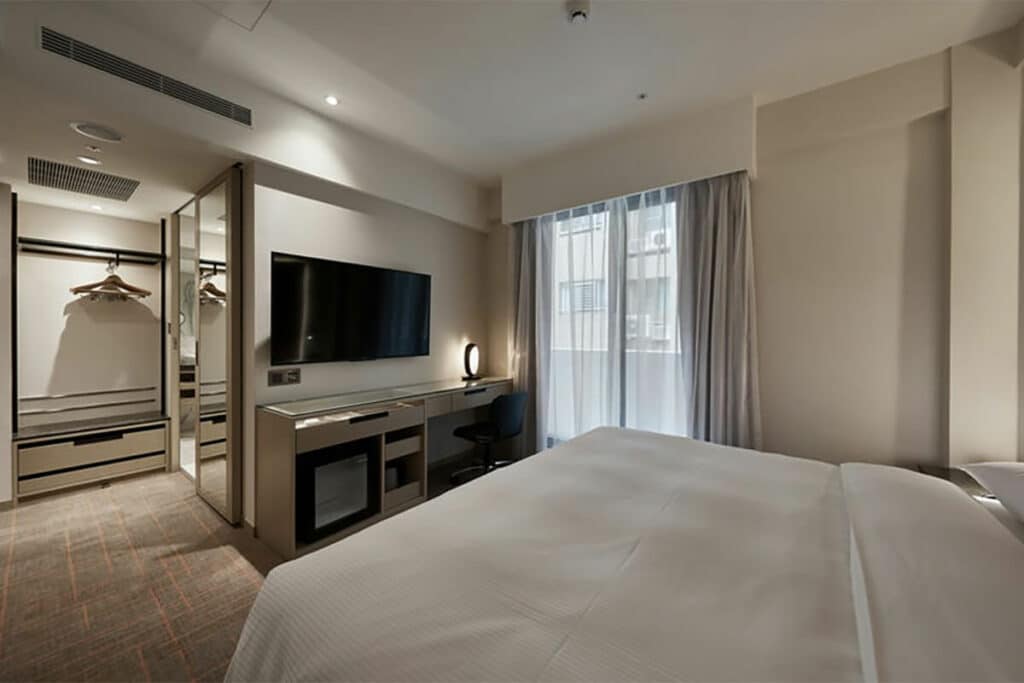 Make sure there are facilities and spaces for downtime
If you are traveling for a short period of time, it is less important. However, for an extended period of time, you definitely need leisure facilities. Living away from home does not mean that you have to change your entire lifestyle. In fact, maintaining your regular schedule is recommended for your own mental health. It's really important to stay happy and healthy during a business trip. Therefore, you need some type of leisure when you're not working. Make sure your extended stay hotel has gym facilities, especially if your business involves sports or health. If your hotel is located in a rural location, make sure you have access to trails and hikes.
If you are not interested in going to the gym, ensure that your hotel specializes in a range of leisure activities that you will enjoy, including tennis, golf, swimming, etc. You might also need to relax in a steamy sauna after a full day's work. Your rooms should have seating areas with a nice view that you can contemplate after a long day. If your room doesn't have a splendid view, make sure the hotel has special areas where you can be alone and enjoy the view and breathe some fresh air. When you're away from home, you need a hotel that puts you in a good mood. You may be in town on business, but you can still spend your free time exploring the area. An extended stay hotel with easy access to restaurants, shops, and other attractions where you can enjoy some downtime in a city you've never visited before is definitely essential.
Restaurants and Services of your extended stay hotel
As mentioned earlier, being on a business trip does not mean changing your habits, and you also want to be as comfortable as you were back home. So when you are choosing your hotel, you also need to consider whether you will prepare your meals, order room service, or even eat out. If you are traveling to a new country, you may be concerned about the local food and how it will affect your health. Therefore, as a business traveler, you should learn about your dinner options before booking the hotel.
When you're working long hours, you need a convenient way to get your meals, and you don't have to worry about missing out on healthy meals. So you need to ensure that your hotel can meet your needs. We all know how tasty food can put you in an excellent mood. It is then a good idea to choose a hotel with healthy dining options, or maybe a hotel with a kitchen where you can cook your own meal if you are following a special diet. Be sure to find out about meal arrangements.
If you don't like the meals at the hotel, you might need to go out to a nearby restaurant. Choosing a hotel with restaurants nearby ensures you never go hungry during your business trip. If your hotel includes a bar or coffee shop (or some are around the corner), they are great places to meet colleagues for networking sessions or after-work drinks. You also need to make sure you book a hotel with excellent, skilled, and attentive staff. In Taiwan, if you have special requirements, they are willing to help you out.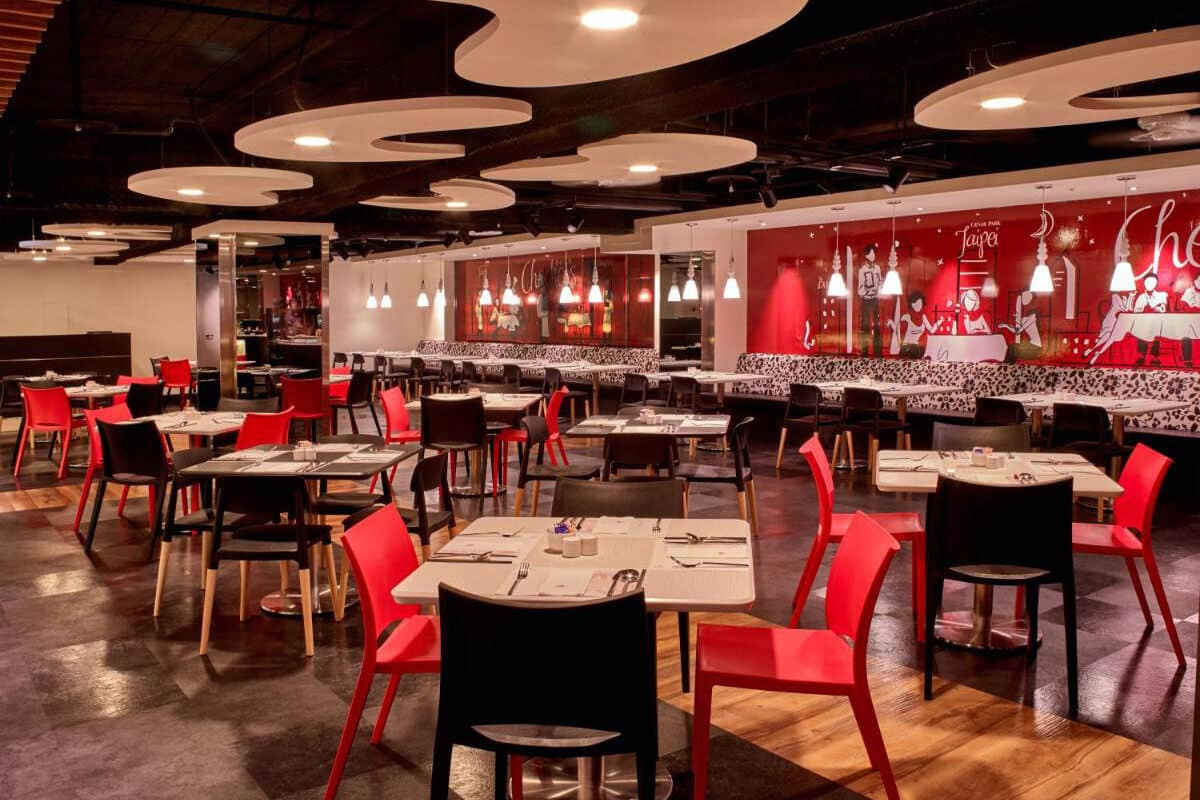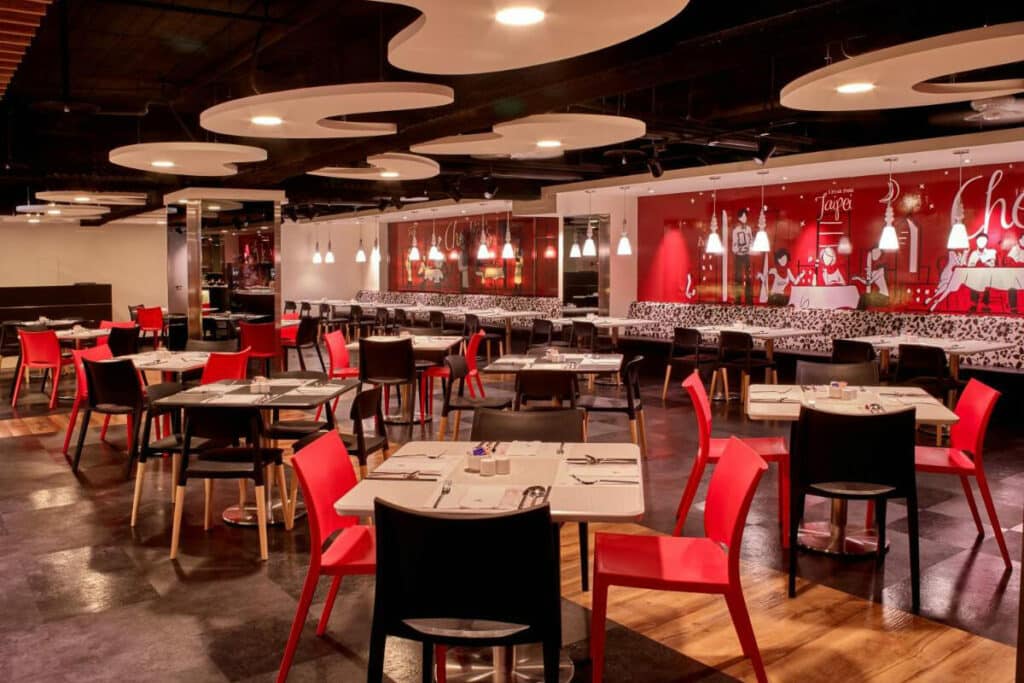 The cost of your extended stay hotel in Taiwan
When you are on a business trip, you don't always want to spend an excessive amount of money on a hotel you won't be spending much time in. However, you also want to have the best experience possible in Taiwan while focusing on the task at hand. mrhost provides discounted rates for selected hotels in Taipei. As the motto says, "The more nights, the better deals." In Taiwan, if you have to stay for a long period at a typical hotel, it may be less affordable as the cost is based on per-night price. It could be extremely expensive or more or less cheap depending on your period of booking. However, if you choose an extended stay hotel, you will receive a discount starting at 5 nights or more, and the average cost of a 30-day stay is more reasonable. Keeping costs low for your trip is fundamental to cutting business expenses. An extended stay hotel will cost you between NT$15,000 and NT$80,000 for a month, which comes down to NT$500 and NT$2,700 per night, while a traditional hotel costs around NT$3,000 per night.
Other factors you may consider
Although Taiwan is considered one of the safest countries in the world (ranked third safest in 2022 by Numbeo), you may still need to consider the security of the extended stay hotel in case of an isolated incident in the past. For businesswomen, especially, you always need to make sure you pick the safest of the safest neighborhoods.
The atmosphere and vibe are two other things you may consider before choosing your hotel. Because the extended stay hotel is going to be your home for a while, you don't want to add more stress by choosing a place where you won't be comfortable. Since you can't really verify the atmosphere and vibe from the pictures themselves, the best thing to do is read the reviews of the hotels to decide which one will suit your purposes and style. Make sure that the ambiance is one that you can feel at ease in and proudly call "home." Things like the color tone of the room, the view from your window, and the services they provide all contribute to the feel and spirit of the accommodation.
Our recommended extended stay hotels in Taiwan by city
Taipei recommended extended stay hotel – Green Garden Apartments-A
Green Garden Apartments is located in the Dunhua Financial District and is known to offer high-quality living spaces with comfortable rooms in a quiet corner of a busy district. Songshan Airport is just a few minutes' drive away, and Taipei Arena and Liaoning Night Market are less than 1 km away. For business travelers, there is a business center with equipment such as computers, printers, and fax machines. There is also a 6-person conference room if you wish to host a conference. The green decor of the rooms can help you connect with nature with a nice view of green trees and enjoy your stay at the hotel.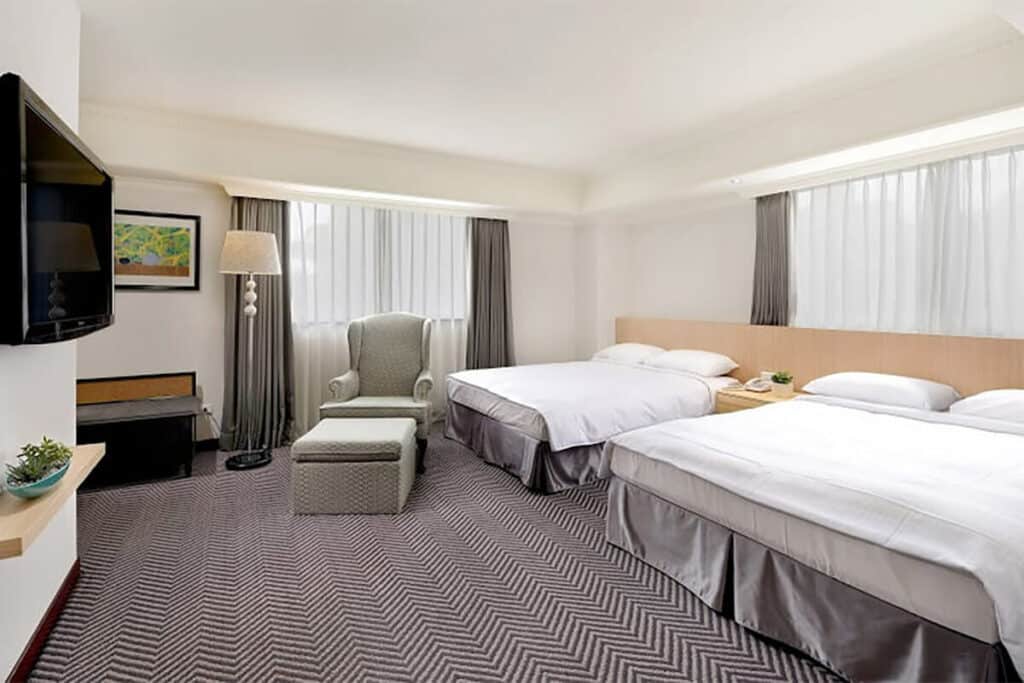 Taichung recommended extended stay hotel – Ren Mei Fashion Hotel
Awarded the "Premium Plum Blossom Hotel and Excellent Hygiene Hotel" by the Hotel Association and Department of Health, the Ren Mei Fashion Hotel is located just a 5-minute drive from popular shopping malls like SOGO and Zhongyou Mall in Taichung City. The Ren Mei Fashion Hotel is a modern building with rooms that feature contemporary furnishings. Taichung Airport is located a 35-minute drive from the hotel; therefore, it is convenient to stay there. If you want to relax after a long day of work, you can relax and visit the popular Feng Jia night market. The hotel staff provides a 24-hour front desk and luggage service, along with a car rental service in case you want to get around the city.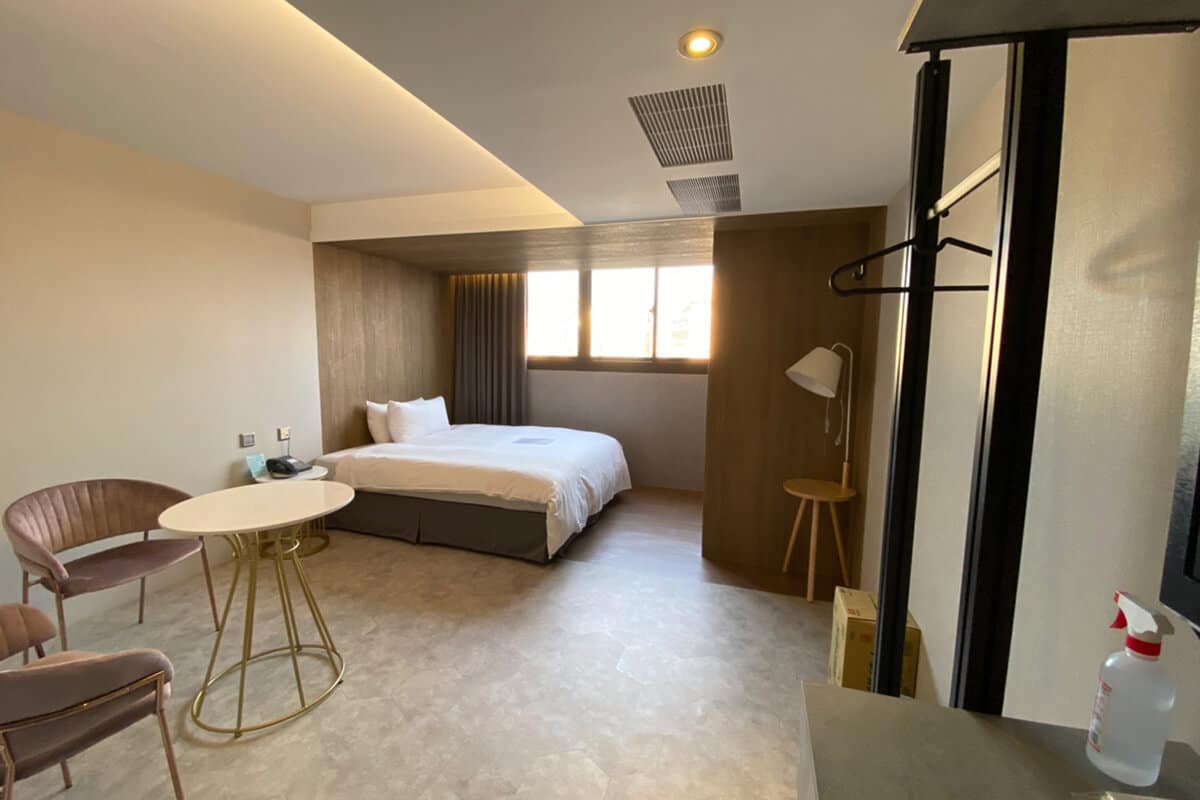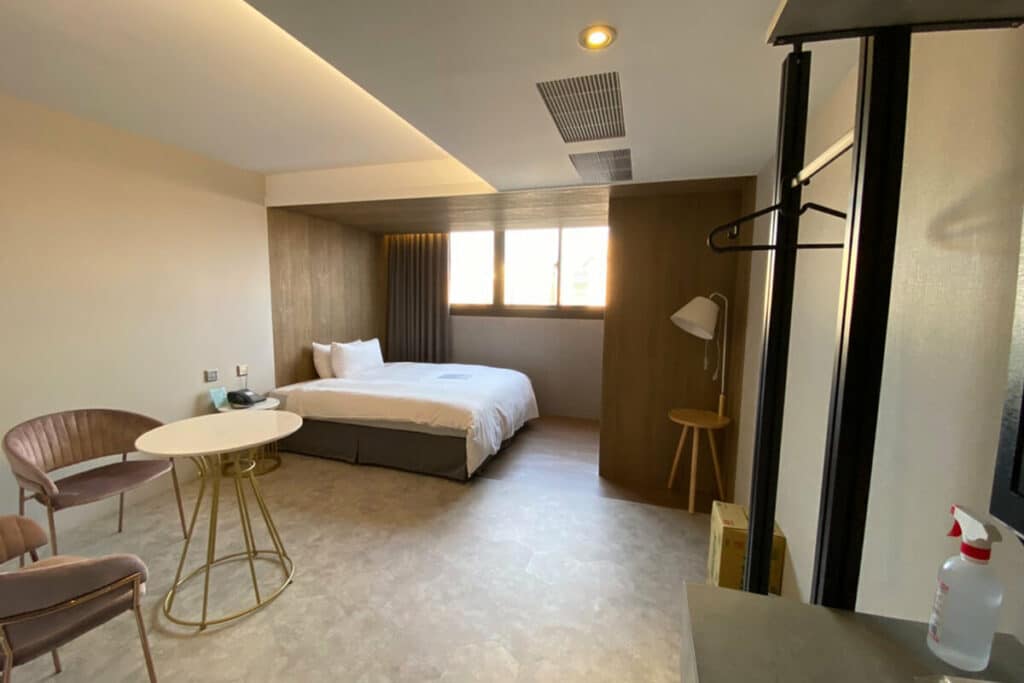 Kaohsiung recommended extended stay hotel – Airline Inn Kaohsiung – Kaohsiung Station
Located in the heart of Sanmin District, Airline Inn Kaohsiung – Kaohsiung Station is an ideal spot from which to discover Kaohsiung. With its convenient location, this 3-star hotel attracts numerous travelers each year since it offers easy access to the city's must-see destinations.
The Airline Inn-Kaohsiung Station hotel provides the best in services and amenities. A selection of top-class facilities, such as free Wi-Fi in all rooms, taxi service, grocery deliveries, daily housekeeping, and wheelchair accessibility, can be enjoyed at the hotel. Although you are going to be busy with business there, it is the perfect venue for an adventurous and exciting getaway.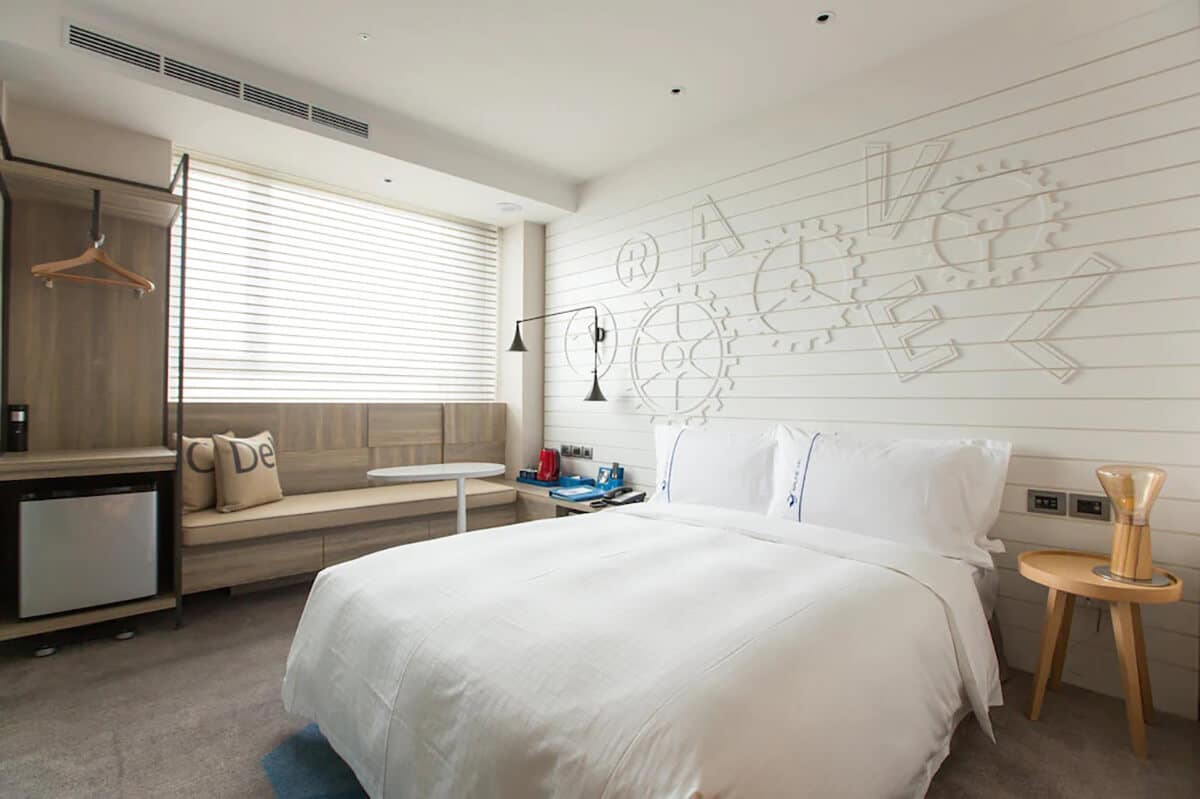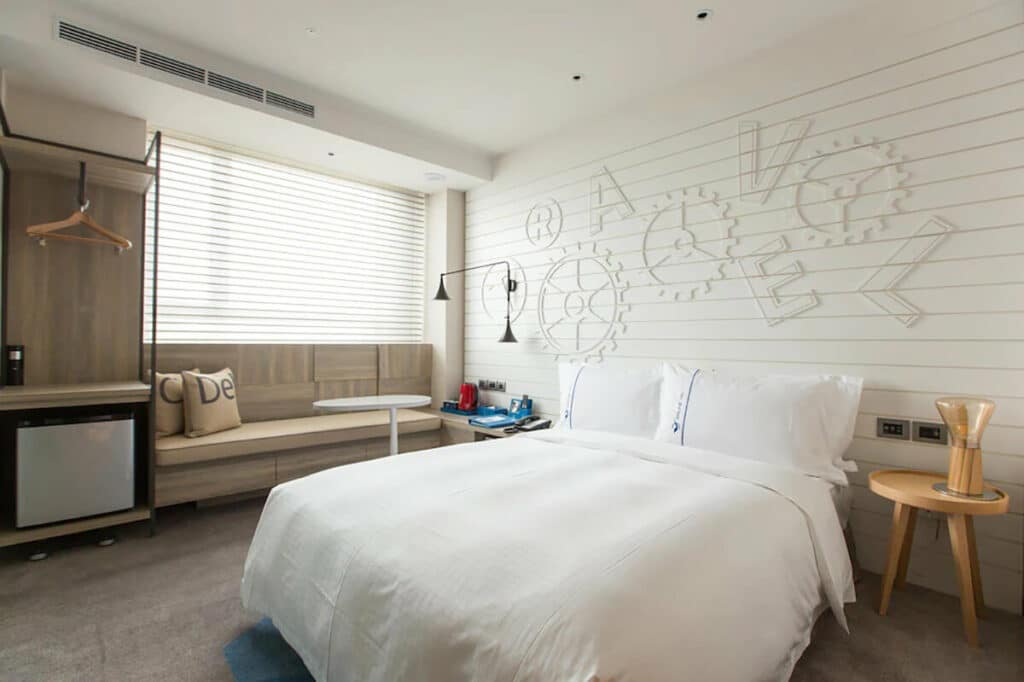 Full List of Taiwan Monthly Hotel for 2023