Last Updated on 04-05-2023
Thanks to Taiwan being one of the best travel destinations in Asia, the extended-stay hotel industry has become more and more important. Extended-stay hotels mainly focus on flexible rental periods and a variety of room choices. The room is equipped with a full set of furniture, bathrooms, and living rooms, which give you a home-away-from-home feeling. You will also get to enjoy all the features of a normal hotel, such as room service. Living in an extended-stay hotel provides you with perfect and convenient transportation, along with a convenient life. It is safe and comfortable, which makes it attractive to business travelers and also long-term travelers. Here are 10 recommended extended stay hotels in Taipei; go ahead and save them for your next trip.
Ximen Hotel
Located in the well-known Ximending area, the Ximen Hotel comes with bright and modern rooms. It offers easy access to a wide variety of shopping and dining points in the Ximen Night Market, just a few walks away, and there, the life function is perfect. The hotel has cozy rooms that include a 32-inch LCD TV, air conditioning, fast internet access, and a fully furnished private bathroom. The Ximen Hotel is also known to be one of the most convenient places to stay in Taipei, with MRT Ximen Station and Taipei Main Station accessible within a short walk. Taipei Bus Station is also easily reachable, and from there you can take high-speed rail, buses, and trains to other Taiwan destinations. Taoyuan International Airport is about 45 minutes away, while Taipei Songshan International Airport is just about 20 minutes. This hotel ensures easy access for your Taipei and international travel by providing 24-hour front desk and luggage storage services.
Address: No. 78, Section 1, Zhonghua Road, Wanhua Dist., Taipei City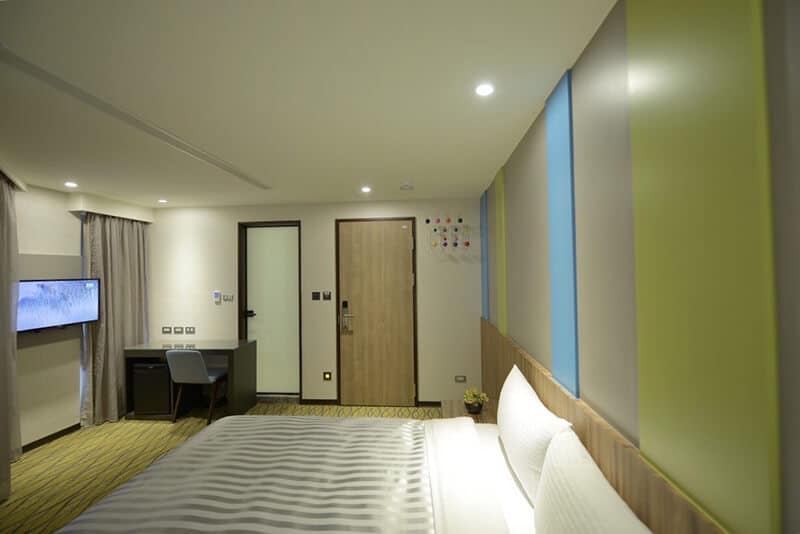 Caesar Park Hotel Taipei
Located in the heart of Taipei City directly across Taipei Main Station, the Caesar Park Hotel Taipei offers convenient access to the Taipei MRT, Taiwan Railway, Taiwan High-Speed Rail, buses, and other major landmarks and attractions. The rooms are divided into six different types to satisfy your needs. The most famous Station Suites, Metro, and Metropolis rooms show a stunning view of the city. The earthy look and natural beauty of the marble bathrooms will amaze your eyes. Besides the look, the hotel is located only 15 minutes drive from Taipei Songshan Airport and 40 minutes from Taoyuan International Airport.
When staying at this hotel, you have access to the spa, where you can have massages, facials, and body treatments. The Checkers and Dynasty restaurants inside the hotel provide western and eastern-style fine dining. At night, if you want to relax, you can go to the rooftop terrace.
Address: No. 38, Section 1, Zhongxiao West Road., Zhongzheng Dist., Taipei City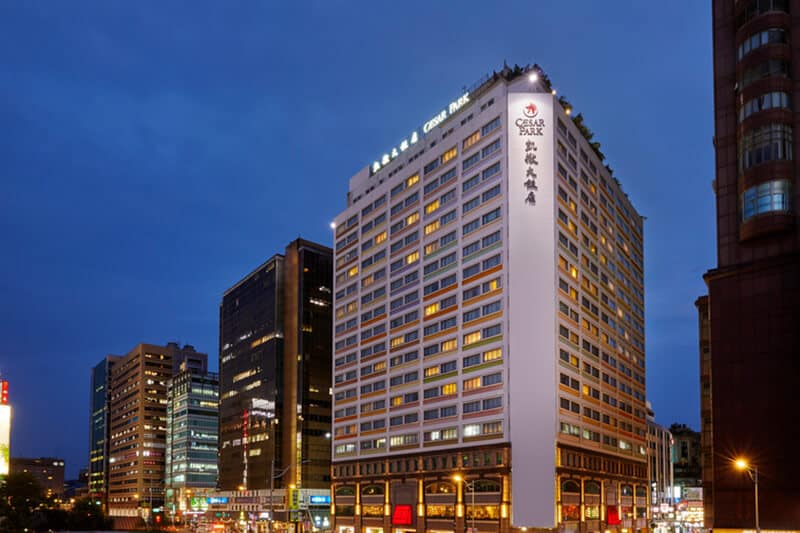 Hotel Relax III
As they say, every trip is the beginning of a cultural dialogue and a wonderful experience. Hotel Relax III is Taiwan's first intelligent voice IOT hotel. To better communicate with you, a Google speaker with a translation function is installed at the front desk to speed up the check-in and check-out processes. Interesting, don't you think? The hotel is only a 5-minute walk from Taipei Main Station, where you can take trains or buses to explore the city.
Hotel Relax III is part of the Hotel Relax branch and provides comfortable rooms in a convenient location to bring you satisfying and memorable moments. Ximen Night Market is a 10-minute walk from the hotel, while Shin Kong Mitsukoshi Department Store is just a few minutes away. The rooms are soundproofed and equipped with a 40-inch flat-screen cable, a mini-bar, and a personal safe. There is a 24-hour front desk service and airport transfer service, along with free luggage storage. All the hotels in the chain offer the same service, so whether you pick Hotel Relax I, Hotel Relax II, Hotel Relax V, or Hotel Relax III, you will be equally satisfied. They are also located in the same area. Go ahead and book your room now.
Address: No. 34, Huaining Street, Zhongzheng District., Taipei City
Dandy Hotel-Daan Park Branch
Dandy Hotel is located a 1-minute walk from the entrance of Daan Forest Park and MRT Daan Park Station. The hotel is indeed facing Daan Park, which gives you the impression you are facing Central Park in New York City. With a Nordic ambiance, it is a hotel with a simple and modern design where you can relax and connect with nature. Dandy Hotel is only a 5-minute walk from Yongkang's commercial area (永康商圈), where there are many shopping and dining options. Just take a 15-minute MRT ride, and you will arrive in the Xinyi district and see the stunning Taipei 101. The hotel provides rooms with a mini-fridge, a 42-inch flat-screen cable TV, and private bathrooms. There is also a 24-hour desk and tour service. The fashionable and elegant decor provides you with a brand-new accommodation experience.
Address: No. 33, Section 3, Xinyi Road., Daan District., Taipei City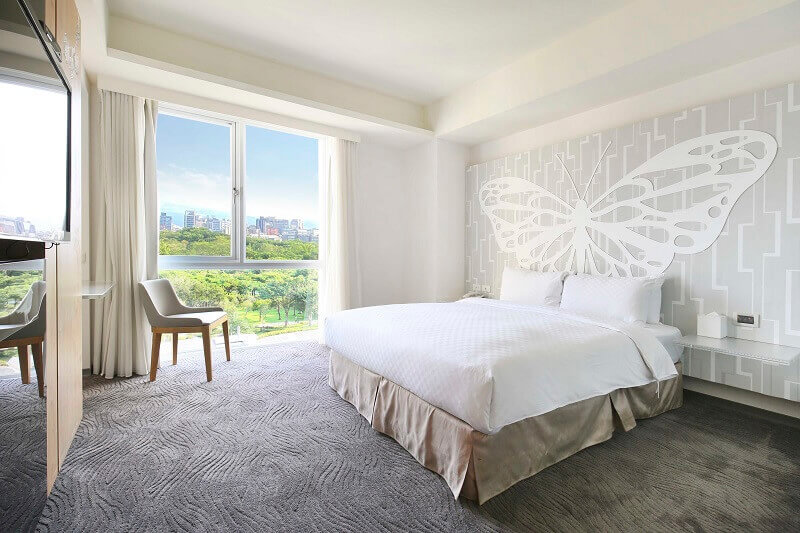 CHECK Inn Taipei Nanjing
With its artistic design and cozy guest rooms, Check Inn Taipei Nanjing provides a peaceful retreat from the busyness and stress of city life. The hotel is located close to Liaoning Street Night Market and Taipei Arena, where you can go ice skating or play other sports like basketball, badminton, etc. You can also go there to watch a sports game or a live concert. The yellow lemon and green grass add a refreshing charm to the earth-toned units of the hotel. Some rooms are equipped with bathtubs, some are not. The Check Inn is the place to go if you want to get away from the fast and crazy city life.
Address: No. 16, Sec. 3, Nanjing E. Rd., Zhongshan Dist., Taipei City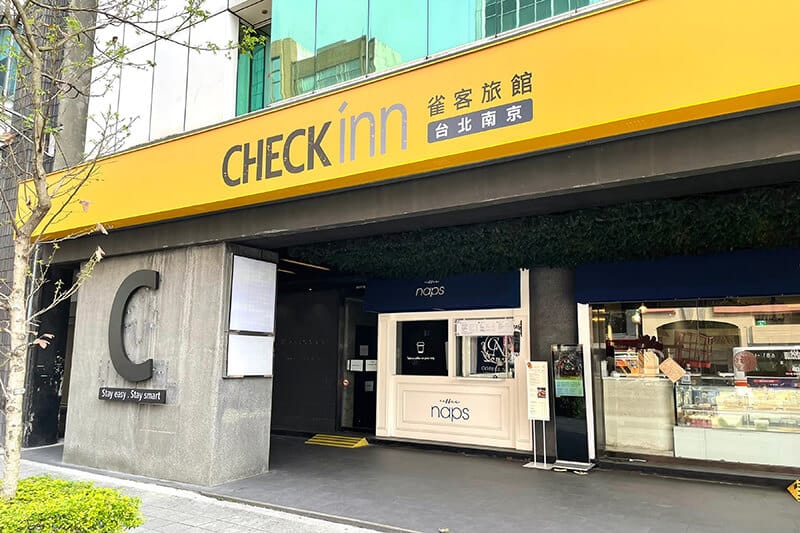 Green World Hotel-Zhonghua
The Green World Hotel-Zhonghua branch is part of the long line of Green World hotels. Located in the Ximen Night Market area, this hotel is only a 5-minute walk from the Taipei Railway Station. One of the reasons why the hotel is the first choice for many tourists and business travelers is the simple and elegant accommodations in the Japanese style of the rooms. The light, comfortable, and warm bedding will also completely revitalize you. Service is provided in different languages, including Chinese, English, and Japanese.
Green World Hotel Zhonghua is a 2-minute drive from Q Square Mall and a 15-minute drive from Taipei 101. They provide 24-hour front desk service along with luggage storage service. A variety of dining options like hot pot restaurants, Japanese restaurants, and local restaurants with noodles and dumplings can be reached nearby within walking distance.
Address: 13F, No. 41, Zhonghua Road, Section 1, Zhongzheng District., Taipei City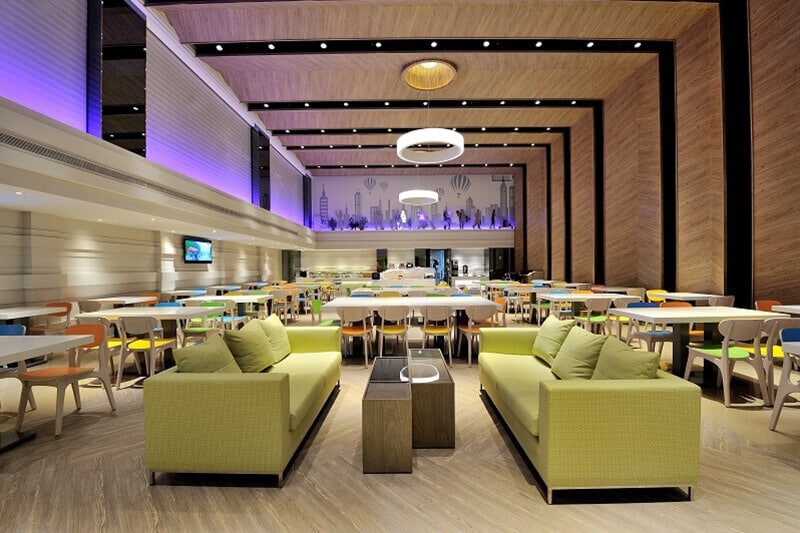 S Hotel
Designed by Philippe Starck, an internationally renowned French creator, designer, and architect, S Hotel is where design meets love. This one-of-a-kind place is located a 5 minutes walk from Taipei Arena MRT station in the heart of Taipei's Central Business District. This hotel offers you a mixture of contemporary style, high-class comfort, and unique charm with beautiful city views. The rooms are exotic, with features you would crave, from a power shower and comfortable bed to B&O audio equipment for your entertainment and many more.
S Hotel is a 3-minute drive from Taipei Songshan Airport and a 15-minute drive from Taipei Main Station, while Taoyuan International Airport is a 40-minute car journey. The hotel offers free luggage storage at the 24-hour front desk. The S Restaurant & Bar features global cuisine and unique creations with a mixture of local tastes and refined French cooking techniques.
Address: No. 150, Dunhua North Road, Songshan District, Taipei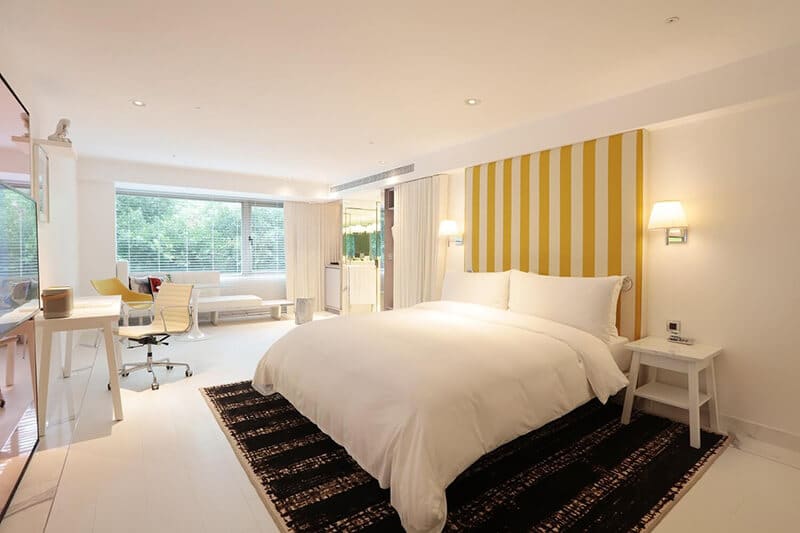 Green World ZhongXiao
Close to MRT Zhongxiao Dunhua Station, the subtle features of Green World ZhongXiao are revealed by its colorful exterior walls and the modern gate in European style. It is located a brief walk from the Taiwan Land Reform Museum and Taipei Arena, formerly known as Taipei Municipal Baseball Stadium. Staying at Green World Zhongxiao will give you stunning views of the beautiful city of Taipei.
Green World ZhongXiao is only 1 MRT stop away from the Sun Yat-sen Historical Museum of History, while Taipei Main Station and Taipei Songshan Airport are 4 MRT stops away. Tonghua Street Night Market (通化街夜市) and Taipei 101 are both a 10-minute drive away. In the hotel basement, you can find an H & M store in case you want to do a little shopping.
Address: No. 180, Section 4, Zhongxiao E. Road., Daan District., Taipei City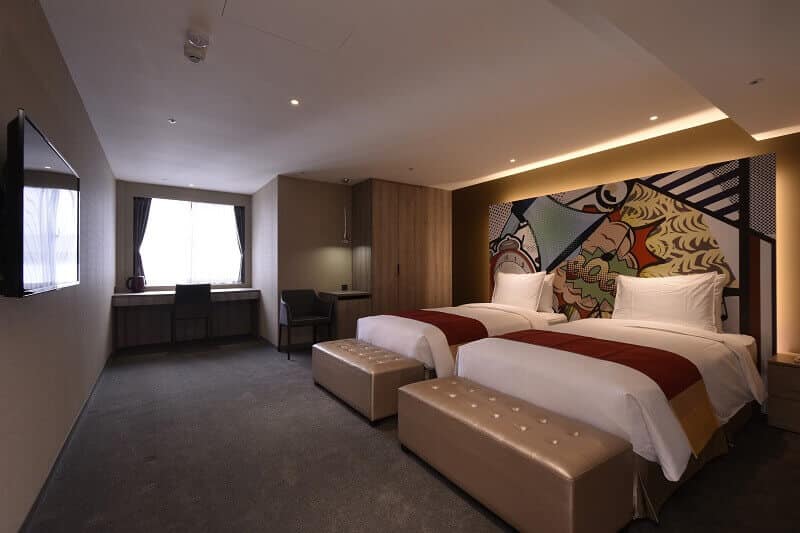 Hotel B6
Located in the Ximending area, Hotel B6 is the newest property of Beauty Hotels Taipei. Its shades of gray give you a contemporary, comfortable, yet elegant living environment. The hotel is just a 7-minute walk from Ximen MRT station. As we know, Ximending is a famous commercial center with many options for fashion and shopping stores, as well as various entertainments and activities for you to enjoy a great time. Hotel B6 comes with simple, modern, minibar-equipped rooms equipped with a flat-screen TV and a minibar.
Chiang Kai-Shek Memorial Hall, the National Concert Hall, the National Taiwan Provincial Museum, Taipei Zhongshan Hall, and Eslite Bookstore are some places you can reach conveniently from the hotel. The wonderful location of Hotel B6 makes it an ideal hotel choice for both business and leisure travelers. If you like Cantonese food, the hotel's restaurant serves the most authentic and best Hong Kong cuisine.
Address: No. 106, Sec. 2, Wuchang St., Wanhua District., Taipei City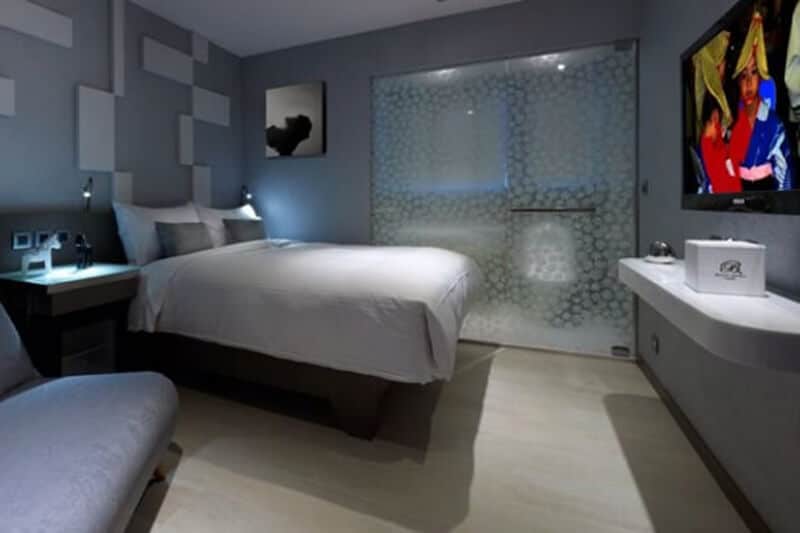 Hotel B7 Journey
Hotel B7 Journey is located in the center of the Taipei Railway Shopping Area and the Administrative District, only a 5-minute walk to the MRT National Taiwan University Hospital Station. With simple and elegant designs, B7 Journey hotel rooms provide a relaxing atmosphere and make you feel at home. Each room comes with an LCD TV, free wifi, and private bathrooms.
The Presidential Office Building, Ximending, Q Square Shopping Center, and many restaurants are just nearby the Hotel B7 Journey, which is in one of the most convenient shopping and dining areas of Taipei. The hotel also provides a 24-hour front desk and luggage storage service.
Address: No.94, Sec. 1, Chongqing S. Rd., Zhongzheng District, Taipei City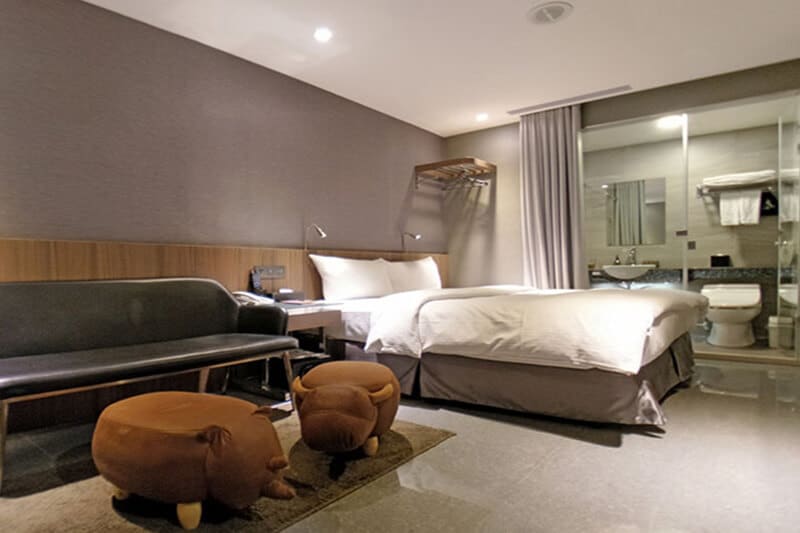 Full List of Taiwan Monthly Hotel for 2023